None of Us Are Simple: Ilana Masad Interviewed by Sarah Neilson
The debut writer on complex characters, love stories, and how we code each other.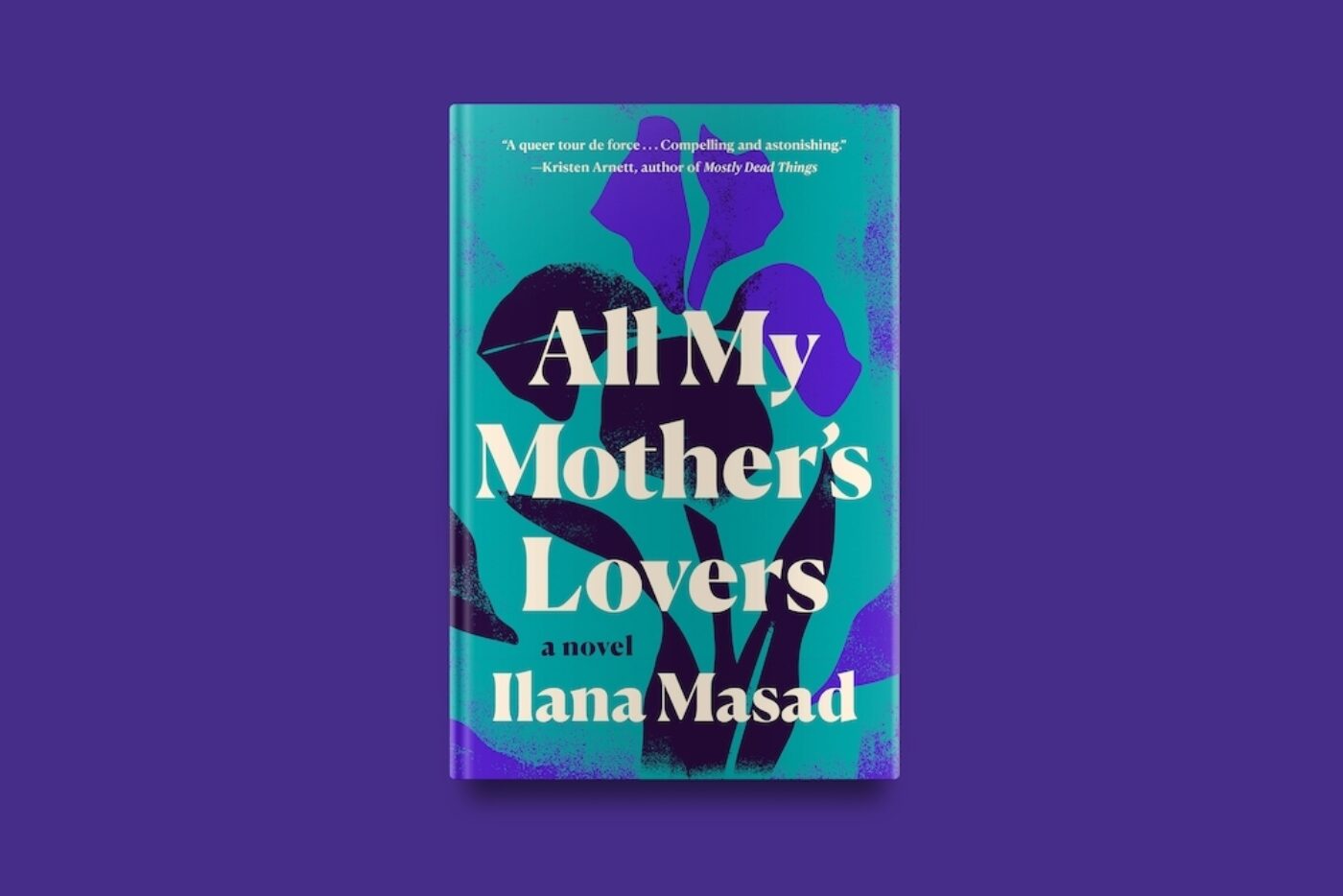 Ilana Masad's debut novel, All My Mother's Lovers (Dutton), opens with a very queer, very sad, very elegant sex scene. That alone is enough to hook me, but the story only gets more complex and engaging as it unfolds. Maggie Krause, who is in her late twenties, has just lost her mother to a car crash. When she goes home for the funeral and shiva, Maggie finds five envelopes in her mother's filing cabinet. Each is addressed to a different man, none of which Maggie has heard of. Her mother requested that, in the event of her death, they be mailed. Maggie, motivated by grief and anger, decides to take a road trip and find these men in person. To deliver the letters, yes, but also to ask: Who really was my mother?
Reading All My Mother's Lovers is like listening to St. Vincent alone in your car in the desert: a little punk, a little melancholy, a little mysterious, sun on your skin. Exploring intergenerational relationships, family dynamics, queerness, grief, and what happens when our expectations are shattered, the book is fast-paced and funny, but also moving. In some ways, it feels like a missive from another world—one where things like road trips and going to bars and hosting people in homes were still possible—which adds to a sense of nostalgia that will ring true to anyone who has had a relationship with a parent or parent figure and has learned about family secrets. In this time of collective grief, this story of mourning, resilience, and reckoning is like a balm: we can still show up for each other, even when we're angry, sad, or mean.
"Maggie desperately… wants to stop feeling so much in one moment and nothing the next," Masad writes, perfectly capturing the mood of the current moment. Maggie's anger and grief sometimes conspire to make her self-centered, writing off the needs of her family and friends, or getting lost in her own insecurities. But this is a story about what shakes us up in our lives, what makes us realize things we were oblivious to—willfully or not.
—Sarah Neilson
Sarah Neilson This book is so narratively complex and cinematic. What sparked the idea for it?
Ilana Masad The first line came to me in the middle of the night. I started thinking about it in some other form, and then I started rewriting it in my head when I couldn't sleep—I do that. I think a lot of writers do that. I usually don't remember the line in the morning, but with this one I did.
In terms of the plot, a lot of it came from this feeling that I had of frustration with a lot of what I was seeing around—how millennials and boomers were going at it in ways that felt very essentializing and sort of dehumanizing, and very much forgetting that everyone is young once and eventually will be old. If we are lucky, we will all be in both of those spaces, and all sorts of things change in the world around us during that time.
I myself have a very good relationship with my mom. I understand a lot about where she comes from, even when we disagree about things, and the experiences that shaped her generation. Talking with her brought me to this place of really just wanting to explore that relationship.
SN I'm curious about Maggie, because I feel like many times the only option we get for queer characters in fiction is that they are either totally perfect or totally tragic. We also rarely get to see narratives of a queer person losing a parent, or reckoning with learning things about their parents that they didn't know. How did you approach writing a flawed queer protagonist who's really complex, and did you feel any pressure around representation as you created her?
IM I feel very lucky to be writing in a time when I'm not alone as a queer writer writing queer protagonists who are complex and messy and have all sorts of ways about them and reasons for being. There are so many incredible authors writing really beautiful work right now that is dealing with a lot more than the queer experience as just a one note thing, either perfect or tragic. I didn't feel like I was reinventing the wheel in any way.
In terms of Maggie, very early on in my writing life a mentor told me that I was protecting my characters too much, that I liked them too much. I was trying to make them too good. That has always stuck with me because he was absolutely right. I have this instinct to… It's almost like playing the Sims or something. I want to make characters that are just lovable and good, and that I love. They always do the "right" thing. They try to be and make everyone else happy. It was interesting to really challenge myself to make Maggie someone who I liked and wanted to spend a lot of time with, but who I also didn't protect too much, in terms of making her too good or too perfect. It was definitely a challenge, but it was one that I ended up enjoying and that also made me feel like she was more real to me.
SNThe book has a kind of profound grief at its heart—over the loss of a parent, but also a loss of stability, of secrets that were supposed to protect, of family and cultural history, even of a sense of self. How did you go about writing a story about grief, and making the grief so layered?
IMGrief is one of those universal experiences, in that all human beings, again, who live a certain amount of time, will inevitably go through it. For myself, as someone who has lost many people and places and senses of self and senses of identity, I needed to question a lot of what I've been taught and told. That often feels to me like the thing that I know how to write best, or the thing that I know how to write most comfortably.
But I also did want to look at grief as something that is expressed not only in sadness, but also through anger and confusion, which I don't know that we always see. I very much wanted to show this woman who's getting angry all the time about her grief, rather than necessarily being sad. Because grief comes through in so many ways, and I think that anger is one of the ways that sometimes is hardest and ugliest, but also makes a lot of sense.
SN Maggie has a lot of ideas about herself and her family that she ends up learning are not the whole story. How did you approach writing these complicated family dynamics, and revealing them in a way that felt surprising?
IM The complicated family dynamics, for whatever reason, were not difficult for me. I've always been really interested in exploring people and characters who can be many things at the same time. I very much reject this notion that making a mistake means you are bad, or that if you do not understand someone that automatically means that you hate them. It's always interesting to see the ways in which various people learn and the way they approach learning about things that they don't expect, or the ways that their preconceived notions are broken in some way. Most of us, if we come across a person who we know nothing about, have all these codes that we will read them through, but if we are in a room alone with them, without outside context, we will often have some kind of conversation, and we will learn something that is almost always going to surprise us about them. They will defy our expectations.
In terms of the secrets, that was the thing that I wanted to really look at—the way in which cultural coding and the way that we are taught to read each other, or taught to read certain situations, or taught to assume certain things about certain people, are almost never really accurate, or never complete, even if portions of them are accurate. I really wanted to push the idea that none of us are simple, and I think it's very easy for us to see each other that way. In Maggie's family, that came through to me by choosing when to portray certain things and when not. Since I figured out what I wanted my main final reveal to be, or the thing that Maggie finds out, it then wasn't that hard, after that, to put the other pieces into place. All I had to do was decide which scenes I was going to explore from her mother's point of view.
SN Judaism plays an important part in the book—how different characters of different generations see it, feel it, practice or don't practice it. Can you talk about the role of this aspect of the characters' lives in the story?
IM It took me a while to actually realize that I was dealing with that aspect because of how weirdly complicated it is for me. I think it wasn't until after I'd finished writing the book that I really realized, "Oh, this has got a lot of Jewish stuff actually in it. Interesting." I was probably subconsciously thinking through some of my own shit without really realizing it, in the writing.
It is something that is very generational, at least in American Judaism, specifically, which I have learned a lot more about since living here than I ever knew before. I learned a lot about how different my experience was, growing up abroad. It was sort of an attempt to reckon with that particular generational difference here in the US, and try to understand it a little better.
SN I read this book as a love story on almost every level. In what ways do you see this book as a love story?
IM I think it's many love stories. Obviously, it's the love story of Maggie and Lucia, which is sort of the most obvious one, the one that we open on, and the one that I wanted really strongly to keep throughout the book. There was some talk about another plot line where something happens with Lucia that's bad, but I was like, nope. Not happening. They are good. They have a good time together. I mean, they have miscommunications, and Maggie's a bit uncertain about what a good relationship is supposed to feel like or be like or look like. But they are good.
It's also Maggie's parents love story. I think it's also a love story between millennial queers and elder queers a little bit. It's a love story between a woman and her mom, really. Theirs is a harsh love story, but it still feels like one, for all its flaws. I cried buckets when I watched Lady Bird. When I got out of it, I just called my mom, and I started crying on the phone to her, and told her how much I loved her, you know?
SN What other books or authors are you reading right now that you're excited about?
IM Those are two questions to me, just because I'm currently reading some things that are totally not things I'm necessarily excited about, in terms of how they're written or what they're doing. But I'm currently reading the book Captured!: The Betty and Barney Hill UFO Experience, by Kathleen Marden and Stanton Friedman, which I think is self-published. I have a lot of issues with how it's written and what it's doing, but it's fun for other reasons. It's sort of for research. I'm also reading for school currently, Shadow Distance, which is a collection of Gerald Vizenor's writing. I'm getting to know his weird haiku and also his postmodern stuff.
In terms of contemporary things that I'm reading or excited about, I am about to get started on Zaina Arafat's You Exist Too Much. I'm very excited about that. I'm reading In Praise of Paths, by a Norwegian author named Torbjørn Ekelund, for a review. I am very excited to finally get to Emma Copley Eisenberg's The Third Rainbow Girl, which has been waiting for me for a while. And I finished Yaa Gyaisi's Transcendent Kingdom, which I love.
All My Mother's Lovers is available for purchase here.
Sarah Neilson is a freelance writer and book critic whose work appears in Seattle Times, Washington Post, Electric Literature, LARB, LitHub, BuzzFeed, The Believer, and Bookforum among other outlets. She can be found on Twitter @sarahmariewrote, Instagram @readrunsea, and on her website, sarahneilsonwriter.com.