Igniting the Relational: Youmna Chlala Interviewed by Mónica de la Torre​
The language and objects of collective dreaming.

Discover MFA Programs in Art and Writing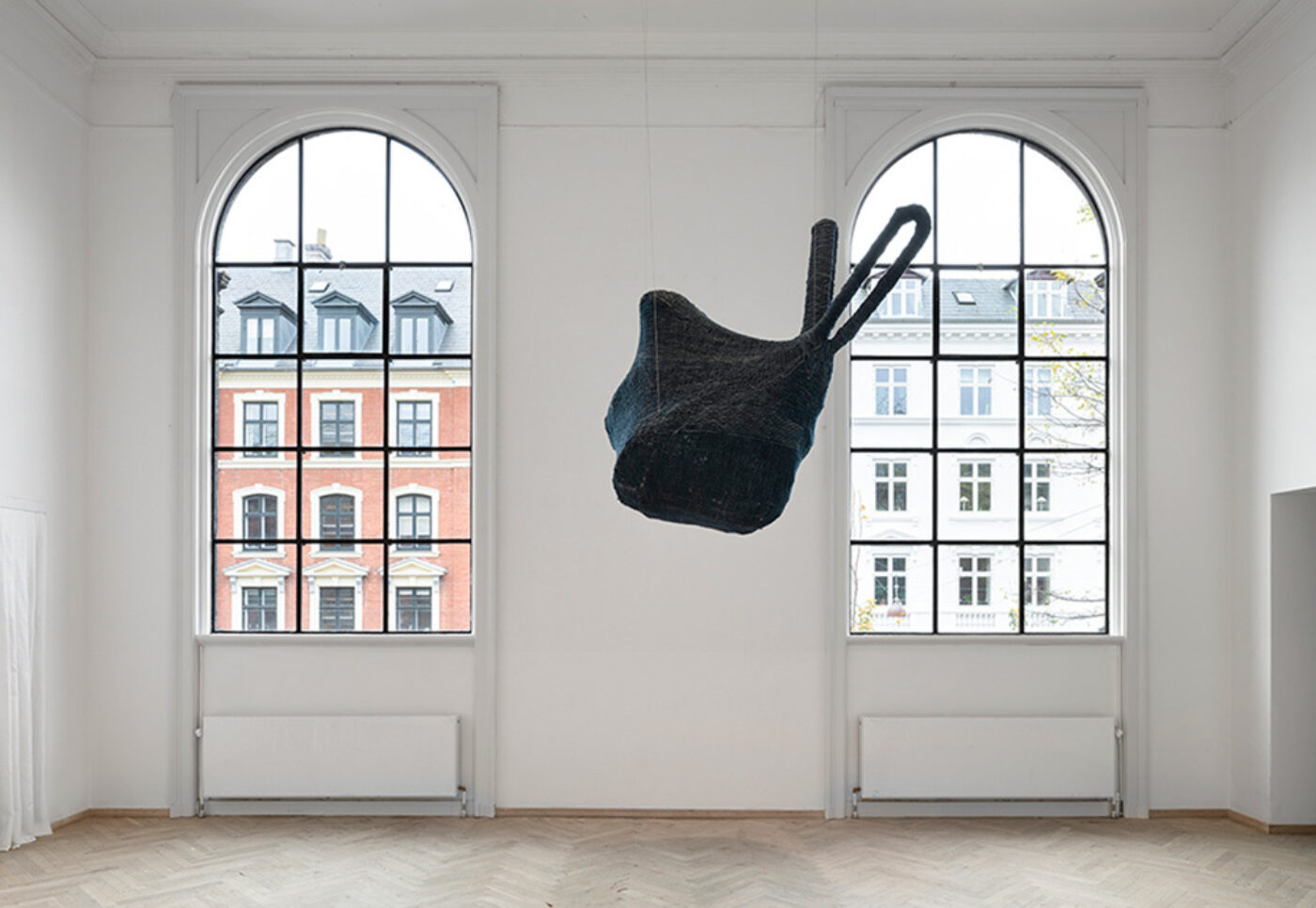 I wonder if in Youmna Chlala's vast, borderless vocabulary there is a name for the affinity and warmth you feel toward people you want to be friends with upon initially encountering them. The first writing of Youmna's I ever read appeared in a 2007 issue of Aster(ix) Journal titled Kitchen Table Translation edited by Madhu H. Kaza. The issue foregrounds experimental multilingual text and translations by writers whose relationship to the English language is marked by exile and migration. In Youmna's world, loss and gain coexist in a Möbius strip: "First, we had to learn each other's languages. / This was the longest, most loving trail. // Then we undid our own." The poem containing these lines eventually appeared in her first book, The Paper Camera (Litmus Press, 2019). Speaking with her about it and her sculpture in the exhibition Witch Hunt at Kunsthal Charlottenborg is a tender reminder of the kind of human contact that awaits us once this social-distancing era is finally over, and of the necessity of imagining the possible beyond.
—Mónica de la Torre
Mónica de la Torre You're a polyglot working with multiple languages—verbal (French, English, Arabic), two-dimensional (drawing, photography, film), and three-dimensional (performance, sculptures, installations). You bring some of these together in The Paper Camera, which intersperses film stills of urban exteriors and of windows seen from inside an apartment among poems with writing in your three languages. What is possible to articulate in one language that is not possible in another? Do you think they supplement each other, or is their relationship somewhat adversarial, or both?
Youmna Chlala I am most comfortable using three languages together when I speak. That is the closest I get to a familial tongue. When I wrote essays at university, I was marked up for having run-on sentences. This was associated with my English as a third language. The way to express oneself clearly was through short, concise sentences. I had to undo length or meandering or the complications of expression. I think that rather than rebel by insisting on long sentences, I now take apart and recontextualize language as a form. It's also a kind of political act about the vitality of complexity, uncertainty, and speculation.
Because The Paper Camera's centripetal force is Beirut, language as sound or snippet, memory as presence or light, stilled images contending with flux time, and fragments of individual and collective selves are rearticulated through adjacency. Formally, text and image exist in proximity not to reinforce each other's meaning but to expand it.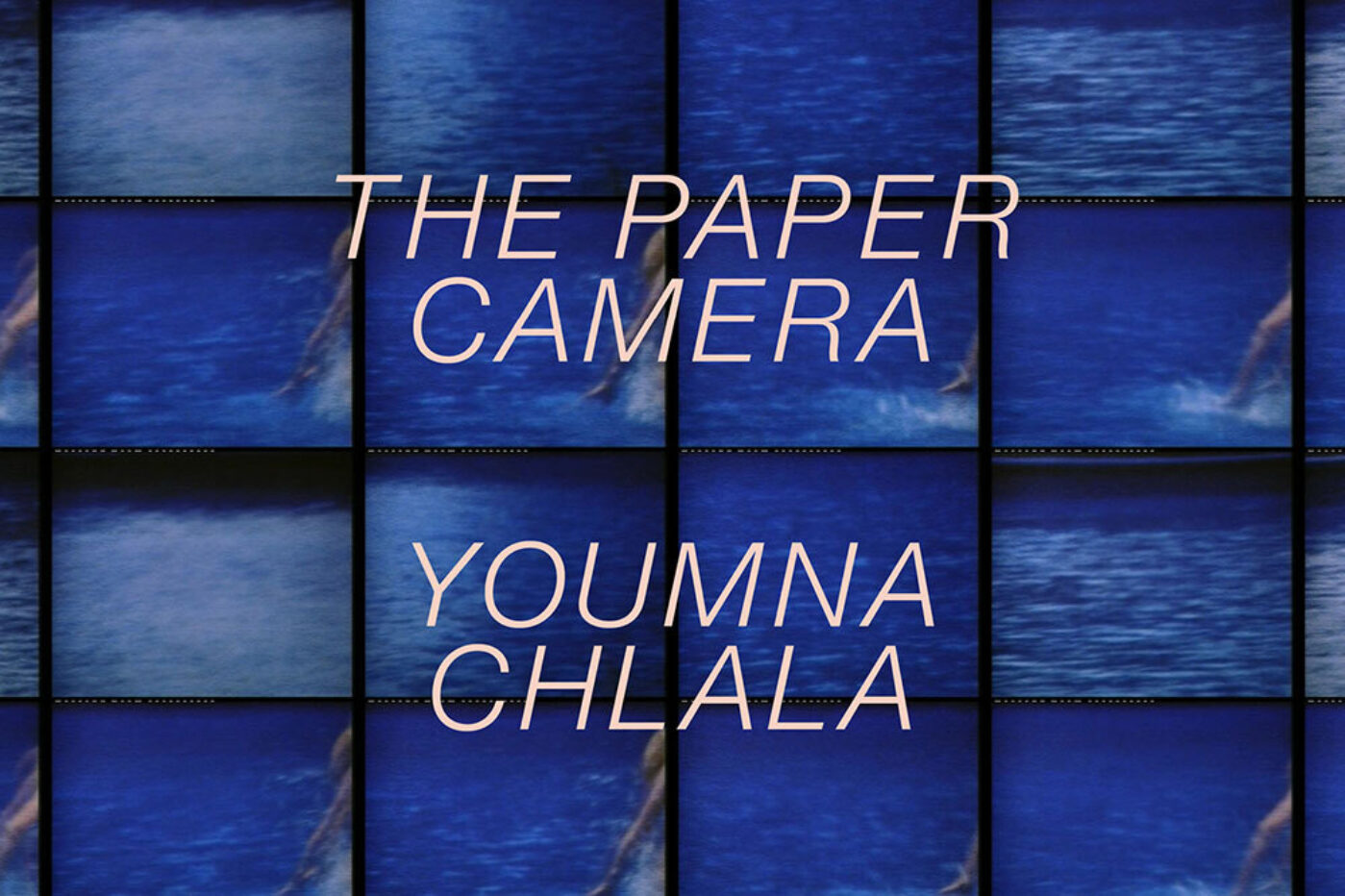 MT Adjacency is gorgeously enacted in the book. I experienced something similar learning to write in English in school. Emphasis on concision amounted to a subtle indoctrination linking effectiveness in communication to persuasiveness and power—one that as a nonnative speaker, or thinker, you could never really possess.
I'm interested in your use of language as a form with multidirectional energies and in the dynamics regulating your relationship to place. Beirut is The Paper Camera's centripetal force. Did immigrating to the US imply being decentered or a shift in your center of gravity? This might be a question of semantics, but I'm curious to see where it goes if we treat it as a thought experiment of sorts.
YC Beirut seems to have always been my center, an inhabited space that is neither void nor filled. I was five years old when we were momentarily living in Greece, and I refused to participate in the national parade. I only march for Lebanon! I said. Did I even have a concept for a nation-state?! Was it just home that I was missing? In particular, The Paper Camera considers how longing distorts the center, as if living in a hall of mirrors. At this moment Lebanon, a nation nascent as recently as the week of my grandparent's wedding, is falling apart in an unprecedented way. Soon, I imagine it all differently. My visual work became steeped in futurity because I was frustrated with the discourse of the apocalyptic. For me, the present was much worse than what I foresaw.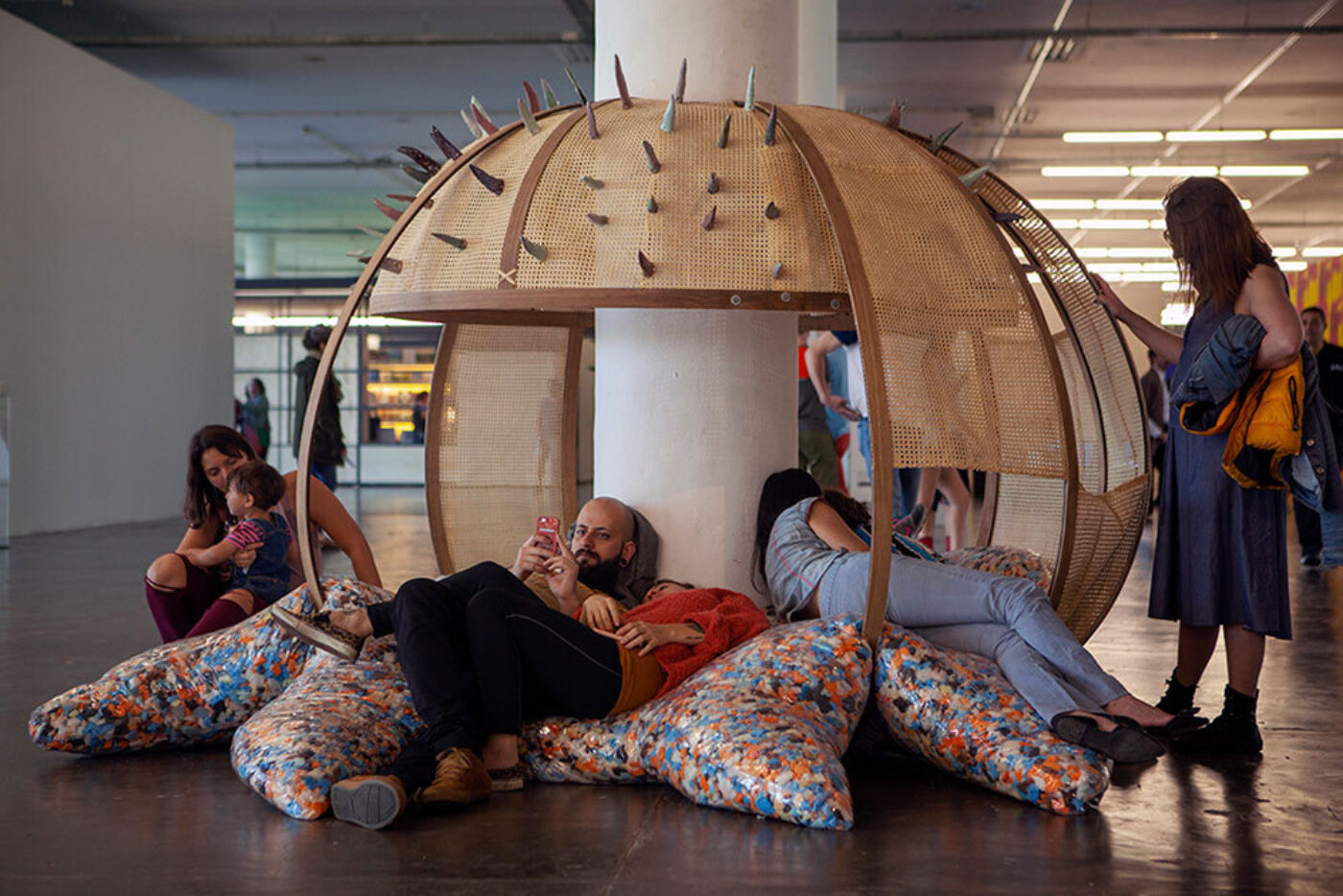 MT Tell me more about your ongoing project The Museum of Future Memories (2018–). Its different iterations are quite varied. Is the work in the show Witch Hunt part of this series? I'm intrigued by the Love Seats (2018) in particular, which are interactive sculptures stemming out of columns that are metaphors for spines and relate to the notion of a speculative feelings archive.
YC The Museum of Future Memories project is about the disappearance of the horizon as a way to make sense of where we are. It is also about re-centralizing the body in speculation. The work in the Witch Hunt exhibition is titled She Holds the Wind in a Bag that is Her Power (2020). I spoke with historians and academics about the Scandinavian hunts and was struck by the implications of friendship. Magic transpired in a container, a cup, a vessel, or a bag in quotidian, intimate ways. So I wanted to reconsider the bag as a container that creates a space we rely on to protect or gather what we cannot hold ourselves. I like that wind cannot be seen and is measured by how it moves an object or a body. The power of a witch was her ability to control the uncontrollable or unseen.
The Love Seats were also about intimate encounters. I was moved by the architecture of the Ciccillo Matarazzo pavilion at the São Paulo Biennial because the columns felt so tender as an architecture detail given the scale and so relational with the trees outside. The project became about how spines store memory and how future spines can be a place of rest, connection, loving, and exchange. The Love Seats were furniture/sculptures activated by the viewers who spent time on them and also by the biennial education team who prompted visitors with exercises about memory and their own spines. Collectively, the objects and interacting bodies formed new ways of moving through the space and imagining its futurity.
MT I'd love to hear more about "the implications of friendship" in relation to witches and intimacy. I've been thinking a lot about friendship as of late; in the era of social distancing, I see it in a whole new light. Like you said, "longing distorts the center." This is not unlike how longing for a person or a place somehow transforms their photograph, making it dawn on you that a photograph is an "always anticipatory afterlife" (as Fred Moten puts it in his book of poems All that Beauty.) This brings us full circle into futurity.
YC I first learned about the friendships between witches when I was working on assemblages/drawings entitled The Cut is a Gathering for an exhibition about the seventeenth-century Finnmark trials in Norway. The women were identified for having someone over for tea, speaking together by the sea, or sharing butter and fish. These everyday acts were used against them. I found the accusatory language similar to the one now used for identifying native or alien/invasive species of plants and animals, demarcating who belongs in proximity.
I truly believe in friendships as creative, generative, and necessary, although I hadn't thought about how they echo time passing in a photograph. I love that connection. Maybe this goes back to adjacency. During this time of distance, familiar to those of us who have been dispersed, the past exists intertwined with the future.
When I first imagined She Holds the Wind in a Bag that is Her Power, I wanted viewers to leave their breath inside. Not quite the project for our time! I had to rethink what I mean by intimate encounters. In making the object, weaving took place on the wooden frame itself, as if the envelope or skin had already been present and was simply made to reappear. The lines, direction, and movement of the thread came from the hand of the makers who are a part of the collective dreaming.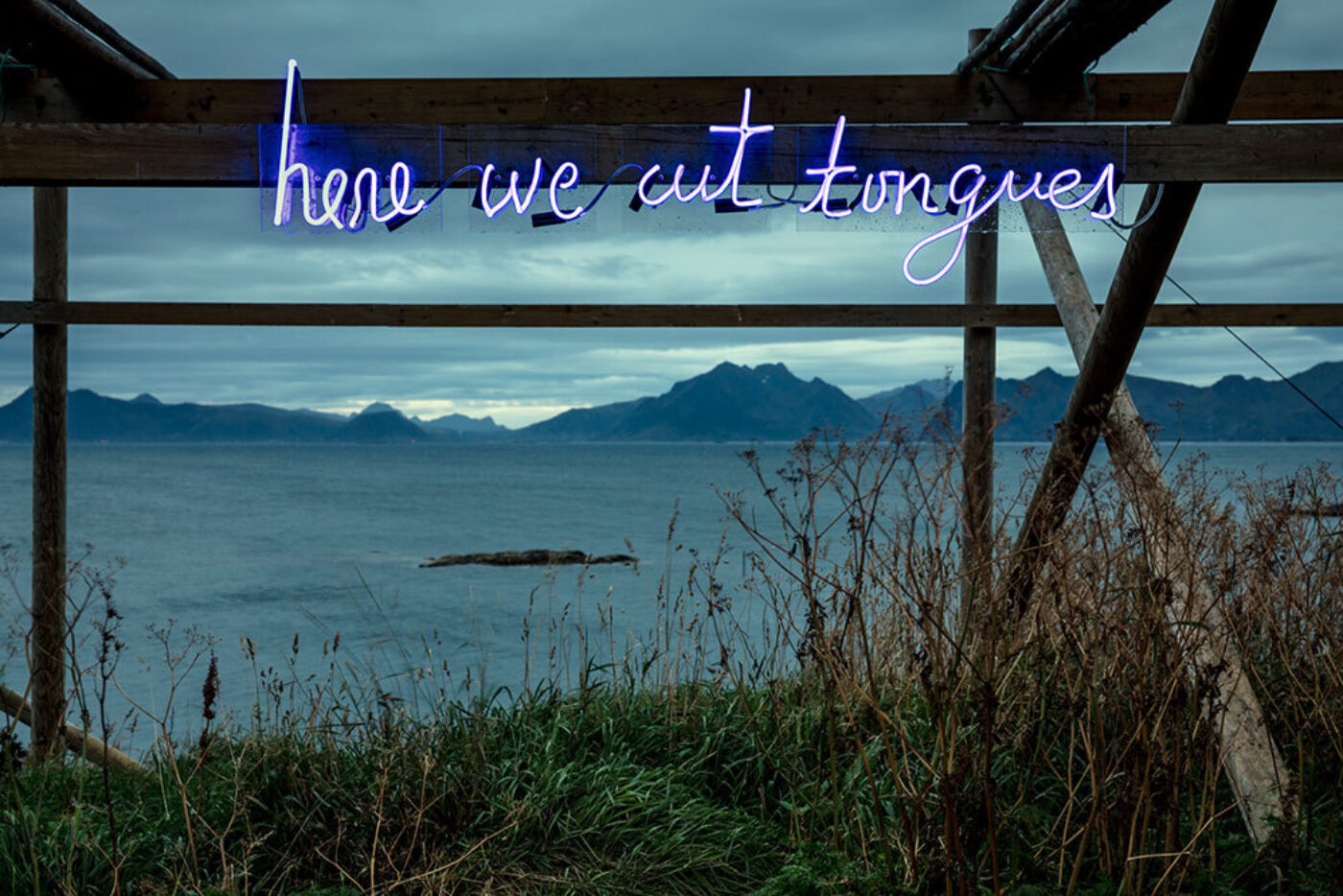 MT The piece is gorgeous. It seems aerodynamic, gravity-defying, buoyant, and uplifting, like friendship. Who were its makers? Can you talk more about the role of collaboration in your work?
YC Thank you so much! It feels like we all need to remember levity these days. Because I could not be in Copenhagen, I worked with architects and artists to create renderings, build the frame, hand-dye thread, and weave the form. The process of making was filled with unexpected collaborations and deepening friendships. Most of my work consists of creating objects that ignite the relational. Even The Paper Camera is made up of individual poems, but they are not discrete forms. The fragments are continuous. Within the space between poems, between language and image, the readers become collaborators in the text.
Youmna Chlala's She Holds the Wind in a Bag that is Her Power can be seen in the exhibition Witch Hunt at Kunsthal Charlottenborg in Copenhagen until February 21.
Mónica de la Torre's most recent poetry book is Repetition Nineteen (Nightboat, 2020). With Alex Balgiu, she is co-editor of Women in Concrete Poetry: 1959–1979, which is just out from Primary Information. She teaches poetry at Brooklyn College.