If Body, Then Pain: Discipline by Dawn Lundy Martin by E.C. Belli
E.C. Belli probes the wounds inscribed in Discipline, a volume of poetry by Dawn Lundy Martin. Martin's work, a searing chronicle of loss, leaves readers longing to escape the physicality of their bodies.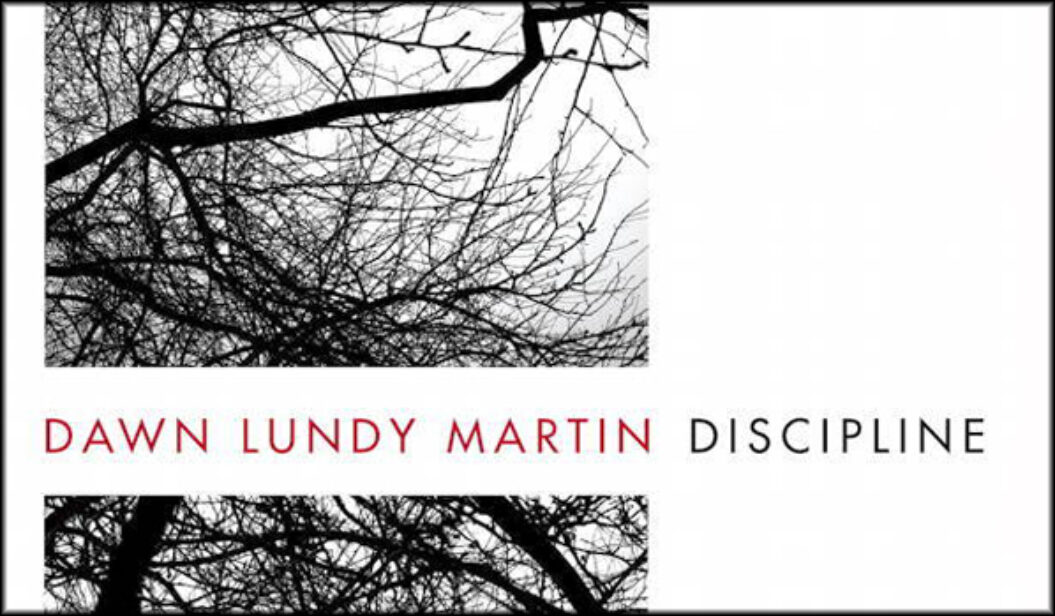 The I is
more relaxed
when it is hunted.
Discipline is wounding in the way only something wounded knows to be, and it wounds because that is the only thing wounded things know to do. "The I struggles to become a part of the reeking body," Martin posits early in the book, a raw, visceral and fragmented collection with a knack for revolting, sometimes even appalling its reader: "They say, this/ is not a woman's condition/ self-made/ victim/ hemmed-in/ whore."
When we inherit Discipline, it is uneven, broken; expressions of loss of innocence, of cultural frustration embodied in prose poems, in isolated numerical sequences and in minimalist spurts:
Before the whelp
of a certain bird, the crack of morning,
the body's milking loss.
Though her message is carried forth, for the greater part of the book, via the medium of the prose poem—which is stable and as a result does not quite emulate its subject formally—Martin invites the unraveling she speaks of into the tone of the poems. Moments of objective contemplation ("Highways of sun through windows") find their place amidst instants of quasi paranoia:
We pass cities in the middles of nowheres. We know them by their smokestacks, wires, and infernos burning atop holes in the sky. White families post Private and No Trespassing signs in their front yards. I want to yell out the window, I am both very alive and very dead! I am a suspect! Why has no one named me as a suspect! There is a disappearance so incrementally slow no one notices. A left hand touching the right hand, a touching and being touched, a consideration of which.
But is it actually paranoia? That is the question Martin has readers asking themselves by the book's end. For, by so intensely populating her pages with cold and hopeless intimations relating to race or gender, the violence relating back to either—and the violence inherent in each and every human interaction—Martin's desperately dark and dejected environment, Martin's truth, is cast upon the reader, becomes our own.
Discipline is, when it boils down to it, a manifesto on pain. And each poem in Disciplineis a manifestation of pain, one that cannot be traced back to a single root, one that has branched out into so many spaces of the hollow body that neither its origin nor its end can be determined. Like a bullied child, the poems also retain a staggering naïveté—a sort of amazement toward the hurt, as it is thrust upon them again and again (though the very nature of this hurt is recurrence).
Therefore, the I in Discipline finds an ally in its reader who want to shake it into action, into revolt, especially following passages in which the I presents signs of resignation, or compliance:
The body acts the same way it always does and has to guard against nights in parks. This is my melancholy fragrance, it tells everyone.
Or
Illness ensues,/ not static, a doing./ A man's smoking/ jacket opens. To find/ a breathing that was./ Spaces that indicate collapse./ This is what punishment is.
Eventually, Martin has readers pining to shake their skin. For here is the pain of being woman and here is the pain of being other, all of it rooted in our physicality:
What kind of understanding will sink into the body? It's just one body despite other previously stated facts and when it feels something it really does. It changes, though, and it grows up and looks completely different in the face.
In fact, never has a book of poetry sought harder to disembody. And never has a book of poetry sought harder to escape from itself: the I in Discipline will clasp at any passing being and beg Take me with you. It will chant any incantation, will cling to any porous thing. "I want to say this plainly: it is only when I am in a woman's arms that my body is not a threat," Martin shares in a brief moment of quietude.
The reader happening upon this collection of poems, and expecting all of the comforts we expect from verse, will soon find herself besieged. What we have here is a reckoning—Prometheus chained and tortured for making us the gift of fire, as we are made to watch:
Warriors come back to a neighborhood from war. Relief at their straight backs and scarred chests. Rueful goes out the window and we think, peace is like a shotgun aimed at the foot. If the toe is missing it's better than the whole head.
Fanny Howe, who selected the book as the winner of the 2009 Nightboat Poetry Prize, explains in her foreword, "This book digs into the roots of our culture by entering its pivotal derangement, just as Antigone enters the cave/grave, and I don't see how it could dig further. Down here it is hard to see, and one feels one's way blindly and only by touch, a touch jerking with repulsion and guided only by memory, not prophecy. A courageous act of feeling is what we have here, and a return of the rejected person as a recognizable companion."
But it is Dawn Lundy Martin herself who puts it best in some of the very first lines of the book: "Three went in and three emerged although significantly reduced." Discipline is the story of our lives: how we lose something, how we keep losing, yet how still, somehow, we live.
Discipline is available now from Nightboat Books.
Originally from Switzerland, E.C. Belli's poetry and translations are forthcoming in DIAGRAM, Guernica, Gulf Coast and FIELD. She is an editor at Argos Books.