Discover MFA Programs in Art and Writing
Lauren Szold, Jill Baroff and Ida Applebroog engage with interior space psychologically, as well as architecturally. They use rooms to display (exhibit) ideas. Their work responds to the place it is in as much as it imposes itself. It creates dialogue rather than monologue. Instructions do not dictate these artists' ideas and actions. The most striking connection among them is their attention to interaction and engagement. The following are excerpts taken from our conversations.
Jill Baroff

I needed to make things that were as much themselves as possible, not anything else. I was finding that painting kept having to do with my eyes and I wanted other parts of my body to "see." It was ironic because my process was to keep adding, making the paintings thicker and thicker, until the whole thing imploded, collapsed. I realized what I had needed was to actually get rid of all this materiality in order to create an experience that resonated in me the way I wanted, which was to experience myself physically. I needed to find something essential. I wanted a very specific thing to happen between me and what I was making. and the problem with making the paintings was that they always ended up being objects.
I've been making these curves and ovals lately, and certain illusory things start to come into them which are a little problematic for me. I can sense myself getting wary that they will be read instead of felt. Part of what interests me is creating something that evokes a similar experience to what sometimes happens to me in the midst of a broad landscape, where my eyes no longer take in what I see. As though the picture disappears and some other experience takes over, my sense of sight is overcome by a visceral sense of being in space. Bringing that forth is really important to me.
The work is not alluding to anything other than the way it is, face to face. The pieces remain just as they are, but change a great deal depending on where they are perceived from—the angle, the light, the space. Time and movement start to play a role in what's expected.
What is fascinating about the process is how little is assumed, how much we think about walls. They're around all the time and yet we don't really experience them. When you do something to a wall like cut into it, it suddenly becomes present and feels really strange, almost eerie. I love the surface, the sensual nature of plaster. I'm drawn to making forms that please me; maybe that's beauty. I want to make something that disappears; if something is ugly, it confronts you like a really loud person. You're so busy dealing with that you can't experience yourself very well. It goes back to the idea of wanting to have the experience of one's self with the work, to be as present as the work is.
Lauren Szold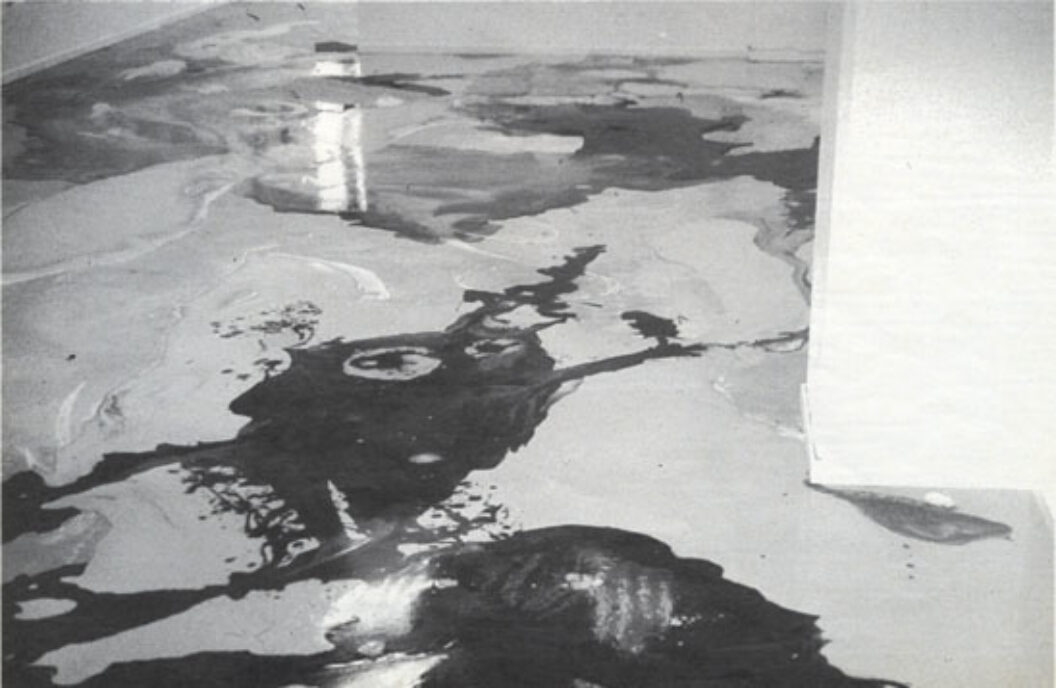 The surfaces are poured on the floor, so the pieces are made on the floor. After a certain point, I wanted to have a relationship to the wall, I wanted my work to have a more direct relationship to art history. So I switched from the floor to the wall, which was very hard. I didn't feel comfortable looking at something like that, on the wall, face to face. I found it agressive, confrontational, and isolating in some way. But I wanted these ideas to exist in culture, for there to be a place for them, so I thought about putting a piece on the wall without it being separate from the wall, or separate from other things in life, because that's what I objected to. A painting to me seemed like a wound: why do the edges end where they end? I wanted the boundaries of the "image" to find their own destination, not to be arbitrarily determined by this frame. By making these holes in the piece, having it find its own edges, I've given the piece a relationship to the wall where the wall becomes the canvas. You can see through to the wall—the work is not hiding the wall, it's existing with the wall; the edges form other shapes there.
When I first started doing the spills, I wanted them to refer specifically to body fluids. I stuck to a particular use of color that represented that and refused to use any others. Then those references became less important to me and I started using all of this color, at which point the work reflected things about culture, not just specifically nature and the body, but ideas about play, rock & roll, cartoons, toys that children play with, women's crafts, about drug culture—psychedelic things. Someone came here and said, "I don't like the fact that your work doesn't look like food anymore."
I said, "It still looks like food, it just looks like food when you're on drugs."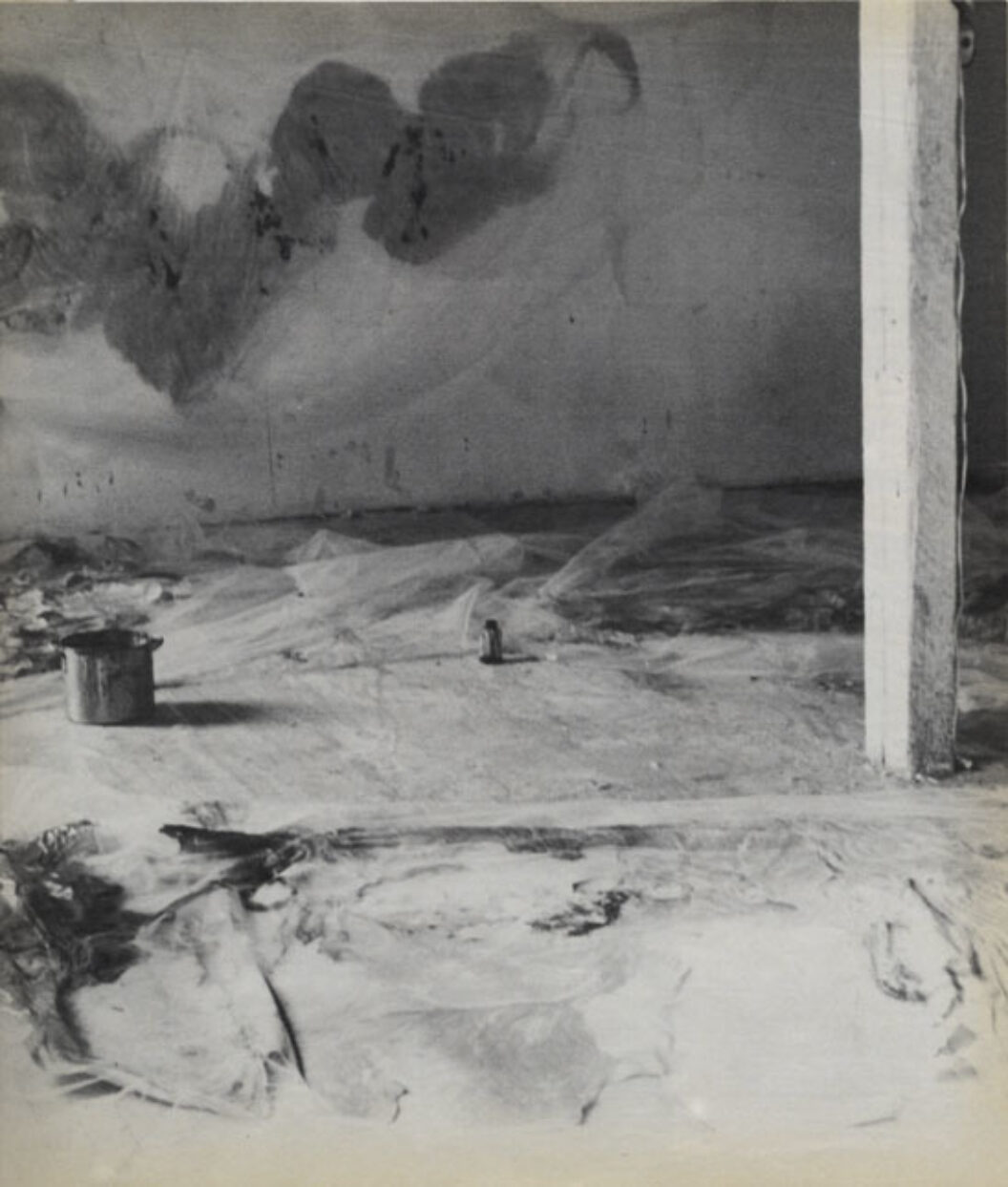 I consider beauty in my process and I'm not embarassed to say so. I make aesthetic decisions. Whether I'm working in a gallery or the studio, I contemplate the space it's going to be poured on, then start pouring. After I see what happens, I go from there. Throughout the process, I lose some control over what happens because the materials spread in their own way. But it's important to me that the shape is really fluid; if there's any kind of hesitation, anything in my life that is bothering me, it shows up here. There has to be a balance, otherwise it doesn't work. If the materials are out of control, the piece looks too accidental, but if it looks too contrived or constructed then it seems constrained and anxious. There has to be a balance between the artist and nature, which in my work is gravity, the way the materials themselves congeal or shrivel up, crinkle and crack, how the dye spreads in the paste, how one color bleeds into another color, where the mold grows…I can start a piece and in a few hours it's out the door, and I'll turn it the other way. Because I don't want it to have just one singular direction; I want the work to have a sense of gravity, but a sense of defying gravity, too.
Ida Applebroog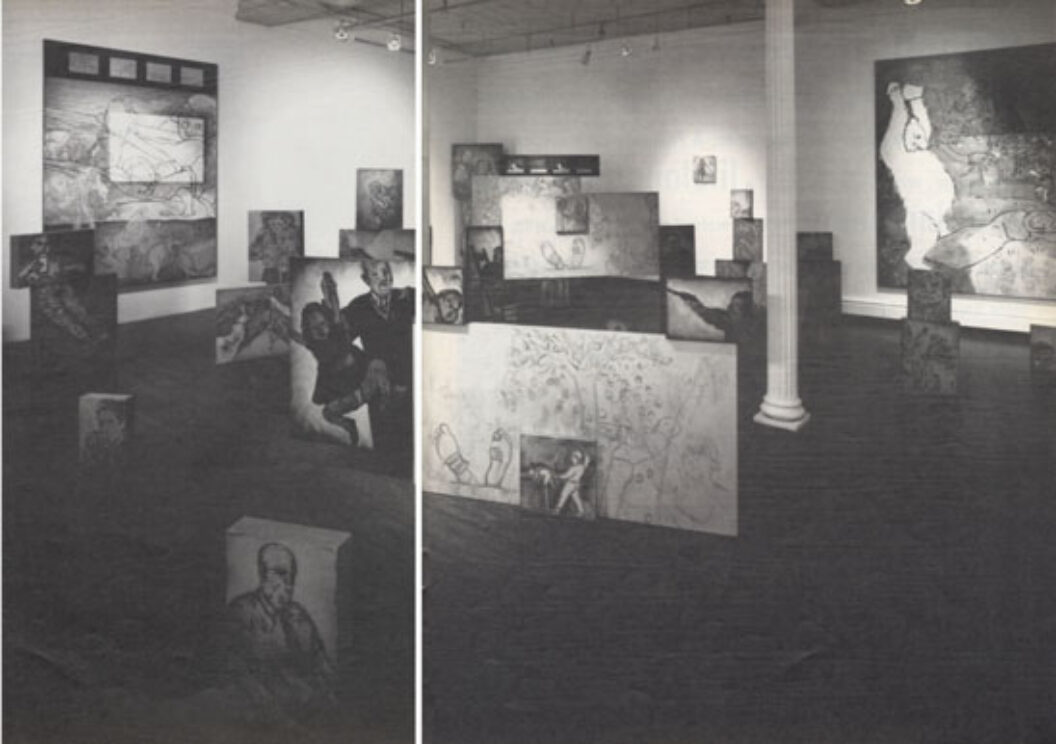 It is important to make the surface as seductive as possible, to use it almost like flypaper. When you first look at my work, the content seems disconnected, but like flypaper you get stuck in the surface. And once you're in the surface you can go around and investigate the rest of it. But it has more to do with how I structure these pieces, the way I put them together, and what happens in putting them together. It forms a chaotic narrative. When you read a narrative, you usually read from left to right; there's a beginning, a middle, and an end. Mine only have middles: you walk into the middle of something. It has a montage effect. Think of it as filmic sequences, where they're behind one another, next to one another, hiding other things. You have to physically walk through the pieces to figure out what the story is or isn't. It's always your story; it's never my story, it's never someone else's story. You come with the content in your own head and do a Rorschach kind of association, so whatever it is that you're looking at is a do-it-yourself projective test. But it's also a chaos of nameless possibilities. You have to fill in the beginning, then you have to physically walk through and try to put together what those possibilities are. It's a lot of work that I'm asking of the viewer.
When I think about the work, I think about living in this world; with overwhelming amounts of information: TV news and tabloids, radio, film, magazines; it's so overloaded. Like a scavenger, I'm always collecting images: I take the world I live in, and put it outside of me. There are times when I just can't take on one more bit of news. You turn on the eleven o'clock news and it's another murder, a fire, Bosnia…You feel the need for a catharsis. Let me get all that crap out of me. Put it on the canvas and get rid of it, only to be faced with it again the very next day. But there is also good news; life goes on the following day.
What I like most about the work I'm doing now is that you get what you see. I don't try and hide the stretchers or the canvas, the writing in the back, or whatever. As you walk around, you see the guts of the piece. I'm not using the wall to hide the back structure. Its like living in the studio with a full body of work: some are down, some are up, and some are leaning against the others. It feels alive. From whatever position you enter into that space, you always have a sense of the front, the back, or the side, and then each piece positions itself against something else. So depending upon where the viewer is standing, the work can tell entirely different stories.
Suzanne McClelland is a painter who lives and works in New York.
Originally published in
Featuring interviews with Felix Gonzalez-Torres, Juliana Hatfield, Li Young Lee, Antonia Bird & Danny Boyle, Liz Diamond, Bradford Morrow, Dave Hickey, David Seidner, Shirley Kaneda, Cachao, and William Gass.