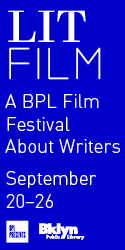 I was an extra in a Woody Allen film. I played a Marilyn Monroe look-alike in a cabaret scene. I was situated behind the principal table where Mr. Allen carried on his drama. I was the 1/80th of a second in the 137th degree of the camera's angle as the lens raced (swept past me). I will probably be a blur in an out-of-focus background. All this may decay forever on the cutting room floor.
All this talent for $27.50 a day at three days in a cold, gloomy, deserted high school close to the waterfront.
For 11 hours a day we were relentlessly ordered around by a Jock Gestapo; bearded brigade members of the Screen Actors Guild who talked to each other via walky talky: "Let's move 'em over now. Pile 'em in now. The truck's coming over to pick 'em up." When the truck came we were herded over to the main studio where we filed in and huddled in the anti-chamber to the set. Tensely awaiting our places, we were given precise military commands by these Neanderthal men. We were told to laugh, look up, or turn away, act natural or report back to the high school when we were to be dismissed. They stuffed us with jelly donuts in the morning. The crowd must have consumed three billion carbohydrates in those long dark hours before we went to the set.
We were informed of SAG penalties and NO LUNCH. We sat around in eternally endless moments, braced and tense, ready to perform anything in this comedy. I sat there, for what seemed like an infinity in my rhinestones, lacquered hair, melting make-up. At times a strange hunger would come over me in those many hours of waiting. It was no ordinary hunger. It was molecular. It was restrained inertia.
I counted the dust particles in the air. Why was I convicted to show business? Who was this madman behind the camera? I longed to return to the banality of everyday life.
Various rumors circulated as to what the plot was about. Was Woody Allen caught in a time warp in the 1940s? Did the UFOs land on a lawn in New Jersey in the middle of a garden party while Klaus Nomi died of third degree burns to his white vampire skin? Or was Charlotte Rampling going to the Berlin Film Festival?
On the third day of shooting I had lost my will to live and I showed up on the set an hour and a half late. The casting director stormed into Make Up, red-faced and waving my pay sheet. He bellowed, demanding to know what had happened to me. How dare I, etc.
All in all, I admitted to him, "Miss Monroe was ALWAYS late!"
Originally published in
Betsy Sussler by Craig Gholson, Carl Apfelschnitt by Sarah Charlesworth, Michael McClard by Kathy Acker, Eric Mitchell, Becky Johnston, and Amos Poe. Cover design by Sarah Charlesworth.