I Have Had Enough Conversations To Know That Flowers Sell: Jeffrey Augustine Songco Interviewed by Jessica Lanay
Objects and installations that redirect symbolic systems.

Discover MFA Programs in Art and Writing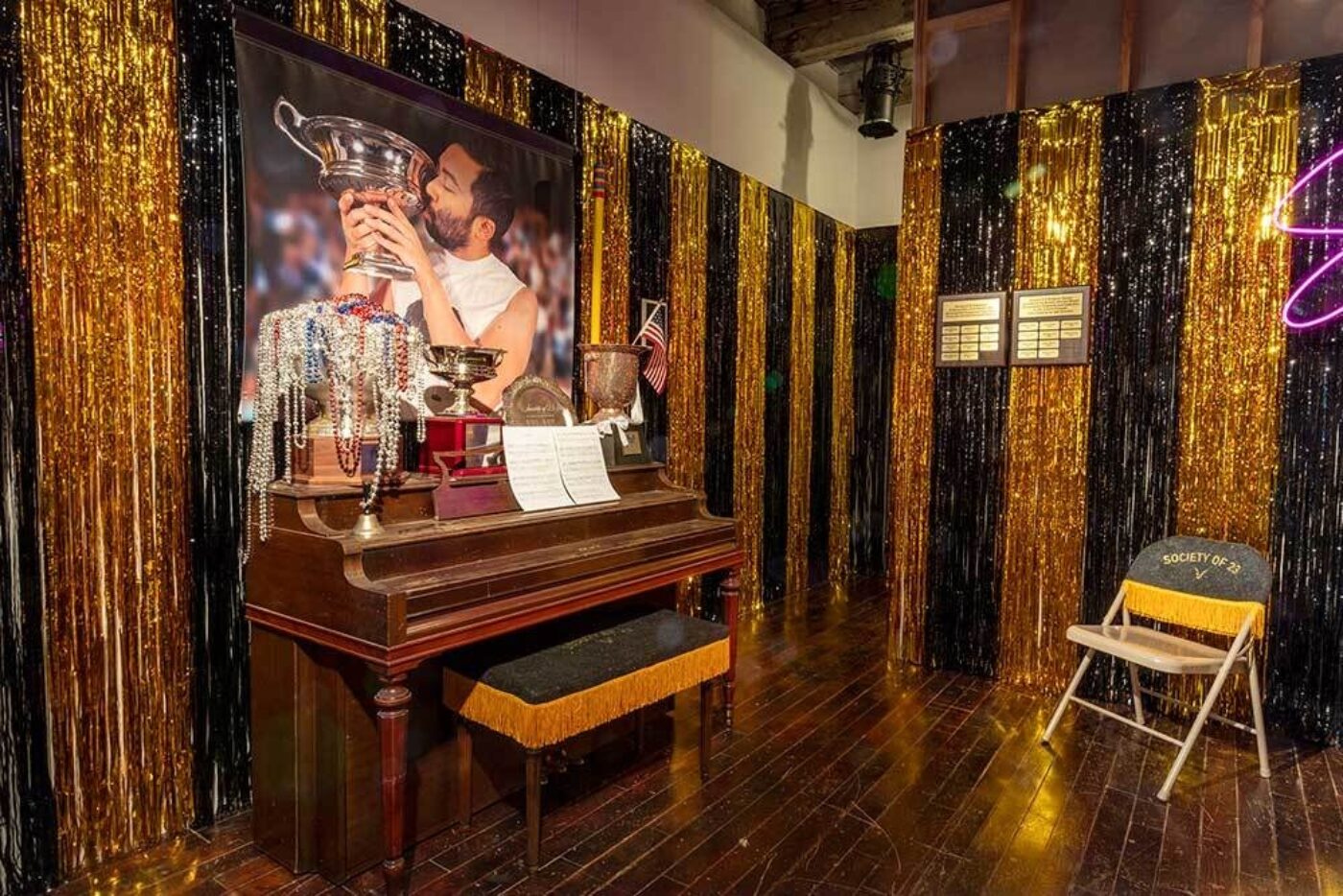 The body is a complicated field for harvest. Humans adorn for the purpose of materializing how they wish to be seen and to attract those willing to accept this glamour. Jeffrey Augustine Songco's art writhes in this tight space, simultaneously fighting and indulging in the practice of consuming his way into a community. He says, "I'm spying on myself," with the double intent of finding a way to fit while also trying to find an escape hatch. We see this pattern in our contemporary competitions; for example, Naomi Osaka's and Simone Biles's protection of their mental health revealed to the world our ambivalence toward attempts at fitting and escaping. Just because we understand the nastiness of the competition does not always mean we won't play the game. Live from the trophy game room of the Society of 23 brotherhood, Songco discusses how he recycles and repurposes symbols of derision, power, and competition in America in order to build a world in which those symbols become available for new imaginaries.
—Jessica Lanay
Jessica Lanay The repetition of your portrait in your Society of 23 installation at the Mattress Factory in Pittsburgh speaks to me of self-determination, assimilation, and invisibility. How do those words intersect for you?
Jeffrey Songco I feel that I'm a rule follower, and yet we are in a time right now where we cannot follow the rules because the rules are negative, exclusive. I followed the rules my whole life. I made a spy character at the end of my MFA program, and I asked myself what's the origin story of the spy? I found out that Skull and Bones at Yale was this organization that the CIA used to recruit some of their people. I decided that I need to make a secret society where my people are recruited into being spies. Then all of a sudden, I'm fixated on this brotherhood I created called the Society of 23, which is another parameter, another white, Western, American parameter that I'm trying to assimilate into. It's almost like a metaphor for the trauma of me as a child actor trying to get these white roles. I grew up thinking: I need to get into this production. I got a role as a French Polynesian boy. I, luckily, and this is some privilege, got to be in musicals where the kids could be any race. They should be white, but a theater in New Jersey cast diversely. I'm creating these productions: I am the producer; I am the director; I am the casting director. And yet, I still see the parameters. The parameters are our society.
JL I was watching the video Still Here (2020) in which you are acting out a rehearsal with paper dolls of the members of the Society of 23. It was hilarious! Especially when you were like, "Okay, Joshua, I know that you're tired, but I don't want to see it." It reminded me of pageantry. Does pageantry inform your work?
JS My interest in pageantry is connected to when I was younger and thinking, "These are beautiful people walking there." My original art was ballet. Ballet's reason to be is perfection. Immediately, I recognized it within pageants. When I was younger, I watched the pageants, and they displayed your height, your waist size, your bust size. In terms of nationalism—I think it's less obvious here in America—but in the Philippines or Colombia there's a national pride in this competition. When I talk about pageants in my work, I am bringing in a little bit of that political power. You've got past pageant people in the Philippines running for the senate. Then there's the performance in general: the simple walk down a stage, the simple answer within thirty seconds. I'm interested in those behaviors and the pressure of the competition.
JL What is your response when people attempt to ethnicize your work?
JS I'm literally back on that stage to be viewed as an ethnic boy, a little brown boy. I don't think that has left my body yet. I think that has stayed with me, and that has been my source of drama, to be on display as a brown body, specifically with being Filipino. I want to say that really the only close Filipinos I know are my mom, dad, and sister. Growing up my parents didn't teach us Tagalog—how to read, write, or speak it. They only spoke it at us so that my sister and I could understand it fluently. As I got older and moved through life, you can see me trying to escape that body, trying to join a college fraternity that was predominantly white. I wasn't trying to find those who had the same body as me, and yet here I am ironically trying to make a community of people like me. This might relate to the GayGayGay robe (2021). One clear interpretation of it is that it's self-hatred. Maybe I was racist against myself; maybe I hated myself in that I wanted to belong to a group that was in power. I think there's a lot of negotiation that I'm going through when I think about my body as Filipino. I think for me being Filipino is really about my family because I don't have that community outside of it.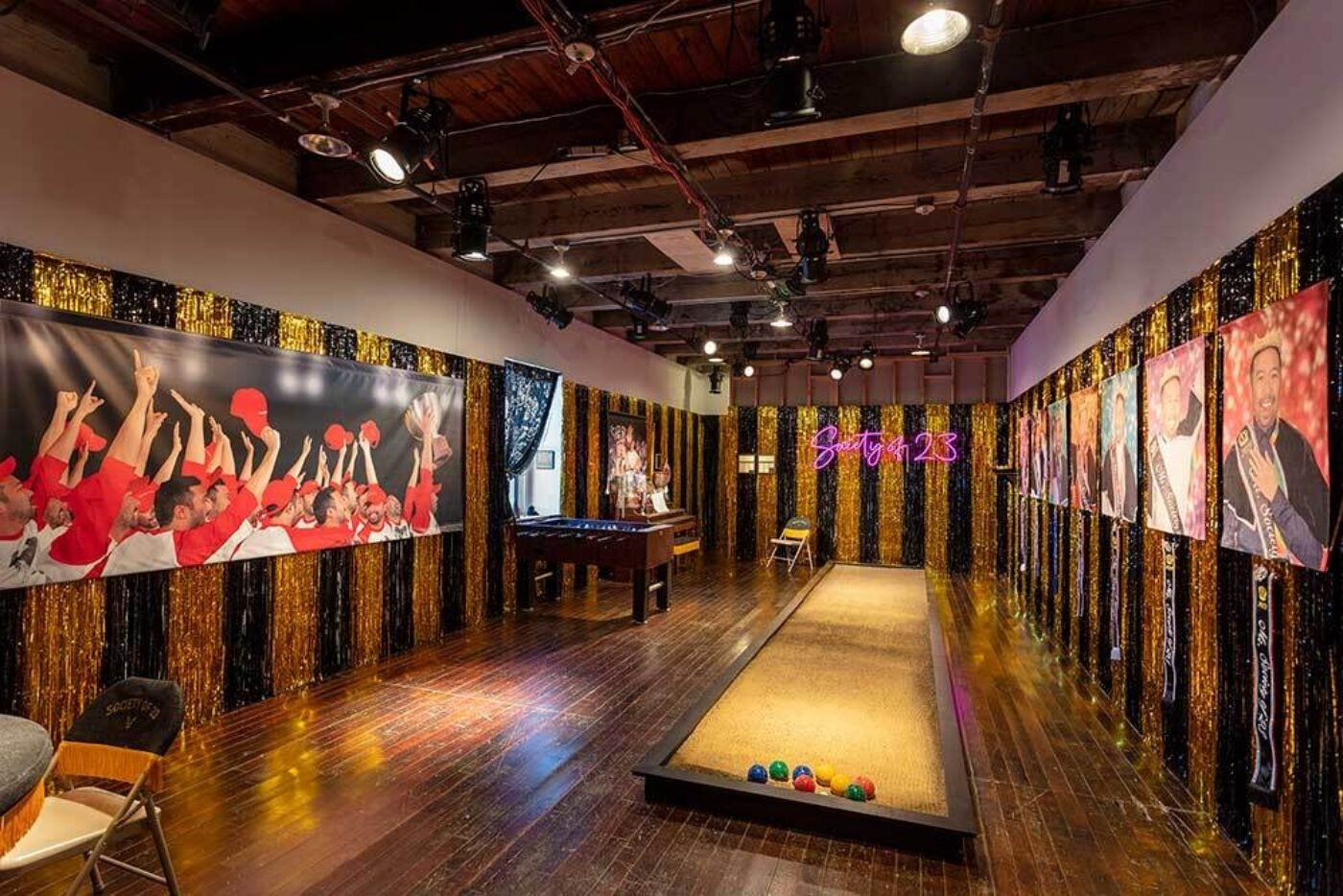 JL You're a writer, and I love your writing. You contributed extensively to Bad at Sports and Hyperallergic. What does writing do for you intellectually when you're building this world? What does writing mean to you?
JS I was a terrible writer growing up and in high school. When I was in school, blogging became a thing. I liked writing in a diary when I was younger, but the confessional mode in which I write was something that I developed because I was at a computer all the time. In art school I realized that my writing is the base of my art practice. Now, when I put my writing hat on, I understand that the writing is not going further; it's not being translated into an artwork. I want to thank Hrag Vartanian at Hyperallergic for allowing me to write the way I did. It felt very freeing to use my humor, and that's hard too. I think it comes from my theater background that I understand the pace of writing because you see a joke that's on stage written in a script, and you're like, "Oh, that's how you write a joke." I'm always writing. I have so many things, so many notes, documents. I write everywhere, even if it's just a couple phrases, a couple sentences, a couple words, and then I translate that into a visual artwork. If I want to make a work about me, what does that turn into? Does it turn into a photograph? Does it turn into a performance? Does it turn into an installation?
JL I love how explicit you are about commercialism and competition in the art world. How does commercialism inform you?
JS I give credit to my partner, Jeff Hamm. He's a full-time potter and has worked selling his pottery for the last four years. My partner is generous with information about finances: how much it costs to do shows, how the weather affects sales, making a living, paying our rent, and putting food on the table with money that he got by selling his pottery. I never had that with my art because I always had a day job. I made enough money that I could do these larger projects. I quit my day job in 2019, and I've been contracting. I want to show those conversations.
When I had my show at Fluxus Contemporary in Chicago, I asked myself, "What am I going to make that will sell at this gallery?" Jeff always says: "People ask, 'Oh, why poppies?'" And he's like, "Because flowers sell." It's very commercial. So what did I do for my Fluxus Contemporary commercial gallery show? I made fabric cut in the shape of flowers, and guess what? They sold. I'm very happy about that.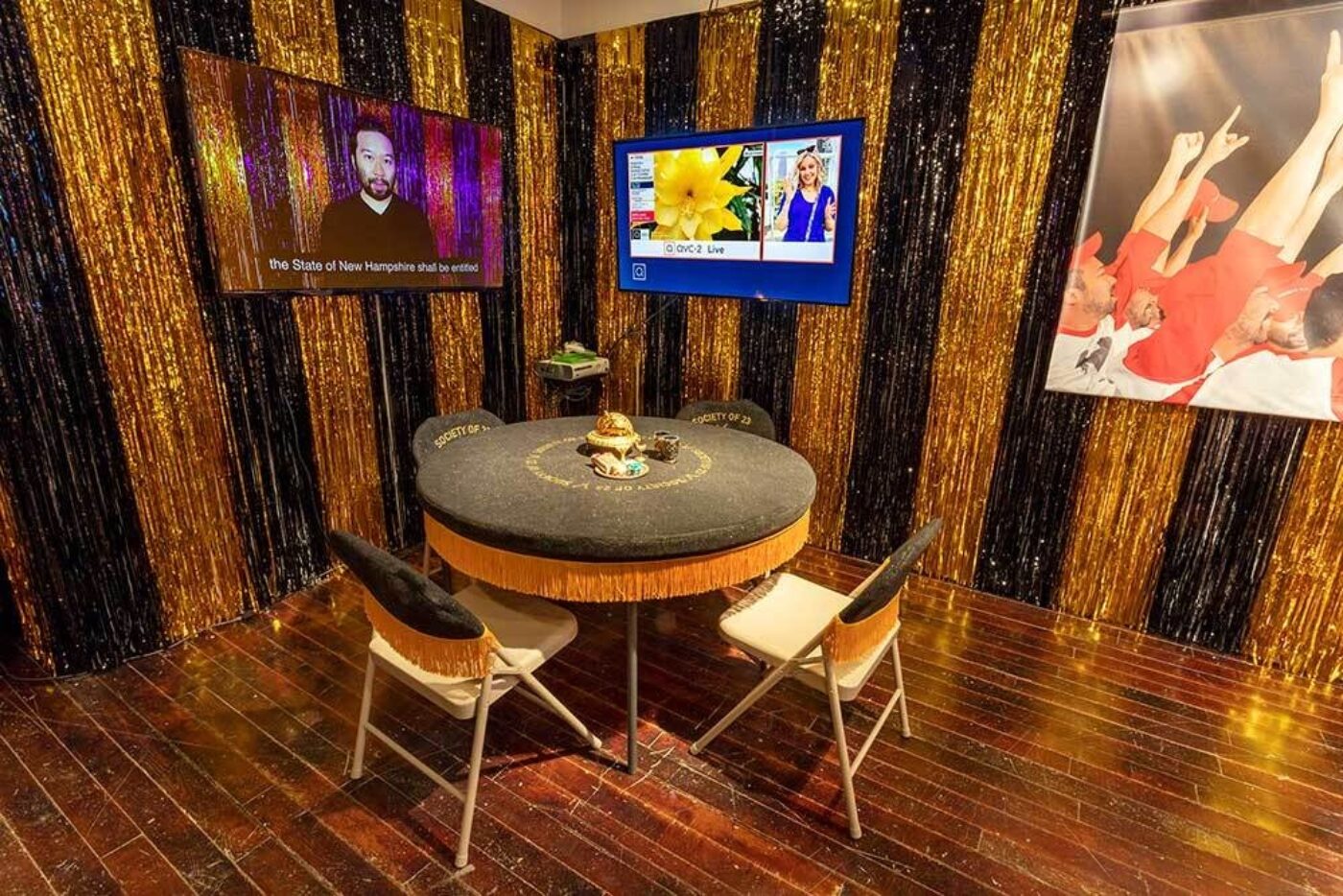 JL The palm trees in Tropical Realness (2020) are colorfully kinetic riffs on highly consumable items. There's something about making them electric gold, hot pink, or lime green that ups the desirability of them. This brings to mind beauty and consumability. Can you talk about these in relation to your work?
JS I have a hard time understanding beauty. I've participated multiple times in ArtPrize, which is the international competition here in Grand Rapids, Michigan. To hear what your average audience thinks is beautiful is not what I think is beautiful ninety percent of the time. I think different artists have different definitions of beauty. If I know the end goal is to get a work of art in someone's house, I've had enough years of experience to know that people do not want a photograph of me in their home. I've had enough conversations with my partner and his community to know that flowers sell. Maybe there's a systemic issue with beauty, and I am simply a cog in that machine.
JL Is your use of challenging symbols and signs a way to get people to think about them differently?
JS No one's going to look at the GayGayGay robe and pretend that I'm helping them to open their eyes to the Catholic Spanish reading of that robe. They are going to be confronted with their own understanding of that symbol, and they will sit with it. What I'm actually doing is appropriating the robe.
We're at war with symbols. What I'm trying to encourage for viewers of my art is to try to evolve that symbol into something else. Let us try to look at a KKK robe and make it the ritual robe of the Society of 23. Can you do that? Can you come into my space and let go of some of your biases, some of your experiences? What are we doing when we walk into my installation? We're seeing all these familiar symbols, but now I am inviting you to see them in a new way because that is what we have to do every day; we cannot let symbols control us. We have to determine the path of these symbols because we've created them.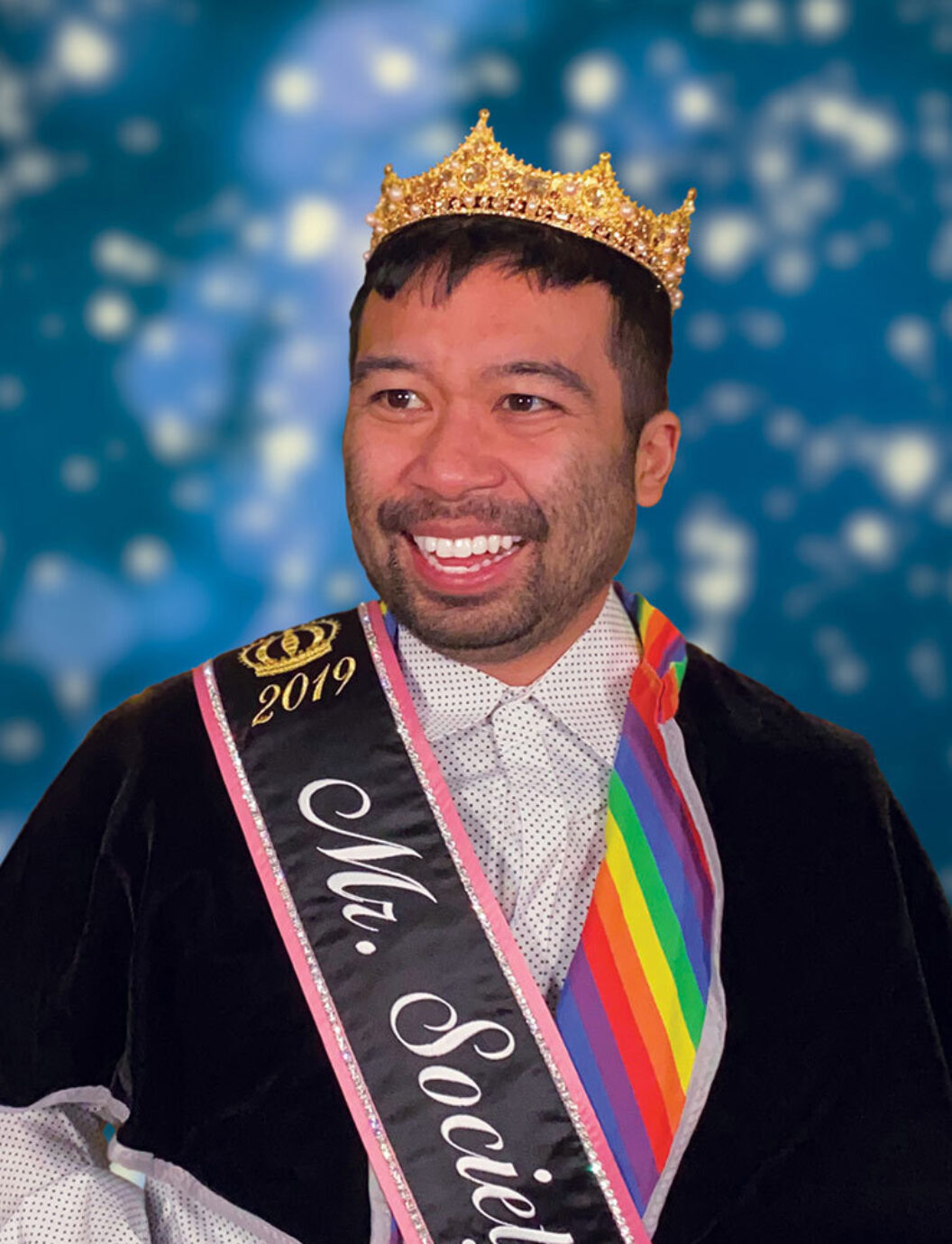 JL Pageant time: I know you're tired, Jeffrey, but I don't want to see it.
JS I'm not tired, I'm not tired.
JL Stand up straight, shoulders back. Here's the question: If you could cure world hunger or have world peace, which would you choose?
JS Thank you for that question, Jessica. If I had to cure world hunger or choose world peace, I would have to say that curing world hunger is part of world peace, thank you.
JL I got that question from one of your images.
JS Yes, yes!
Jeffrey Augustine Songco: Society of 23's Trophy Game Room is on view at the Mattress Factory in Pittsburgh until November 14.
Jessica Lanay is an art writer, poet, librettist, and short fiction writer. She is a frequent contributor to BOMB where she has interviewed artists such as Howardena Pindell, El Anatsui, Rirkrit Tiravanija, and others. Her debut poetry collection, am●phib●ian, won the 2020 Naomi Long Madgett Poetry Prize from Broadside Lotus Press. Lanay is the co-writer of the catalogue for the Warhol Museum's exhibition Fantasy America. She is also the current Literary Curator for the August Wilson African American Cultural Center and the host of the digital program LIT Friday where she has interviewed artists such as Dr. Fahamou Pecou, Vanessa German, and others. For more information visit lanay.me.