Artist Emily Roysdon on the many facets of "queer," playing with language, activism through aesthetics, and making the audience happy.

Discover MFA Programs in Art and Writing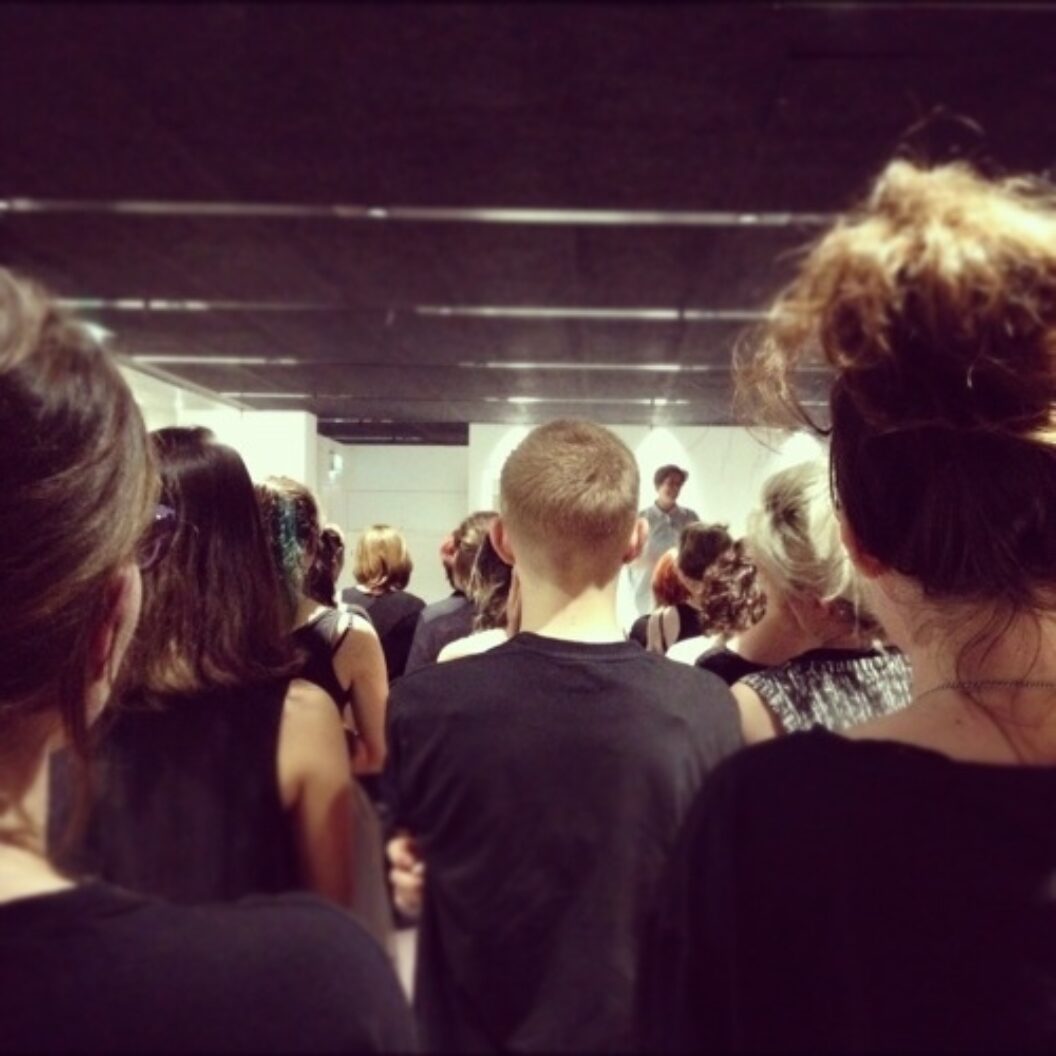 "Clock! Block! Block!"
Shouting this loudly and in quick succession with over one hundred other bodies in Emily Roysdon's I Am a Helicopter, Camera, Queen (2012), I found myself inevitably shouting "Cock! Block!" I tried to remember clock, but I could not quite get the cock out of my clock. This linguistic stickiness is just one of the many sideways promises of the score Roysdon set out for her Tate Live Performance Room piece. In fact, this is a staple of Roysdon's work: the persistence of an idea that rolls around in your head and on your tongue, an idea which slowly works its way up through your feet to percolate, finally finding an unforeseen home inside of you.
Emily Roysdon's practice is the concept, the idea that comes to life in the form of bodies that take shape through photography, collaboration, or correspondence. Her work is the quiet choreography of language through simple and provocative images. A founding member of the feminist genderqueer artist collective, LTTR, Roysdon's work has its roots in the language of community and conversation. Since her days with the collective, Roysdon has shown artistic works internationally from New York to Madrid to Prague, and was just shortlisted for the Victor Pinchuk Foundation's Future Generation Art Prize in Kiev. In addition to art objects, images, and multimedia works, Roysdon also creates event scenarios that bring artists together in response to a specific challenge such as in 2011's A Gay Bar Called Everywhere (With Costumes and No Practice) at The Kitchen in New York City. Roysdon and I connected online between London and Stockholm—Roysdon's other home away from New York.
Katie Brewer Ball The first work of yours that I saw was a still from untitled (David Wojnarowicz project) on the cover of LTTR, Lesbians to the Rescue (2002). This photographic series depicts a young female-bodied individual wearing a paper mask of David Wojnarowicz's face, re-enacting Wojnarowicz's own piece Rimbaud in New York where he photographs himself wearing a photocopied mask of Arthur Rimbaud's face in various pedestrian queer environments in Manhattan—on the Chelsea piers, sitting at a NYC diner, in front of a Times Square peep show. I remember being blown away because in these images you were visually demonstrating a relationship I had been longing for. This was a relationship between artists such as David Wojnarowicz and Arthur Rimbaud and a younger female-bodied set of queers. For me it really conveyed the rage of stolen histories and relationships, as well as the simple desire for queer genealogies and role models.
Emily Roysdon David Wojnarowicz is how I became an artist. I identified with him and wanted to make a work that bridged the supposed gap between us. Of gender, sexuality, diseased body, and death. My project was to bring him forward, to my times, to other bodies, and lay bare externalized impossibilities of my identification with him. It was an extremely productive identification for me.
KBB Did New York City feel like the same place of Wojnarowicz and his images?
ERAbsolutely not.
When I arrived in NYC my gravity was toward the piers. It was a personal, historical, imagined landscape for me. It was a way of connecting my childhood scenery, queer reading habits, and the sites and lives I was inheriting as a young queer moving into the city's breast.
KBB It's amazing where attraction leads us; it's never a direct path. I keep thinking about the idea of "queer" less as an identity, and more about the desires you bring with you to any subject. "Queer" as what we call this desire for any subject, whether it be your art, or another person's body, or your own body. How does a word like "queer" work in your practice, or in the framing of your artwork?
ER Well, seeing it used so many times in your question hits home how lovely a word "queer" is, visually. And, yes, I use it. I ask it to work and it does work. It positions and questions simultaneously. It has associations, bodies, histories, but it is also impossible to pin down. Within many discourses it is acutely defined, but in speech it just works, and opens up the spaces that I want to work in.
KBB I also really like the word "faggot." There is this moment in J.R.R. Tolkien's Lord of The Rings where he is describes the moment before winter as "the fag-end of Autumn." This line has always been so delightful to me.
ER Sounds like my favorite time of year.
KBB There is a pleasure that you seem to take in language, in the perversity of ripping apart words so that they appear to be in a sensual sort of tension—like in the poster image and performance script you created on the floor of the Tate Live Performance Room, or your writing and visual work in Ecstatic Resistance (2009) which you call "pleasure in the domain of resistance."
ER It is pleasure. But for me it is also sense. It's simply, and not so simply, how I make sense of myself and my thoughts. I can't write straight; I've tried. Now I don't try anymore. I think my work is actually in the space of language, and it needs images, movement, repetition, and other things to become.
My projects start with language. The way that I want to be with language, and the things I want to do with language—it's a part of me that I can't control. With Sense and Sense (2010), I began with the shape that four words—use, regulation, structure, and frame—made: a square. And other times, like with the Tate Live project— I Am a Helicopter, Camera, Queen —the language was a way of making room, re-constructing an already heavily signified space. Language was literally printed on the floor buttressing the walls, but also found in slips of signage that read: "Life from the Tote Madern."
KBB At the Tate the language was live—both live for camera and for a live streaming Internet audience. It was your vocabulary, but it was unruly. You have over 100 live bodies in the performance room, people that you had only just met, and although it was rehearsed, there was also this air of improvisation.
ER 105! That project was full of "never-done-befores." So much of it was also improvised from my end. I had ideas. I had made the floor score. But I hadn't figured out how to be with and direct 105 strangers. Well, 104, because I knew you!
Previous to the first meeting it was just the idea of a full room, a load of people looking back at the solitary online viewer. My work was offering language, but letting it be articulated in various ways: together in solos and then freeform at the end. This was the most important way of connecting the group. Using language as the artist—the director of the volunteers—and using humor was an entrance into collaboration with them. Had I used language properly the room would have been stiff, and it wouldn't have made much sense as to why they were standing between my five foot thighs on the floor of the gallery with a camera pointed at them.
KBB It was amazing that so many people could fit between your thighs.
ER And formally the project was built with this vocabulary and relationship to language. But in some ways I think it's the least successful element of the live work. I wanted to let the language go with the participants that were in the room with me, let go of control and let it breath. But this decision meant that the piece was less visible to the audience live online. That was a decision I was willing to make.
KBB This brings up a really interesting question around audience for a piece that was "live" for the Internet. The Tate screens the piece directly to their YouTube channel "live" and that is the imagined audience for the project. But you had an in-house audience of 105 participants who were having a blast. I remember we spoke after the first rehearsal of I Am a Helicopter, Camera, Queen, and you said you were worried that you weren't going to be able to make this giant group of people happy. I think I said, "Why would you want to make them all happy?" But the thing is that you did actually make them all happy. The whole process was so much fun. And it was striking to me, that this jovial group collaboration was even in the realm of possibility.
ER Yeah, that's a personality thing. It is also an ethics of collaboration that I wasn't sure would translate to 104 strangers.
KBB In one week of rehearsals you built this temporary community that culminated in the ten minutes of the "live" show. People came together to respond to your challenge for collaboration, to make room for over 100 self-identified "queers" and "feminists" to take over the space of the Tate Live Performance Room. There was so much to that element of the piece that could never have been shown on the camera, which perhaps is okay.
ER For me it is okay and not just because it gets aired here in this interview, but because that's why I do the work I do. I like working with people. I like figuring out how to do things together, on smaller and bigger scales.
KBB Much of your previous work is collaborative, but it sounds like you usually know the people you are working with. Do you think you will start doing more volunteer-based work?
ER I do think the Tate project opened the door, especially because it became such an exciting and challenging experience. But the piece was entirely predicated on the condition of performance, both online and institutional simultaneously. It was the biggest institution I'd ever worked with on the one hand, and also the first time I'd ever considered broadcasting work, so it was heavily framed for me by the invitation. My response was, as I said to the participants that first day, both formal and hysterical.
The relationship to the camera was also very important. At first it wasn't "allowed" in the room. We took shape in the room, filled it, pushed at it, and then made room for the camera. As the camera came into the room, the back door—which the camera audience didn't know was there—opened and people began to pour out of the room. We welcomed the camera in and then exceeded the space. We had been in a windowless white box, then we were in Turbine Hall, a famously enormous place, and the question was: what shape could we take out there?
KBB And as the bodies filed out into the Turbine Hall, laying across the floor of the hall and shouting words from the performance script on the floor, they surrounded the Damien Hirst black box housing his famous diamond encrusted skull. There was something really interesting about taking up that space of a modern art institution, which is unsurprisingly still dominated by men, and by money. One of the questions you were asked by former collaborators JD Samson and Johanna Fateman in the live chat immediately following the piece was, "Is the birth-chain the opposite of an ACT-UP die-in?" How were you thinking of this project in terms of the activist impulses that emerge through these sometimes-aesthetic forms of protest such as ACT-UP or Occupy Wall Street?
ER Or is it the aesthetics that emerge from activist activities?
KBB Right, sometimes the aesthetic is a way to describe a certain political feeling or enable an action, like ACT-UP's Stop The Church action at St. Patrick's Cathedral to protest Cardinal O'Conner, which was visually stunning and terrifying from both a performance and a political perspective. How does the Tate piece emerge into this kind of history or conversation?
ER I have a reaction to this question, which is not a thought. I'll say it and see if I can move beyond it. I am a failed activist. Yes, people call me an activist because I claim politics. Yes, I'm happy to respond to being called that, but the stakes are different. I Am a Helicopter, Camera, Queen is a demonstration in some sense, a demonstration of presence, occupation, and groupness. I think it speaks to some of our knowledge of these movements as context. My work in a broader sense asks to be read adjacent to the lives, works, processes, and histories of these struggles. But I am reticent to make realness claims.
My work is in language, in processes, abstractions, representations, limits, and so on. Relating to the aesthetics of activist traditions is deeply rooted in my work as it theorizes and imagines collectivity. And I keep queer lives in focus as my audience and inspiration. There are many intersections, but I can't value my activities alongside ACT-UP, OWS, or any other activist people and groups that I respect. Maybe it is about value, and proximity. When I was younger, before calling myself an artist, I thought I had to be "useful," be a diplomat or something, so this is the shadow of my thoughts here.
KBB Community, public forums, and democracy are great in theory, crucial really, but very hard to enact in practice. And community is really difficult to enact whether we are talking about queer communities in New York City, or art communities framed through economic imperatives. Things very quickly get weird and when there is an inside to community, there is also inevitably an outside. That sounds like a big activist challenge to me, and one you seem to take-on with much grace.
ER I think of my work as theorizing and exercising collectivities. Growing up inside of LTTR, and making work throughout and after such a strong group identity has shaped me. My work has grown though, and I am constantly reflecting on this dynamic. An obvious question for me is: how does one act as a director but speak of collectivity? How can I set terms, focus, and form for groups to be alive inside? There is some contradiction, I know, but so far I have chosen to play out these forms and desires and try to proceed ethically. And I think herein lay the subtleties of communities, collectivities, and democracies.
KBB To borrow from your own ideas in Ecstatic Resistance, and the impulses of anarchism found in OWS, we need the impossible. The impossible is precisely that which pushes us to imagine change. And the aesthetic forms of activism, community, and collaboration that I see in your work are exactly that. I am going to call you an activist because I think we need a lot of different mediums of activism to make changes in a social structure that is moving farther and farther away from the people, from the wellbeing of the people.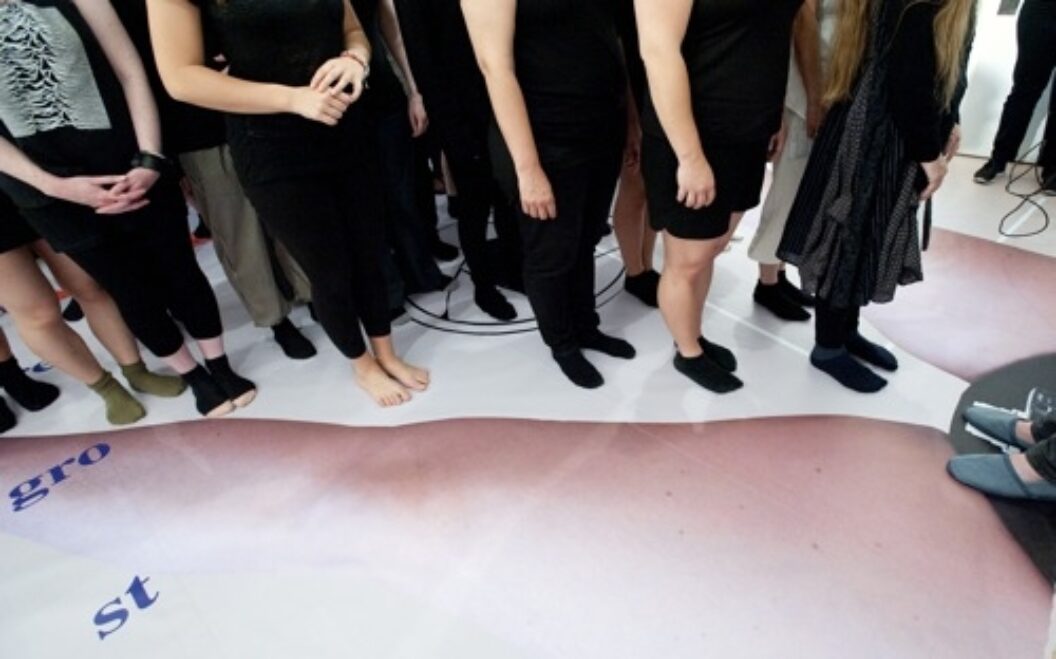 ER You extend me a kindness that I cannot do myself by posing an idea I respect; an idea that we need many fronts, but one that I push up against as regard to my own life and work.
KBB Which is both the pleasure and pain of this thing called queer, as it is born out of these queer theory genealogies of Eve Kosofsky Sedgwick and Judith Butler. It is this deconstructionist impetus for constant self-criticism, which is really important when we are talking about pushing against that which passes as "normal," but from a personal psychological perspective is really difficult. It is a dance between the critic and the lover, both of which are necessary to keep moving forward.
So, what is next for the critic and the lover, Emily Roysdon?
ER For the critic, practically and professionally it's a busy fall, with new commissions at the Visual Arts Center (VAC) in Austin, Texas, a new essay for a group show at Unge Kunstneres Samfund (UKS) in Oslo, a residency and new performance at Tramway in Glasgow, and the Future Generation Art Prize in Kiev.
The lover is about to go off the grid for a week to an island off of Stockholm with some good friends.
In the place these two meet I am regrouping after a few years of a lot of work and thinking through some new terms and frames. I am looking forward to a new arena, certainly related to the last few years of work, that keeps movement at its core.
KBB Dancing on and off the grid sounds about right. When will New York get to see you again?
ER Well, I think I'll be gone a lot in the coming months. I seem to have this sort of relationship with New York. I've been coming and going for twelve years. Both are important. The itinerancy and instability is how I afford life there.
And Katie, perhaps we will meet on Fire Island as dreamt from London's Tate Turbine Hall.
KBB Another impossible and real landscape.
Katie Brewer Ball is a PhD candidate in the Department of Performance Studies at NYU's Tisch School of the Arts. She has taught literature and art theory at NYU, Barnard, Pratt, and SVA. Her work has been published in Women & Performance: a journal of feminist theory, Criticism: A Quarterly for Literature and the Arts, and Media-N.