Holding the Gaze: Ebony G. Patterson Interviewed by Lori DeGolyer
Using the visual seduction of installation and video to address systemic violence.

Discover MFA Programs in Art and Writing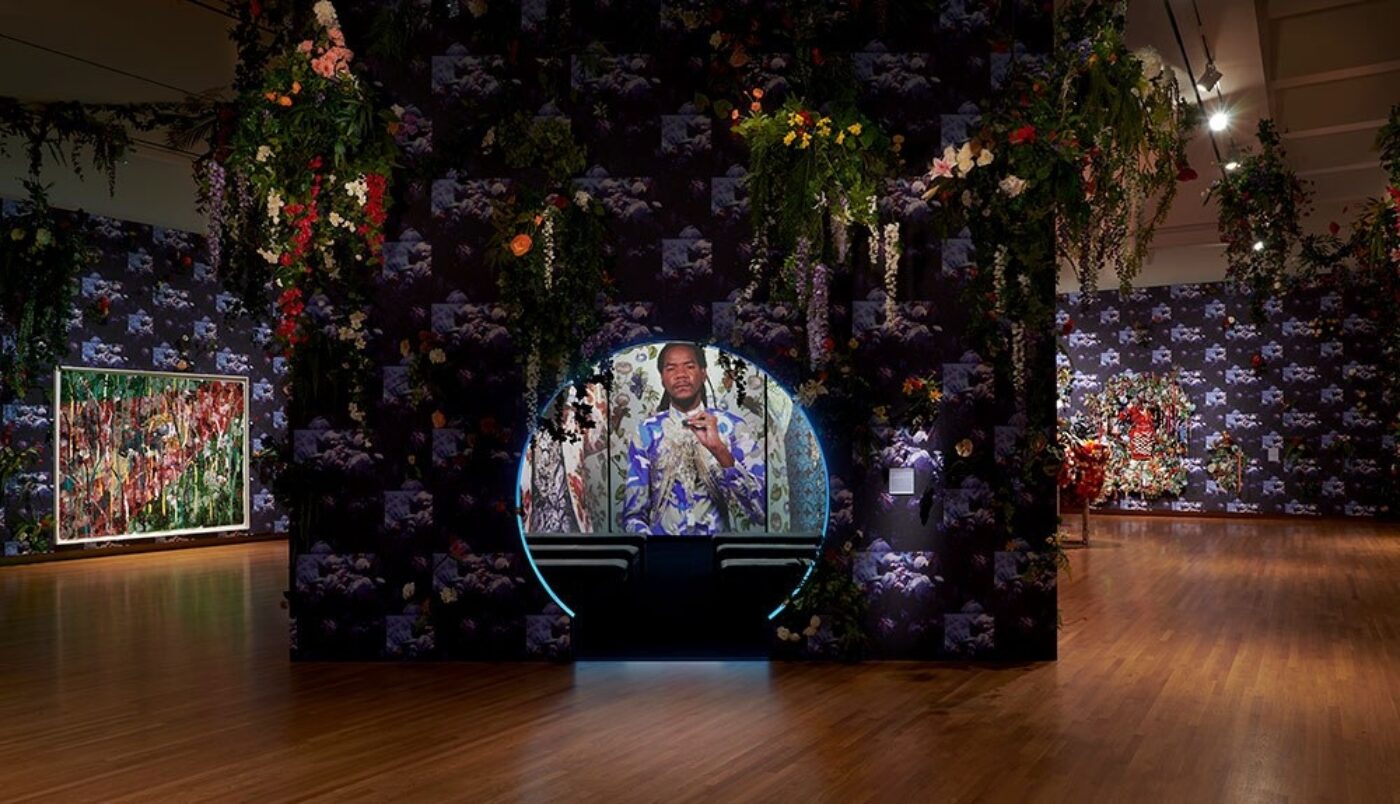 Ebony G. Patterson has constructed a sprawling, overgrown night garden at the Nasher Museum of Art in Durham, North Carolina: … while the dew is still on the roses … is a comprehensive exhibition featuring tapestries, videos, sculptures, and drawings from the last decade of the Jamaican-born artist's career. Flowers hang from the ceiling and vegetation shimmers on the walls, yet the aesthetics of Patterson's work have a much more significant purpose. They function as a lure through which viewers face the unbearable realities of racist and classist systems. A study on devastation, grief, reverence, and power, … while the dew is still on the roses … illuminates some of the deepest wounds in society, while also asking us to tend to them.
—Lori DeGolyer
Lori DeGolyerIn many of your tapestries, there are hands, feet, and other body parts placed in the midst of glittering flora and fauna. The works are beautiful, but upon closer inspection we can see that they also carry the weight of trauma and death. Can you talk about your use of fragmentation and the layers that make up these works?
Ebony G. PattersonFor me, when I started making the tapestries that you're speaking to specifically, one of the problems I felt like I was encountering—and which is always a problem with the work—is that people kind of sit in its prettiness, and its buoyancy, and its tactility, and its shine; but I wanted to find a way that somehow made that difficult to just rest in. The fragmentation or the insertion of these limbs or the allusion to dismemberment was a way of suggesting violence within this beautiful landscape. Within that, too, those bodies that are dressed or that look like the core of the tapestry also carry violence: the fact that we can't see any heads or that there are no arms or limbs. There's a suggestion that these bodies are also engaging in a moment of violence in the same way that the limbs are oozing from or underneath the landscape. I was really interested in creating these two contradictions that somehow capture the viewer in a question. Like when they would say, "Oh, it's really beautiful." But is it? Is it though?
LDI feel like it's really effective in that way. The pieces are just so captivating, but then you do sit and bear witness to what else is there, and it's really hard.
EPFor me as the artist, it's a tricky line to negotiate. The images in those more recent tapestries are informed by photographs of loved ones at sites of violence. I composed photoshoots based on images that I was looking at of people at sites of violence and thinking about witnessing also as an act of violence, along with the act of violence of photographing those persons in their most vulnerable moment. Even the scale of the work is really important because I was interested in finding a way of forcing the audience to also sit within the picture. They, too, become a part of the moment of witnessing under this question about power. Who's really witnessing? Is it the image we're looking onto, or is it you? And how do we participate generally in acts of witnessing? What voices are given weight, and how do the systems around being a postcolonial society also contribute to the ways that we give value to certain voices?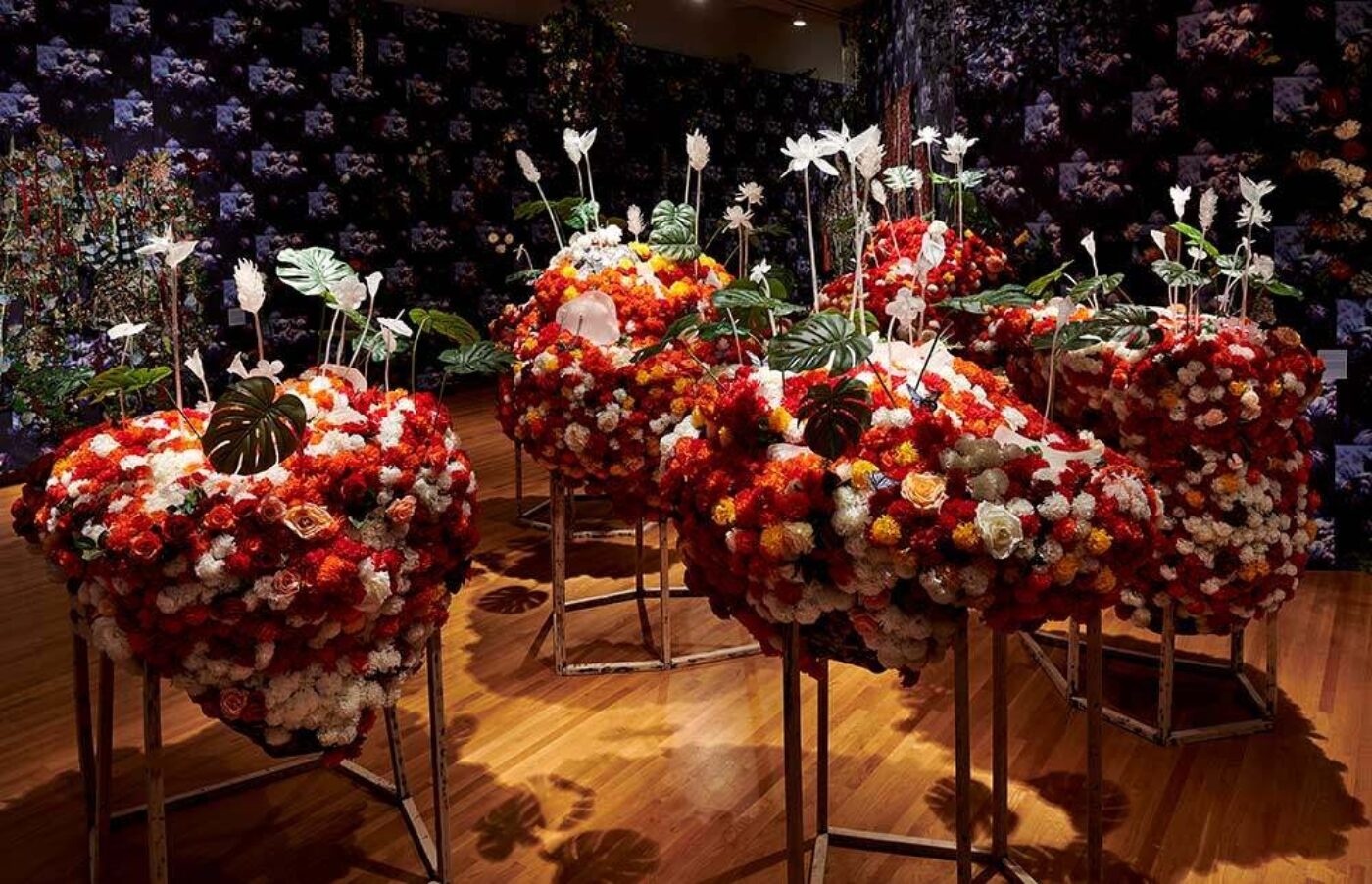 LDAt times the exhibition feels elegiac. I'm thinking especially of … moments we cannot bury … (2018) and the title of the exhibition. Did you create the exhibition with that intention?
EPYeah, for sure. The title of the show comes from the hymn "The Garden." I don't know if you've ever heard it before: (singing) "I come to the garden alone, while the dew is still on the roses." It's a hymn that was written in the late 1800s, and it's about when Mary Magdalene came to the garden to discover that Christ's tomb was empty. I wanted to find a way to use the title of the show to reference gardens without having the word garden in it, but also to talk about acts of mourning, death, and renewal, or celebration, all within that title. Dew is kind of like tears. The dew comes early in the morning, so it suggests possibility. The title is a fragment of a much larger context. It's a line from a song, and I was interested in this fragmentation and the word "still" also being a part of that, which suggests time, and it suggests possibility. There's still an opportunity for us to think about things, to think about ways in which you could shift things.
When I started thinking about … moments we cannot bury … I asked myself what would happen if I created a moment where people were actually submerged in the garden. That somehow, you had to walk the grave. What does it mean to walk the grave? All of those flowers are funerary flowers. I was also thinking about street-side memorials, the kinds of flowers that people would bring. When I think about working-class spaces, there's a commonality in terms of the kinds of flowers that one is able to get based on what's at the neighborhood supermarket or just what's affordable. Most of the flowers there are carnations and roses.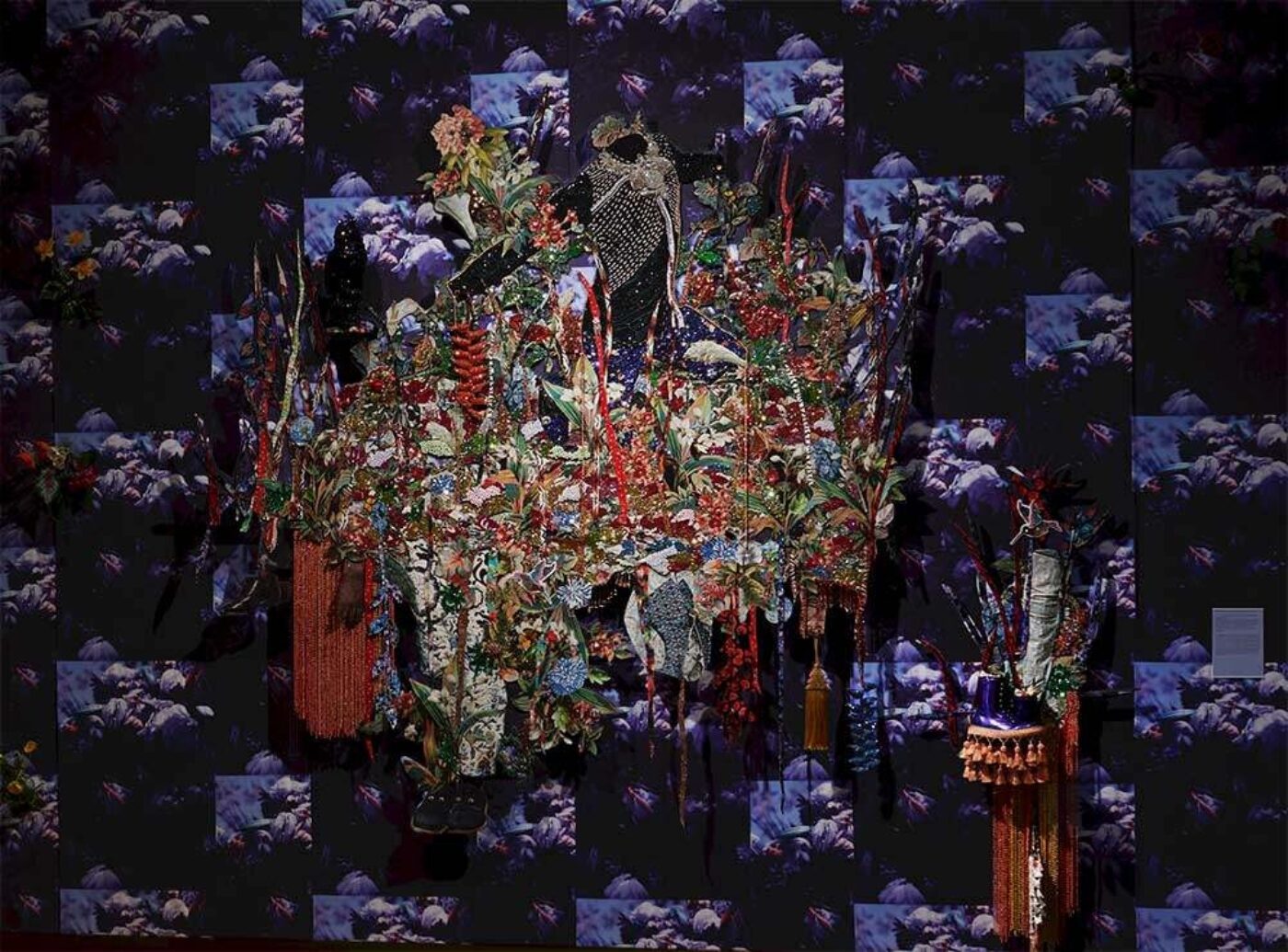 LDI was going to ask you about the class aspects of your work as well.
EPI've always been interested in working-class cultures and spaces, and the way that dress becomes a really important tool for advocating for one's presence and using those kinds of materials as a way of self-actualization. If you exist in a society that says your body has no value because of the neighborhood that you're from, the shade of your skin, or your economic standing, then what does it mean for somebody who is disenfranchised to procure objects that seem to speak to luxury as a way of saying, "Well, I have these things that you associate value with, so now what? Why am I not valuable? I have these things, too. I can access these things, too." The thing I think that's really interesting, for example, is the idea of the "knockoff." Even when in recognizing it's not the real thing, for a moment you see it, and by extension in seeing it you see me. In seeing me, it means you have to give acknowledgement to my presence and my body, and that I'm not something you can deny irrespective of whatever ideas or understandings you may have come to because of the systems that we exist in. The act of doing this as defiance is interesting to me.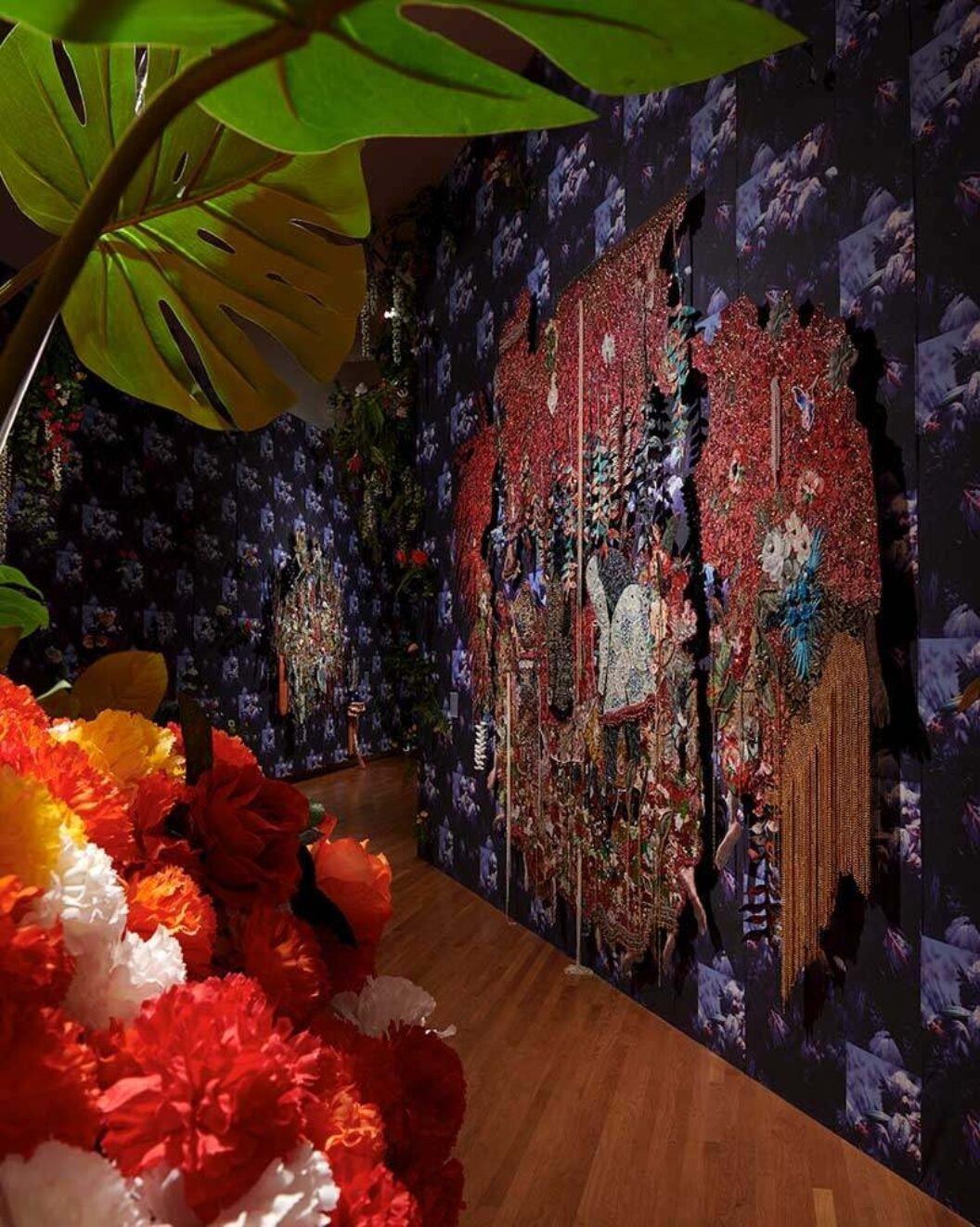 LDI feel like this relates to … three kings weep … (2018). The videos are set in a chapel-like setting with benches that resemble pews for the audience to sit on. What were your thoughts behind that staging?
EPI've always loved a slow video, and to me anybody who decides to do video is an incredibly brave person, especially a video that's long. You are asking this person to give over time and just sit and look. If you walk away from a video, you're missing a moment, which means you have to commit. It requires stillness, and it requires a surrender. I was thinking about those things when I was constructing … three kings weep . . . . In getting somebody to be still, how do I hold them so that if they walked away it would be too hard? It would be very hard; it would almost be disrespectful to do so. The scale is also significant in holding you physically. Not just holding your eyes, but also holding your body in that space.
I really wanted you to be at the feet of these young men. That was strategic. I didn't want you to be standing. I wanted you to sit. I wanted you to be almost in a state of rest, but then at the same time your rest is being challenged by their gaze. It's not that your rest is inactive, because you are held by their gaze, almost suspended in the moment. My thought was that if for the entire show all a viewer chose to stay for was the beauty of things and the sparkle, then this moment was going to be the moment that you could not escape. And that somehow all the other images would become even clearer.
Ebony G. Patterson … while the dew is still on the roses … will be on view at the Nasher Museum of Art at Duke University in Durham, North Carolina, when it is safe to reopen.
Lori DeGolyer is a writer and editor currently based in Brooklyn.