Highlights of Bushwick Open Studios, 2013
Eight young artists, curators, writers and art historians tell BOMB their top picks at this year's BOS, May 31–June 2, 2013.

Discover MFA Programs in Art and Writing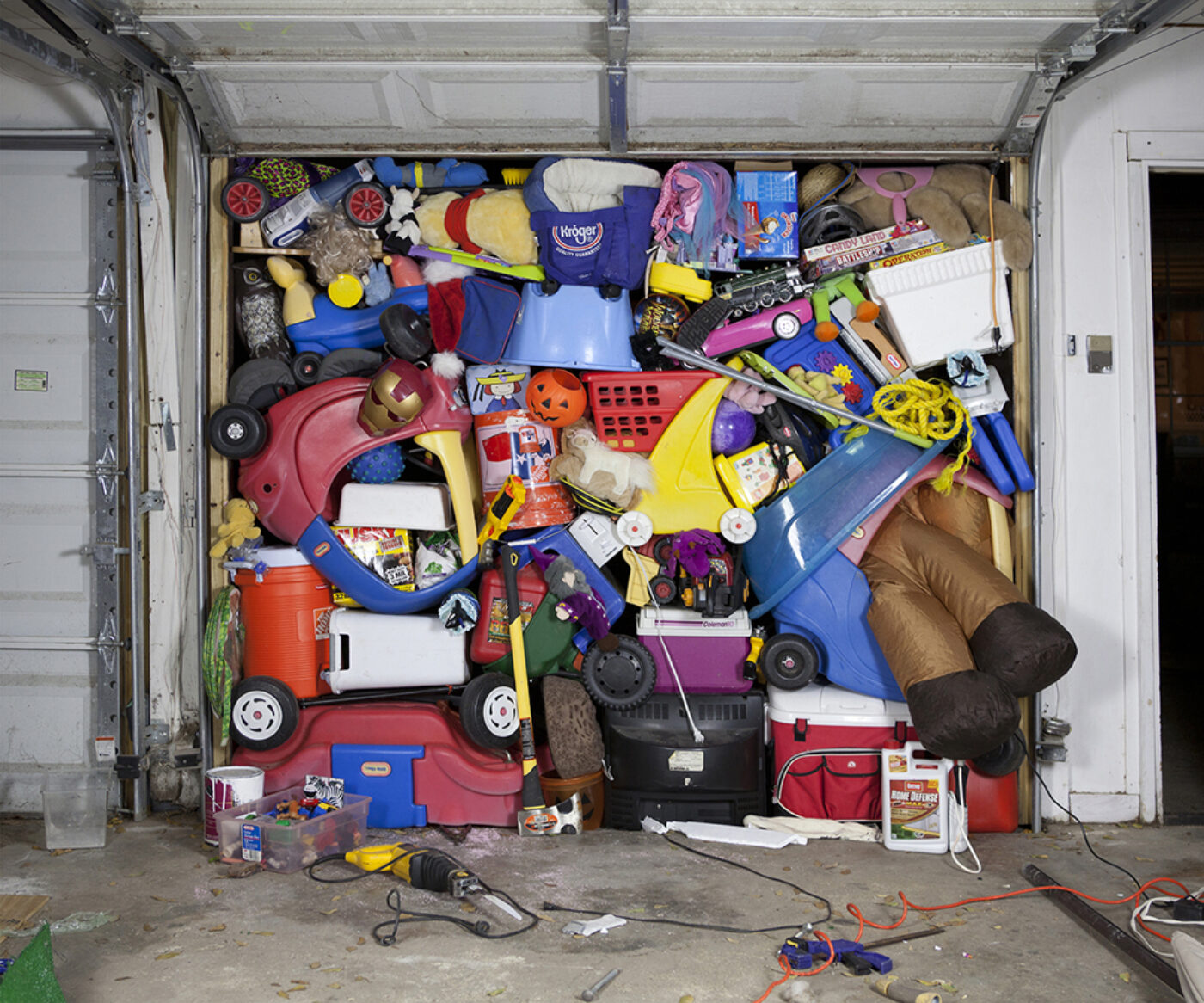 Chloë Bass
To know thyself is one of the world's oldest maxims, one that has been adopted for various ends over the centuries—by Socrates, Shakespeare, Freud, and Dr. Phil, among countless others. At Momenta Art, artist Chloë Bass investigates what self-recognition entails as a process and a practice via the installation of her long-term research project. Since 2011, Bass, who originally trained in theater, has been operating as the Bureau of Self-Recognition, conducting a series of exercises on herself as well as other individuals and groups that are aimed toward inner awareness and empowerment.
The results of these exercises are displayed throughout the gallery as video interviews, photographic archives, and re-staged environments, along with a small library of reading material (highlighting works such as Henri Bergon's philosophical treatise Creative Evolutionand Georges Perec's novel Life: A User's Manual) and several designated spaces where audience members can participate in their own processes of self-realization. One such exercise invited visitors to write what they do every day and post it to a collective bulletin board: most submissions were unapologetically banal (sleeping, breathing and scratching were popular responses), but the cumulative effect is surprisingly strong in its everydayness. A refreshing alternative to the neo-modernist abstract painting and sculpture that dominates much of Bushwick Open Studios, Bass' installation highlights individual experience on a level that vacillates between conceptual art and common actions—with unexpectedly engaging results.
Chelsea Haines is a writer and curator based in New York, where she is a doctoral student in art history at The Graduate Center, CUNY. For more on Chloë Bass, visit her website.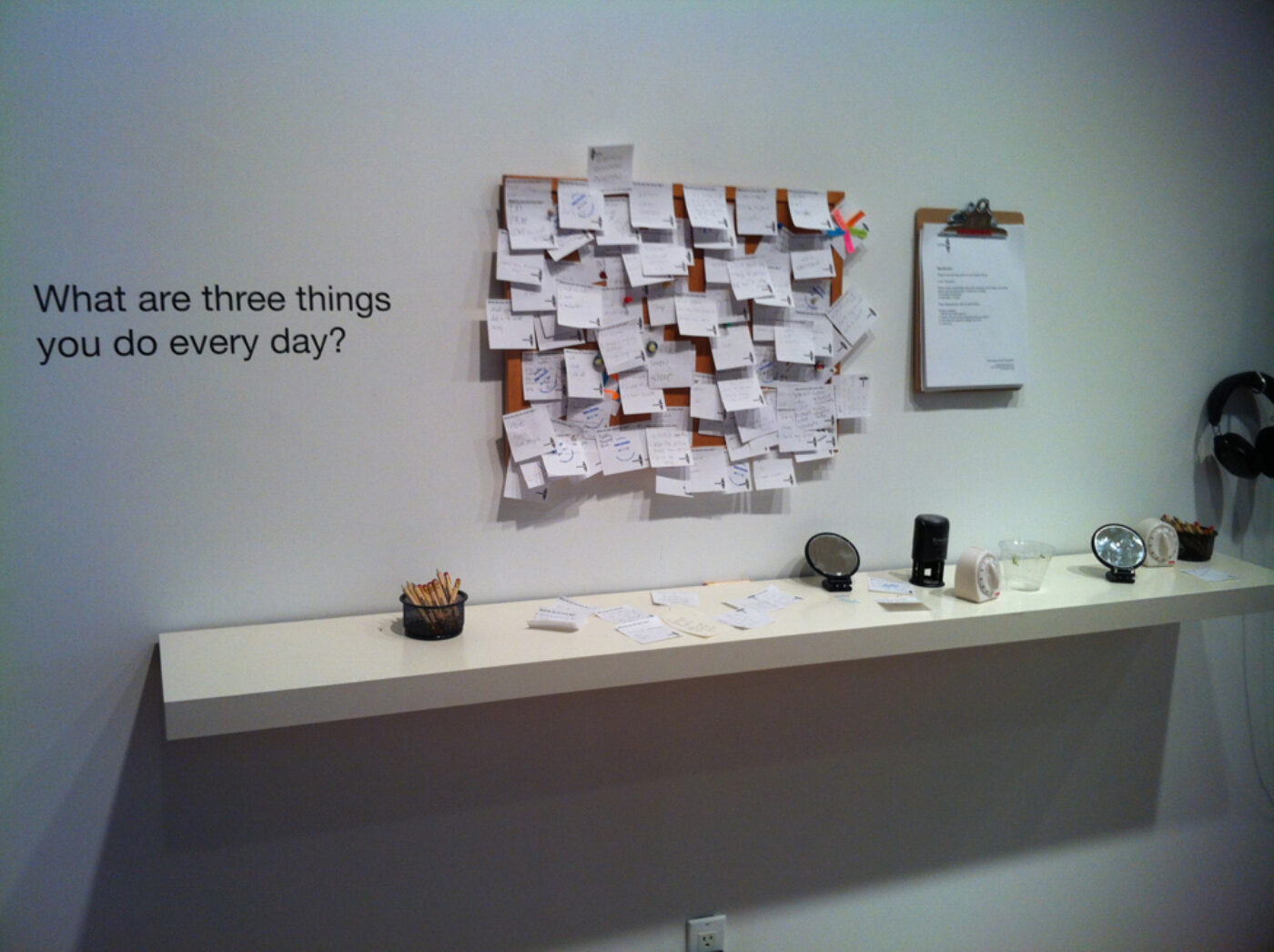 Meaner Pencil
A hub of activity on Friday night, the Brooklyn Fire Proof Gallery hosted a selection of musicians in their gallery space during the collective opening celebrations for the Bushwick Open Studios. A bar, café, performance venue and artist workspace, Brooklyn Fire Proof Gallery is a staple of the Bushwick artist community. That evening, cellist and singer Lenna Pierce, also known as Meaner Pencil, played a hauntingly beautiful set. While the fans whirred, Pierce's soothing and enigmatic songs transported the audience away from the heat of the night. The trance-like atmosphere perfectly juxtaposed with the freneticism of the Georges Méliès film montage playing in the background. On stage she was surrounded by works from the show Leveled Land, featuring artists from Brooklyn and Houston and curated by Julia Sinelnikova. All of the installations responded to the idea of identity in the constantly transitioning landscape of the highly urban city. Many of the more sculptural pieces utilized materials that were translucent, delicate, or untenable; while Pierce sang, two artists were breaking down and changing the dimensions of a cardboard structure. The performance provided a welcome pause in a weekend of crowds running from gallery to warehouse to street party. While the focus of the weekend was on visual art, the expansive and lesser known musical performance schedule was certainly worth a closer look.
Ashley McNelis is a writer, art historian and bookseller from Pittsburgh. For more on Meaner Pencil, visit her website.
Lost Soul Enterprises, Sarah Alice Moran, and Wonderpuss Octopus Ink
Hybrid projects abounded in this year's Bushwick Open Studios, and I was struck by three standout genre-bending experiences:
Richard Gamble and Michael Rogers produce raw dance music and multimedia artist editions on their newly launched label, Lost Soul Enterprises. While zoning into a pulsating house set on Friday, I admired a limited-edition velvet blacklight poster by Michael Welsh and Benny Merris, the label's first artist collaboration. Lost Soul hosts a party the last Friday of every month at Wreck Room.
I found Tutu's restaurant transformed on Saturday evening by nightlife impresario, performer, and curator Eric Schmalenberger. His fantastic lineup gave diners a show that was accessible, yet unexpectedly in-your-face. Highlights included Sarah Alice Moran's cheeky Pizza Portraits, paintings which pair her glamorously grotesque subjects with dollar slices; vaudevillian burlesque by The Love Show; and unclassifiable performances by Shane Shane and Machine Dazzle (trust me—Google them). Ultimately, performers and audience merged into a raucous dance party, an appropriately visceral response to the evening's entertainment.
Rather than hosting a physical open studio, genius power couple PJ Linden and Sarah Stuve of Wonderpuss Octopus Ink invited viewers to visit their digital studio tour and online shop. Their site features panoramas of Linden's studio-spanning gumdrop mural and meticulously puff-painted objects. Her hand-puffed iPhone cases and garments are meant to be handled and used—utilitarian sculptures that are equally at home in Patricia Field's Bowery boutique, traditional galleries, and on your person.
Abby Merrick is a Bushwick-based curator and co-director of migratory curatorial collaborative, A.D. Projects. Check out the websites of Lost Soul Enterprises, Sarah Alice Moran, and Wonderpuss Octopus Ink.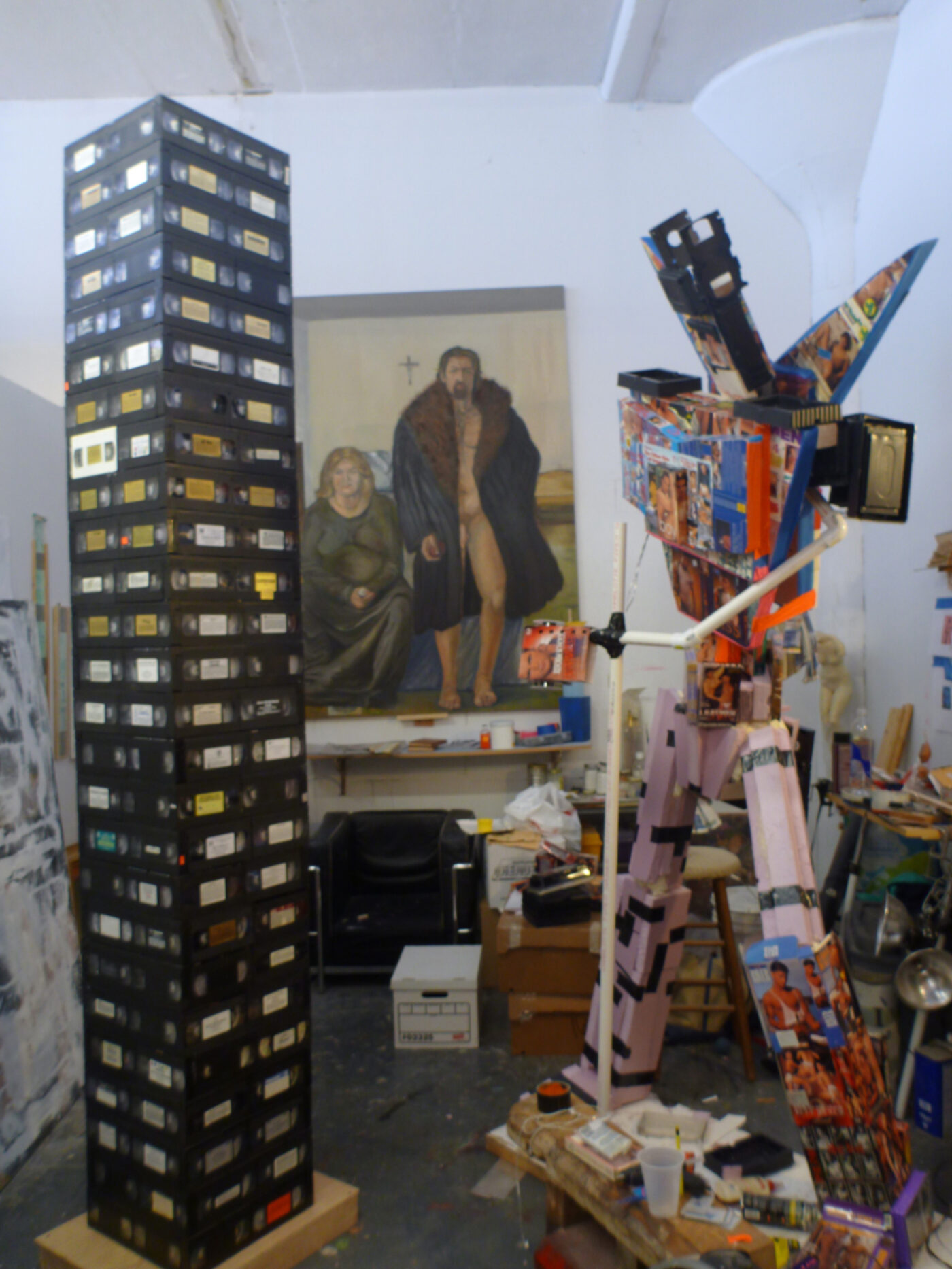 Hillerbrand+Magsamen
This weekend I sweated through endless studios with no escape from heat. I paused for a moment in Auxiliary Projects, a gallery run by artists Jennifer McCoy and Jennifer Dalton. Their exhibition, Sample Sale! presented the consumer art objects and video work of the collaborative husband and wife team Hillerbrand+Magsamen, composed of artists Stephan Hillerbrand and Mary Magsamen. Their work is funny, family-oriented, incredibly personal, and speaks to the junk that everyone collects. According to the press release, the duo collaborated with Walmart™, the largest retailer in America, to produce Comfort, a series of blankets, potholders, pillows, clothing, and coffee mugs.
At Auxiliary Projects, the work was somewhere between as-seen-on-TV products and screen shots from A&E's series Storage Wars. Most of the work looked and felt comfortable—they made pajamas and mugs for iced tea. There is a unique "Bushwick style," and this show seemed to somehow fit right in with all its ironic gestures, but still seemed foreign in its execution. It brought a refreshing, humorous, and different type of oddness to the open studios.
Samuel Jablon is an artist and writer living in Brooklyn, NY. For more on Hillerbrand+Magsamen, visit their website.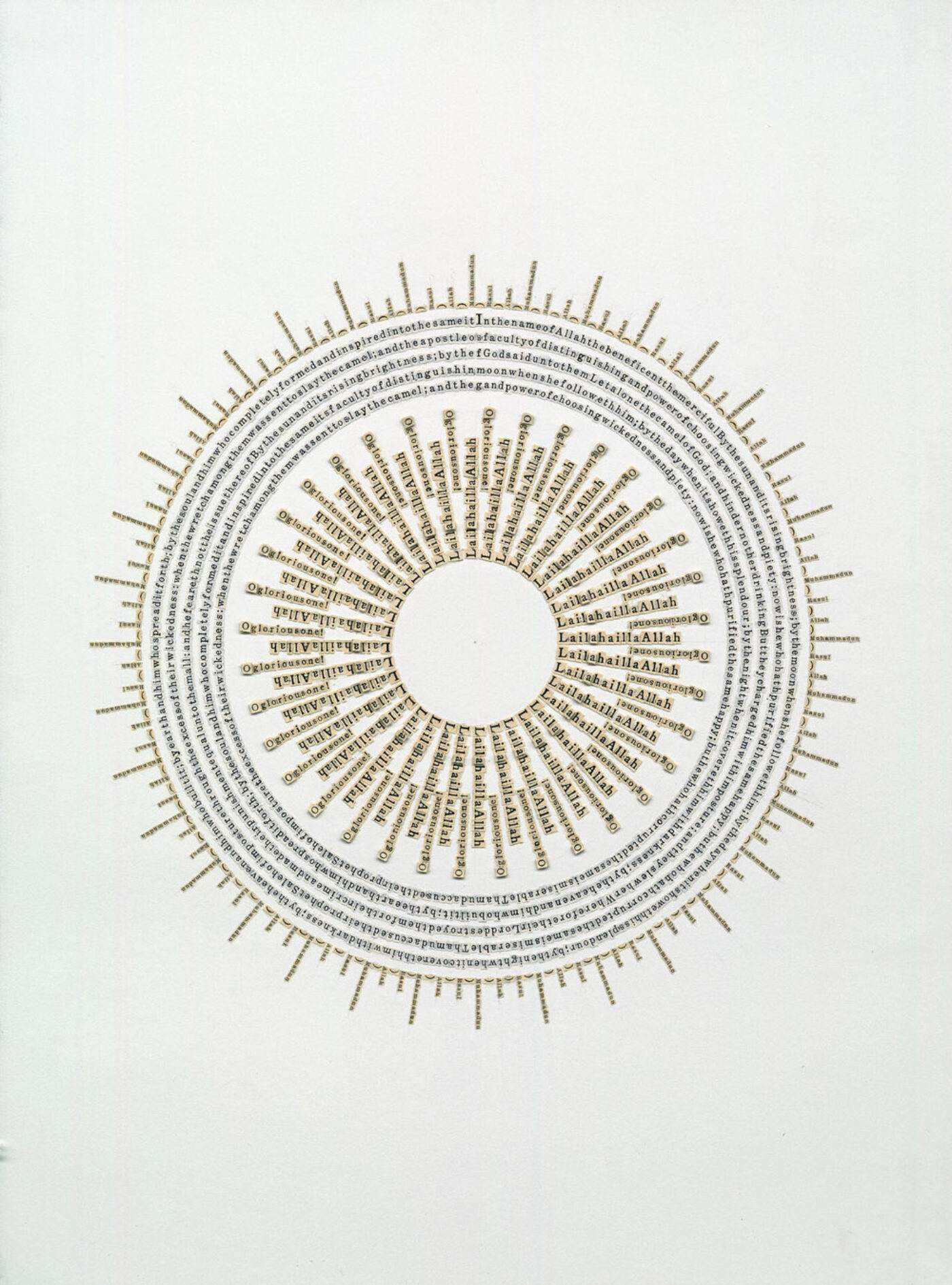 Branden Charles Wallace
Branden Charles Wallace is an artist who hates the feel of dirty paper, protesting: "It makes me want to vomit." Stumbling into his studio, I could somehow relate. Walking into his space, the viewer is at once confronted with a giant pillar about to be destroyed by an electric sex candy Transformer. On closer observation, gay porn tapes donated by the artist's friends comprise the monolithic tower, while the happy warrior is collaged from the very boxes of those same VHS tapes. Branden is quick to point out that some of these tapes have personal ratings attributed through the age-proof method of colored star stickers while other ones are masqueraded behind false titles stolen from other VHS tapes, such as Charlie Rose Presents.
On my way out, I glimpsed three drawings of little boys, a nod to the atomic bomb. These drawings are silver-point soaked in the water left over after polishing the silver, something Branden confides he did as a little boy to please his mother. The result of the process leaves a tarnished, ethereal filter only penetrated by the application of wax and linseed sealing in certain details—revealing just enough skill, just enough dirt.
Veronika Vogler is an artist and writer who lives and works between Brooklyn, NY, and her native city of St Petersburg, Russia. For more on Branden Charles Wallace, visit his website.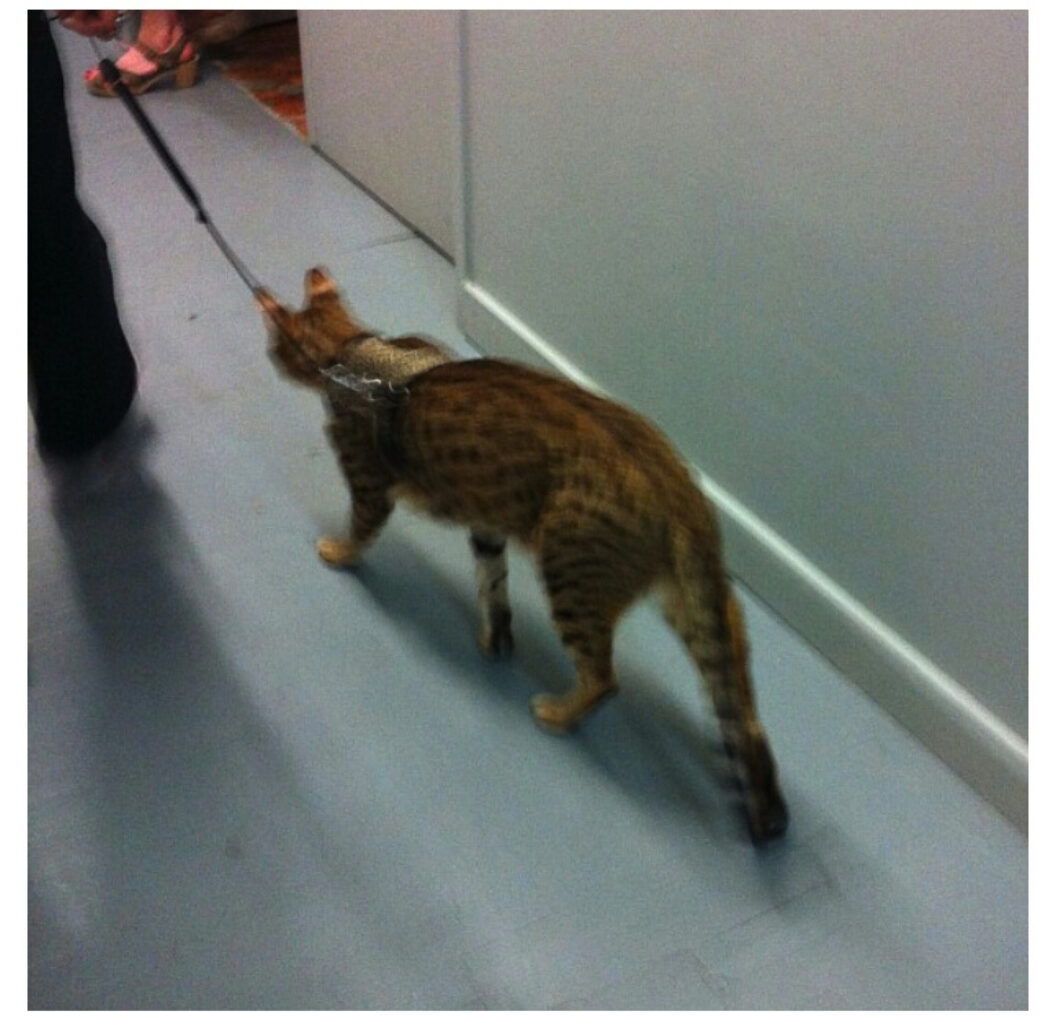 Meg Hitchcock
Meg Hitchcock's text pieces feel like talismans, but their religious content is strictly of the creative kind. Hitchcock cuts individual letters from holy texts and painstakingly recreates sentences from different sacred writings. In The Sun (pictured in this article), a Bible's tangible properties have been repurposed into a passage of the Koran, eliminating the particulars of either text and underlining their universal reach towards the mystical experience. Hitchcock spent a good deal of her life as an evangelical Christian, where she learned about spirituality and devotion—qualities she maintains and in which she finds endless inspiration even after leaving the religion some years back.
Alex Zafiris is a writer based in New York. For more on Meg Hitchcock, visit her website.
BOS via Instagram
When I was approached to cover the Bushwick Open Studios this past weekend, I proposed an experiment to engage with the event through Instagram alone. My hope was to write a meta text on the proposed access that collective open studios allows, and how the participants in BOS might not only gain a wider audience, but also individually benefit from the collective mood that this event attempts to cultivate—a gauge of expectations.
To my dismay, I ran into a series of unfortunate conflicts: many people I expected to attend BOS were in Venice for the Biennale, the official BOS Instagram primarily posted pictures of people, and those who did attend focused on idiosyncrasies in every space but the artist studios. Possessing only a vague idea of the mood-in-the-hallway, I might still propose my unequivocal favorite image as the UR-gram of BOS. Colored equally by its proximity to the event and the other images on my Instagram feed, an image of a lynx-sized cat on a leash being led down a hallway of the 56 Bogart Street building appears like a performance, and perhaps represents the exuberant confusion of how to perform one's role—as artist, gallery, and/or viewer—in the midst of the larger expectations that BOS, and Instagram, contrive.
Sam Korman is the Assistant Director of White Flag Projects in St Louis, MO and is the author of Notes from a Young Curator, a collection of his writings published by Publication Studio.
BOS via Vine
Loney Abrams is an artist, curator, and writer living in Brooklyn. She co-organizes hotelart.us, a curatorial project that produces shows in hotel rooms and exhibits them online.
For more information on Bushwick Open Studios, visit Arts in Bushwick's website.