Discover MFA Programs in Art and Writing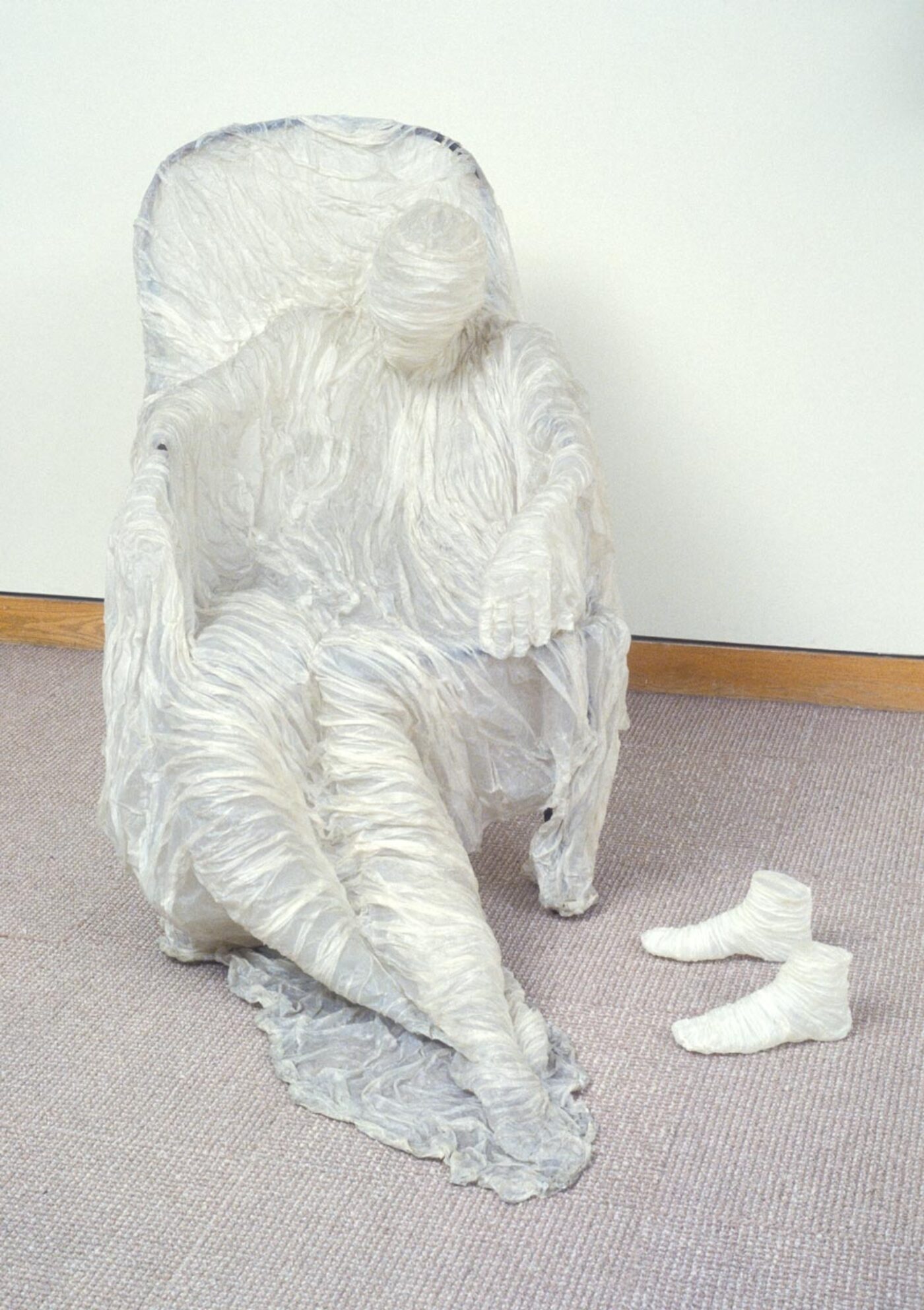 Among the ash-cast plaster figures Helga von Eicken saw during her 1997 trip to Pompeii, one riveted her attention: a child who appeared to be crawling from the darkness into the light. This illusion, created by shadows thrown over the open-air form, prompted an astonishing series of enigmatic, semiabstract figurative sculptures. Working in reverse from the process that gave life to the voids left by the victims of Mt. Vesuvius's eruption in 79 AD, von Eicken gives form to the body's surface or outside, which paradoxically allows her to explore the mysterious inner world of human consciousness.
The ephemeral quality of von Eicken's translucent white sculptures stems from a carefully considered convergence of process and sensibility. Created from wet silk draped over the forms of friends and acquaintances and allowed to dry and harden, these luminous, gestural suggestions of human presence simultaneously convey human absence, evoking memory and change, a sense of "things passing through" and the inevitability of letting go. The sculptures themselves change over time in response to climate and gravity, although they are surprisingly light, in both appearance and weight.
Her 2003 show at Saint Peter's Church in Manhattan, Presence of Absence, intersected with still-raw memories of the tragedies of 9/11, quietly and powerfully addressing our sharpened senses of vulnerability and transience—perhaps manifested best by a life-size figure balanced precariously on a 21-foot silk swing directly in front of a large silk target.
Von Eicken is a prolific artist whose studio overflows with sculptures, large prints made from the sculptures, and jewelry fashioned from wax. Though it nods to classicism, her work hovers far from the classical ideal, insisting on an imperfection alive with movement that stems from, in her words, a "surfeit of response."
—Cynthia Eardley
Helga von Eicken's solo show at the Anita Shapolsky Art Foundation in Jim Thorpe, PA, runs through September 15.
Originally published in
Featuring interviews with Olafur Eliasson, Ellen Phelan, Percival Everett, Francisco Goldman and Esther Allen, Ben Katchor and Alexaner Theroux, Jorgen Leth and Ann Mette Lundtofte, Michael Bell, and Mauricio Kagel.