Samuel Jablon speaks with artist Heather Morgan about scandalous women, female identity, and the "peculiar kind of intensity" that informs her work.

Discover MFA Programs in Art and Writing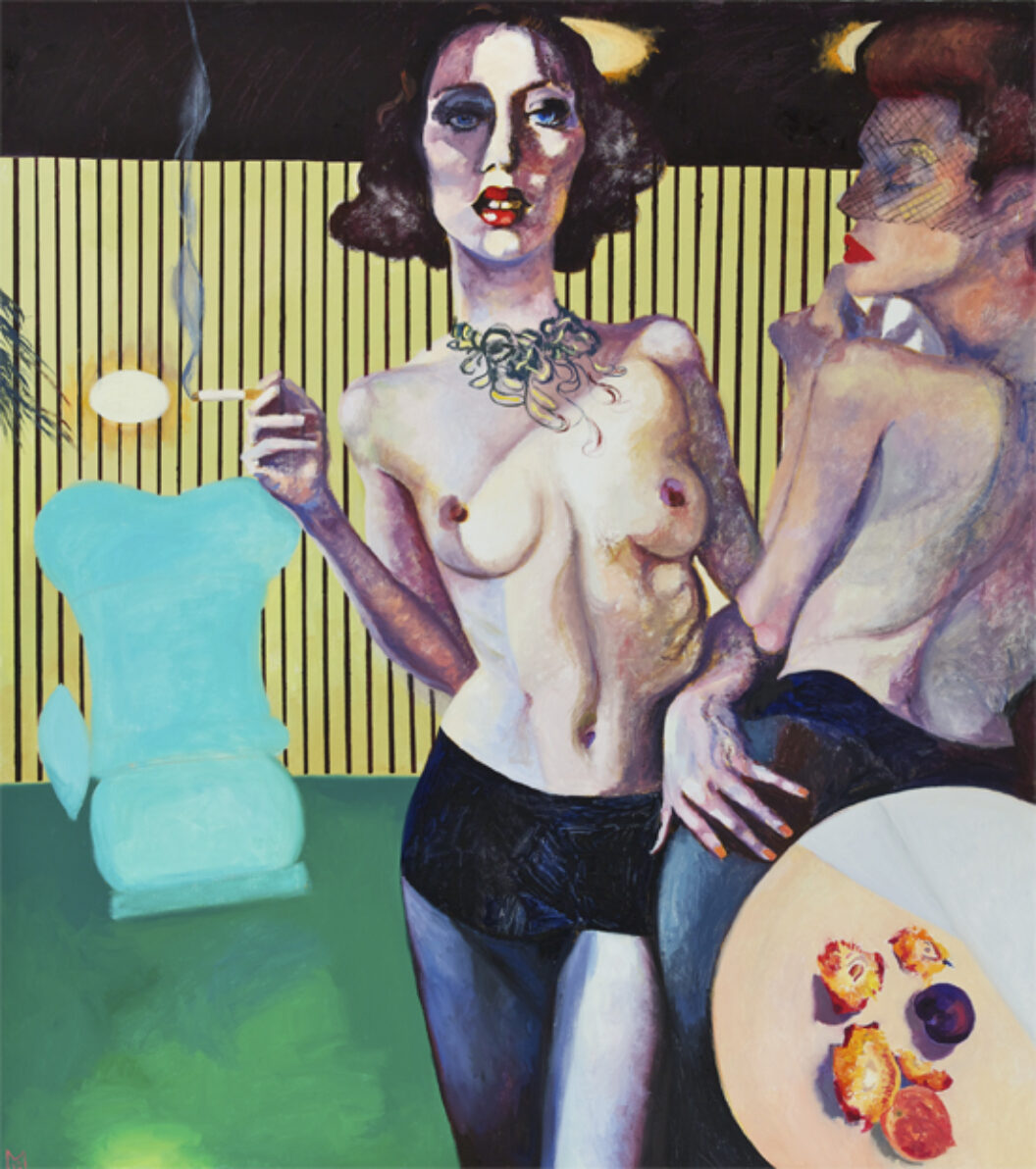 I met Heather Morgan three years ago while I was looking for a studio, and was lucky enough to share a space with her for two years. I was drawn to her paintings of glamorous, charismatic women, though they sometimes left me feeling uneasy. Curious to learn more about her work, and why she does what she does, I asked her to do an interview. Our conversation touches on paint, performance, getting obliterated, and switching identity at will.
Samuel Jablon Why scandalously-dressed women up to no good?
Heather Morgan Why so many women? The question answers itself: women are interesting! The performance of the female gender is fascinating. It's a performance I myself engage in, and consequently have a lot to say about. The characters I depict tend to be iconic, fringe sorts: their flaws and eccentricities are more readily on display. Their decadence and salaciousness belies their struggle—their acute self-awareness and their individual longings. As the old song goes, if that's all there is, let's start dancing.
SJ You paint yourself and your friends, and models ranging from artists to young rock stars. Is there a certain type of look you are searching for? How do you decide on the person?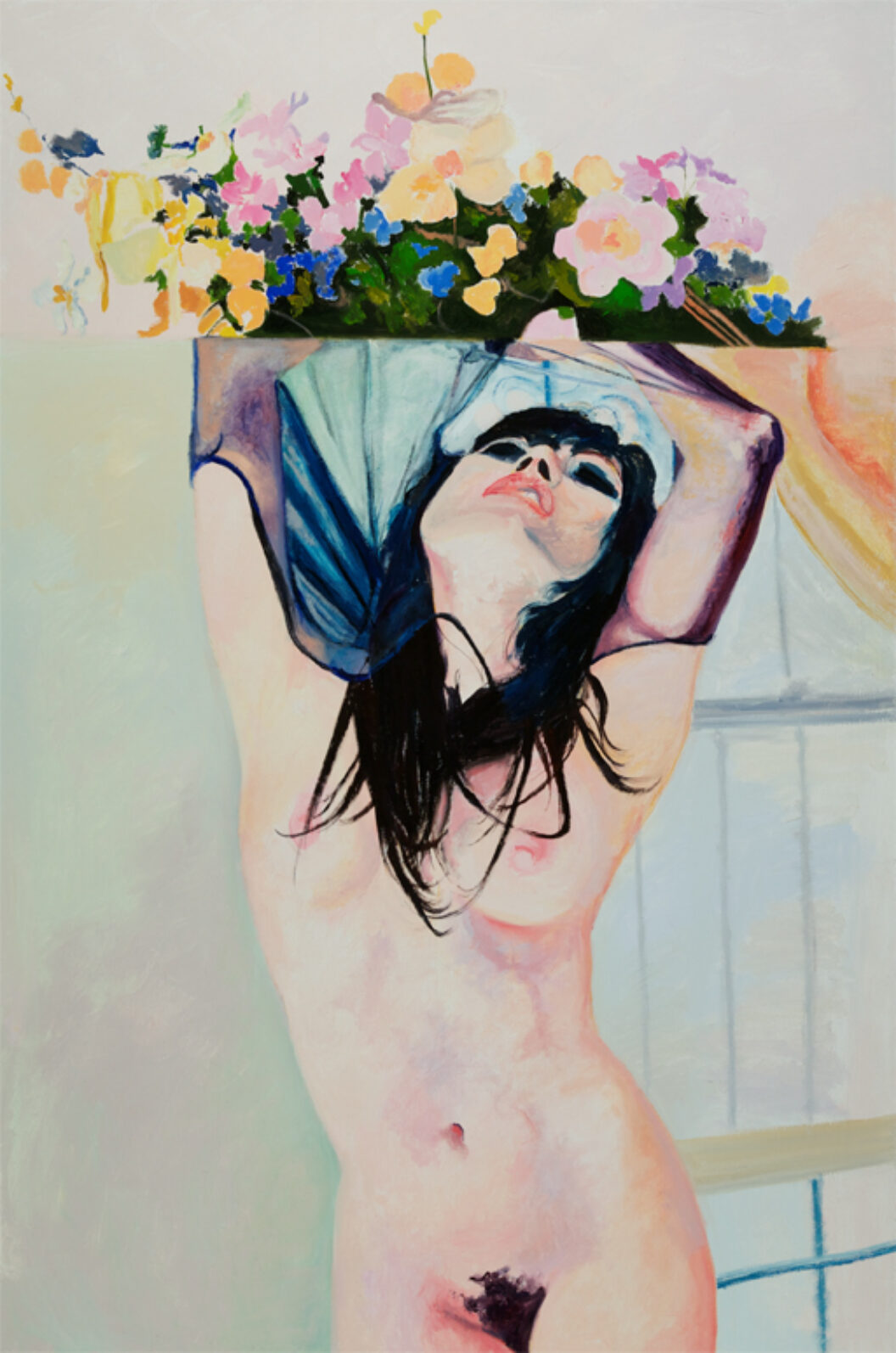 HM I am looking for a peculiar kind of intensity, something that says that a person has really lived—an essential darkness that is ultimately life-affirming. You can see this in a person's worn and angled features, jaded eyes or overdone gestures. I gravitate towards subjects who just look like they walked out of one of my paintings.
SJ Nice. I was hoping you would talk about when you created an environment for your paintings for the RV in Bushwick. Would you?
HM The exhibition in the ARTRV was themed "Last Chance Salon." It started with a painting I made with the same title, which featured the interior of the salon in John Waters' film, Female Trouble. The RV "Last Chance Salon" was meant to be the last stop on the road to oblivion, a place where one could reinvent herself with a desperate, vulgar sort of glamour, typified by the heroines of John Waters. The RV was a vintage classic with wood paneling that we festooned with wig heads, '70s porn, and a series of small, glittering paintings that called to mind hairstyle photos of a 1960s salon, and the giant coiffed beauty that you could become under the dryer.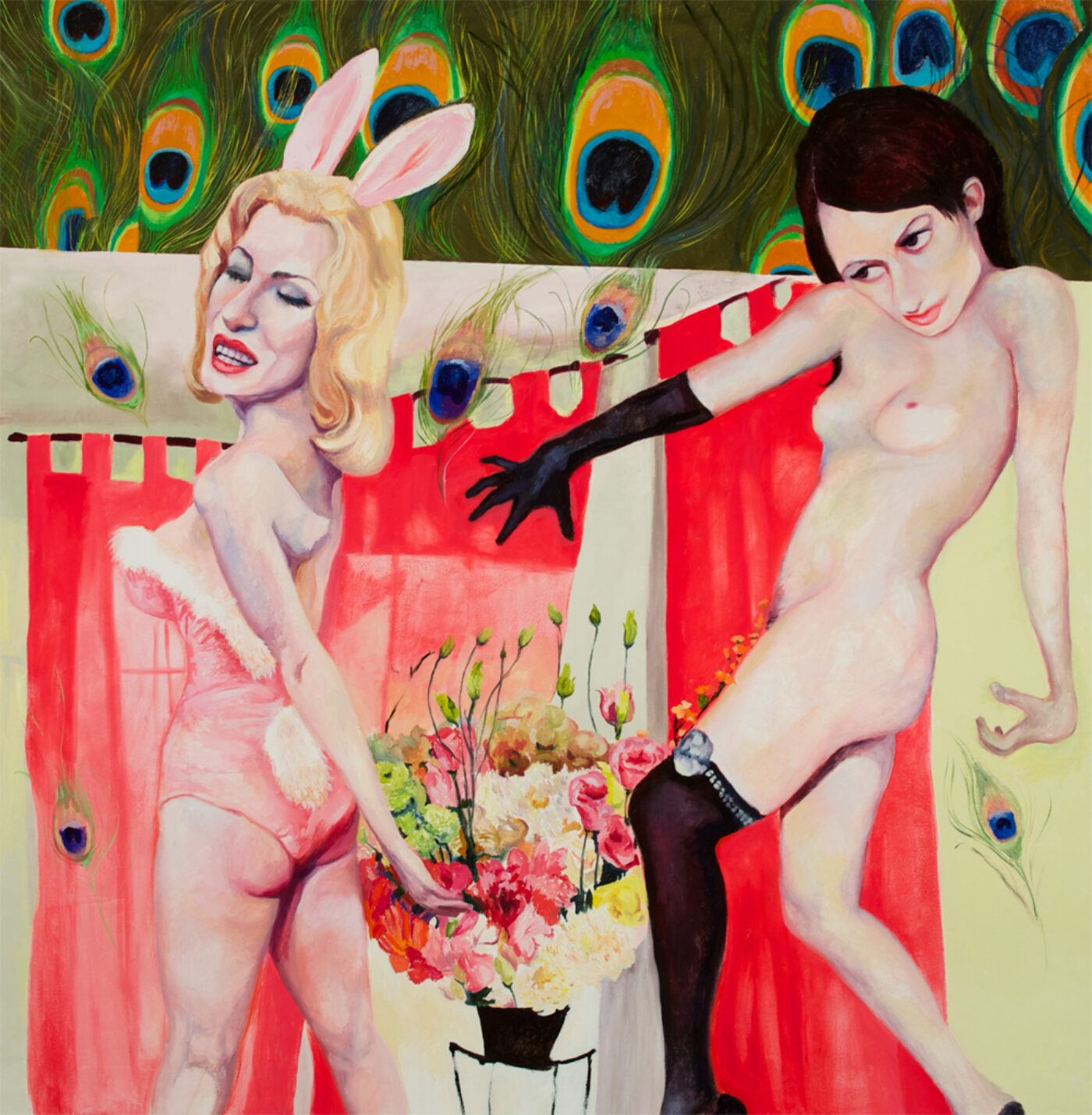 SJ I loved that ARTRV. It seemed so out of place, and absolutely perfect at the same time. You recently had a large show in Germany. Was there a theme to the exhibition, and did you create an environment for your paintings there?
HM The theme of the exhibition was "Red Room". This is a reference to a brothel, but I meant it as any space where a female creates her identity, or enacts a performance of her gender, specifically with an audience in mind. The mystery lies in what is meant to be shared there: pleasure, destruction?
SJ Would you say that the characters in your paintings are performing?
HM Yes. It is my personal philosophy that identity is fluid and changeable—that we perform who we are whether we are awake to this process or not. The figures I paint have an awareness of those possibilities and make use of them.
SJ Is your studio a place where you create an identity, or enact a performance of your gender, with an audience in mind?
HM In a certain way, yes. Hard at work in my studio, I may be occupied consciously with color, form, and the ideas being expressed by my work, but I am nevertheless busy creating my identity of self as artist: chanteuse with a paintbrush working into the night.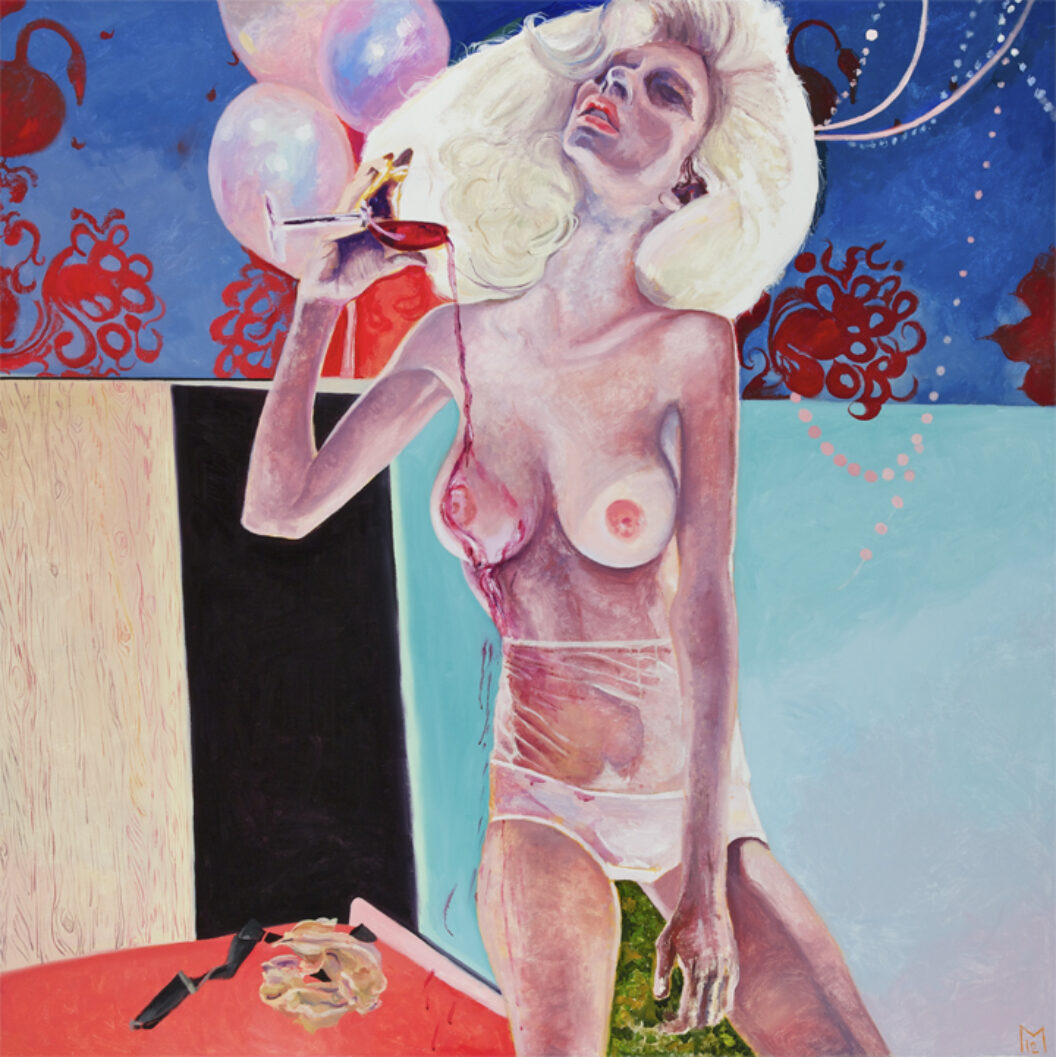 SJ Your work always rides the line between hedonism and outright destruction. Could you discuss that balance?
HM Living to the fullest inevitably involves pain and damage. For me, decadence implies a voracious appetite for life and its itinerant hungers, the pursuit of which can be quite destructive. It is our imperfections and our scars that make us most interesting and beautiful.
SJ Could you expand on your personal philosophy that identity is fluid and changeable? I am drawn to this idea, and it makes me think of Genesis Breyer P-Orridge.
HM Most people accept that there is some kernel of self in there, a truth of who they are that dictates their tastes and their actions, which in turn reinforces this ironclad sense of self. We really don't know how much of the self is encoded. I feel that a fixed view of the self is only a comforting illusion, and that we can be or like whatever we want, and make it something new at any time, as long as we recognize the power to do so. Genesis's transformation to a pandrogyne is fascinating; their work is really powerful—all the more so since it incorporates grief and loss.
SJ Do you ever lose a sense of self when you are creating your images/paintings/characters?
HM Sometimes, because my work leads me to unexpected places. In moments of uncertainty—when an artist is groping in the dark and not sure if an idea is worthy, or if the end result will be worth looking at—one does experience that light-headed kind of anxiety that happens when you lose the reference point.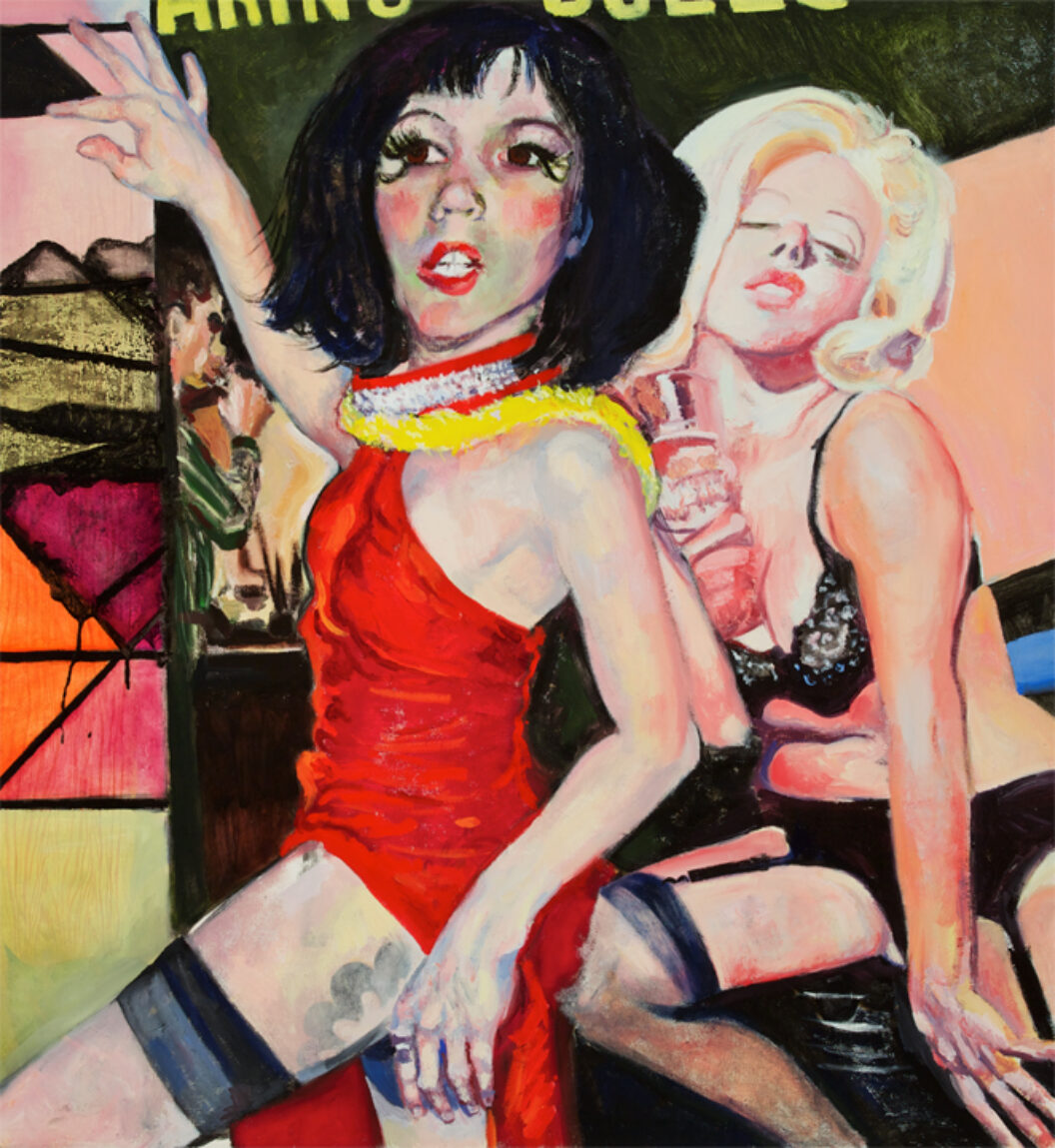 SJ I find that is where things truly become worthwhile: it's like you either have to stick to a prescribed style or jump off a ledge, so to speak, and let your process guide you. So, what happens when you lose the reference point?
HM The question "What the hell am I doing?" quickly turns into "Who am I?" and that isn't a question with a definitive answer, but one that requires some invention, which you are at liberty to explore without fixed notions of where things must end up.
SJ Not completely sure how we got here, but here we are. After all of this, how do you know when a painting is finished?
HM I don't always know right away. When I think I have nothing else to add to give force to a work's meaning, I usually hang it up and look at it for a while. If nothing bothers me, it is finished. If something isn't right, it really will start to annoy me, like a tickling hair.
Samuel Jablon is a writer and artist based in Brooklyn, NY. For more information visit his website.