HEAT: Rashid Johnson's Dutchman
In a new staging of Amiri Baraka's one-act play, the audience and performers alike are tasked with endurance.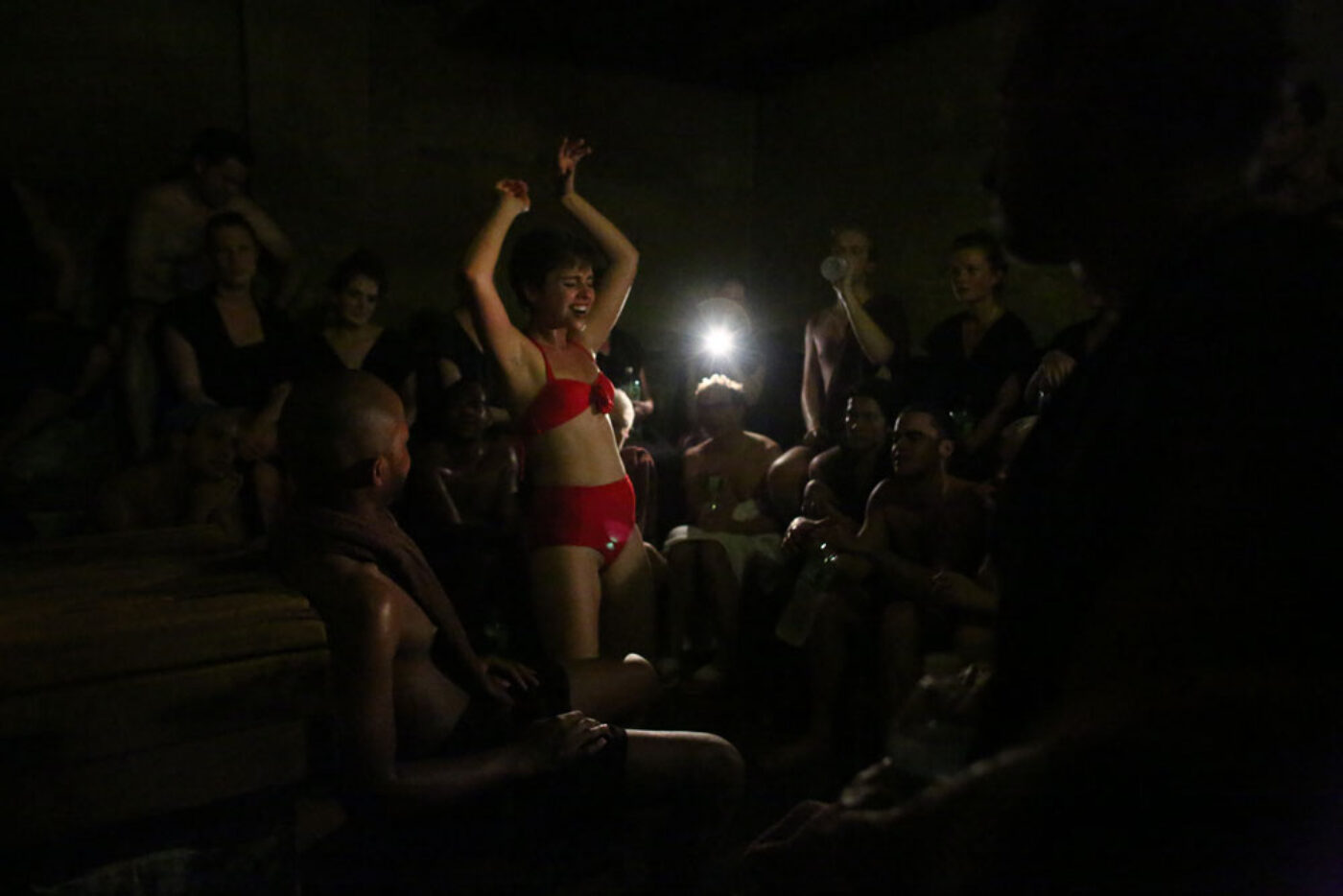 In theory, it's an easy sell: Amiri Baraka's legendary 1964 play Dutchman, a tense conversation between a black man and a white woman in a sweltering subway car, "reimagined" for the saunas of the Russian & Turkish Baths on East 10th street. The major difficulty of Baraka's one-act is how to get it to build so steeply to its near surreal conclusion (the white woman stabs the black man). Rashid Johnson, a visual artist by training, proposes heat.
So literal a solution is intriguing. If the heat of the subway car is, in some large part, what is driving the action of the play, why not make the heat real? What kind of new possibilities arise when the onus to create an environment is taken off the performers? This is where the difficulty begins. Even with the heat, the performers Johnson has selected cannot carry the piece.
In 1964, Amiri Baraka, then LeRoi Jones, premiered his Dutchman at the Cherry Lane Theatre in New York. Dutchman is a one-act two-hander: an argument between a white woman and a black man in a sweltering subway car. They are types and, in a way, it is a play about types. She is Lula, the white, liberal Jew, bored, knowing, but also feral, looking to get a rise out of Clay, the shy, black intellectual. She thinks she has his number:
You look like you been trying to grow a beard. That's exactly what you look like. You look like you live in New Jersey with your parents and are trying to grow a beard. That's what. You look like you've been reading Chinese poetry and drinking lukewarm sugarless tea. (Laughs, uncrossing and recrossing her legs) You look like death eating a soda cracker.

And he does, in a way. This is part of what makes the play interesting. If Clay is a stand-in for Baraka, then Baraka lets himself be read:
(Cocking his head from one side to the other, embarrassed and trying to make some comeback, but also intrigued by what the woman is saying…even the sharp city coarseness of her voice, which is still a kind of gentle sidewalk throb) Really? I look like all that?

Neither Kevyn States nor Tori Ernst, Clay and Lula, respectively, seems to have much familiarity with these types. This is unfortunate, because Baraka's play relies on recognition—the violence of that recognition, and its ultimate failures, yes, but first the recognition. States and Ernst, both recent graduates of Marymount Manhattan College's Theatre Arts B.F.A. program, have a kind of wet-behind-the-ears quality to their acting: earnest, dutiful in their fulfillment of the requirements of the text. As Lula, Ernst's wildness is broad; she doesn't read as the product of a place and time taken to an unnerving extreme.
A great degree of subtlety is required from Clay. He is reticent at the start, slowly warms to Lula, and then, when things go too far, he snaps. Under that reticence is embarrassment and excitement, under the warming is a persistent resentment. It's exciting to watch if we don't know whether or not he's being played; that is, how hip he is to Lula's game. Like Ernst, though, States is unplaceable. The assumption seems to be that Ernst's and States's literal identities—that she is a white woman and he a black man—do enough of the typing work, that they don't need to do much more to make themselves intelligible. This refusal of specificity, though, renders the piece flat.
The presentation style does the actors no favors either. They play the whole piece as if they were on a proscenium stage, rather than a couple feet away from a very small and very sweaty audience. Stage managers turn on clip lights to mark the start of the scene. This is obviously Johnson's direction, though why he would want to maintain the conventions of the stage in this radically altered context is unclear to me.
Further conventions are maintained: for instance, States carries a newspaper. At each scene change (the location shifts twice: from a medium-heat sauna to a cool room and from the cool room to the hottest sauna), States returns to the paper before deciding to rush off and follow Lula.
Too much artifice or too little. If Johnson is going for naturalism (which it seems he is), why has he set the play at the baths? Why are Clay and Lula wearing bathing suits and drinking giant water bottles? If we are, instead, in some sort of altered reality, where Black Nationalist texts of a bygone era come to life again before our eyes, why doesn't it feel more spectacular?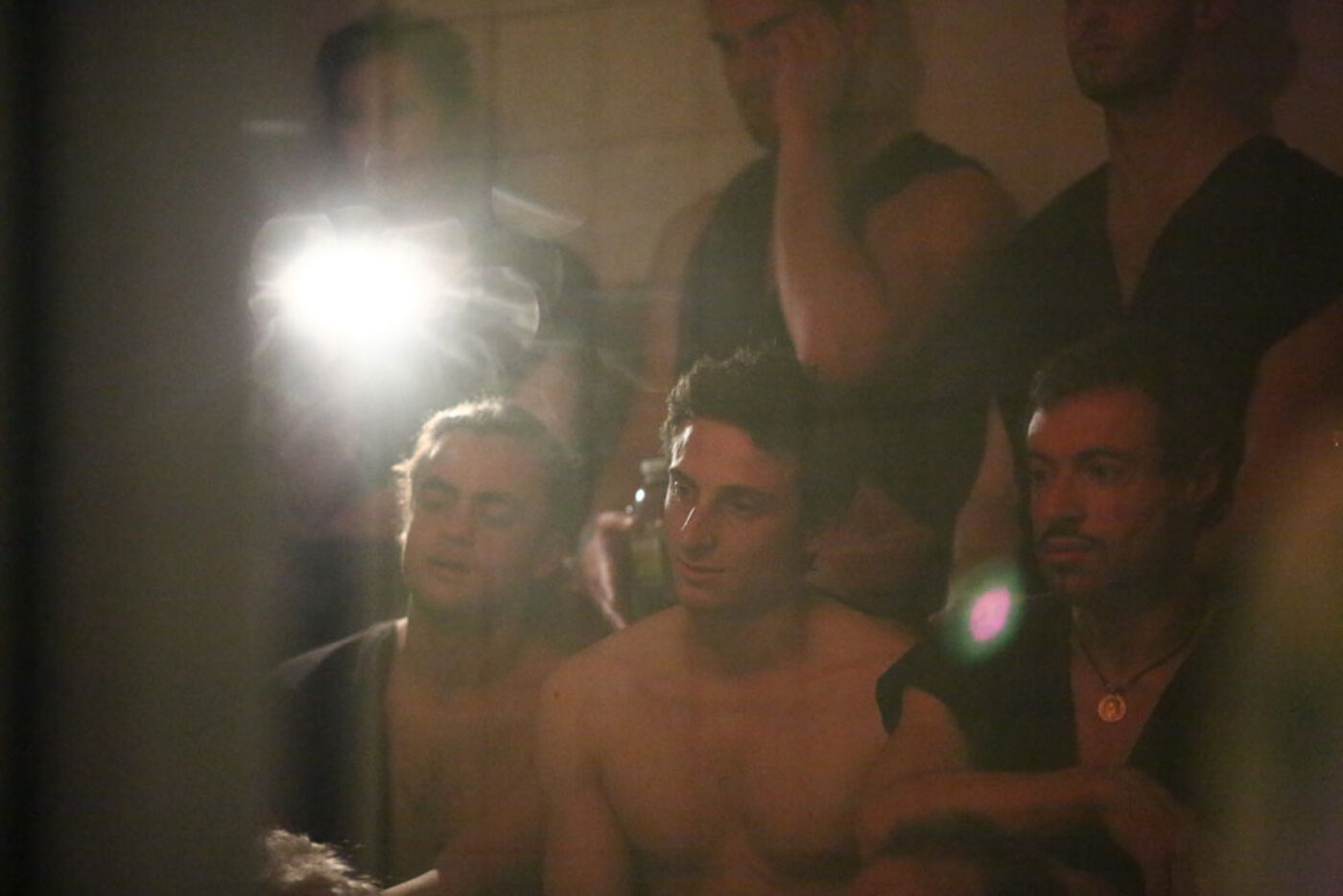 Dutchman is Johnson's first live performance. Born in Chicago in 1977, he received his M.F.A. from the Art Institute. In 2001, at 24, Johnson's work was curated by Thelma Golden for the Freestyle exhibit at the Studio Museum in Harlem, the exhibit that gave name to the "post-black" movement in contemporary art. Johnson is currently represented by Hauser and Wirth and in 2012 was a finalist for the Hugo Boss Prize.
Johnson has traditionally worked with heavily significatory materials. In Shea Butter Monolith, a large plank of blond birch wood is waxed with shea butter (a frequent material of his) and leaned up against a mirror. In an untitled piece from his exhibit Dark Matters, Johnson sprinkled black-eyed peas onto three gold polyester cloths, spray-painted the cloths black, and then shook off the peas, making a luxurious, starry pattern. White People Love Me is a framed jersey with those words printed on it. His 2012 exhibit Message to Our Folks at MOCA in Chicago includes a photographic self-portrait entitled Self-portrait with my hair parted like Frederick Douglass.
In light of his body of work, it seems fitting for Johnson to take on Dutchman. But his characteristic spin is missing from the performance. Perhaps it's there in the concept—the baths—but a primary difference between static visual art and time-based performance is that concept only gets you so far. After the initial giddiness of undressing and getting into robes next to strangers, the novelty wears off and you actually have to sit through the thing.
Shea butter and people are categorically different types of material. Accompanying the visual art world's recent explosion of interest in live performance seems to be a sort of "anyone can do it" attitude amongst certain artists and institutions, as if training and practice in a form were suddenly no longer a requisite to work in it. This seems to me a grave mistake. It is at the very least naive.
It's frustrating to have no sense of Johnson's stake in the matter, since the performance feels neither like a faithful reproduction or a true "reimagining." Dutchman is a heavy play to take out of the archive. Lula's mocking gets wilder and crueler as the play progresses, landing in grotesque stereotype which still shocks, perhaps even more today than when the play was first staged.
Come on, Clay. Let's rub bellies on the train. The nasty. The nasty. Do the gritty grind, like your old rag-head mammy. Grind till you lose your mind. Shake it, shake it, shake it, shake it!… You middle-class black bastard. Forget your social-working mother for a few seconds and let's knock stomachs. Clay, you liver-lipped white man. You would-be Christian. You ain't no nigger, you're just a dirty white man.

Clay finally breaks.
Don't make the mistake, through some irresponsible surge of Christian charity, of talking too much about the advantages of Western rationalism… maybe one day, you'll find they actually do understand exactly what you are talking about… and all of those ex-coons with be stand-up Western men, with eyes for clean hard useful lies, sober, pious and sane, and they'll murder you. They'll murder you, and have very rational explanations.

At this point I had to leave the sauna. Not because I was so moved, but because we had been in there for 20 minutes and I was afraid I might faint from the heat. In the end, there was the fact of the heat and the fact of the performance, but, at least for me, the two did not meet and forge something new.
Rashid Johnson's Dutchman will be performed through Tuesday, November 21st at the 10th Street Bath House as a part of Performa.
Emily Hoffman is a writer and critic living in New York City.