Have We Done Enough to Remember? Have We Remembered Enough?: Contemplating AIDS in Contemporary Art by Jareh Das
Artists and exhibitions address the AIDS crisis.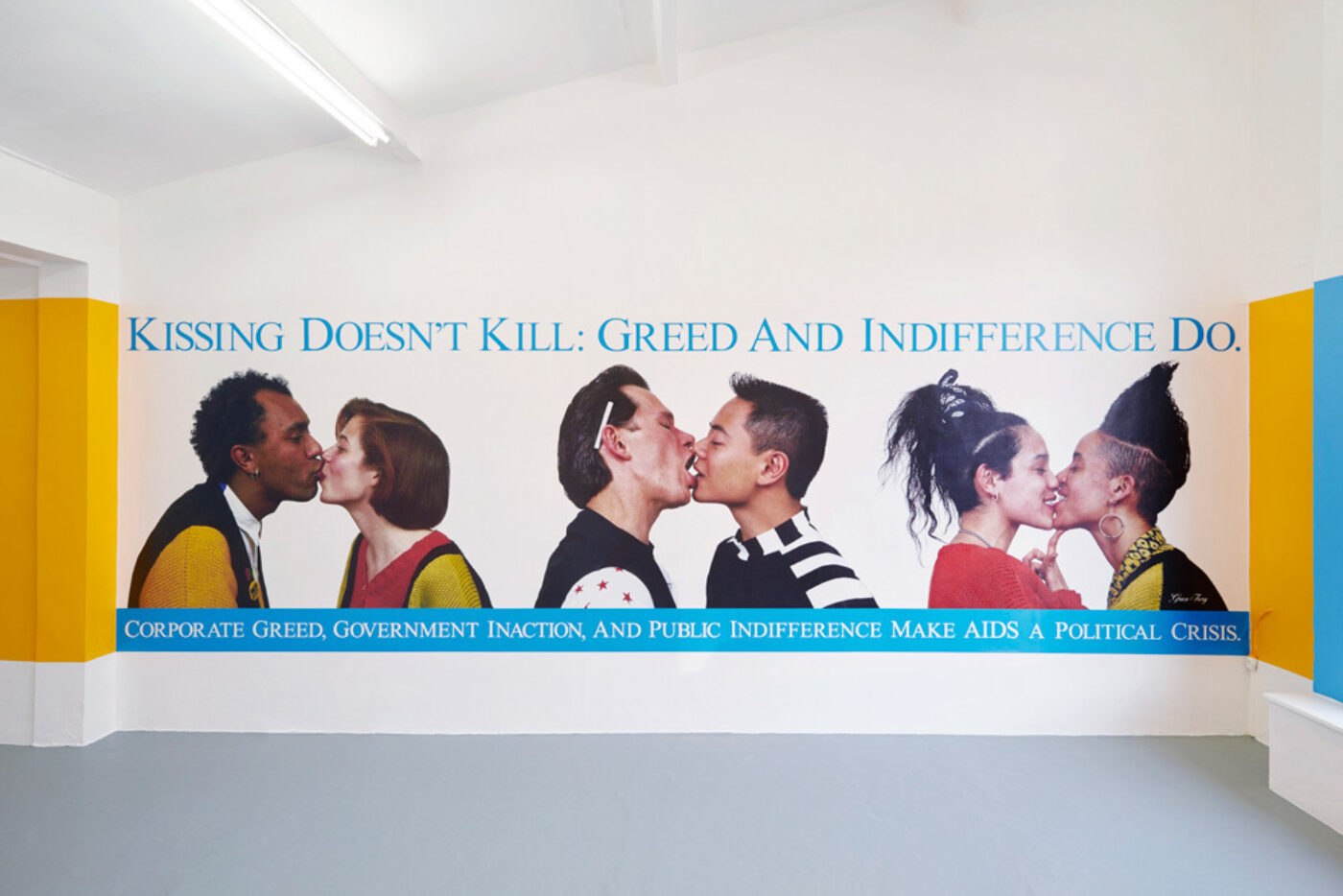 Theory + Practice is a series supported by The Andy Warhol Foundation for the Visual Arts and the Shelley & Donald Rubin Foundation.
AIDS as a clinically defined illness began in 1981 when a rare lung infection called Pneumocystis carinii pneumonia was found in five young, previously healthy gay men in Los Angeles. Alongside this were reports of another group of men in New York and California with an unusually aggressive cancer named Kaposi's sarcoma identifiable by painless purplish spots across the body. (For a timeline of the history of HIV and AIDS, visit History of HIV and AIDS overview.) What followed these events was an overwhelming and overdetermined rhetoric of death. This rhetoric contributed both to dehumanizing and objectifying people living with AIDS.
The hijacking of the AIDS crisis in the United States by politicians and religious leaders as a "gay disease" unworthy of attention caused outrage among many artists during the 1980s and 1990s. This led to a mobilization for political action that became all-consuming for some, while others responded in more private ways to the devastation caused by losing friends, lovers, colleagues, and, ultimately, an entire generation.
Art born out of the AIDS crisis was a necessity. It sought to make a socio-political statement in an effort to change the destructive narrative against the LGBTQ+ community and minority groups. It also attempted to allow for the expression of feelings of longing and loss, as well as challenged the medical-religious discourses on the prevention, spread, and treatment of AIDS. These counternarratives brought art-activism in conversation with the social, political, cultural, and personal in order to contest "the meaning of living with AIDS" and to respond to the disparities in discursive interpretations of the syndrome. (One of the most influential counternarratives of the AIDS crisis was AIDS: Cultural Analysis/Cultural Activism, edited by Douglas Crimp [1988], the first book on the subject that took the battle over the meaning of AIDS as its premise.)
Over three decades since the crisis years, it may seem as if AIDS is a thing of the past and under control due to medical advances in treatment, awareness, and preventive methods that help decrease the risk of HIV transmission. However, HIV discrimination based on racial and ethnic differences means that those without resources still do not have access to life-saving drugs or prevention. AIDS still poses a real threat to life for the approximately 36.9 million people living with HIV globally (including 1.8 million children and 25.7 million in Africa), meaning that the comforts of a post-AIDS discourse is still a long way off.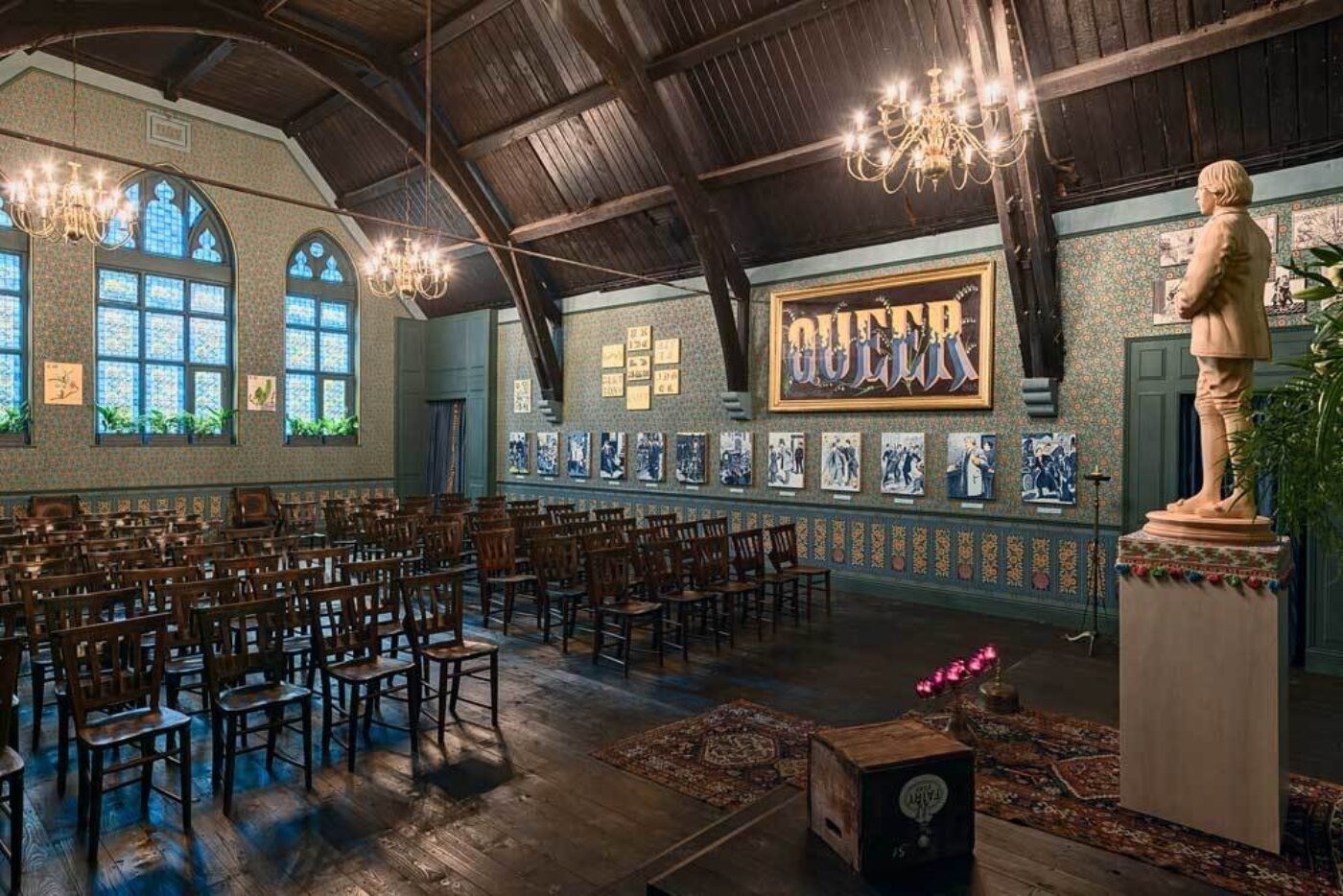 For artists working in the 1980s and 1990s, the AIDS crisis was a generation-defining experience that is in some ways incomprehensible to the present generation. In his introduction to Melancholia and Moralism: Essays on AIDS and Queer Politics (MIT Press, 2002), Douglas Crimp describes the situation:
Whether as a denial that it was really happening, that it was really happening here, that it was happening to people like us, or as a denial of its gravity and scope, the fearsomeness of AIDS always induced this tendency to disavowal. On the one hand, those who did confront AIDS as a crisis, often because they had little or no choice to do otherwise, were often eventually overwhelmed by the enormity and persistence of tragedy, and they too sought the ostensible relief of turning away. (8; emphasis in original)
In recent years several exhibitions have been staged that chart the intersection of AIDS, art, and activism including LOVE AIDS RIOT SEX I and II (2013–14), a two-part exhibition at neue Gesellschaft für bildende Kunst (nGbk) Berlin; positive/negative: HIV/AIDS (2015–2016) at New York University's Fales Library and Special Collections; and AIDS at Home: Art and Everyday Activism (2017) at the Museum of the City of New York.
More recently, in both New York and London in 2018, important exhibitions central to the discourse around AIDS were presented at a time when the art world is revisiting and commemorating the legacies of art that emerged from AIDS activism. These exhibitions grappled with the agency, boldness, rage, and viscerality that characterized activism conducted in the streets and now presented in institutional spaces including museums, commercial galleries, nonprofits, and project spaces. They also raised the questions: Have we done enough to remember? Have we remembered enough?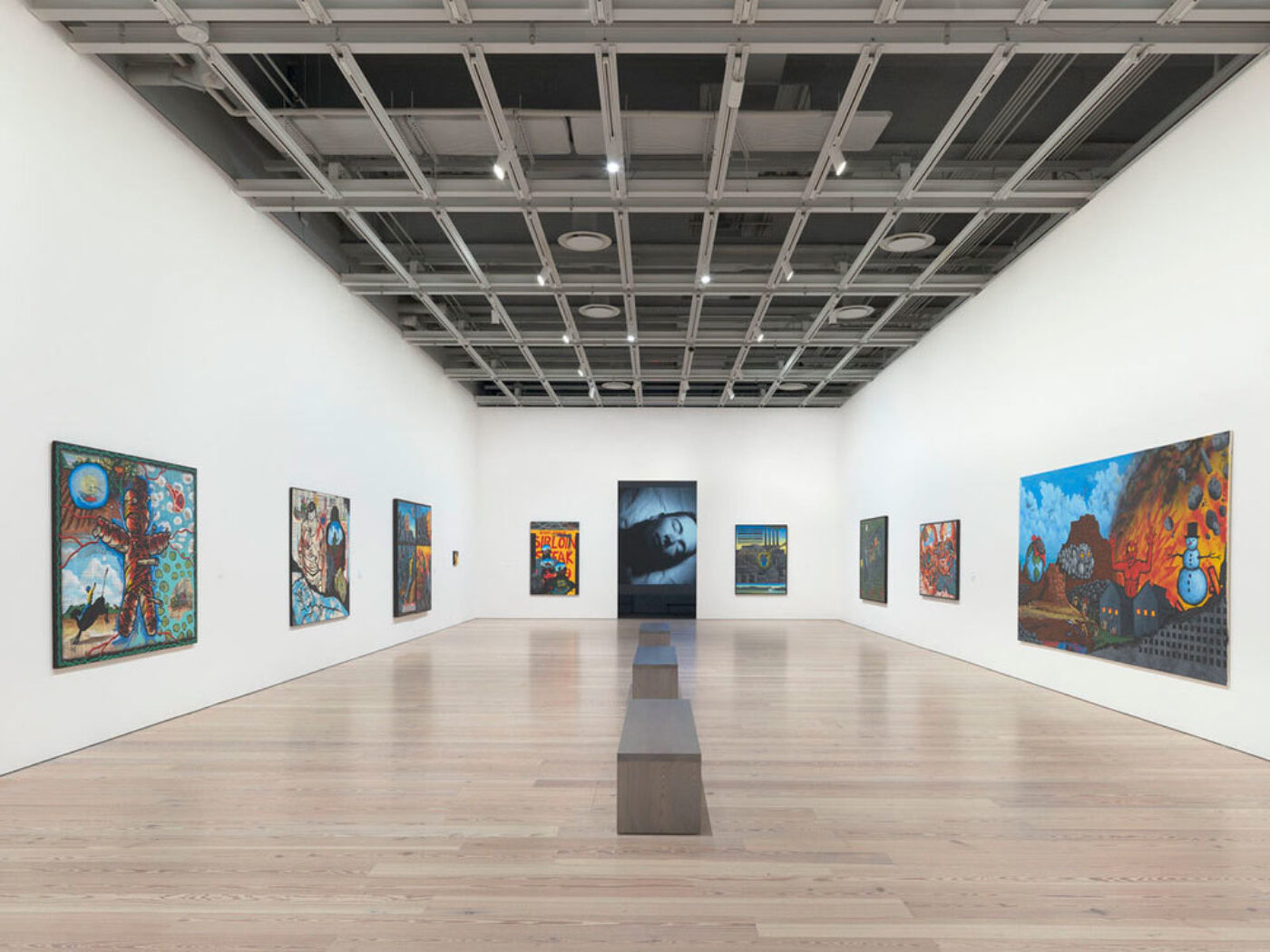 A central figure in these legacies is David Wojnarowicz, the poet, activist, writer, photographer, performance artist, and painter who died of complications due to AIDS in 1992. Wojnarowicz became more widely known for A Fire in My Belly (1986–87) when just eleven seconds of the unfinished film caused controversy at the National Portrait Gallery of the Smithsonian Institution in Washington, DC, as a result of opposition by conservatives to footage of ants crawling over a crucifix. In 2018 in New York, three exhibitions shed new light on the fervent and prolific life and work of Wojnarowicz. History Keeps Me Awake at Night at the Whitney Museum of American Art, co-curated by David Kiehl and David Breslin, presented the most expansive survey of Wojnarowicz to date. Companion exhibitions included Soon All This Will Be Picturesque Ruins: The Installations of David Wojnarowicz at P.P.O.W. (the gallery that represents his estate), featuring never before seen installations; and The Unflinching Eye: The Symbols of David Wojnarowicz at the Mamdouha S. Bobst Gallery in Bobst Library at New York University, a rigorous selection of correspondence, images, and ephemera (most intriguing here were his magic boxes, which are fifty-eight unique found items that Wojnarowicz kept under his bed at the time of his death) selected from the his vast archive at NYU's Fales Library and Special Collections. Even for those knowledgeable about Wojnarowicz's work, these exhibitions showed just how deftly he explored the human condition, with concerns ranging from capitalism to environmentalism and the goal of encouraging people to break free from cultural constructions and controlling socio-political agendas.
Across the Atlantic at London's Studio Voltaire, The Oscar Wilde Temple (October 3, 2018–April 28, 2019) by McDermott & McGough and organized by independent curator Alison Gingeras made its European debut following its inaugural unveiling in 2017 inside the Church of the Village on West 13th Street in Greenwich Village, New York. The all-encompassing installation honoring Oscar Wilde's early contribution to gay liberation consists of painting, sculpture, and site-specific elements, and took twenty years to realize. Recognizing the legacies of early gay liberation figures and contemporary LGBTQ+ martyrs including Marsha P. Johnson (1945–1992), Alan Turing (1912–1954), Harvey Milk (1930–1978), Sakia Gunn (1987–2003), and Xulhaz Mannan (1976–2016), it also serves as a secular space, according to the press release, "for private reflections as well as to celebrate LGBTQ+ marriages, naming ceremonies, vow renewals, memorials and markings of other important occasions."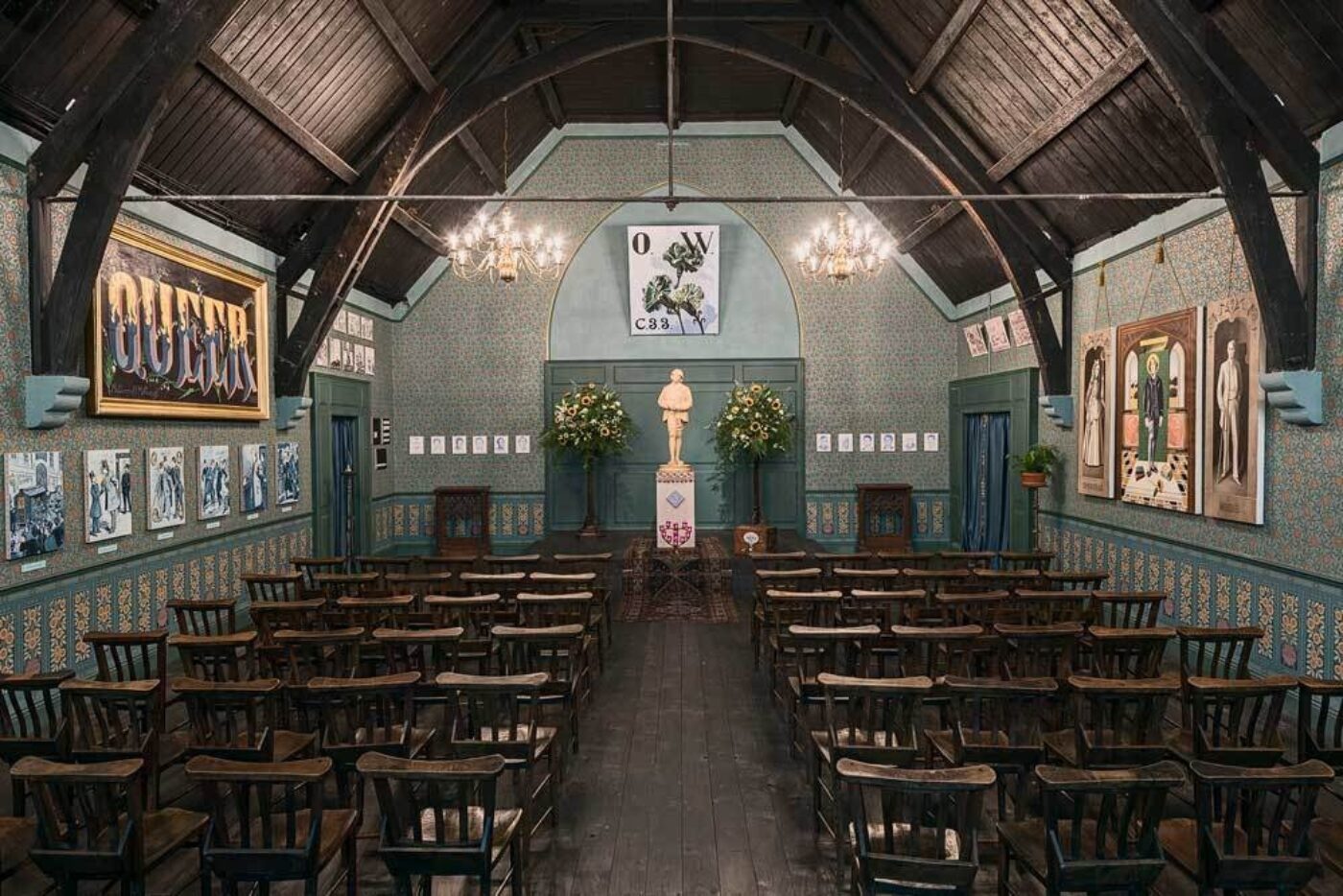 This renewed interest in art from the AIDS crisis has not come without internal conflicts as a younger generation of activists has staged demonstrations and protests during several of these exhibitions in order to highlight instances of cultural erasure and power structures that privilege gay white men as the dominant figure in the collective history of HIV/AIDS. For example, Art AIDS America (October 3, 2015–January 10, 2016) at the Tacoma Art Museum was criticized by the Tacoma Action Collective for excluding non-white voices in a survey claiming to chart the entire history of the AIDS crisis to the present. (Only 4 black artists were included originally among the 107 selected artists in Art AIDS America. The curators revised future iterations by including more artists of color as the show toured to Atlanta and New York.) The Wojnarowicz retrospective at the Whitney also drew protests by members of ACT UP New York who saw the exhibition as positioning Wojnarowicz's AIDS activism and the illness as a thing of the past, while failing to address ongoing struggles affecting people living with HIV/AIDS today. (See Sarah Cascone, "Following ACT UP Protest, the Whitney Draws Attention to the Ongoing AIDS Epidemic with a New David Wojnarowicz Wall Text," artnetnews, August 6, 2018.)
In London, Art on the Underground worked with Studio Voltaire and the Estate of David McDiarmid to present a selection of the artist's Rainbow Aphorisms series at Brixton Underground station and various locations across London. The text-based posters are both a personal and collective response to the AIDS crisis with statements including, "I'M TOO SEXY TO HAVE AIDS"; "DON'T ASK, DON'T TELL, DIE YOUNG"; and "DARLING, YOU MAKE ME SICK." On October 6, 2018, ACT UP London members subverted two of McDiarmid's posters as a response to the problems they saw in taking the work out of its historical context and placing it into London streets without any explanation. The move was a contested action in that it altered the artwork of an artist no longer living and who was a committed AIDS activist in his lifetime. They stated: "Our action was a response to the decontextualized, uncaptioned placement of the artist's 'Rainbow Aphorisms' posters, one of which reads: 'I'M TOO SEXY TO HAVE AIDS'. Instead, we painted over the message, so that it read: 'I'M TOO SEXY AND I HAVE HIV'" (ACT UP London, "Why We Painted Over David McDiarmid's 'I'm Too Sexy To Have AIDS' Posters," Frieze, October 24, 2018).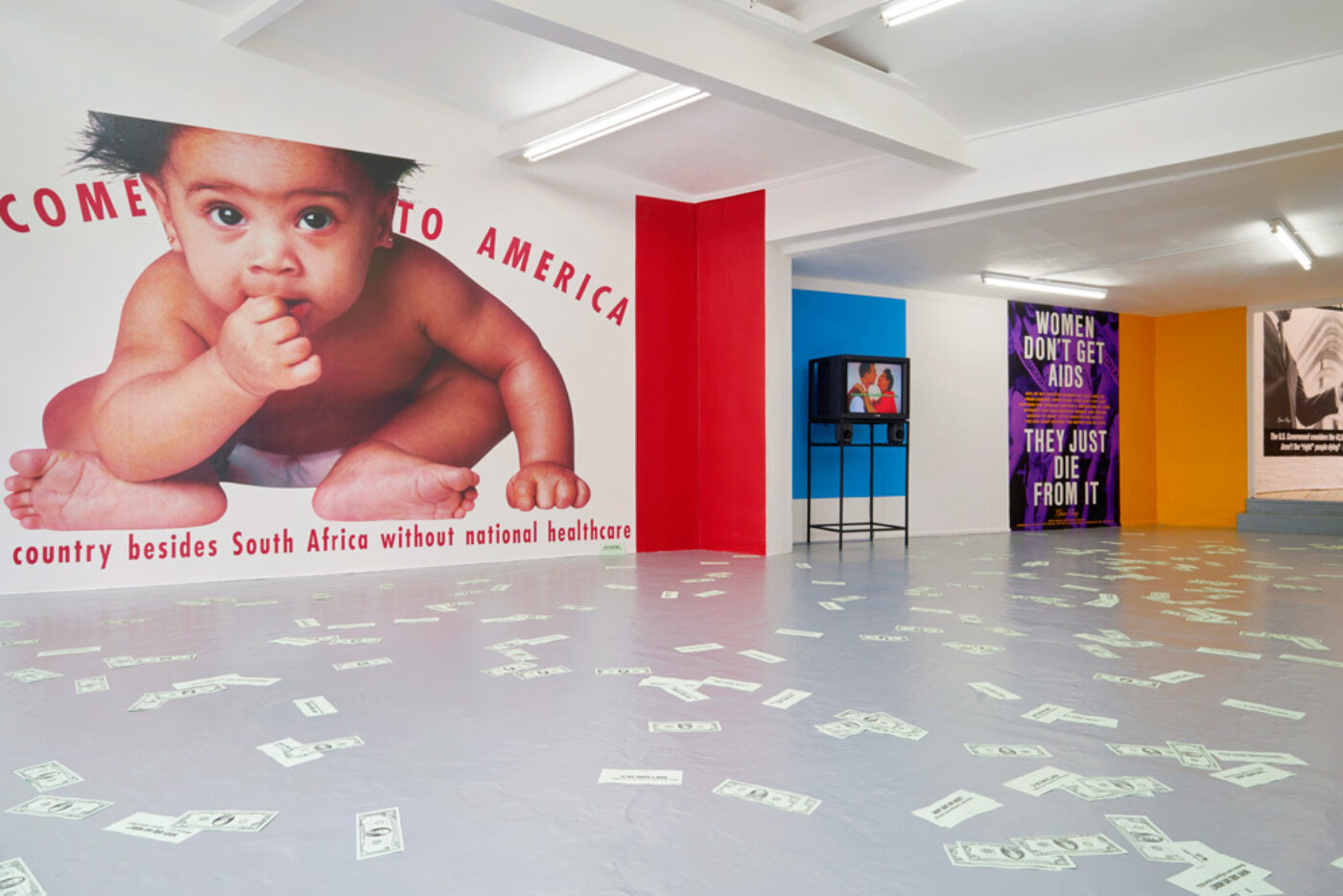 A large banner flag draped across the collective Auto Italia's project space animates a sleepy Bethnal Green street in London by boldly declaring: "All people with AIDS are innocent." This sets the tone for the first UK institutional solo exhibition of Gran Fury: Read My Lips (2018), curated by Edward Gillman and Marianne Forrest of Auto Italia. Gran Fury emerged from ACT UP in the late 1980s in downtown New York as a direct-action collective that appropriated the language of advertising for socially engaged art and health policy changes. Their work aimed to dispel misconceptions about the spread of HIV and AIDS and took to task the complacency and ignorance of the Reagan and Bush administrations, the Catholic Church, and neoconservatives. On curating a show based on historic work that still circulates in the present, Gillman and Forrest told me in an email interview I conducted in January 2019:
It is also important to highlight that although we presented a body of work produced between 1987 and 1995, this was also not an archival project. Gran Fury's work is in continual circulation online through social media and in community organising. For example, one of the key projects presented at Auto Italia as you entered the exhibition was Welcome to America (1990) that reads "Welcome to America: the only industrialized country besides South Africa without national healthcare". During the time the exhibition was up at Auto Italia, Gran Fury presented the work as part of the For Freedoms Billboard project hosted by the Virginia Museum of Contemporary Art protesting conservative political revisions to healthcare provision in the USA with revised text "Welcome to America: the only industrialized country without national healthcare."
The show unfolded across two gallery spaces with Gran Fury's recognizable visual identity appropriating commercial advertising recreated as floor-to-ceiling vinyl posters that mirrored the impact of their earlier posters, billboards, flyers and their call-to-action statements (such as "Kissing Doesn't Kill: Greed and Indifference Do"; "Men: Use Condoms or Beat It"; "Women Don't Get AIDS. They Just Die from It.") that demand a change both in conversations around HIV/AIDS and in health policy. Their medium was communication media. As Gran Fury member Avram Finklestein stated:
It's not art, if art is for museums. It's far more robust than that. It comes for you in ways art simply can't. The poster comes for you where you live. In essence and intention, the political poster is a public thing. It comes to life in public spaces, and outside them, is academic. Individuals design it, or agencies or governments, but it belongs to those who respond to its call…. We had constituted ourselves through political tenets and were not an art collective, but five of us came out of art school, four were graphic designers, and two were art directors. No one was remotely perplexed by the suggestion; no one spoke against it. It was instantly and unanimously agreed on. (Avram Finkelstein, After Silence: A History of AIDS Through Its Images, University of California Press, 2017, 38)
According to Gillman and Forrest, the presentation at Auto Italia worked with materials that had been produced for Gran Fury's first retrospective in 2012 at 80WSE at New York University. In their email interview with me, they note that highlighting this previous exhibition was important "because of the expansive amount of artistic and curatorial energy that went into remastering the group's archive for the exhibition and future distribution…. Gran Fury really had seen this work as activism, and the usual processes of archiving associated with artwork with market value were not deemed a priority. Instead the strategic focus had been to distribute information on the streets and to positively affect public opinion on AIDS." Gran Fury's famous Read My Lips (1988) raised AIDS awareness while shifting the misconstrued narrative of AIDS as a "gay" disease when it also affected women, people of color, and heterosexual men. Their work is part of the powerful and iconic visual identity of the era, alongside ACT UP's SILENCE = DEATH iconic pink triangle and Visual AIDS's Red Ribbon Project, with its folded ribbons on lapels now recognized as a way of supporting the fight against AIDS.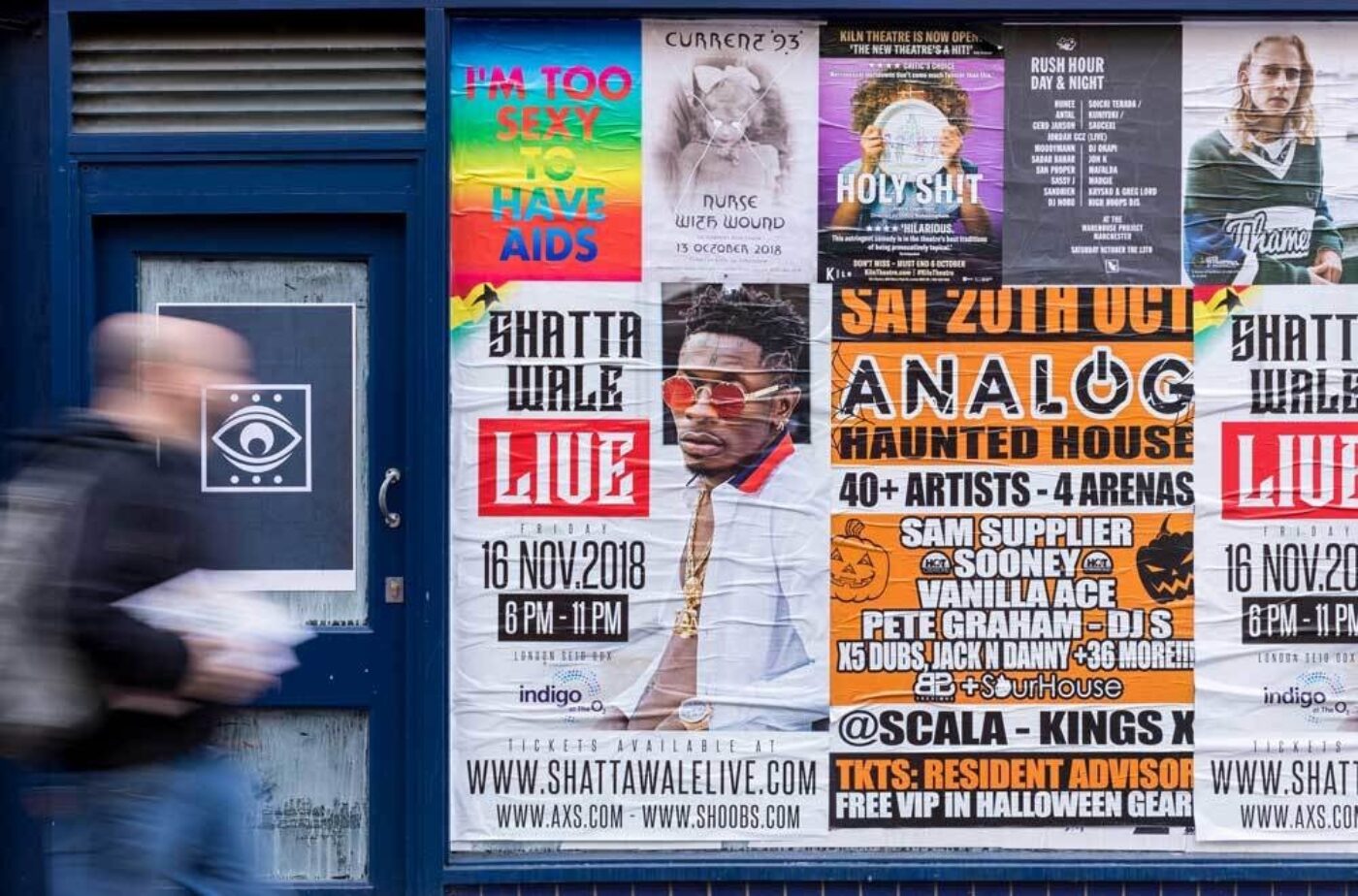 Auto Italia has created meaningful intergenerational dialogues connecting Gran Fury's legacy with a younger generation of artists, writers, and activists. Particularly important for the show's curators in my email interview with them was how the project brought together a network of UK-based artists engaged in healthcare and queer activism, including the commissioning by Auto Italia and METRO charity of Carlos Maria Romero a.k.a. Atabey Mamasita in collaboration with healthcare professionals and METRO volunteers to produce a new performance work that brought people together to discuss the continuing rise in HIV diagnosis in the UK and its relationship to economic and education inequality for individuals living in the UK from the Global South and across Eastern Europe.
These exhibitions at the intersection of art and activism signal a renewed interest in art of the AIDS crisis years, while also highlighting the important contributions of individuals and collectives in the fight to end AIDS. The need to preserve artistic legacies as well as to destabilize and decenter dominant narratives within the history of HIV/AIDS is timely and important for revealing the ongoing fight of those from marginalized communities whom are frequently the most impacted.
Jareh Das researches, writes, and curates diverse visual arts projects centered on the contemporary. Between 2013–16, she worked as a PhD Research Curator at The Arts Catalyst London, which was part of an Arts Humanities Research Council-funded doctorate titled Curating Art and Science: New Methods and Sites of Production and Display, offered in partnership with Royal Holloway, University of London's Geography department. Das was awarded her doctorate in July 2018 for curatorial work and her thesis, Bearing Witness: On Pain in Performance.