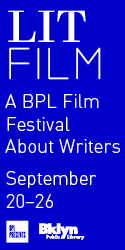 Haruki Murakami's new novel Sputnik Sweetheart is slim, limpid, and as gentle as razor wire. Like much of Murakami's work, the story begins with the familiar and ends up somewhere profoundly weird. The reader's guide through the ever more metaphysical tale is an unnamed male narrator, an elementary school teacher who is quietly smitten by his college classmate, a woman named Sumire. Sumire, a Kerouac devotee, lives an ascetic life in Tokyo, working part-time jobs by day and pounding out long, gnarled novels by night. At a cousin's wedding, Sumire meets Miu, an enigmatic older woman, and, for the first time in her life, falls in love—a love "flattening everything in its path, tossing things up in the air, ripping them to shreds, crushing them to bits."
Things get murky after Miu hires the pining Sumire as her assistant, and they leave together for Europe. Their travels lead them to an island in Greece, where Sumire vanishes "like smoke." Miu enlists the narrator's help in her search, but all he uncovers are shards of the life that Sumire has left behind—an undisturbed suitcase and some ominous stories on her laptop. Before long, he is gripped by an eerie certainty that Sumire is no longer in the world, no longer on "this side," and possibly lost somewhere through the looking glass.
A visceral brutality lurks beneath Murakami's clean prose, surfacing in grisly images. After Sumire's disappearance, the narrator imagines his brain being devoured by starving house cats, and one night in bed he is awakened by a "formless, midnight pain," as if his body is "silently, cruelly, being impaled."
In Murakami's universe, physical pain is often a symptom of deep-seated longing. His characters are doomed to live deprived of that which they crave most: a sense of connection. Like Laika, the dog banished into space in the Sputnik satellite, they float helplessly around the earth, isolated and alone. In the narrator's words, "We draw ever nearer to our allotted span of time, bidding it farewell as it trails off behind. Repeating, often adroitly, the endless deeds of the everyday. Leaving behind a feeling of immeasurable emptiness."
—William Cohen
Haruki Murakami's Sputnik Sweetheart was published in April by Knopf.
Originally published in
Featuring interviews with Robert Mangold, Brian Tolle, Robert Pollard, Carl Phillips, Colson Whitehead, Kenneth Lonergan, and Guillermo Arriaga.