An Artist's Guide to Herbs: Hawthorn Berry by Harmony Holiday
Hawthorn is a plant that exudes the hospitality of an open heart.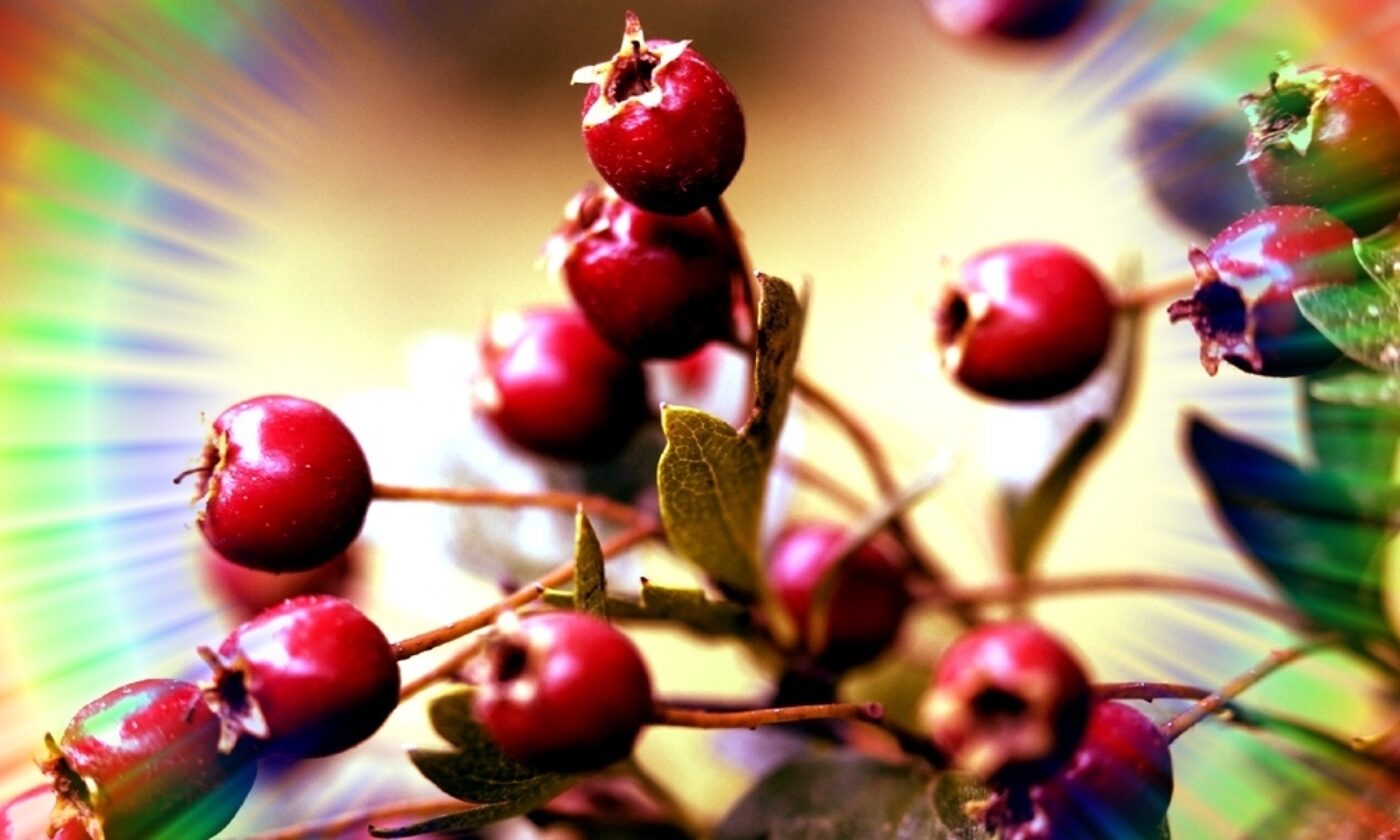 Who needs a heart?  Who needs to be reminded that at the center of all the decoy culprits for terminal illnesses and any atmosphere of dis/ease or self-neglect is heart-sickness? To face that possibility is to face its catalyst: lifestyles and modes of survival that contradict or destroy our inner rubric for what matters most. These natural priorities are what Sun Ra, the ever heroic heart of black music, called 'Nature's Naturals,' as imagined before industrial capitalism compelled us to brand them and ourselves.
 
The body's organs are muscles, making music that amounts to an internal orchestra. We know how we feel when we're out of tune, when the brain is playing in a key that subjugates the feeling and beat, when we can't dance from within, when our ideas stiffen into matter and product before they can bloom as vibration, when life is more and more like a slogan than a song. Today, as a nation for the broken hearted who desperately proclaim characteristics like 'high-functioning' and 'well-adjusted' and 'happy' to assert our position as unscathed endlessly productive capital, it's no wonder that the heart muscle is usually the first to lapse, the one we try and fail to outwit with collective autopilot.
 
And why would we be brokenhearted en masse? What behavior would cause the collective metronome to atrophy into a rhythmless cage? Some accounts say that a lot of people died before even reaching the slave ships, chained together marching toward the hapless Atlantic. For a while the living dragged their corpses like ragdolls or leverage or howling hex-on-you reminders while they marched fate-ward.
 
On the ships, in the tense cubbies and chains, for every rebel, for every woman carrying a child who leapt overboard, for every afternoon the slaves were made to dance to stay in shape for their impending duties on the land or to please the captors, there was a phantom affection. For every crime, a desire so strong to be near one another that it became a kind of violence, a desire for peace so resounding it acquiesced to bloodshed.
 
On the auction block as stock and body, sold down river or kept and comely, kin separated, a pernicious codependency formed between oppressor and oppressed, unforeseen contingencies of the desperate situation were always at hand. In liberation and landlessness and namelessness and the plantation ransacked and sycamore branches as graveyards and through the hard-up picnics where black bodies were on the menu—at every turn in the story, another series of heartbreaks thrummed on both sides.
 
At every reveled volta another breaking point. The heart is just the first organ to admit defeat, the one humble enough to step forward and say it needs help, that the phantom bodies at its feet are messing with the beat like a heaping wad of scar tissue that seems impossible to dissolve. It takes the generosity of the earth, of plants with stable grounding energy, to help us remember the weightlessness we carried before the mutual bondage of brutalization, to help us recall how energy might have surged through us in guiltless joy at another time, to teach us why clean hearts are our destiny .
 
The great drummer Tony Williams, who died of a heart attack, sings there comes a time to wake up to what's happening, I love you more than what's happening . Now might be that time. The land, as if aware of how terrible and beautiful humans would become, is equipped with a bright red plant in the same family as the rose and the apple, the Hawthorn berry, Haw, for short, the sound made in Tai Chi to heal the heart, a word you cannot say without opening the chest, an opening that cannot be accomplished without some sincerity, even reluctant sincerity, an improvement in the hobbling beat of this era.
 
When the heart is weak and failing, as with the brain, the mitochondria, the energy centers of the cells, are accumulating glitches. When we're not getting enough oxygen and healthy enzyme activity, the delicate balance of output and input suffers, a strife due in large part to the way we use our physical and emotional energy in daily life, what we're surrounded by, what we consume, and what consumes our attention. Lack of inspiration is a symptom of heart disease, as is inspiration that seeks vapid ends. In the U.S., where heartsickness is treated only on a physical level, those subtler and more influential precursors are ignored. 
 
Because no plant or herb can come take us by the hand and get us off our asses, those that assist in healing the heart start by helping supply it with more oxygenated blood so that we feel energized enough to want to use it for exercise, or curiosity, or lawless and cosmically abiding love. We begin to fall in love with ourselves again when the heart, the real mind, the space muscle by which the electromagnetic field we call an aura, is thriving and in sync with our deepest urge to know and trust ourselves .
 
Hawthorn helps us obey this knowing and attain this regenerative blood in multiple ways. Its enzymes inhibit other enzymes that cause blood vessel clumping, thus reducing resistance in the vascular arteries that would otherwise prevent the free flow of fresh blood to and through the heart. An antioxidant in the plant called Vitexen, indicated by its red pigment and bright flavor, helps tone the vascular veins and arteries so that the muscle can function optimally. Over the counter versions of the herb are often standardized for this nutrient, though preparations of hawthorn tea are sometimes more effective due perhaps to the soothing influence of warmth on the nervous system and the symbiosis of all of the plant's qualities in their natural balance when it is prepared as such.
 
Every part of the Hawthorn plant carries this determined-to-remain-authentic vibration. The taste is soft and wooden-floral in either preparation, like something sturdy and glad to be eaten and more alive and real when it is fulfilling its purpose in our ecology. Hawthorn is a plant that exudes the hospitality of an open heart, in flavor, energy, accessibility, and in how quickly and subtly it moves the tangled energy inside of us. It's miraculous that an off-beat heart can be restored so comfortably to its steadier pace, that a broken one doesn't need to stay broken to prove its worth, that our collective addiction to brokenness and to fracture, can switch in a decisive instant and enter the fractal sanctuary of this rose-like and graceful herb.
 
Every stage of reconfiguring the heart into a chamber worthy of ourselves is worthwhile. Every tool we have to create a reverse pattern of yesterday that lets us step onto shore and radiate liberation is heroic. I felt better in my rage than I did in my despair, and better still in my determination, and now in the infrared light of my resolution, the drum machine between my breasts gets to be so obnoxiously accurate and I'm awake to what's happening, parting with the legacy of breaking one another's hearts. I love you more than that.

Harmony Holiday is the author of Negro League Baseball, Go Find Your Father/ A Famous Blues and most recently Hollywood Forever. She is also the founder of Mythscience, an arts production house devoted to cross-disciplinary work that helps artists re-engage with their bodies, the Mingus School, its first series of events, and the Afrosonics archive of jazz and everyday diaspora poetics. She worked on the SOS, The Selected Poems of Amiri Baraka, transcribing all of his poetry recorded with jazz accompaniment that had yet to be released in print. Harmony studied rhetoric and at UC Berkeley and taught for the Alvin Ailey American Dance Theatre. She received her MFA from Columbia University and has received the Motherwell Prize from Fence Books, a Ruth Lilly Fellowship and a NYFA Fellowship. She is currently working on a book of poems on Reparations and the body, a collection of essays on the same topic, and a biography of jazz singer Abbey Lincoln. She lives in New York and Los Angeles.