Hannah Wilke: Art for Life's Sake by Jenny Wu

Discover MFA Programs in Art and Writing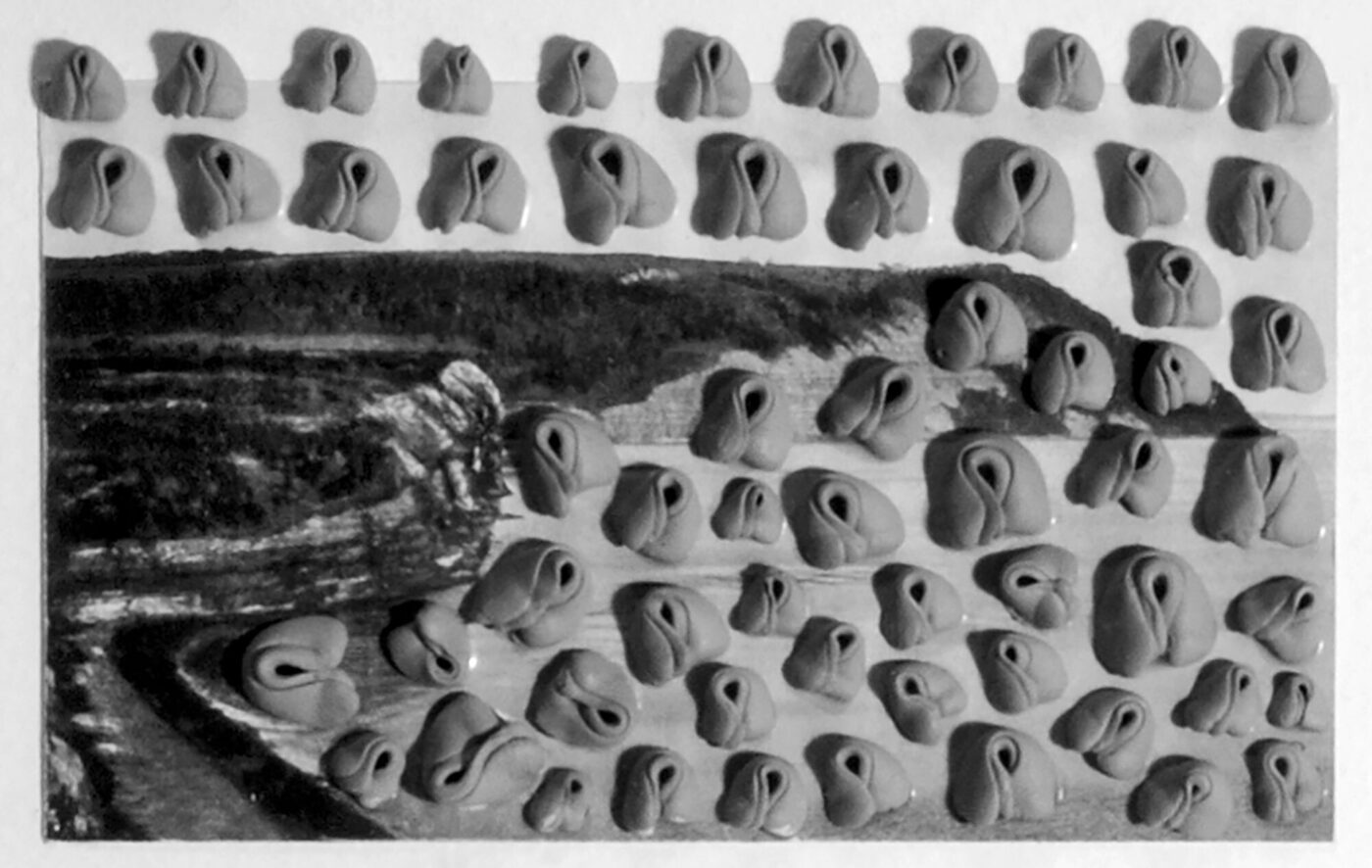 (Pulitzer Arts Foundation, 2021–2022)
In the final gallery of Hannah Wilke: Art for Life's Sake—a retrospective that spans the three-decade career of the visionary feminist artist and cultural provocateur—there is a vintage postcard: Seashore (1975). Mounted and framed in white next to two similar specimens, Sea Wall and Barber's Pond, it might recall the "severe, naked, tall, blue, I mean to say joy-deficient, cliffs" from one of Robert Walser's microscripts—if not for the vulva-shaped kneaded erasers that Wilke (1940–1993) unleashed in legion on its surface. By sticking what the exhibition's curator, Tamara H. Schenkenberg, has called "jauntily erratic swarms" of genitalia to the placid and sentimental coastline, Wilke imbues the found object with liveliness and imaginative potential, as well as mysterious shadows and depth. Like the fragments of paper on which Walser composed his microscripts, her postcards appear both ephemeral and self-contained. The erasers that dot their surfaces bear the physical presence of the artist's hand, those personal touches that critics in the '70s mobilized against her as proof that her work fell short of conveying a universal message. Seashore, in this way, could stand in for Wilke's broader practice: the viewer is simultaneously disarmed by the playfulness of the gesture and reminded of the double bind that the artist faced fashioning erotic imagery out of everyday objects.
This sense of mischievousness tinged with melancholy runs throughout Art for Life's Sake, which is on view at the Pulitzer Arts Foundation in St. Louis through January 16, 2022. Placed opposite Wilke's best-known photographic series, S.O.S. Starification Object Series (1974–1982)—in which the artist mimics the stereotypically feminine poses women assume in advertisements, albeit with pieces of chewed gum stuck to her face and bare chest—another piece in the show that rewards close looking is Intercourse with… (1978). In the video, smiling wistfully underneath a wide-brimmed hat, Wilke listens to messages on her answering machine—some intimate, some mundane, some self-centered, some crude—until the voices and their demands exhaust her. She undresses, revealing the names of her callers spelled out on her breasts in tiny stick-on letters. Wilke proceeds to read her artist statement, in which she describes wanting to create "residual magic made from laundry lint or latex loosely laid out like love." She then peels the letters off one by one, shedding her passivity. The names that mark her body like signatures on an art object are removed, as the skin, once a surface that existed for others, becomes a tender and vulnerable site of artistic emergence.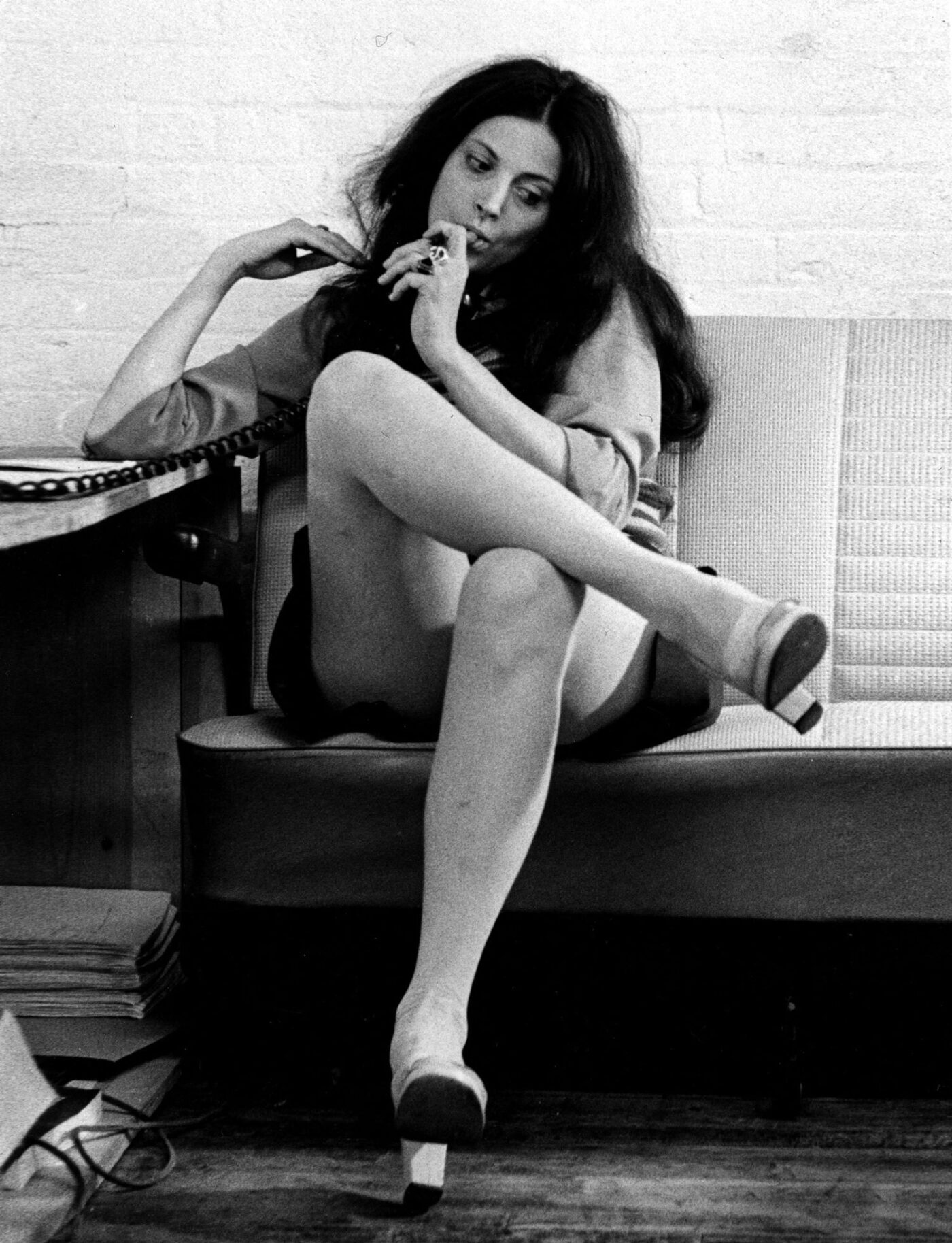 Throughout her oeuvre, Wilke continually reenvisioned the vulva as a visual language. With a deft and ironic awareness of American culture, the artist cut across the banal eroticism of advertising copy and the repressive conformity of the postwar era. The Pulitzer Arts Foundation's choice to devote a show to Wilke's career is apt, given that she has not received as much attention as feminist artists such as Carolee Schneemann and Lynda Benglis, who, like Wilke, pioneered the use of corporeality to engender a more critical viewer during the sexual revolution of the '60s and '70s. That art institutions have shied away from Wilke's work is due in part to the stigma placed on nudity and female sexuality and in part to the reductive discourse that feminist and misogynist critics alike drummed up around her self-objectifying tactics. The retrospective in St. Louis invites viewers to notice the overlooked details in Wilke's works, so they can fully embrace the pleasures and contradictions that linger beneath—and, at times, explicitly atop—their surfaces.
Jenny Wu is an art historian and fiction writer.
Originally published in
Our Fall 2021 issue features interviews with Rabih Alameddine, Lileana Blain-Cruz, Suzanne Jackson, Candice Lin, Kevin Morby, Naudline Pierre, and Diane Williams; an essay from Hafizah Geter; short stories from Akil Kumarasamy, Harris Lahti, Holly Melgard, Edward Salem (winner of BOMB's 2021 Fiction Contest), Adrian Van Young, and Diane Williams; a comic from Ricardo Cavolo; nonfiction from Hugh Ryan; poetry from John Keene and Marcus Wicker; a portfolio by Manthia Diawara; and Nam Le's newly hand-annotated interview from 2009.