Hank Willis Thomas and Kambui Olujimi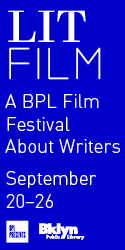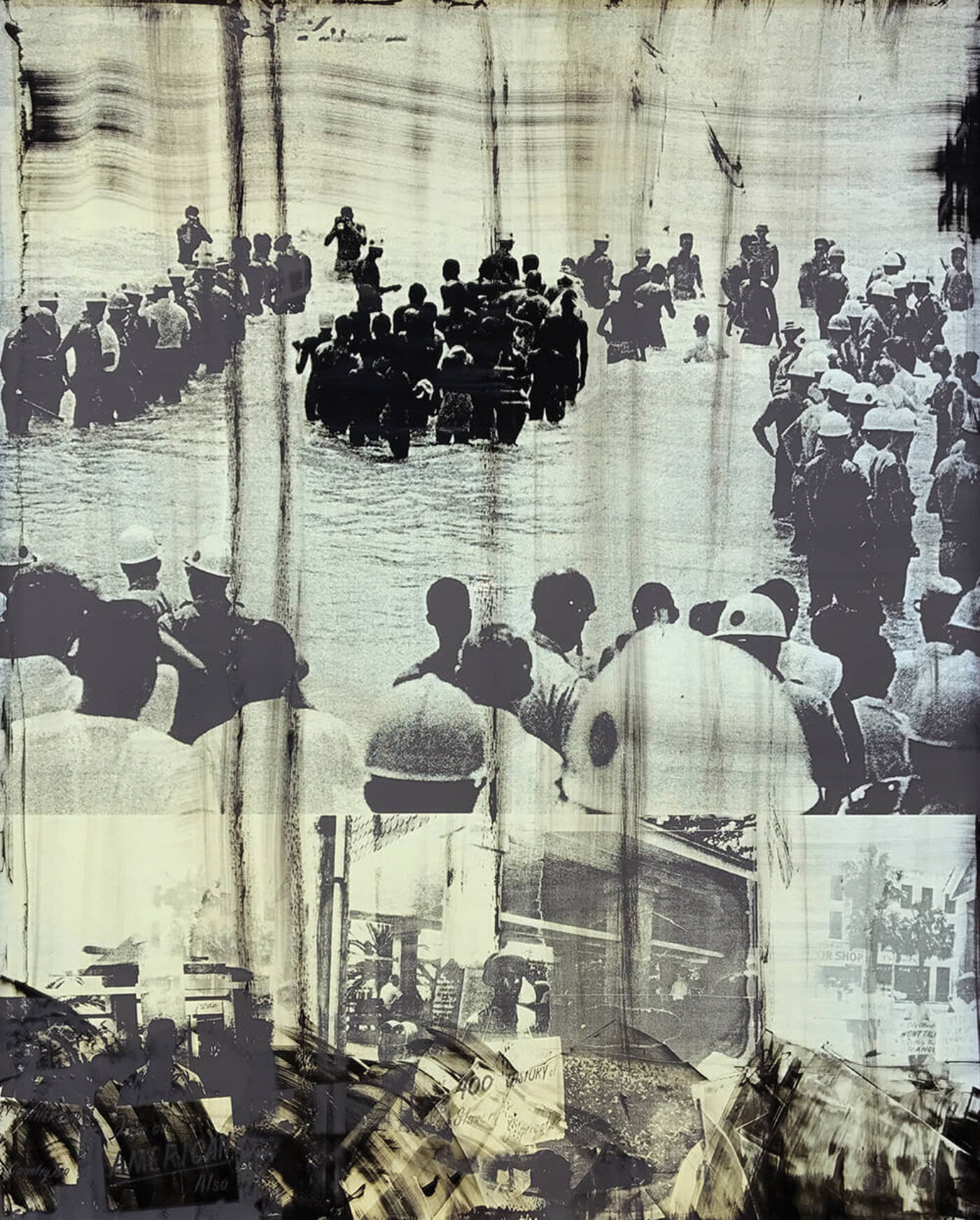 Hank Willis Thomas and I have been friends for nearly twenty-five years and have collaborated on numerous projects, including the films Winter in America (2005) and Am I Going Too Fast (2014) (in collaboration with Christopher Myers). In 2016, Thomas curated an exhibition of my large-scale sculptures, prints, and drawings entitled Solastalgia at the CUE Art Foundation in New York City.
We met up at Hank's studio to discuss some of the intersections in our practice and process, as well as our different articulations of neighboring concepts, such as historical doppelgangers in photography, time as a projection of power, and finding idiosyncratic agency. Our conversation focused on Thomas's upcoming exhibition, What We Ask Is Simple, at Jack Shainman Gallery, and my recent solo projects, Zulu Time (2017) and Where Does the Time Go … (2017)
—Kambui Olujimi
Kambui Olujimi It's good to be back in your studio, man. I haven't been here in a couple months.
Hank Willis ThomaThanks for coming by. 
KO What are you working on right now? 
HWTSeveral things. My next solo show at Jack Shainman Gallery in Chelsea will open in early spring. It's my first show there in three years, so I'm definitely very nervous. And then a new ambitious initiative for For Freedoms, the artist-run Super PAC I cofounded with Eric Gottesman in 2016. We're trying to do exhibitions, town halls, and billboards in all fifty states in the fall of 2018. 
KO What are you thinking for your show at Jack's? 
HWT We're still sorting it out. The working title is What We Ask Is Simple, and it's a show focused on the ethos behind many of the critical moments in human and social rights movements of the twentieth century. I'm trying to revisit them through archival photographs that I reproduce in new ways, to encourage the viewer to consider the old as new. I'm thinking about the past as present, looking at how things we believe long past are still current. While we think we're dealing with new situations, we're actually revisiting cycles and need to learn from past successes and mistakes. 
KO There's also this idea of the past not being a singular place. Like, Which place? Ten years ago, we learned something; five years ago, we learned something else, and so on. So, is it a question of where are we in terms of progression and also in terms of stagnation?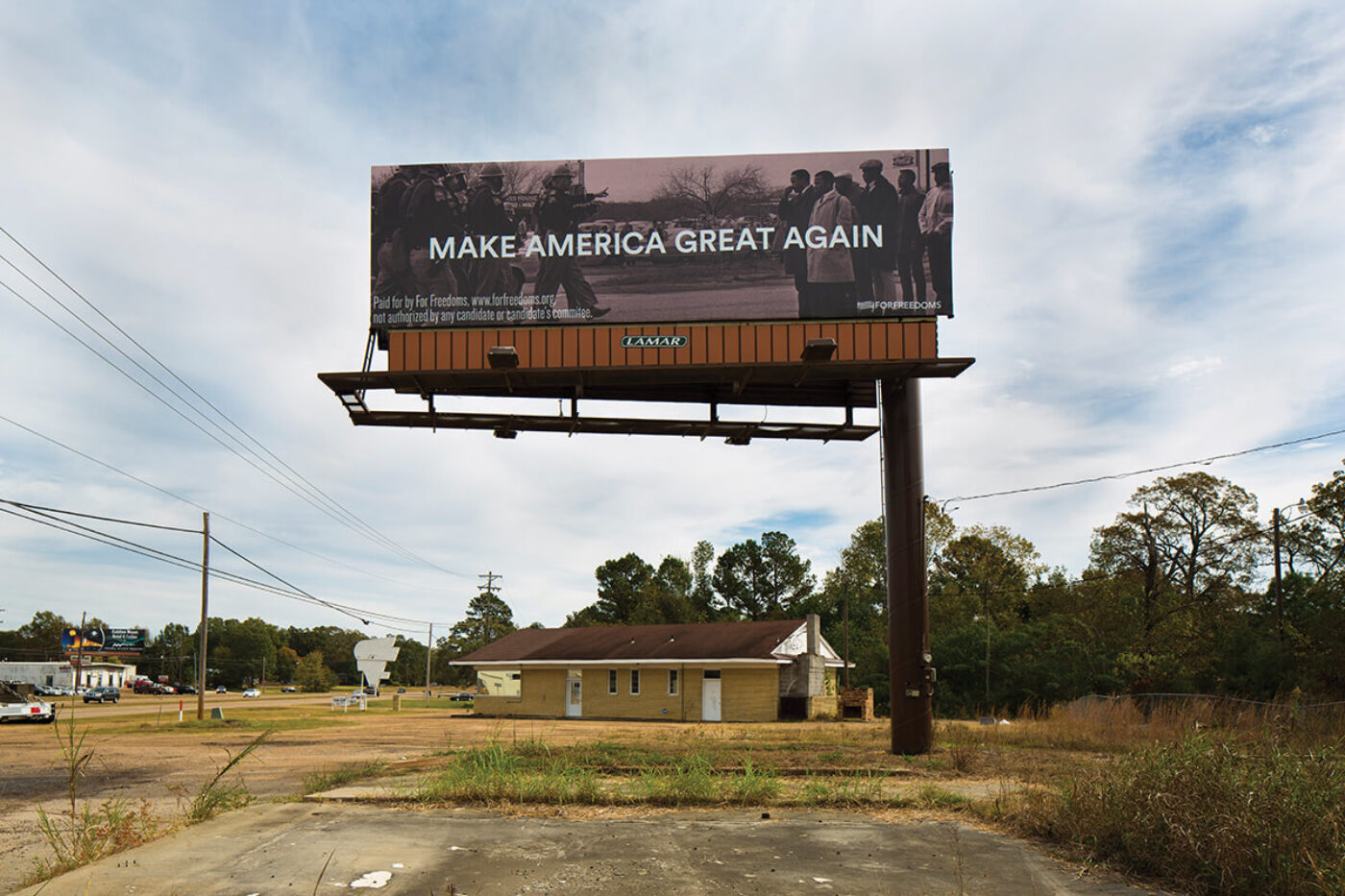 HWT Yes. Those are critical questions. We're living in what feels like an incredibly singular time, but I wonder if it's any more concerning than the forty years of the Cold War or life under Jim Crow or during the Civil War. There have been so many different moments, and depending on who you were as an American, you might have felt an equal level of tumult and concern for the world. 
KO So, in what way are you unpacking this? What kind of archival images are you thinking about?
HWT Well, we live in an era in which there are more images produced in a single second than any of us can make sense of in our entire lives. Now we're used to scrolling, looking past images. Images less familiar to us,  say, from the '60s and '70s, seem to have so many topographical layers of visual sediment on top of them that we don't even really see them anymore. I'm trying to get myself and then other people to dig below the layers of popular culture and media distraction and blurring of vision, so that we can see certain things more clearly and think about how we can position ourselves and look at our current moment with a certain amount of hindsight because, as I said, the past is present.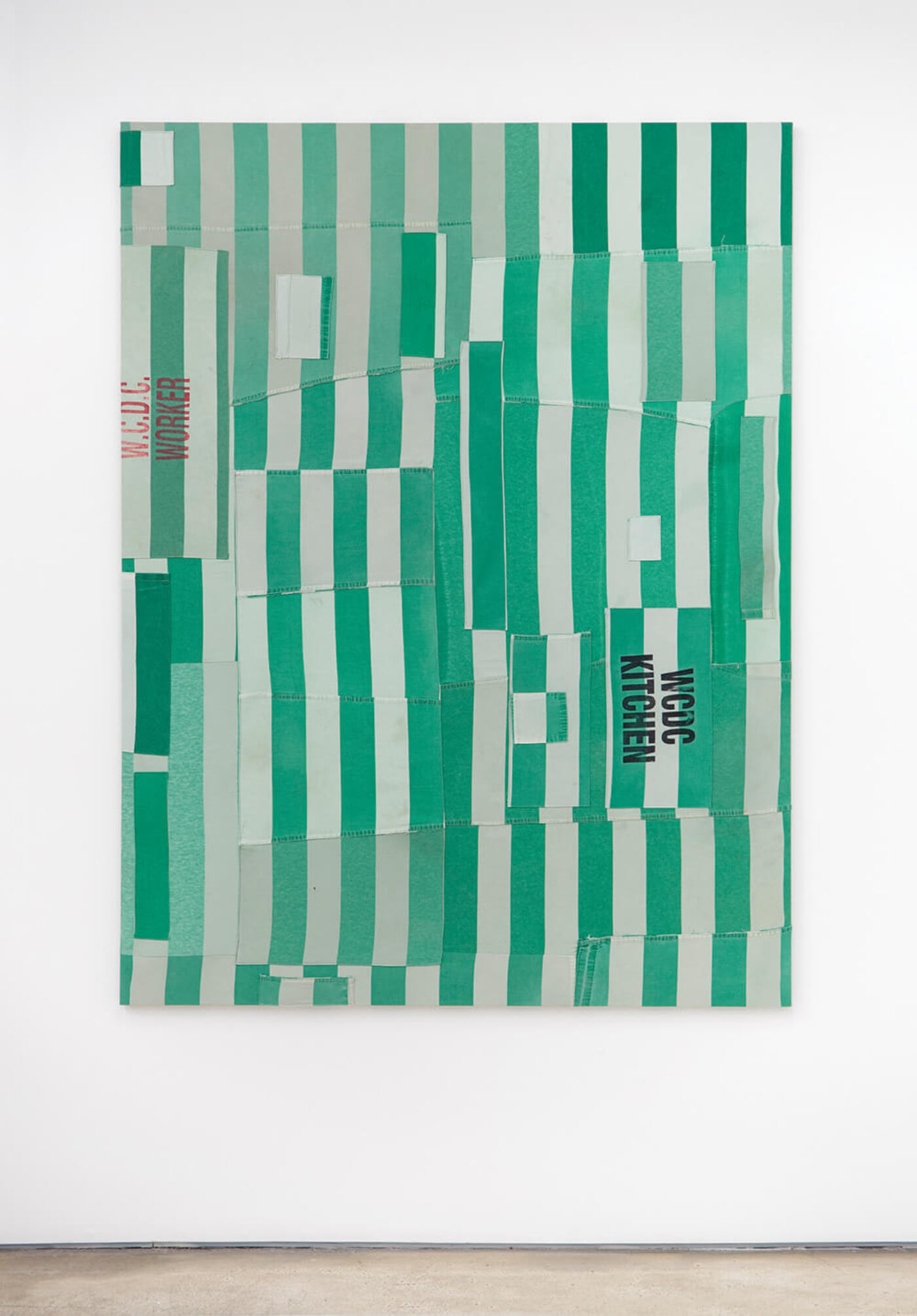 KO Interesting. Two things jump out: hindsight as a form of clarity, where that time-shift happens through the language surrounding the moment. Clarity materializes as the moment is metabolized, when the present is past. Maybe we'll loop back around to that. 
The other idea that jumps out to me is blurring. Images are being created so fast that no one can digest them. There's probably four million cat pictures produced daily, so there's a redundancy in that production. How many people are recreating an image of the sunrise yesterday, today, and every day following? In relation to your show, how much of the work breaks that historical chain letter? Like the way fire hoses and German shepherds become shorthand for an era of brutality without us actually seeing the assault. I'm excited to see how your work grapples with legibility in the now and interrupts the redundancy of that signifier.
HWT Yeah, I mean, you and I have known each other for almost a quarter century. When we studied photography, there were no digital cameras, and there was still things that hadn't yet been done. Color film was still a little bit fresh. 
KO We're not that old! It was the '90s. There were digital cameras, but I know what you're getting at.
HWT Ten years earlier, no one was using color film. It's true. Only William Christenberry, Stephen Shore, and—
KO —William Eggleston and Ernst Haas.
HWT Yeah, those dudes. But it wasn't that long before. 
KO Okay. There had been about 150 years of black-and-white photography versus four or five decades of art photography in color. I'm with you. 
HWT Color was still a new frontier. Then, digital photography enabled so many more people to create images; there's an infinite number of photographers now. The canon of photography that we learned is, to a degree, irrelevant today because there's more great, fine art photography than we can even conceive. So, as photo lovers and people trained in photography, we don't even really see pictures for what they are anymore. It's rare that I see an image and I'm like, Oh, wow, this is something new. I can still appreciate images that are powerful, amazing, strong, but I'm also thinking, Do I take a picture of a picture because I have a camera in my own hand? Do I swipe past it? 
I don't really have that same kind of phenomenological experience of asking myself: How did you get there? How did you make that image? Who are you because you took this image? 
KO Do you think that's partly due to the physicality versus immateriality of the images?
HWT I think immateriality is part of the alienation. We used to take hours to set up one shot before we even took a Polaroid to preplan an image. Now, you go in and take a picture, see what you like, frame it, throw something else in, frame it, take another picture. I might take a hundred pictures before I even take the real picture. And then I might take another hundred after that. There's no consequence to overshooting, and that's why people tend to be less detailed in the making of images and also in their consumption of them.  
So, how do I get myself or the viewer to pause and stop and, even if it's an old image, see it as if it's new, with a degree of wonder? What interests me most in all my work, be it photography or sculpture or video or text, is reflexiveness. I think the viewer needs to be the photographer now. Meaning, when I make work, I'm asking, How will what the viewer sees affect their relationship to the object or image that I'm making?
KO This goes back to your undergraduate work with the frame; you would go out and have people hold a physical frame and ask them to use it to frame an image. Then you would compose another image that included both and what they had framed. You were already thinking about this idea of active viewership, which is experiential. 
With your lenticular prints, an image is only revealed when the viewer changes position in relation to it. For your new work with the archive images, the viewing also involves a spatial dimension. 
HWT Are you talking about my retroreflective prints?
KO Exactly. With the retroreflectives, it's the viewer's rephotographing with a flash that completes the imaging process. This is a really interesting way of placing that archive squarely in a contemporary moment. 
HWT Yeah, hopefully viewers are having a revelation the same way I do when I'm digging through an archive. I find an image and want to keep it, take it with me, save it. I want viewers to do the same with the work. 
KO Tell me about the overlap, like when you see these doppelgangers. The images of the riots in Baltimore in '68 look eerily similar to the ones from 2015. If they're in black and white, you can't tell those pictures apart.
HWT Yeah, that's why I say then is now and now is then. The images of Ferguson in 2014 look like images in Newark in 1967. Other artists, like Sheila Pree Bright, are looking at the '60s and now. There's something I'm still trying to understand about these particular moments. That people in St. Augustine, Florida, have had to work together to integrate the beach concerns me. Here in New York, we take going to the beach with our friends of different ethnic backgrounds for granted. All progress in our country for people who weren't already benefitting from the system when it was founded—all that progress was fought for, nothing was granted, and nothing was given. I have to acknowledge that the road to progress is always under construction. I have to recognize that even the littlest things were fought for, and so the big things also have to be fought for. We have to think big.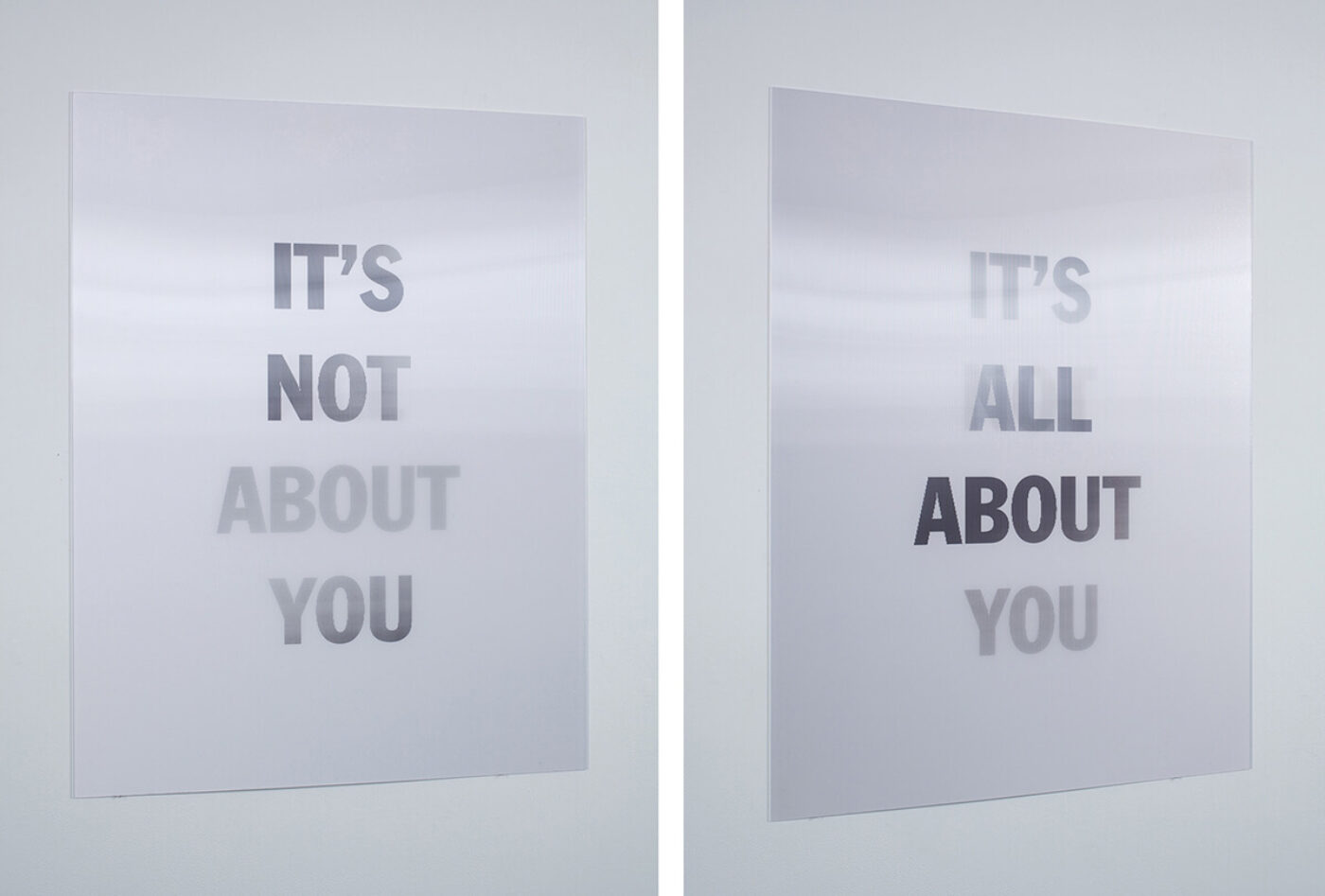 KO I think it's not so much that the little things have to be fought for, but that we get in our own way. Oppression is a human construction, and it's abundantly apparent when you look at what you've pointed out—integration of a beach. A beach is nature, completely outside of these bullshit constructions of humans. This is one of the pillars of your work: pointing out the arbitrary and fully constructed nature of race. The notion of race being mediated through landscape—that's ridiculous. You shouldn't have to fight to experience this thing that predates humans. 
HWT Exactly. I'm curious about our extinction. So, could you talk to me about Zulu Time? 
(doorbell rings)
KO Hopefully that's not the extinction coming for us! (laughter) Zulu Time is a project where I was thinking about time as a construction.
HWT What is Zulu Time? 
KO It's a shorthand term for the standardized mode of tracking time used across the world, commonly known as Coordinated Universal Time (UTC). Specifically, it references the time at the prime meridian (longitude zero degrees)—the invisible and ultimately arbitrary line from which all global time zones are calculated—that runs through Greenwich, UK. When latitudes and longitudes were mapped out, the United Kingdom was the biggest bully on the block. They had the most powerful navy and they literally set global time, by claiming the zero-degree longitude prime meridian as running through the Royal Greenwich Observatory. 
I was interested in this idea of Zulu Time because time is a projection of power. We still shape our lives around this notion of time that's based on the British Empire. The British tried to colonize the Zulus in the late nineteenth century—
HWT They colonized time! When I asked what Zulu Time was, I was talking about your art project. (laughter)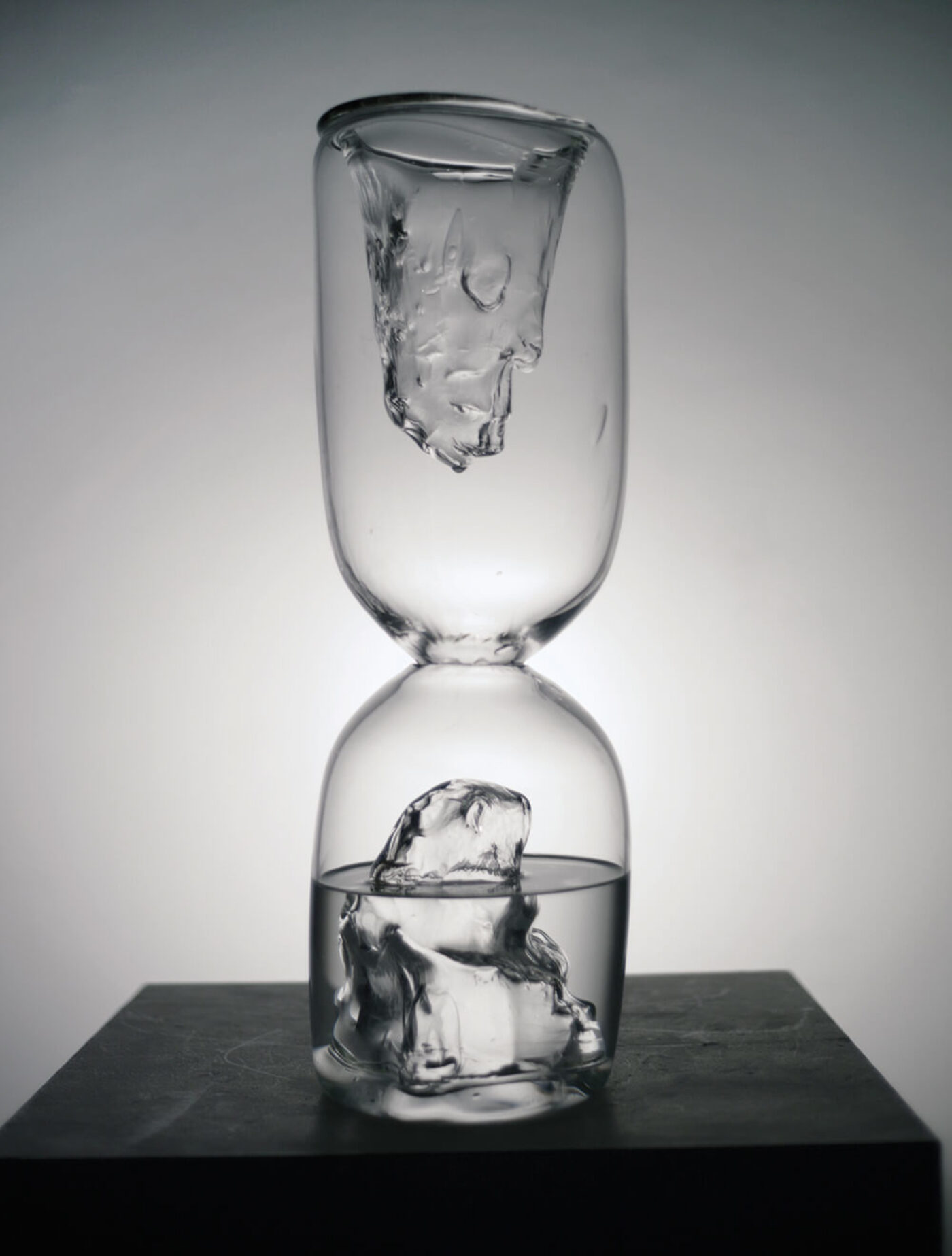 KO Well, you get to the art project once you understand what Zulu Time is. So, looking at time as a projection of power, I was asking: What are the things that interrupt that seemingly innocuous unchecked system that we are taught represents time? What happens when we acknowledge the inconsistency of time? Every day is not experientially twenty-four hours. Like in the summer, daytime is so much longer than in the winter. But we still say four o'clock is four o'clock regardless of those different experiences.
So, my exhibition Zulu Time is a collection of sculptures that look at and intervene in the unchecked condition of time. T-Minus Ø (2017) is a series of thirteen double-sided flags with collaged images of failed rocket launches and failed shuttle attempts, like Challenger. These huge explosions were so fleeting, yet seared into our memories forever. The flags are set up in a kind of UN-like array, and they also make us think of our own nation's precarious position right now. 
HWT I see this parallel to what we were talking about before—photography and time and the past being present. You're thinking about time being colonized—
KO Or as a colonial power.
HWT And I'm thinking about the way that colonialism is actually manifested in fine art through this notion of appropriation. Appropriation is something I do in my work. However, artists like Picasso or Marcel Duchamp appropriated African art and concepts of African art related to space and time at the same time that Africa was being colonized by the Europeans. 
KO When we were talking about nature you mentioned extinction. In Zulu Time, I made a series of hourglasses—handblown glass with these iceberg cavities inside and filled with water. They are their own kind of time-space system. The title InDecisive Moments (2017) is a collision of the Henri Cartier-Bresson book The Decisive Moment and the willful ignorance of nations regarding global warming. We're at a tipping point, when doing nothing will literally doom the planet. These works are a reminder of a time that is not concerned with us. This four-and-a-half-billion-year-old planet and its ecosystems don't privilege us. As much as we are destroying and meddling in it, we are still gnats—human "civilization" goes back only 6,000 years. Hopefully the work offers some perspective and gives us pause to think about what we're doing to the environment around us and, more directly, to each other.
HWT How does that tie into space exploration? Isn't that another form of colonization?
KO (yelling) BOOM! Yes, it is. One of the pieces in Zulu Time is The Black That Birthed US (2017), which is a wall of wheat-pasted images of our galaxy with small shelves, each holding a digital clock set to a different time with a found black-and-white portrait of people on top of it. Deep time, time since the formation of the universe, dwarfs us, and yet it is the context in which we live. By engaging deep time we remove ourselves, as humans, from the center of time. Perhaps this shift can recalibrate us on a macro scale. 
As to space exploration as a form of conquest, the flags in T-Minus Ø are very much about that. We poured so much of our resources into getting to the moon first. That wasn't about knowledge; that was about conquest. So, unfortunately, part of this search for connection to a bigger experience, finding our place in the solar system and in the universe, is marred by bullshit like nationalism. It's a shame that the apparatus for that connection pivots around political entrenchments. But the past few decades of cooperative efforts have given us the International Space Station and the Cassini–Huygens space probe. 
HWT So, I guess you always took issue with the notion of "Space, the final frontier."
KO No, why would I?
HWT Because frontiers are there to be conquered.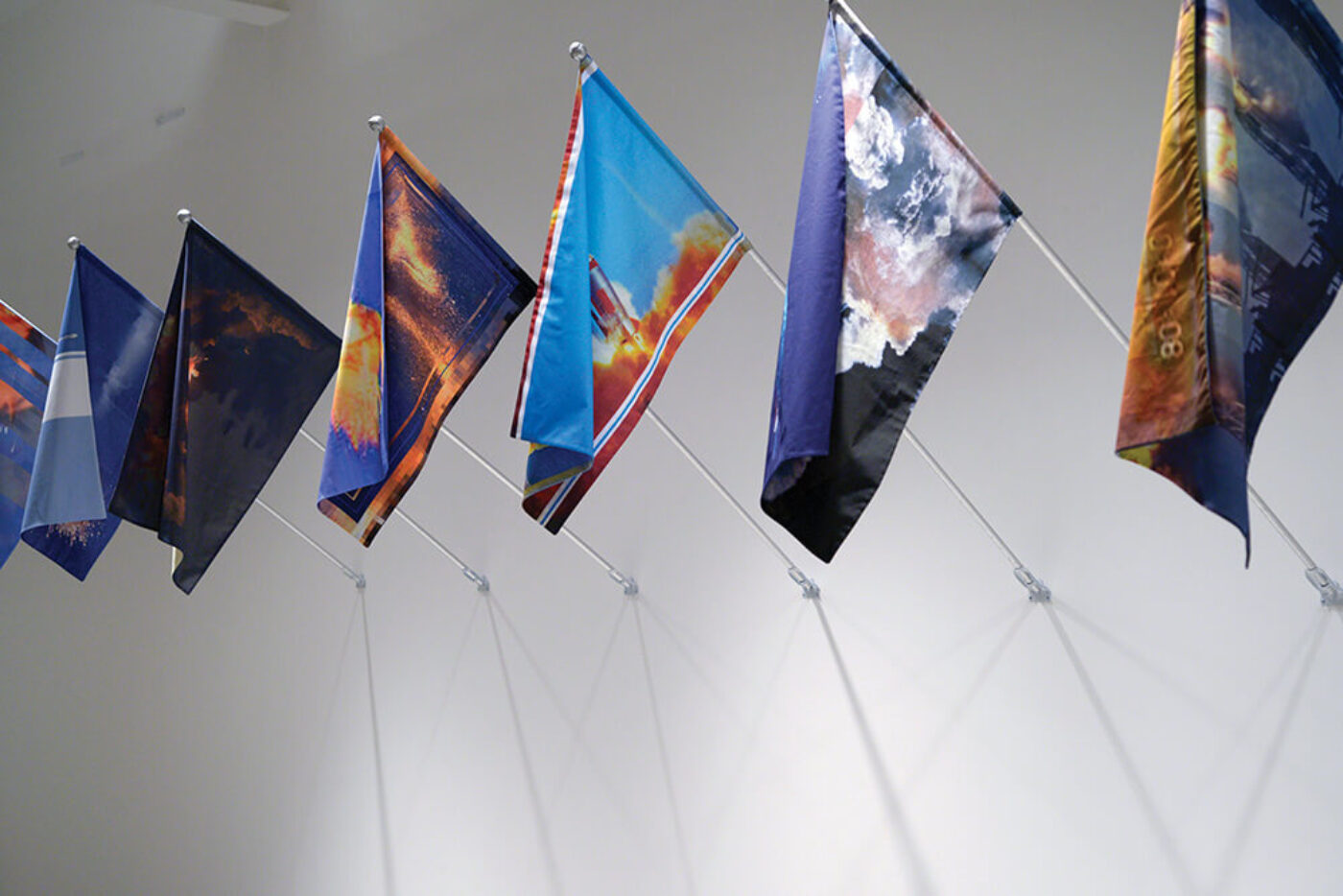 KO More pie to slice up… I never thought I would say this, but Nixon wrote this beautiful speech in 1969. When we went to the moon, NASA was essentially saying: "We can get the astronauts there, but getting them back is pretty much fifty-fifty. And, Mr. President, you need to have a speech ready in case they get stranded there." 
And in his speech, Nixon talks about the pursuit of truth as being one of the noblest endeavors of humankind:
In ancient days, men looked at stars and saw their heroes in the constellations. In modern times, we do much the same, but our heroes are epic men of flesh and blood. Others will follow, and surely find their way home. Man's search will not be denied.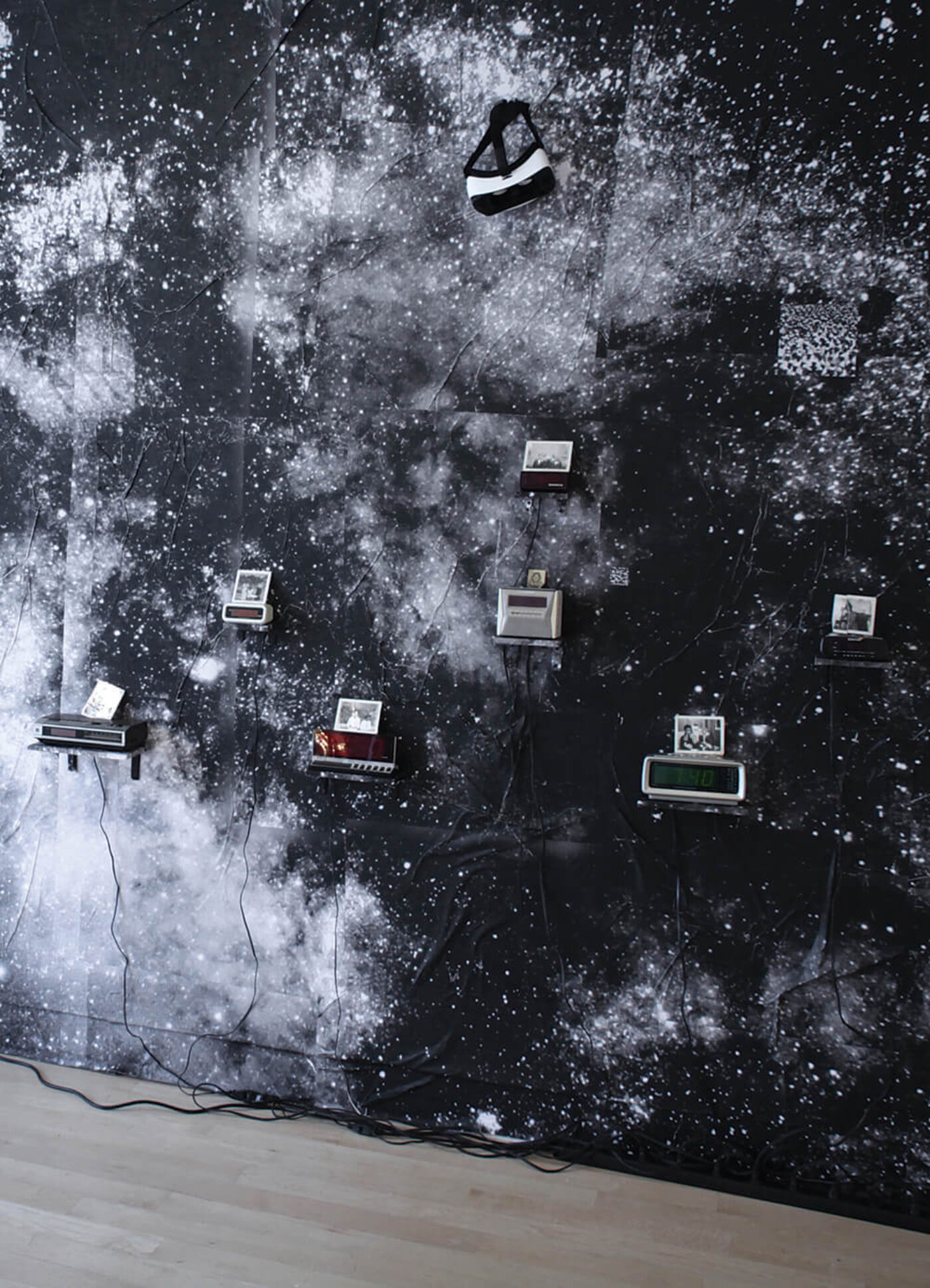 HWT So, you're saying Richard Nixon was talking about the pursuit of truth being noble? 
KO (laughter) Yeah. I know it's hilarious. But sometimes I feel that just because people do wrong doesn't mean they don't know what right is. That's part of the tension in my work. What outer space might allow for is a moment outside ourselves. Like when a Brooklynite leaves New York City, they're a New Yorker, when a New Yorker leaves the country, they're an American, and so on. The farther from home you get—
HWT —the larger your home becomes, both in your mind and maybe in your reality. Another pursuit I have, so do you, is idiosyncratic agency—meaning that I don't want to be seen as the large archetype of American, or the large archetype of black American, or of black male American, or black male American artist, or black male American artist who is the son of an artist. I want to be seen as the most microscopic, idiosyncratic version of myself. Because that's where I get to be me. If this large concept of who I am or where I come from precedes me when I walk into the room, or before I open my mouth, or even after I open my mouth, then what does it mean to be free?
KO Yeah, I call having to contend with that projection the specter of being ________________ and you can fill in the blank. You're being measured in relationship to prescribed—
HWT Prescribed notions, yeah.
KO But you inhabit various locations. You are black, you are an artist—
HWT But not in this room with you.
KO I know where you're going, but that's not the way that construction of blackness gets made. It doesn't get made by black people. It doesn't get historicized by black figure skaters, black nerds, black millionaires, or black scientists. That's not the construction of blackness expected of us out there. For me, it's not about denying those spaces, but they're just rooms. And those rooms ain't shaped the way they say they're shaped. And they all have doors. I just move between them, or I'm in all the rooms at the same time and in some other rooms, in fact. The more different voices you have, the more that construction of blackness is challenged, disintegrated, and reconstituted. 
HWT I've been thinking a lot about America because of For Freedoms. It was initially started as a Super PAC to put critical discourse into political discourse using fine art thinking, which is really about creative problem solving, and taking simple ideas and complicating them, or taking complex ideas and abstracting them. 
KO Do you want to give us examples of past projects?
HWT I could. But I'm more interested in thinking about why we started For Freedoms. The projects aren't the art. The art of For Freedoms is the Super PAC. So the projects, you could say, are like the paintbrush, or the individual strokes of the paint on the canvas. But the canvas for us is the political and cultural and geographic landscape of the United States. I think a lot about the critical words in the early writing of our country, such as "We the People," the preamble to the Constitution. I'm really invested in wondering who counted as "we" when it was written and getting us to acknowledge that. 
KO And in shifting who is included in the we? 
HWT Yeah, and to your point, the more the we gets bigger the more we understand who we are and where we come from. Phrases like "All men are created equal" and "We hold these truths to be self-evident" seem very simple, direct, and explicit on the surface, but have a lot of complexity in how they affected and shaped the value system, laws, and course of our country. We can never take for granted even the simplest phrase; rather, we must consider how it can be twisted in ways that conflict with our greater self-interest. Wrestling with tough questions is what I find really exciting about being an artist. I'm constantly trying to rethink what I already know and reframe things that I've become too familiar with, visually or verbally.
KO Yeah, I hear you. I'm interested in what happens when we take unchecked conventions and perceived inevitabilities out of the realm of the implicit and bring them into this world. You're able to examine something as innocuous as time or, in your case, history and these doctrines of our nation. 


HWT I think that question of expansiveness, in terms of time and space, might tie into projects that you're working on. So, what's coming up next for you?
KO Well, Zulu Time is traveling from the Madison Museum of Contemporary Art, where it originated, to the Blanton Museum of Art in Austin. I'm also expanding the Wayward North project, a work I made from 2010 to 2013 as an Art in General commission. It was comprised of large-scale star maps and a series of sculptures, photographs, and drawings that center around a book I wrote by the same name. This mythology was a mix between personal biography and historical as well as current events. Recently, the Newark Museum commissioned me to create a short film for their planetarium based on the Wayward North mythology. I'll be working on an animation with digital-effects designer Fionna Mariani, whom I recently collaborated with on my film Where Does The Time Go… . The museum will also debut a set of twelve of lithographs derived from the narrative. This opens in October 2018. 
HWT And will the film be displayed in a planetarium? 
KO They have a small planetarium, and the animation will be projected in 3D for 360-degree viewing. It'll be a hybrid of live action and digital collage. I'm working on some test designs, a ton of compositing and layering.
HWT That's crazy.
KO Yeah, it's gonna be bananas. 
In another work of mine, The Clouds Are After Me (2007–9), I'm thinking about the perpetuation of fear in order to build consensus, and the absurdities and arbitrariness of these spaces. What happens when we confront these specters that we're simultaneously hunting down and running from? 
How are you dealing with the current political moment?
HWT Like most people, I'm looking with baited breath at the news and wondering, Will there be a tomorrow? And what will it look like? And how will the current moment look in hindsight? I try to imagine a world that I'd feel better about than I do today. And that's the world I'm trying to manifest. I try to be visionary and not reactionary. I'm using my imagination and my capacity to see through not only time zones but time spans to get greater clarity about who I am and who we are in this place we call home. 
Hank Willis Thomas is a conceptual artist working with themes related to identity, history, and popular culture. His work has been exhibited at the International Center of Photography, Guggenheim Museum Bilbao, Musée du quai Branly, and the Cleveland Museum of Art, among others. His collaborative projects include Question Bridge: Black Males, In Search Of The Truth (The Truth Booth), and For Freedoms. He lives and works in New York City.
Kambui Olujimi is a New York–based visual artist working across installation, photography, performance, tapestry, works on paper, video, sculpture, and painting. His artwork reflects on public discourse, mythology, historical narrative, social practices, exchange, mediated cultures, resilience, and autonomy. His most recent projects include the film Where Does the Time Go… (2017) and the exhibition Zulu Time (2017) at the Madison Museum of Contemporary Art.
Originally published in
Featuring interviews with LaToya Ruby Frazier and Fred Moten, Sergio De La Pava, Nina Hoss, Barbara Hammer, Joseph Keckler, Lydia Ourahmane, Kaneza Schaal, Hank Willis Thomas and Kambui Olujimi, and Summer Wheat.