Hand-Held Visions: The Impossible Possibilities of Community Media by DeeDee Halleck by Martha Rosler
The chapter titles of activist and artist DeeDee Halleck's guide to cheap, collaborative media speak for themselves, advising readers on "Community Control of Technology" and "Experimental Video and Public Television."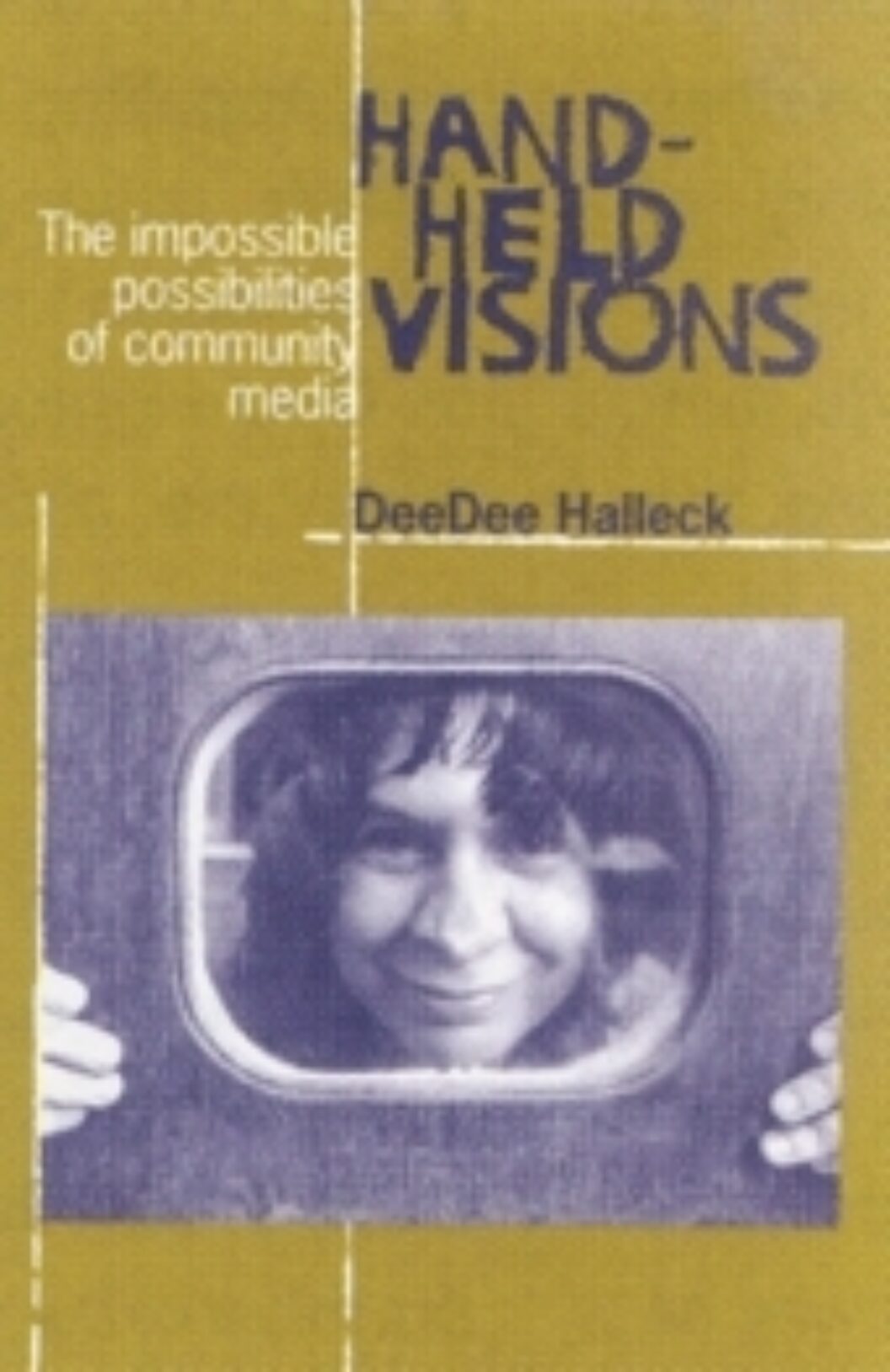 For 40 years DeeDee Halleck has been informing, organizing, and energizing those within earshot and visual range about the media-saturated world and our place in it. She has helped generations of people across this country and many others to become critically active, both as recipients of media messages and producers of countering messages.
From her childhood home in Oak Ridge, Tennessee, Halleck set out as part of the great youth and political migration of the early 1960s to discover bohemia, the inner city, and the third world. After spending part of her childhood in Cuba, as a young adult she developed an on-the-ground understanding of life at the margins. She became a filmmaker under the tutelage of Shirley Clarke and Robert Frank, and then an activist with camera—eventually, a video camera. Most importantly, she began moving toward collective production and information dissemination rather than focusing on the lone artist's expressivity. By the early 1980s, seeing the potential in new cable-access capabilities, she started a weekly cable show under the rubric Paper Tiger Television, a collectively run program about the models of information control and transmission—and by example, production—styled to a popular beat. Paper Tiger's down-home founding mantra was a model that allowed people without much training to make their own media at very low cost, and make it upbeat and engaging. Now celebrating its 20th year, Paper Tiger marshals popular traditions of puppetry, mime, and commedia dell'arte as refracted through Vermont's politicized Bread and Puppet Theater, with whom Halleck has worked closely.
Throughout her longtime advocacy of "cheap media" and "alter-media" Halleck has focused on aiding individuals and grassroots groups in getting heard amid the fantastic cacophony of corporate outlets. It is impossible to overestimate her influence. Aside from the Paper Tigers that have sprung up in places where Halleck gave presentations, there is the Deep Dish Network, a satellite compilation of clips sent by independent and community producers on particular themes, and most recently the many international Indymedia Centers and the production of Democracy Now!'s live telecast with Amy Goodman and Juan Gonzalez, an outgrowth of the "fired and banned" struggle at WBAI FM and Pacifica Radio.
Halleck, an unparalleled organizer of groups that go on to have long lives of their own, is also an articulate, energetic, and witty speaker and writer on diverse subjects of media access and control. Well read and well traveled, Halleck reports in Hand-Held Visions on conferences of alternative and community media producers around the world. She mulls over questions of technological literacy, Internet and satellite access, classroom empowerment, and the dialectic of military and civilian direction of technological development. This long-overdue collection of her writing, under such titles as "Plunk Your Magic Twanger: Community Control of Technology," "Guerrillas in Our Midst: Experimental Video and Public Television," and "The Undisciplined and Punishment: On-line Resistance to the Prison Industrial Complex in the United States," offers a fabulously rich panoply of ideas and observations that will have you laughing out loud while plotting how to get media active.
—Martha Rosler
DeeDee Halleck's Hand-Held Visions: The Impossible Possibilities of Community Media was published in January 2002 by Fordham University Press.
Originally published in
Featuring interviews with Petah Coyne, Glen Seator, Ben van Berkel, Reynolds Price, Dubravka Ugresic, Michael Haneke, Donald Margulies, John Zorn