Discover MFA Programs in Art and Writing
Where sacred slams into secular, you'll find the sequined banners of Haiti. The tireless sewing of sequins and beads to fabric constitutes an exuberant display of devotion and a dynamic invitation to any one of hundreds of lwa (spirits of the Vodou pantheon).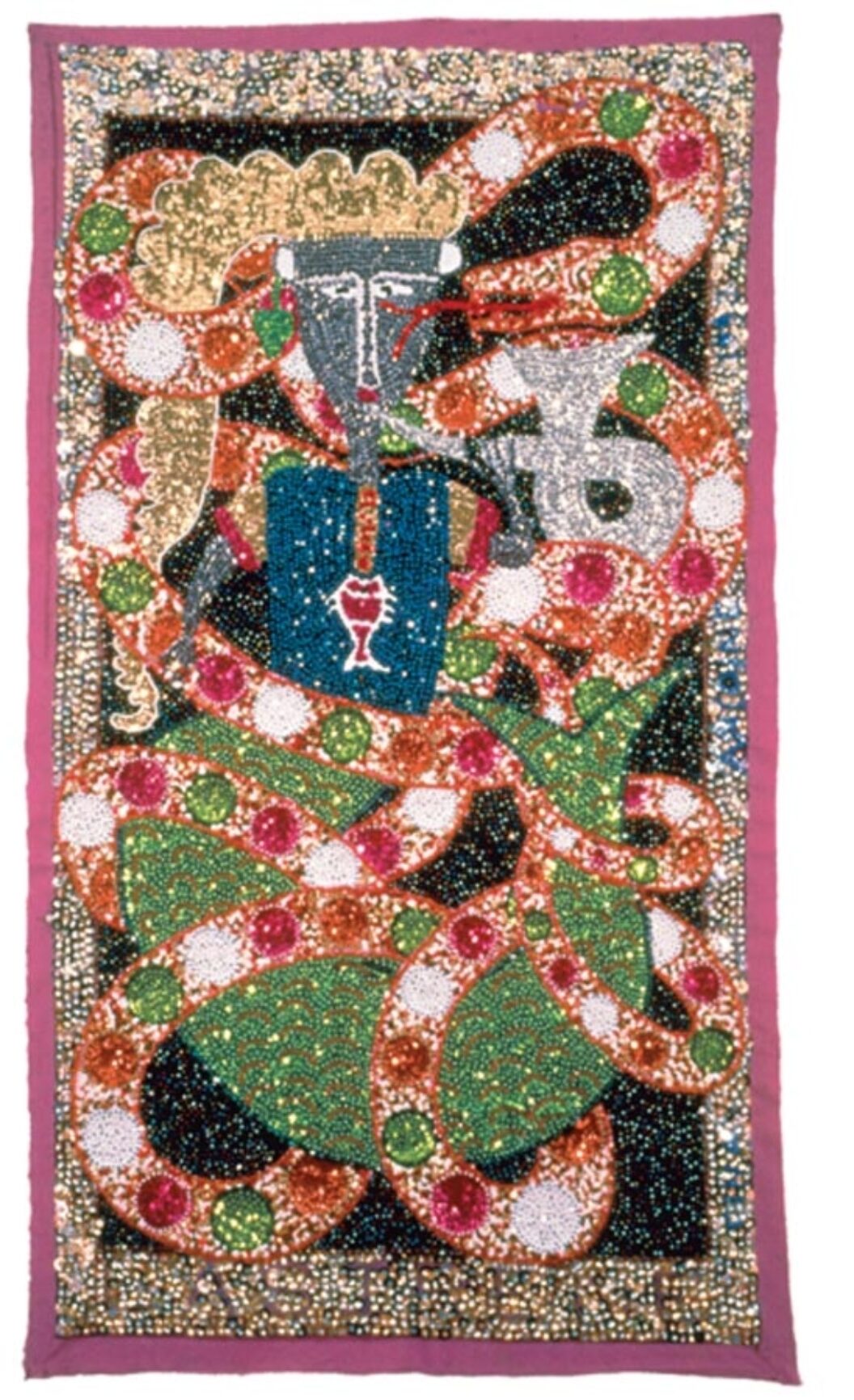 Vodou, at its core, is about balance. The lwa, archetypal spirit intermediaries that embody a wide range of traits—love, jealousy, mischief, etc.—are divided into cool (Rada) and hot (Petro). Lwa deities are called upon to assist practitioners with problems both mundane and cataclysmic. In Haiti there is no dearth of either.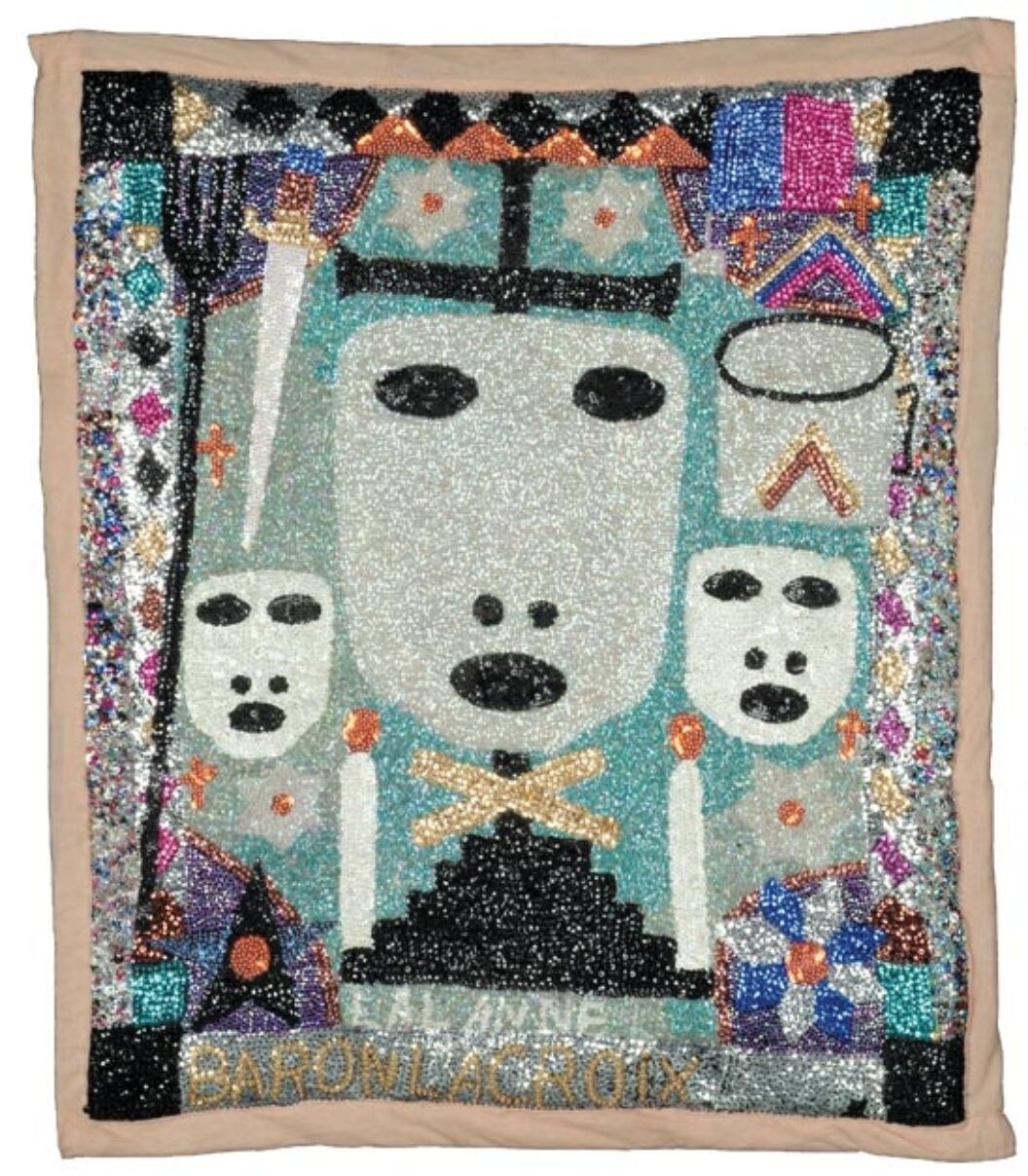 Sacred flags (drapo Vodou) are used as the demarcation between sacred and secular. The flags are unfurled at the beginning of a ceremony, acting as a "call to order." Inviting the spirits to participate in the festivities is a vital part of the ritual. Through possession, an lwa will "mount" one of the congregants to interpret problems, admonish those who have strayed or disobeyed and revel in the power of human contact. The beauty of the invitation—the sequined flags—speaks of the artist's desire to honor the lwa depicted in the flag.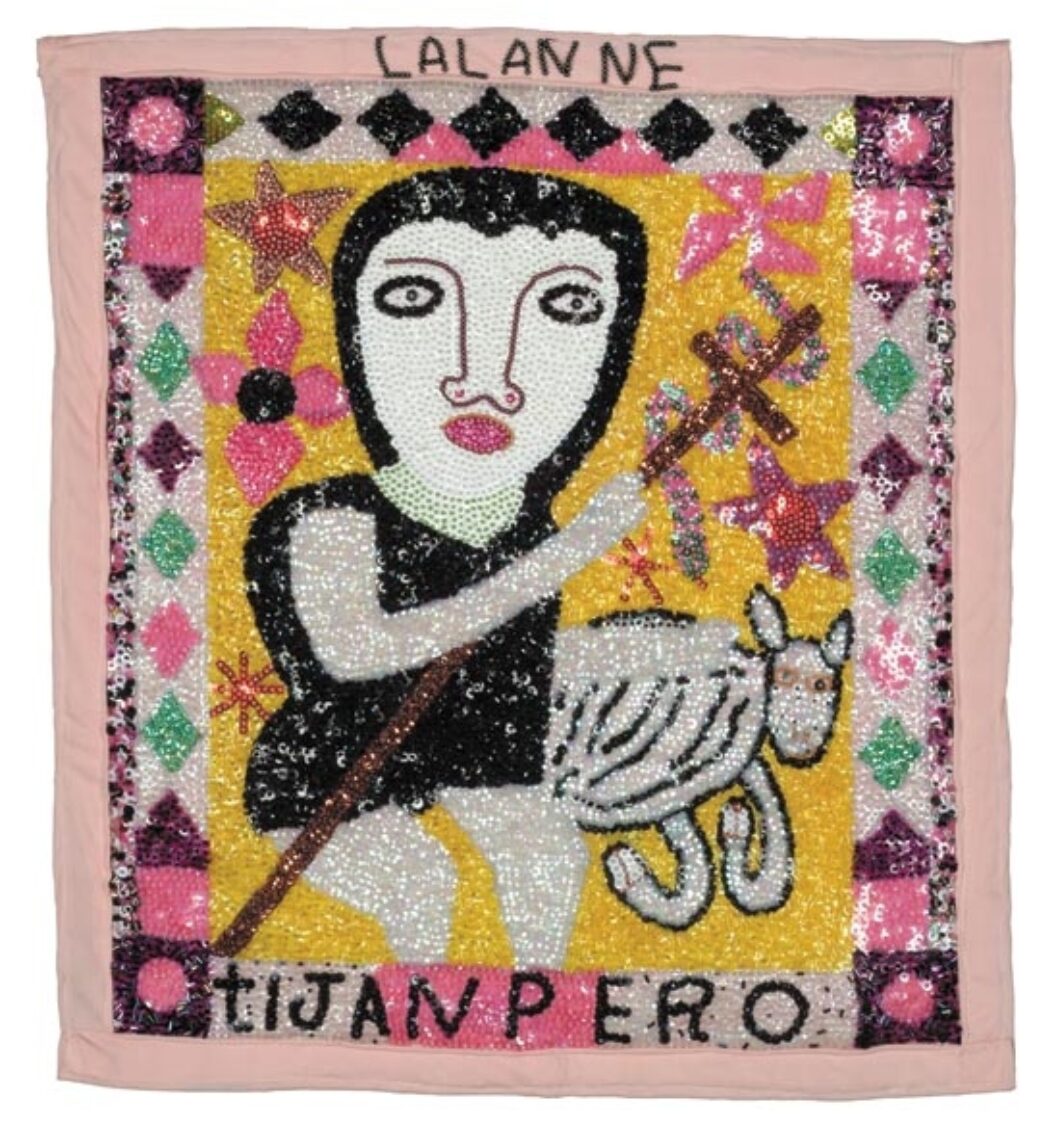 As the medium made its way into the global mainstream of ethnographic art, starting as early as the 1940s, clear artistic voices emerged from a pool of talented artisans. First and foremost was Antoine Oleyant. "Discovered" by photographer Maggie Steber and fostered by artist Tina Girouard, the author of the seminal book The Sequin Artists of Haiti, and collector Dr. Jacques Bartoli, Oleyant forged the artistic path out of the hounfour (temple) and into popular consciousness. His work reflects an innate sensibility of artistic storytelling. His spiritual life pushed previous artistic limits. After a brief but powerful collaborative exchange with Girouard, Oleyant produced his masterpiece in 1991: Homage Haitian, a four-by-six-foot "painting" that magnificently chronicles the political, social and economic struggles of the Haitian people. Though he passed away at the early age of 38, in 1992, Oleyant left an indelible mark on the landscape of what was to become a mainstay in Haitian art. One can only imagine how this visionary artist would have continued to raise the bar for other artists using this medium, had he lived.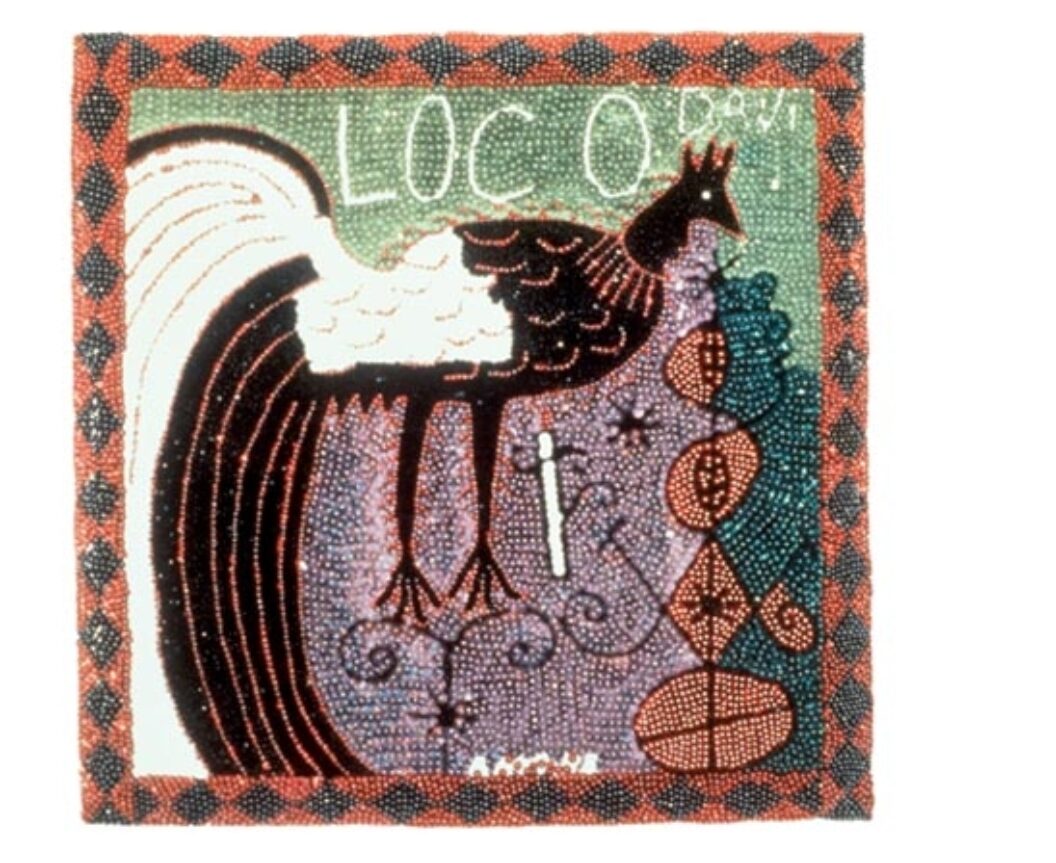 Eviland Lalanne also ranked as one of the most talented and innovative sequin artists. His distinctive use of materials complemented the iconography that sprang from his boundless creative ingenuity. Lalanne's inner light and humor shone in all his interactions, both personal and professional. His exuberance made his work jump off the picture plane. Jewelry that embellishes his female lwas' forms is sewn so as to literally drip off their bodies; necklaces, bracelets, bejeweled gauntlets, and rings cascade from the figures. Lalanne's unusual choice of a bugle bead (much longer than the traditional seed bead) to secure the sequin to the fabric gives the impression of a frosty, muted background. His spirits are handled with the reverence of someone who knows them well enough to play with them. The characters in Lalanne's world include evening-gloved mermaids with Wonder Woman bras, floating moon-shaped heads invoking the spirit of Baron Lacroix (guardian of the cemetery), and a kneeling shepherd next to a lamb sporting glasses (Ti Jean Petro, a warm spirit identified with Saint John the Baptist). Sadly, after a long illness during which he was unable to produce new work, Lalanne too passed away, in September 2003.
The painterly style of Roland Rockville (Roro) innovatively utilizes the limited color palette of sequins, giving a three-dimensional quality to all his work. His knowledge of perspective and tone is expertly crafted into deeply spiritual narratives. Roro's most effective pieces involve intricate stories of lwa interacting with earthly concerns. He enlists the spirits' help to tell fables with clear messages, many of which are cautionary tales showing the consequences of bad decisions. In an amazing display of knowledge of material and medium, Roro uses a variable color combination of seed beads and sequins to incorporate shading into his work. His fully formed figures are the polar opposite of most sequin artists' stylized imagery. Roro values his originality, viewing each flag as a piece unto itself; they are not, as he puts it, "like a bunch of mangoes." He considers perspective the alpha and omega of a flag: "You have to show where you're coming from and where you're going." In July 2004, Roro went through the grueling process of reaching the next level of his spiritual path: he became a houngan(priest). No doubt his additional spiritual knowledge will add to his fantastic creative impulse.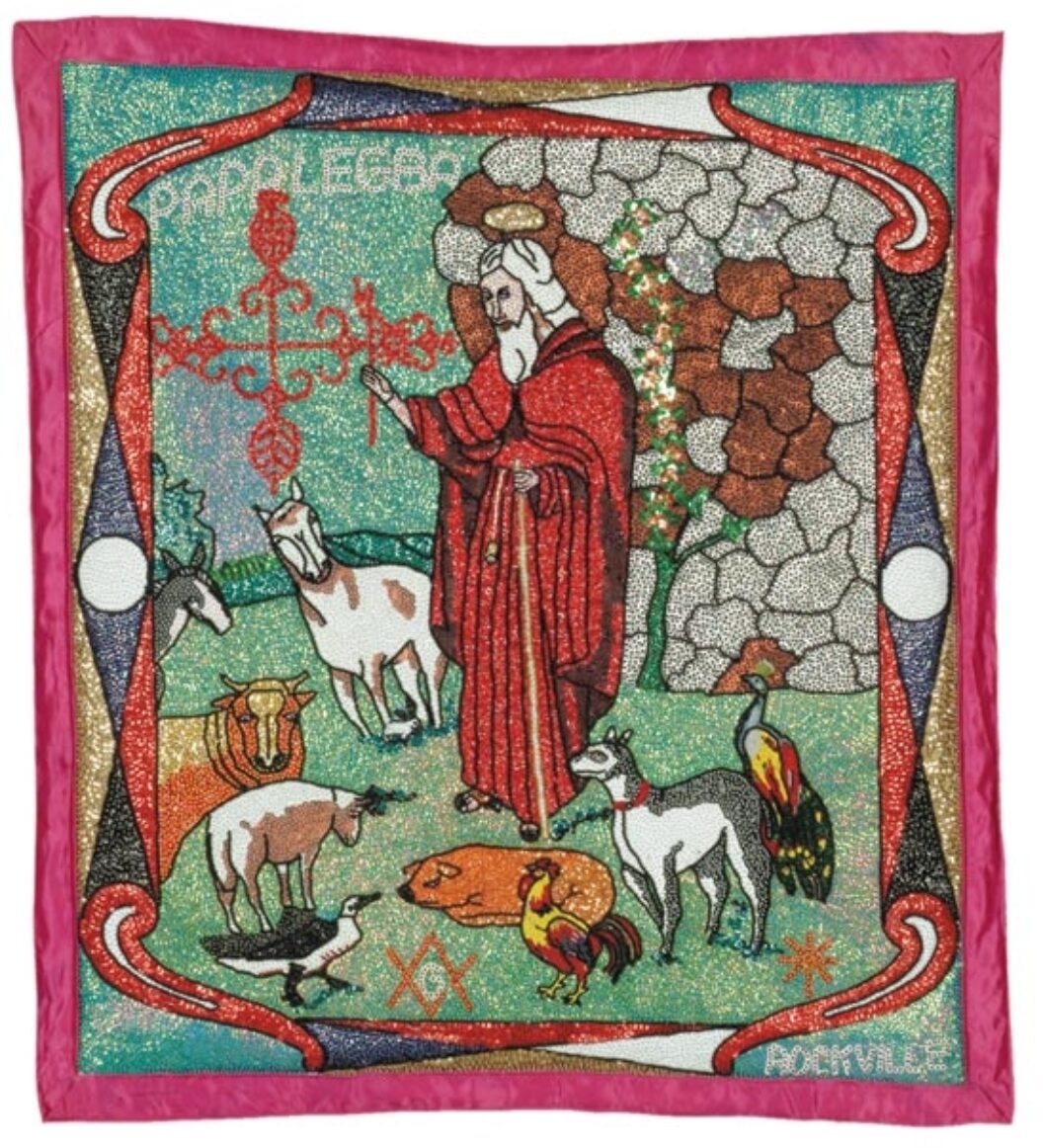 Three brief overviews of artists who are masters in their genre barely touch on the wealth of fabulous interpreters who, with artists' eyes, hands, and souls, bring the commonplace to life. With the gods in their fingers, these inspired individuals transform lowly materials into a joyful expression of living with the spirits.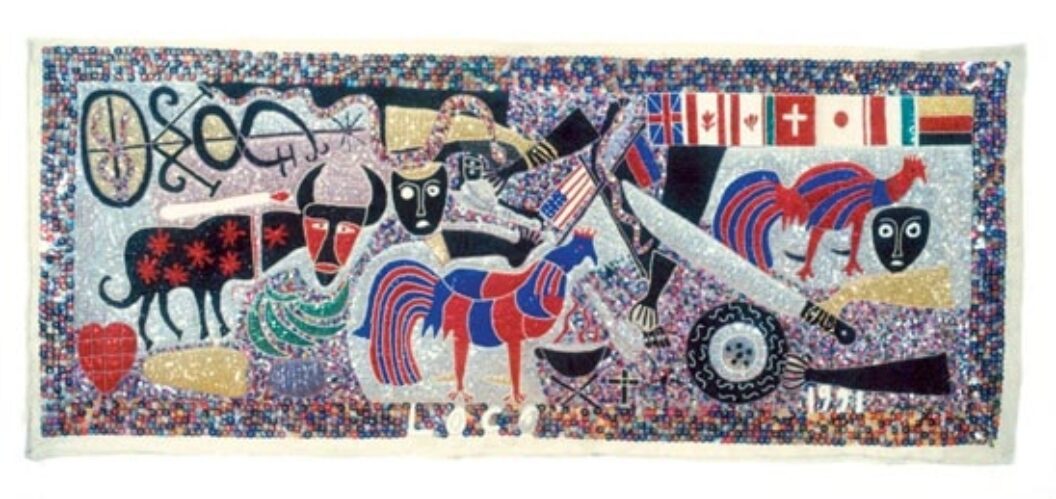 Nancy Josephson's show Holy H20: Fluid Universe, her largest installation to date, is on view through August 2005 at the American Visionary Art Museum in Baltimore.
Originally published in
Featuring interviews with Vargas-Suarez Universal and Rocio Aranda-Alvarado, Vladimir Cybil and Jerry Philogene, Carlos Eire and Silvana Paternostro, David Scott and Stuart Hall, Evelyne Trouillot, Sibylle Fisher, Carlos B. Cordova and Daniel Flores y Ascencio, Damas "Fanfan" Louis and Michael Zwack, and Peniel Guerrier and Yvonne Daniel.