Home of the Bill T. Jones / Arnie Zane Company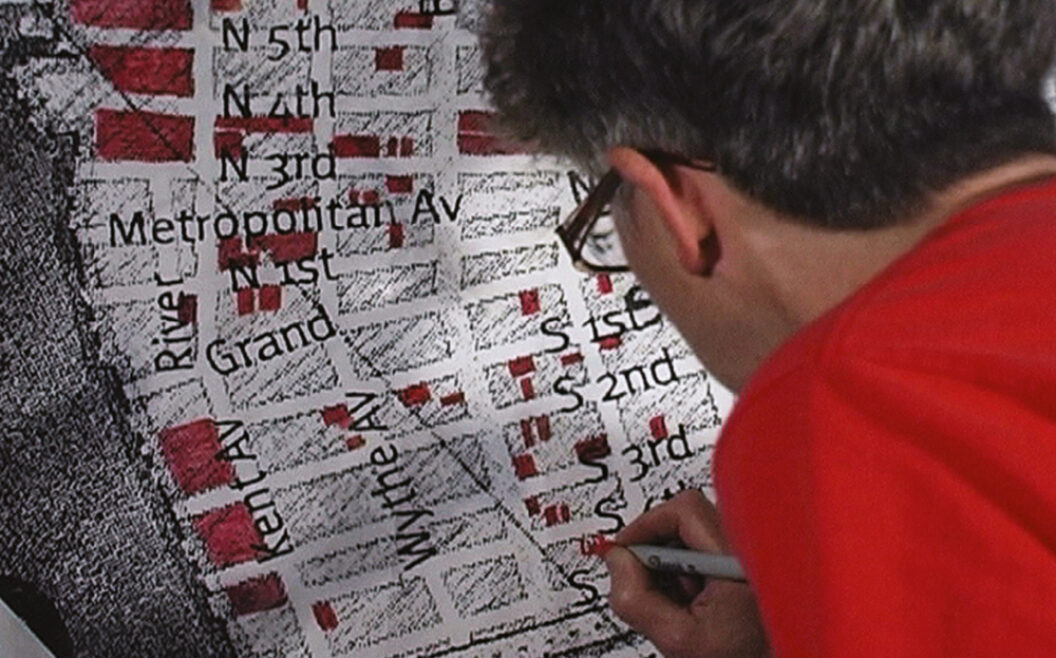 Outcast Films, 2012
For the first time in more than a hundred years, the morning sun streams straight through the huge windows of a North 11th Street loft in Williamsburg, Brooklyn. The night before, on May 3, 2008, the last brick walls of the building across the street had been demolished behind a black veil. For a brief raw moment, there is a large swath of open sky (later to be obliterated by a new ugly glass-and-steel facade). In her film Gut Renovation, Su Friedrich, who had moved into the grand cast iron 19th-century building with her partner Cathy Quinlan and other artists in 1989, bears witness to the transformation (just a few years after the city's 2005 rezoning) of the former outpost Williamsburg into Condoburg. With a sense of urgency spurred by the frantic destruction and construction all around her, Friedrich, known for her personal and poetic films, prowled through her disowned neighborhood, talked to her butcher, her car mechanic, and her artist friends, documenting their melancholic exodus. "It's the evolutionary process," one evicted painter in Gut Renovation resignedly calls her departure from "the coolest zip code" with "the coolest dress code"—as the slogan for a new building (called The Edge) claims.
The victorious march of red-blooded developers, headed by the Toll Brothers—famous for transforming farms and natural landscapes into sprawling subdivisions nicknamed "boomburgs" and now lustily revamping an exciting urban habitat—is trailed by a parade of designer dogs: all are subjected to Friedrich's sarcastic gaze. Her frustrated rage against this hostile takeover of her neighborhood—deemed "sick" by the mayor's office in order to "justify" its erasure—is counterbalanced by a wicked sense of humor and constant second-guessing. When the filmmaker angrily stalks a young couple carrying fancy shopping bags, she backs off once they confront her as rude, admitting, "They have a point." When she extends her personal explorations by infiltrating chic housewarming parties thrown by the real estate companies, she confesses (to the viewer's delight) to having stolen a bottle of wine on her way out. And we happily share Friedrich's glee when a huge boulder at the construction site across the street refuses to budge, delaying for weeks the rise of yet another architectural atrocity. We find ourselves breathlessly counting along with her when she adds yet another batch of new buildings with "unreal amenities and real neighbors" to her chart. We see her count and count, passing 100 and marking down building number 173 on her painstakingly researched map of the new Williamsburg, when she finally retreats from what she calls "a war zone." Next, she is pointing to a bold graffiti on a blue construction fence, ARTISTS USED TO LIVE HERE— tagged, as she admits in her typical deadpan manner, by none other than Su Friedrich herself. The filmmaker leaves the last words to her favorite response to the graffiti, posted on the online real estate site Curbed.com: "The last 'artist' we had was Picasso. The rest of them should eat shit and move on."
Claudia Steinberg is a German-born, New York-based writer and the cocurator of the 2013 Festival Neue Literatur in New York. She lived in Williamsburg from 1990 to 1992.
Originally published in
Featuring interviews with Verne Dawson and Genesis Breyer P-Orridge, Stanley Whitney, Katrín Sigurdardóttir, Federico León, Stan Allen, Rachel Kushner, Enrique Vila-Matas, and Coleen Fitzgibbon.