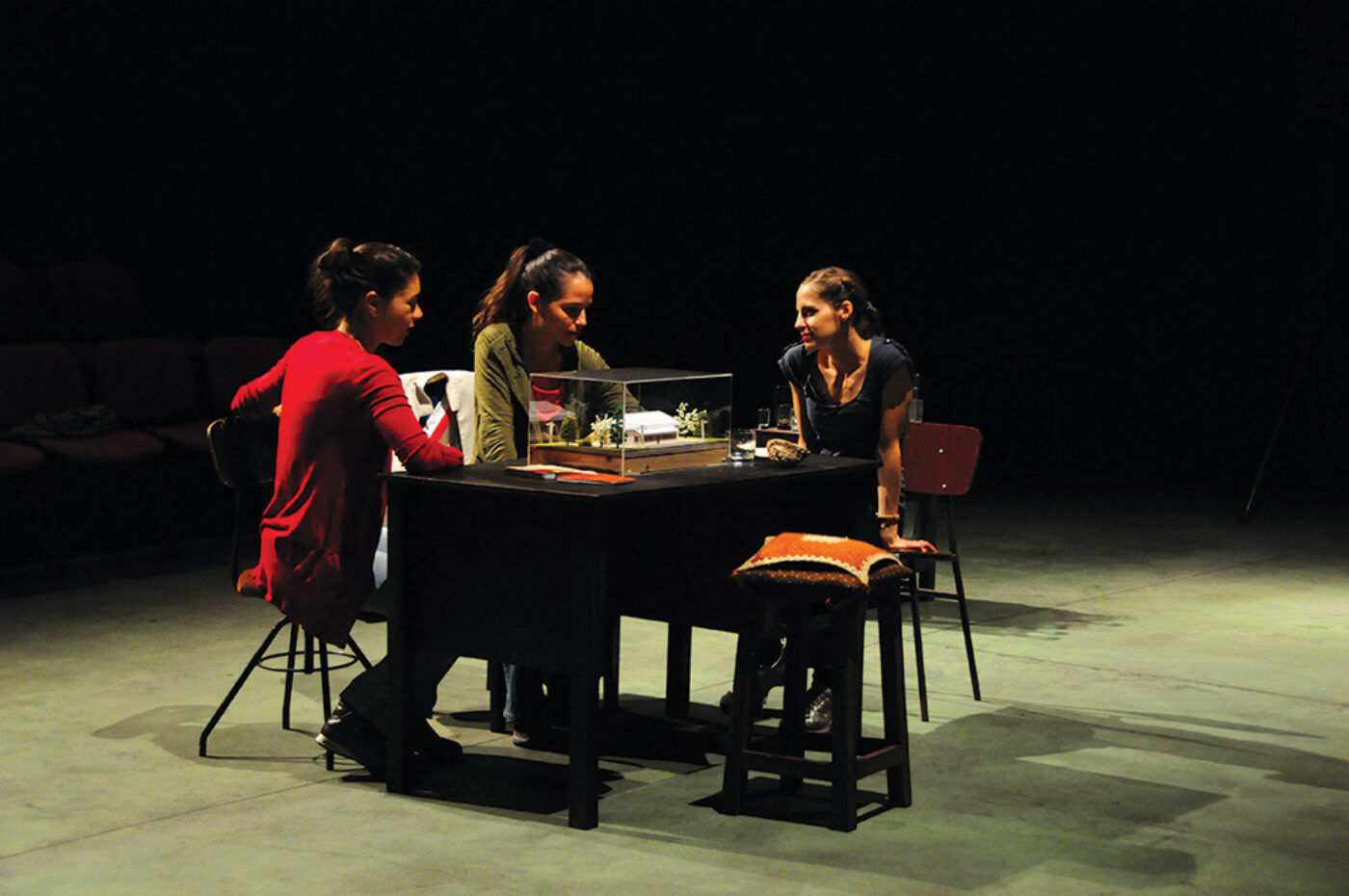 The Play Company, New York, March 1–April 1, 2017
It takes a rare kind of playwright to evoke the head-spinning contradictions in our national political psyches—a theater-maker who understands the stage's power to persuade, who relishes irony, and who doesn't forsake literary eloquence for polemics. Caryl Churchill and Tony Kushner continue to illuminate global questions about power and values. German-language provocateurs like Elfriede Jelinek and René Pollesch theatricalize ideological disorientations with cunning and wit. A notable newcomer could be added to this list: Chilean playwright-director Guillermo Calderón's original creations (many devised with his ensemble Teatro en el Blanco) use sly, calibrated metaphors and bring fresh potency and purpose to the theater. In his 2006 dramatic opus Neva, Russian actors in a rehearsal room reenact the death of Chekhov while revolution brews on the streets outside; their anxieties about theater's efficacy mirror our contemporary political doubts and fears. Diciembre, created in 2008, hallucinates a futuristic war in the Americas shaped by historical trade and military conflicts; a young soldier on leave finds himself in a fog of rhetoric with his sisters as they decide what to do. Propelled by humor as well as gravitas, Calderón's theater spins our minds around looming political imperatives: human rights, pacifism, colonialism, and social justice.
Calderón's play Villa receives its US premiere this spring at the Play Company in New York, and displays his capacious vision. The title refers to the Villa Grimaldi in Santiago, among the most notorious of the hundreds of detention and torture centers run by Augusto Pinochet's regime. From the nineteenth century until its military appropriation, the mansion was a genteel haunt for artists and intellectuals. In 1974 the regime made it a facility for imprisoning and often executing detainees in secret. In 1978, the army sold the property to a construction company that razed the buildings; today the grounds are the Villa Grimaldi Park for Peace, a historic site.
Calderón, born in 1971, spent his childhood under Pinochet's rule and his dramas contemplate long arcs of history. In Villa, the reality of Pinochet's legacy is offset by a fictional enigma: a mysterious trio of youthful women sits around a model of the original mansion, arguing about how best to memorialize the atrocities. All the women are named Alejandra—a reference to a real-life leftist tortured at the site—and none of them knows why the task of imagining a memorial has fallen to them.
Should it be reconstructed with perfect forensic detail, to immerse visitors in the crimes against humanity, as one Alejandra muses? Or, as her companion argues, would a white-cube museum better demonstrate the nation's evolution into neoliberalism and democracy? A third Alejandra wonders: what if it was just an open green field, a great lawn, inviting open minds?
In Calderón's characteristically dizzying, sometimes humorous dialogue, the women speculate on how each idea might work, down to the most devilish details—whether the computer displays should be Macs, whether animal-rights groups will allow growling German shepherds. They articulate points of view. The three Alejandras are states of mind more than psychological characters. A primal truth eventually causes the dramatic reality to shift: the women discover they were all born in Villa Grimaldi, children of raped detainees. Yet even with this horrific revelation, Calderón never surrenders his drama to psychological realism. The women remain near apparitions, hallucinated spirits of a national legacy, rather than objects for our empathy.
Villa premiered in Santiago in 2011, and the original Spanish-language cast went on to perform at the sites of former torture centers across Chile and around the world. (I saw it in 2012 at Santiago's Museum of Memory and Human Rights, next door to Alfredo Jaar's stunning The Geometry of the Conscience installation commemorating Chileans "disappeared" by the former US-backed regime). That production also toured major international festivals, helping position Calderón as a new leading voice in world theater. Calderón created an English-language version for London's Royal Court Theatre in 2009. For this new 2017 production, Calderón will direct an American cast (Crystal Finn, Vivia Font, and Harmony Stempel), as he did when he remounted Neva in English for the Public Theater in 2013. It will be revealing to see how the piece plays with Americans inhabiting these unearthly bodies, but one thing is sure: Calderón's excursions into the political imagination are always worth taking.
Tom Sellar, a Brooklyn-based writer and curator, is editor of the international journal Theater and teaches at Yale University.
Originally published in
Featuring interviews with Steffani Jemison, Amitav Ghosh, Curt Stager, Ron Athey, Stephin Merritt, Rita Ackermann, Bryan Hunt, David Levine, Hari Kunzru, Sjón, and George Saunders.