Discover MFA Programs in Art and Writing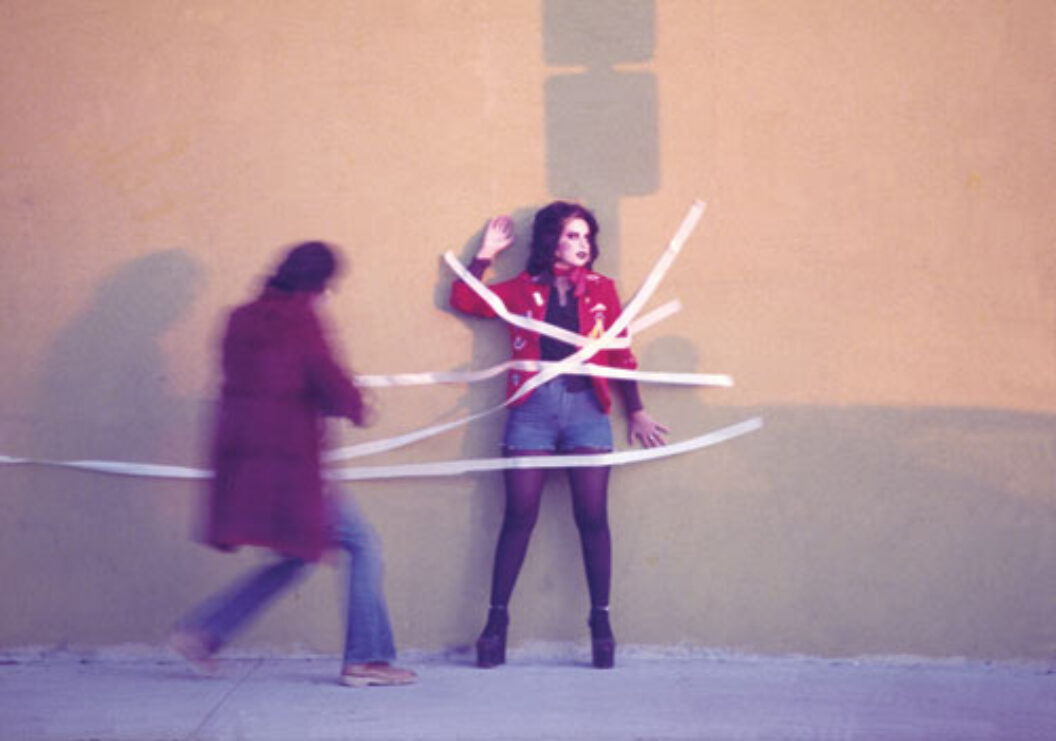 I met Gronk back in 1979 at a Dia de los Muertos happening on Brooklyn Avenue in East Los Angeles. I was hanging around alone with my camera, not really sure what to do, when I saw three people walking toward me. I immediately recognized Patssi Valdez, she of the plum-colored lips, the epitome of ELA glamour. Patssi and I had known one another as children, and she had gone on to become an accomplished painter and photographer. With her were Harry Gamboa Jr., whose photographs I had recently seen in Mexico City at El Palacio de Bellas Artes—and Gronk. I knew of Gronk; I had heard all the stories about him. Here I was face to face with three founding members of the seminal Chicano art group ASCO ("nausea" in Spanish): a group of independent artists, part performance troupe, part urban legend, that worked collectively through live performance, video, film, photography, and the fine arts. These were Chicano artists who challenged the dominant cultural climate. It would be a couple of years before my spoken word was invited into the fold. I joined the traveling-circus sideshow that was ASCO in the '80s. Gronk and I have remained close friends. We share a deep affection for cinema (high and low) and long walks downtown. I sat with Gronk at his studio on Spring Street in Downtown Los Angeles a few afternoons ago.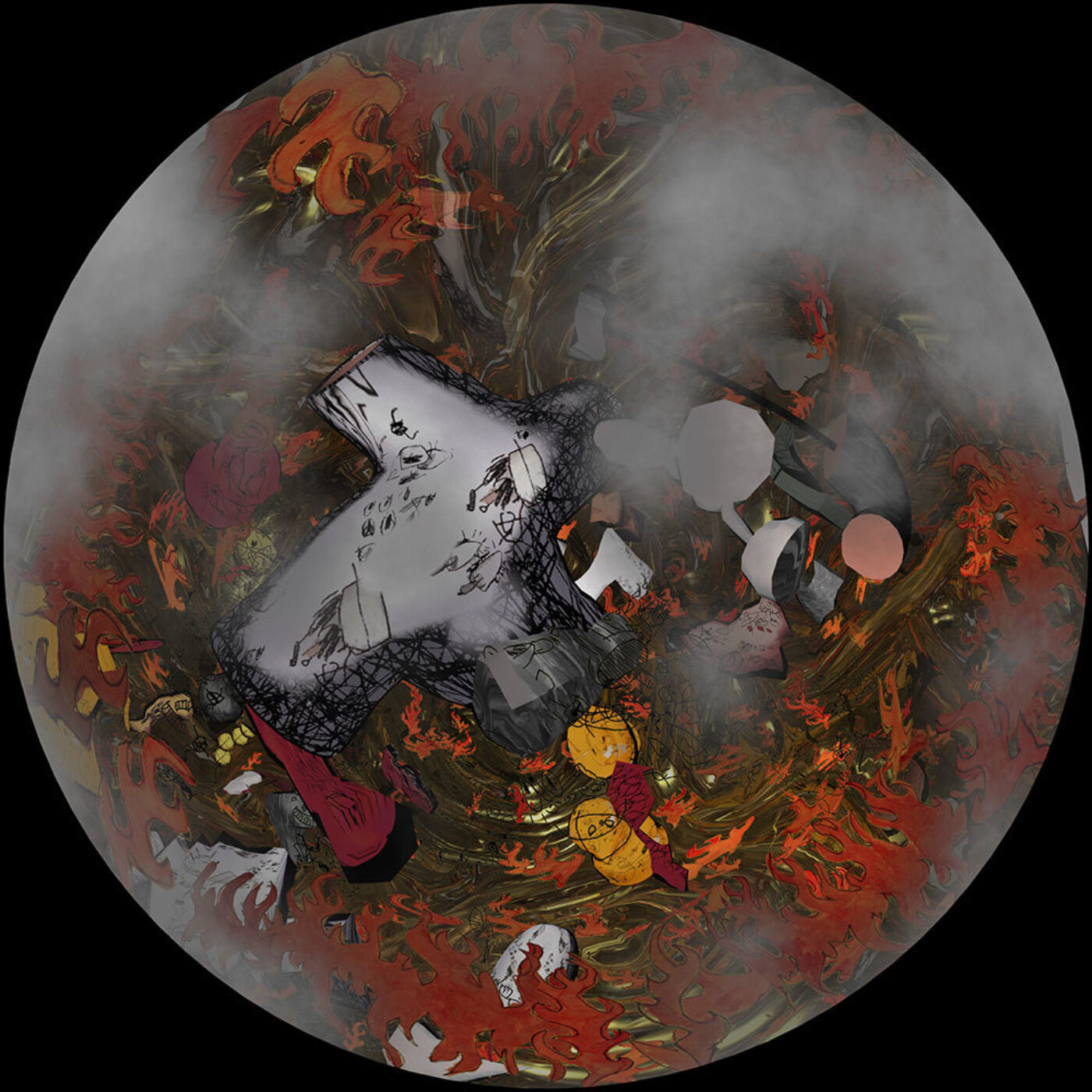 Marisela Norte Everyone gets so up in arms when your site-specific work gets painted over, even though you agree to it.
Gronk People like to hold onto life in many ways, but everything is transitory. This is it, right now. Youth doesn't last forever, beauty doesn't last forever, so appreciate it for the moment.
MN And love it!
G Take your memory with you. You own memory by taking it inside you at a particular moment in time. Instant Mural (1974), where I taped Patssi Valdez and Humberto Sandoval to a wall with duct tape, was like that.
MN You know, I've never seen the image of Herb taped to the wall, only Patssi.
G Herb is on the other side. Patssi always gets asked: Why did you let them do that to you? Oppression affects everybody. It doesn't know sexuality. Patssi's on that wall, but in a short amount of time she breaks free of the red tape. Some people get trapped in their community, or a group, or a country, and are unable to leave it. But the bottom line here is: she breaks free.
My Titanic series in the '80s, which included a show at Manazar Gamboa's temporary Galería Ocaso, was transitory. I created the inside of the Titanic collapsing inside the exhibition space. In inspiration and execution, my Hotel series of paintings and performances staged at different hotels—The Hotel Senator, The Grand Hotel—was also transitory. You never own a hotel; you check in and you check out.
MN And guess what, someone else is going to be sleeping in that bed!
G On another level you can see the issue of my murals being painted over as a tip of the hat, an homage to those who came before and whose pieces were whitewashed. [David Alfaro] Siqueiros came to the US—his America Tropical was whitewashed. [Diego] Rivera comes to do his big mural for the Rockefellers, and it has been whitewashed. In a sense, our recent history has been whitewashed; that temporality is in a lot of my work. Not only the murals, but you sense it in things like BrainFlame as well, the animated works I made for the hemispheric dome at the LodeStar Astronomy Center.
Oh look! A hummingbird. It came in at the beginning of our interview. It went to that painting over there because of the red! (Gronk's Tormenta series—the infamous woman who turns her back on the world.)
MN You have a pet now!
G The BrainFlame animation has figures coming onto a landscape and discovering that they can alter nature by looking at it. Then this one creature goes up into the canal of the glass brain and experiences something totally different. It explodes. There's no struggle; it's not like a sense of loss, or a fear of death. People hold onto things because they fear death. For me it's an acceptance of death. Once you realize that creatively, it liberates you.
MN I imagine everything opens up.
G It's kind of like our journeys, those we take in life, the different things that we bump into, or hummingbirds flying around in the studio.
MN I think he wants to stay here. (I vividly remember one of my very first meetings with Gronk in the early 1980s. We were all sitting at Philippe's waiting to get our picture taken, and he was drawing a lobster on a paper napkin. Naturally, I asked him if he too loved the '50s sci-fi classics. His smile told me everything I needed to know; from that moment on, we would share a language of movies. Today, Gronk hands me one of his latest DVD purchases, a double feature of The She-Creature (1956; "Hypnotized! Reincarnated as a monster from Hell!") and Day the World Ended (1956), a Roger Corman classic that begins with "What you are about to see may never happen … but for this anxious age in which we live, it presents a fearsome warning. Our Story begins with … THE END!") The cover art is great. Don't tell me, another handsome but eccentric scientist gone completely mad. Godzilla! I remember watching it when I stayed home from school with chicken pox. They made a couple more after that, right?
G They made a lot. The original Japanese version had some content and depth. It came out the same year as Seven Samurai, 1954. I was just going through this book on '50s films before you got here. This Island Earth with Rex Reason, one of my favorite actors in the world. Just his name alone! (laughter) For me it's an accumulation of sources from philosophy, Catholicism, art … and then mix that with '50s sci-fi like The Killer Shrews. The absurdity of the situations in these films. When you're a kid you believe it all, but I kind of still enjoy that aspect of being surprised. I prefer to watch the original Godzilla, which was more pointedly anti-atomic bomb, as it was made nine years after Hiroshima. I don't really watch it so much as listen to it while I'm working and doing things in the studio. It's constantly playing in the background. This giant radioactive monster destroying a whole country!
MN Now that's a word from my '50s childhood to be sure—radioactivity. So the film works as your accompaniment while you make art?
G It's also memory.
MN I can see why the Japanese version was never released in the US.
G Most striking is the opening scene: a boat with all these men inside, and off in the distance you see two flashes of light. Then everybody is disintegrated.
(Gronk begins to show me images from the DVD that will accompany his forthcoming book written by Max Benavidez and published by the UCLA Chicano Studies Research Center this spring. In some ways I am seeing parts of my own life flashing before me: the party at the Score Bar downtown 20 years ago; an image Gronk took of me standing next to a woman named She La La who claimed to be "the original Baby Dumpling"; Ruben Zamora dressed as Marie Antoinette. I remind Gronk that I was the one powdering Ruben's back all night with Johnson's baby powder.)
MN I remember that one, and meeting Martin Sheen there! I even did a reading in conjunction with that exhibition. (Gronk created wearable art for the nuclear age for a No Nukes event in 1982. Several artists created paper fashions.)
G There you are, Miss Atom (and Mr. Shelter). Everyone who sees these photographs is just mesmerized; it's a time capsule, and they think it was such a glamorous period. You're such an actress—look at that! So much emotion. (Gronk is showing me several snapshots—me wearing a black tissue-paper dress created by Diane Gamboa for a weekend of performances at the Galeria de la Raza in San Francisco in 1983, and scenes from my play EXITO for the big Art + Success exhibition. EXITO dealt with post-mortem success: a Spanish language noir play that became a play about the death of romance once I translated it into English.)
MN My God, we were just kids! Look at that one: my bracelets, his camera and jacket, the old radiator in the room. It's like a Godard movie. Look at the old telephone!
G And the bottle of Coca-Cola (laughter). It's so American! (He's done it, I think: he's captured a moment in my life. I see an image of my 27-year-old self in bed with a former lover. We are both using our forearms to cover our eyes from the invading camera. We do look like something out of the French New Wave or Confidential magazine circa 1956.) And look at that lamp. It's a flying saucer connected to the headboard!
MN Does he even know that this exists? It's Two or Three Things I know About Her; it's A Married Woman … Pardon me, make that unmarried woman please! Now, this photograph. (A triptych of photographs depicts two intoxicated men on the street in front of a downtown market, capturing their struggle just to stay standing.) I remember you sending me a postcard of these photos. Whatever happened to those two, I wonder? It's interesting—I never knew you were carrying a camera all that time. Who knew?
G Well, so many stories told the history, and I think it's important that everyone has their voice.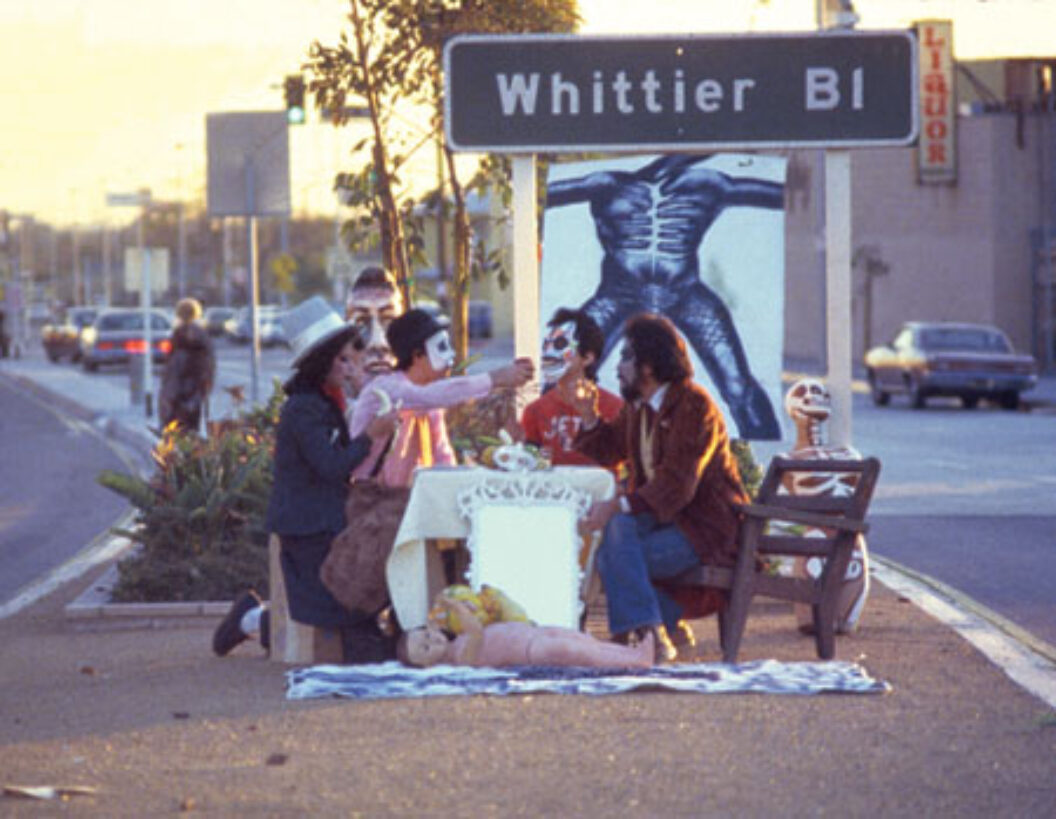 MN But what about the dinner party? I've walked across that traffic island a thousand times. What do you remember about it this afternoon? (The First Supper After a Major Riot performance 1974 has been documented with both photography and Super 8 film. Gronk, Patssi Valdez, Willie Herron, and Humberto Sandoval had an al fresco dinner at a table set up on a traffic island in one of the busiest intersections in East Los Angeles.)
G Again, historically we all see it differently, but for me it was just a dinner party on Whittier Boulevard. We were all attempting to eat the meal as fast as we could before the police came. So we did. We set the whole thing up and then we were out of there! It documents a certain moment of time. It was done without asking for permission. That was one of ASCO's principles, to just go out and do things.
MN Now tell me, how good were you when it came to putting things away? Are your photos and documentation in any kind of order? I find that when I open up a box, there's a flyer from a reading I did with Wanda Coleman, or one with Pleasant Gehman, next to a letter from a student I met after a reading, some old bills … . It's just such a mess!
G Well, that's what my archives were like too. That's why I'm going through them now, putting everything in plastic bins.
MN My God, you saved all the postcards! I burned a lot of letters from someone.
G No!
MN Yes, I only kept the one with the apology. (laughter) (It's a relatively quiet afternoon at Gronk's studio. There are some traffic sounds outside, what Gronk refers to as the ocean, an occasional door slamming, but for the most part it's a tranquil setting where two friends sit together sifting through old photographs and drawings, sipping coffee, and listening to Dawn Upshaw singing Yo Soy La Libertad (I Am Freedom) from the Peter Sellars production of Ainadamar. I realize that I am completely content at this moment.
About a year ago I was walking back from a long lunch with Gronk at Café Angelique on Spring Street. We walked by a corner store downtown that reminded me of the old miscelanias (variety stores) in Mexico. The display window had everything: battery-operated toy police cars, bamboo plants, ladies' bras, umbrellas, soccer balls, and one item that really caught my eye—a pair of silver sandals for a little girl. I could only think of the hundreds of little girls accompanying their parents on shopping trips downtown. How many would be as mesmerized as I was by this little pair of silver shoes. I ended up buying them for Gronk. During one studio visit they were prominently displayed on top of his computer monitor. Much later they became part of an installation he did for the 727 Gallery.) There they are! The little silver sandals!
G They're something most people might disregard or think is not important, and here they end up in the history books! They were a very important component of the installation I called Cheap Construction. They revealed what was missing: the little girl.
MN That's a cue. Ladies and Gentlemen, Bunny Lake is Missing … .
G Exactly. Here is a culture that once existed and is no longer here. Look at downtown, look at the neighborhood and all of the construction going up around here. Who is being displaced?
MN Yes, I passed the latest Doggie Boutique on my way down here: organic shampoos for your dog or cat, plush purple doggie beds, little rhinestone collars, and baby tees—and there were two men sleeping on the sidewalk right outside the door.
G That's what I'm saying.
MN Well, Gronk, I'm so excited about your new book! But I feel like there should be more.
G Well, other people are interested, like Ondine and Ramon, Colin from UCLA. (The New Wave of academics in and around Los Angeles currently writing about ASCO.) They all want to do their interpretation. This book is what they will leap off from. It's the tip of the iceberg, as it were. They can gather more stories that ask—
MN —the other questions.
G And also offer different interpretations. A lot of the imagery in the book is presented chronologically. It tries to capture as much as possible. People call me a painter, but there's a lot more to it than that. Other aspects of what I do perhaps lead to the paintings. It will have more than just one point of view. Also, several of the people in the book have passed away. This is what happens in life when you revisit your past—that Pandora's Box opens up. Those memories where you think, Do I really want to go there? But there are also people in my life who have influenced my work. One example is those silver shoes; they were so necessary to the piece, the missing fragment! That day we spent together something happened; it's the glue that holds the piece together. That's what I enjoy the most, the assembling of things, putting bits and pieces together. I also enjoy taking them apart. But when it all comes together, it's food for thought for the next piece.
You noticed the two men in the black-and-white photographs I took, falling and collapsing as they try to brace themselves. And here you see, some 30 years later, an image of the two women from Ainadamar, holding themselves up against a wall. (Gronk created the sets for Peter Sellars's production of Ainadamar, which is based on the poet Federico García Lorca's life and death during the Spanish Civil War. The place where Lorca was executed is called Ainadamar or Fountain of Tears.)
MN I'm looking at your drawings over on the wall, and I'm guessing that those are your journals; that's your literature!
G My diary. These drawing books anchor me in many ways as an artist. Just to jot down a note on a napkin, in a book, wherever: an observation, a word, a phrase you overheard, a fragment, just like the man you recorded on the way down here. (Gronk is referring to the man who dances outside Clifton's Cafeteria on 7th and Broadway. He dances to the music, whatever it may be—reggaeton, cumbia, salsa, banda—that comes out of the tiny sliver of a record store next to Clifton's. Dances and growls at the onlookers that pass him by.) Whatever it is, it's something that I don't want to forget. So I just jot it down and it might not make any sense at that moment in time, but perhaps later on it will come up in something. That's what is constant. One painting or one work of art for me is like one letter in my alphabet. You have to keep several letters to even form a word, let alone a sentence, let alone your whole story.
One of the discoveries I made going through the archive (Gronk's personal archive consists of photographs, small drawings, letters, poems, found objects, and well over 1,000 notebooks of drawings.) is that a lot of what I write is personal notes. My writing makes comparisons to film, literature, philosophy, all kinds of things that I am intrigued by. I just completed a series of monoprints with Francesco Siqueiros at El Nopal Press. I noticed certain recurring shapes or forms that refer back to what I had been reading or connections to things in the past. I'm calling the series Swamp Diamonds, for that love I have from my past for the B-movie; those particular films that set your life ablaze when you were a child.
So it's biographical but I also mix up Day the World Ended with Attack of the Crab Monsters and Roger Corman's Swamp Women, and then combine that with Greek mythology, the Bible, all of these different stories, because that's kind of what I am in many ways—mixed up.
MN Greek mythology—it draws you, doesn't it? I always thought that Swamp Diamonds was a slangy reference to female prisoners, jailbirds if you will, but no, they were actually out looking for diamonds in a swamp!
G Yes. I think of it as both. The magic of putting two words together that don't necessarily go together, it's just how I found the words fascinating slippers and built a whole show around them. A shoe store had gone out of business, but the words fascinating slippers were still legible in front of the building, even after the letters had been removed. The dirt and grime of downtown Los Angeles left their outline. So then you take something from the streets and mix it up; it can be very jarring, but I like the ability to utilize that information. It's like ancient stories that are still being told. For me, being an outsider within Catholicism in East LA, it's part of the research that I mix with autobiography. I see it all as something so theatrical and beautiful at the same time.
MN I take it no one ever made you go to church?
G No, I did it on my own because I wanted to be a good Catholic like all the other kids. I felt like I was being left out, so I went to see what it was all about.
MN I just felt envious of the kids with ashes on their foreheads.
G They had the mark! Yes, that ritual aspect was intriguing, the notion of saints, of pain and sorrow. It still filters into many things you see today, bridging into work that I do. It's what we talked about: You are where you live, in many respects. But I am not a junkie or a crack addict! But those kinds of things also filter into the work: the poverty that exists here; the way cultures are now butting up against each other and having to deal with one another … and all of those things perhaps will fade away forever. That kind of information is what I'm trying to gather and in some way document by putting it in my artwork. I'm an observer of my time, and I share my observations. That for me is the greatest job of an artist, the ability to share.
Even going back in time to ASCO and pre-ASCO, it was always interesting to mix with other people in a way that you could learn from that experience. Then, of course, time changes you and you move on to other things. The work shifts, but those memories still enter into the picture.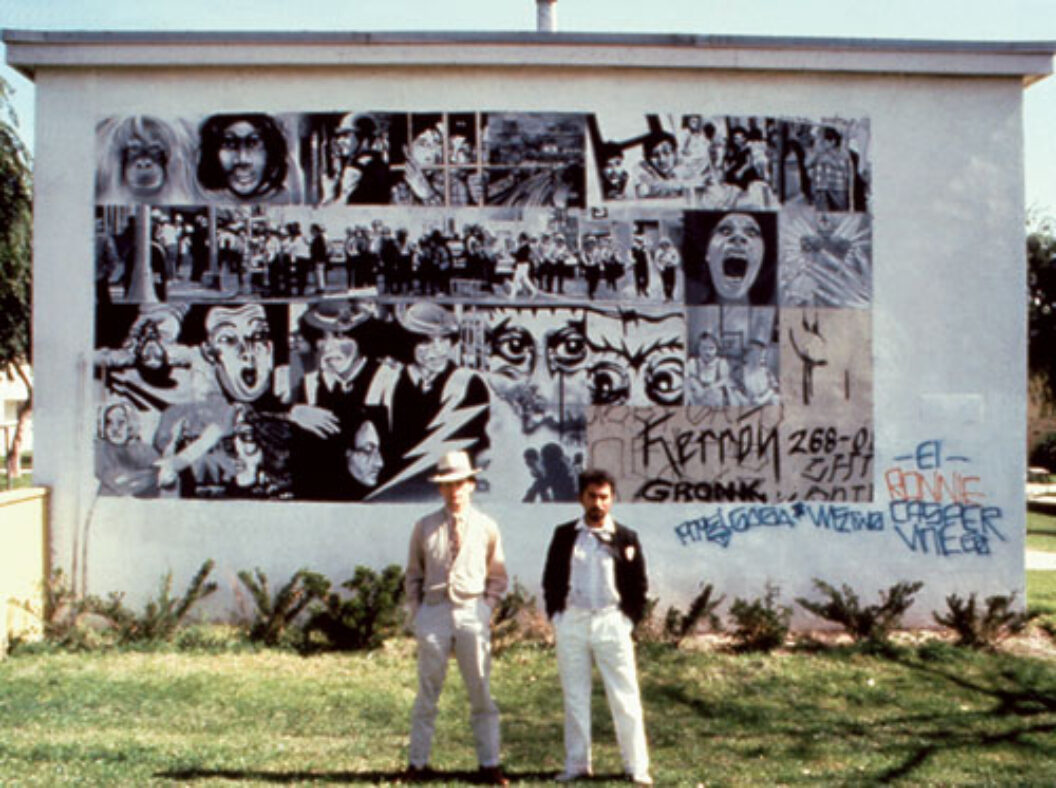 MN Patssi made a comment about you—something about the way you dressed living in East Los Angeles, and yet you were never murdered!
G (laughter) That's something that a whole younger generation can't fathom, because they have so many liberties now.
MN The mantra now seems to be, I want to be different just like you! (I remember a time when I was terrified to come to this building. But sitting here with Gronk, with this little breeze coming in, and the curtain fluttering, that piece of the piano propped up next to a 14-foot image of Tormenta, the hummingbird that came to call … movies from Aventurera to Band of Outsiders, a library of images to go through. It's all here.)
G It's a different procedure when I work by myself in the studio than when I work on projects with groups of people or go on site to do an installation. When I'm working inside my studio, it's like I'm speaking in tongues; I'm not quite sure of what I'm doing. Things are in a sense being channeled from many different sources. Time for me is really important, to give some distance to it and then I can take a look at what I've done. Does this piece create a sense of harmony? Does it have a flow, and does this speak about the materials that I'm using? Does it also have something for the eye to push and pull, to give and take? Those are some of the issues I attempt to deal with when I'm looking at what it is that I do. I get a lot of requests for work on canvas, but there are times when I'm not working on canvas. Maybe I'm working on smaller pieces, or in diary form, or maybe I'm just on the computer. I'm not the kind of painter who's constantly in front of the canvas, who wakes up every morning and says, I gotta go create. It doesn't quite work like that for me. It's an accumulation of things that I need to see or relive, something from the '50s like Godzilla that becomes my time machine. It transports me to a more innocent worldview, and in hearing a language that I'm not quite familiar with in the background—other things enter into me.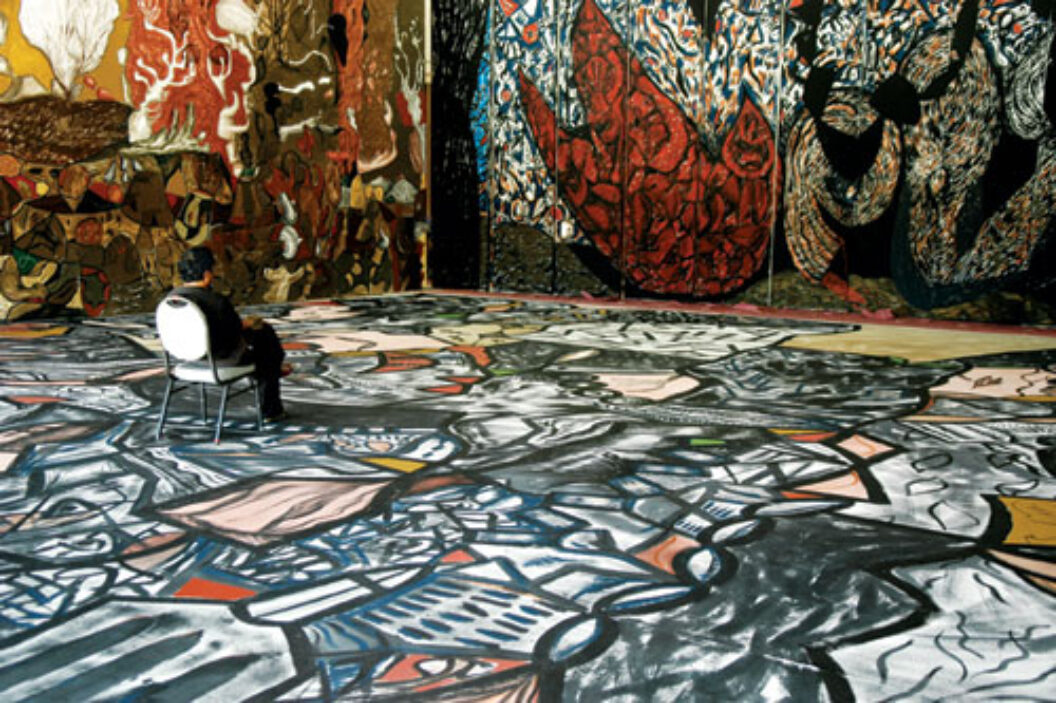 MN Now, how about the set design work?
G My set design came about some time ago. Caca-Roaches Have No Friends was one of my earliest performance pieces, and I did all of the sets for it. I did sets for a lot of the ASCO performances in the '70s and '80s, and for the play Striptease; every time it was restaged, the set was slightly different.
MN Just because?
G Each site was different, and the design was done on site. Most of them were destroyed once the performance was over; that was in keeping with the on-site installations I was also doing at the time. When I did Morning Becomes Electricity at the Temporary Contemporary in downtown Los Angeles, we staged it in front of one of my paintings. In the piece I am being taken to court and have to answer to whether an artist has any responsibility for his creations. A lot of my pieces took the witness stand and said that they were ugly and didn't want to exist. The only one that was sensitive to me, as the artist, was Tormenta. That kind of gives you an idea of how I began doing set design.
MN And then you went on to do several productions for other theater companies, right?
G In 1989 I was asked to do a play, Stone Wedding, at the Los Angeles Theater Center. They said, "This play is right up your alley, it's all magical realism." I immediately thought, Oh no! (laughter) I told them that I'd like to read the script. It was the worst play that I'd ever read in my life! That's why I wanted to do it.
MN Because?
G There was nothing redeemable about the production. I designed a Garden of Sorrows of green surfboards stuck inside terra cotta planters. What's more sorrowful than six surfboards that will never see the ocean? They've lost their purpose in life. The play was a critical disaster, but the set got really good reviews! Right after that, other theater companies started calling me and asking me to do their sets. East West Players—the oldest Asian theatrical company in the United States—its director, Nobu McCarthy, asked me to do the sets for The Chairman's Wife, a play about Mao's wife.
MN Did you know much about her prior to that?
G Only what was popular reading—the Gang of Four. But here was the chance to dig a little deeper and really research, which is the part I like the most about the work. I did a huge set that had Chinese ideograms. The advisors saw my Chinese calligraphy and started whispering to one another. I thought, Oh, a faux pas! But they asked how I learned to do the Chinese calligraphy so well. The way you make them with that one stroke, they commented. I told them I learned it from a spray can; it's all in one continuous line, so it's kind of the same method. The play goes all the way up to the time of Tiananmen Square, so I used bicycles that looked as if they had been run over by tanks. Those bicycles were a perfect metaphor.
MN How about your work with Peter Sellars? I used to see him waiting for the bus; he's another non-driver.
G In the '90s I was always running into Peter Sellars in different cities, but there was one time in Madison, Wisconsin where he was giving a lecture and I was in the audience. He came running up to me afterward and said, "One day we're going to work together!" So one night I got a phone call from him. He was doing Genet's The Screens and did I want to do all of the screens and what did I know about Genet? I had just finished reading the bio on Genet. The Northridge earthquake had recently hit and everything had come crashing down in my studio; I told him that there was this huge crack on the wall that I'd been referring to as Genet's Crack. Peter said, "You're perfect for the show!"
MN And now I'm sitting here reading the credits on the compact disc for Ainadamar, the last production you worked on with Peter. Gronk, this is exciting—hello Dawn Upshaw, Henry D. Huang, and Osvaldo Golijov!
G I went to the Santa Fe opera house about a month in advance to begin the work on Ainadamar. There was no crew or assistants; it would all be done by one hand. Peter came when I was in my last couple of days of painting. He flew in from Paris or Vienna, came in and sat in the set for about four hours, and the next morning he flew back to Europe.
The set is based on the notion of a seed. I did a landscape, but under the ground, so you can see roots, seeds, pods, body parts, fragments, bits and pieces of things. Lorca was killed by the Fascists in the early stages of his life. Yet his poetry, his ideals are still germinating and growing. Doing the sets renewed me and got me out of the commercial art arena. It was a good journey, to take off, to read, to do the research, to take the time and really understand what it is that I do as an artist. It was an important step for me.
MN That's music to these ears. It's interesting how much my job gets in the way of my work.
G The hardest thing these days is to make something that's beautiful; it's easy to make ugly art. I think it takes a lot more talent to make something beautiful. Beauty to me is when you show something to someone that they've never seen before. That's what a great work of art does; it shows you something that you didn't know existed.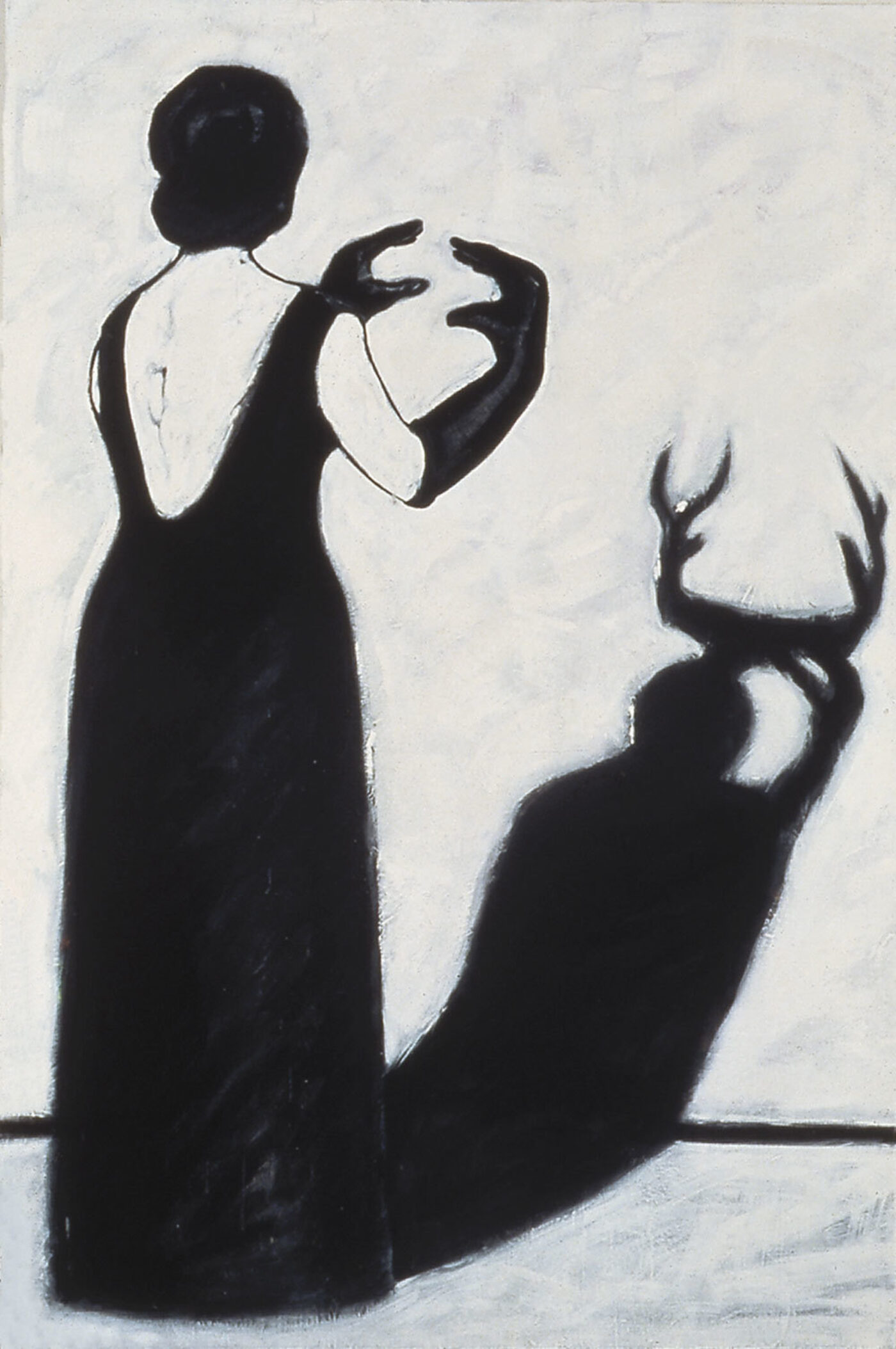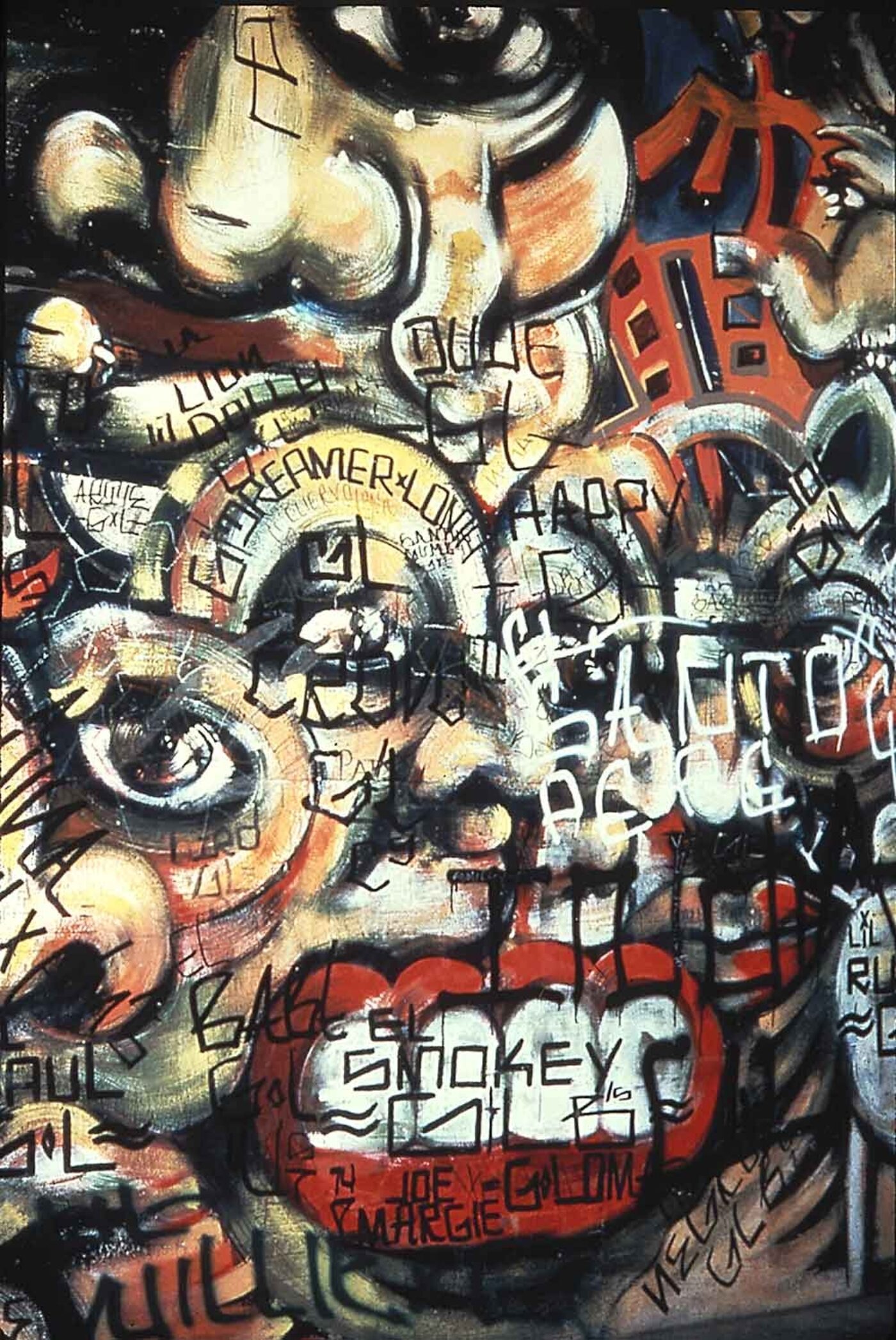 Marisela Norte is an East Los Angeles-based writer whose work has appeared in many publications, including Rolling Stone, Interview, and Chicana Art. Norte has performed her work throughout the US and internationally, most recently at the Tate Modern in London. She is currently working on Strangers on the Same Train of Thought, a collection of transit prose.
Originally published in
Featuring interviews with Gabriel Orozco, Gronk, Virginia Fields, Margo Glantz, Salvador Plascencia, Jorge Hernandez, Cherrie Moraga, Doña Julia Julieta Casimiro, Alberto Kalach.