Discover MFA Programs in Art and Writing
Some political possibilities of painting, public space, and the way we use word "practice."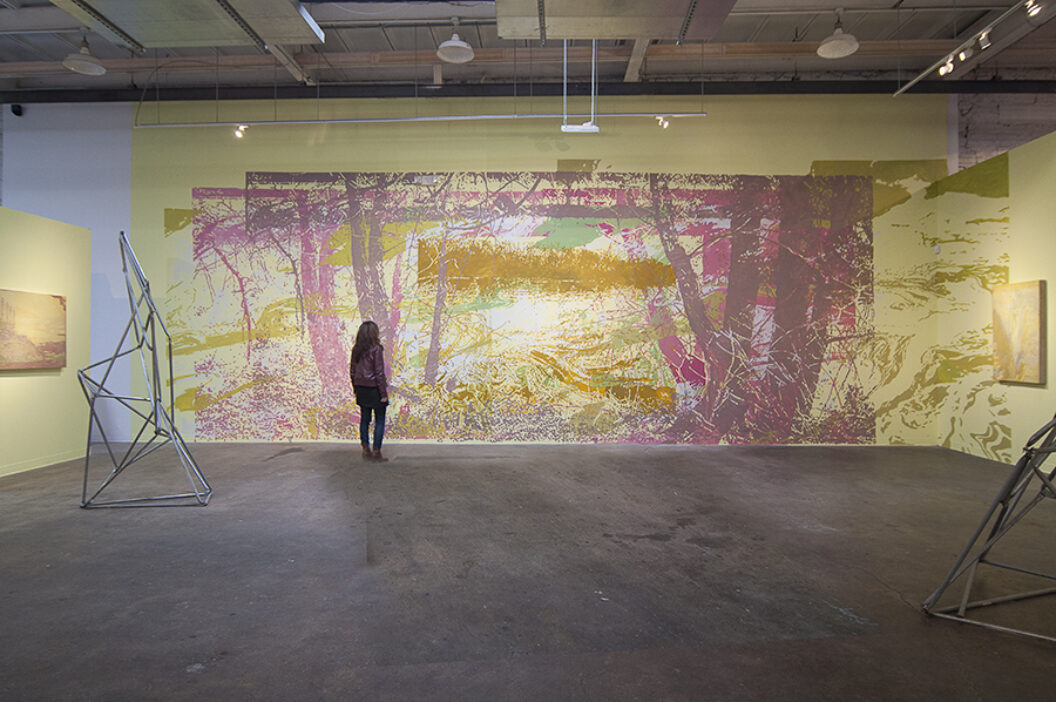 Greg and I first met at a reading group where we join with some other curators, editors, and artists once a month to read art and theory books. We meet at different spaces around town, including the offices of the Brooklyn Rail, where Greg co-edits the art books section, and the Marie Walsh Sharpe Studios, where he is currently a resident. Our conversation thus far has always focused on the books we discuss, but we decided to meet for a studio visit in order to experiment with how our working through these texts together could affect the way we talk about our own work. What follows is our attempt to think through that, as well as the idea of publicly reflecting on the structure of the studio visit itself—both as a process of revisiting older pieces and recontextualizing them in a continuum of an artist's work (which is how Greg sees it) and as an invisible, underexplored background of the art world, where a lot of the conversations about art and practice happen in private.
Greg Lindquist It's important we process texts from our reading group in other ways beyond conversations, like writing about them. I did that recently for texts I've read before our group started when I gave a lecture on my work at Harvard Graduate School for Architecture and Design. Revisiting the earlier work and issues of architecture and urban planning, so I discussed Martha Rosler's Culture Class essays, which aptly refute the mythology of a creative class, and David Harvey's social history of nature and the environment. It helped to re-articulate these ideas in the aesthetics of my earlier Brooklyn landscapes, creating the lecture notes for future writings.
Orit Gat I'm really interested in the artist talk as an intellectual structure for artists to think about the presentation/contextualization of their work in ways that aren't the artist statement. The studio visit is another invisible construct that is never actually public. Even that PS1 video series of studio visits with artists is heavily edited and feels like an infringement on the privacy of the artists. There's a standard way of doing studio visits and you only pick it up once you have a certain status in the art world too. So, for example it's two very different things to have a studio visit with an independent curator researching for a show or with a gallerist. And the artist then gives the person who's doing the studio visit either the sense that they're really important to them or that there's something that the artist can get from them, or vice versa. This give and take is really complex.
GL Exactly, it's not only the visitor's identity and the agenda, but also what the interaction is about. You know, it's very different having a conversation about the ideas in the work than it is making a selection for a show, or selection for some other purpose. Commercially driven artists have also effectively used the studio visit to search for galleries, even getting someone over who they're not interested in, but then indirectly asking , "Who's in your network that might be interested?" by saying, "Well, where do you think this might fit?" And they have the opportunity to say "I love it, let's talk"; or they say, "Well, maybe my friend here will be interested." And then you have them over, and do the same thing, and crawl through this web of networks.
OG And so these invisible networks inform the way people think and talk about the work, because they feel like they have this direct connection to the artist and they heard them speak about the work, they saw how it's produced. Then you have the artist statement, that has a particular vocabulary, almost always a particular length, a certain set of expectations. There was an essay about the artist's statement in the last issue of Paper Monument and I think that's just a first in a discussion about this that will only grow. I've seen Peter Schjeldahl talk about it, saying that he doesn't understand why artists should write. In the art world he comes from the work was the work and you didn't have to talk about it, whereas today, we're definitely educating people to talk about their work and be very well spoken about it. That's such a huge part of a practice. The word "practice" is part of it too.
GL Yeah. I think that also informs what we were talking about earlier, because this idea of an artistic practice is not like the 1980s, when people believed that the meaning of their work was only held in its materiality or presentation. It certainly has this contextual network around it, and I think that's really important to be acknowledged in whatever form that the work itself takes. So, the artistic practice, studio visit, and the artist talk are all important mechanisms of illumination. But another variation of the artist talk is whether emphasis is on what the artist is saying or a conversation between the artist and audience.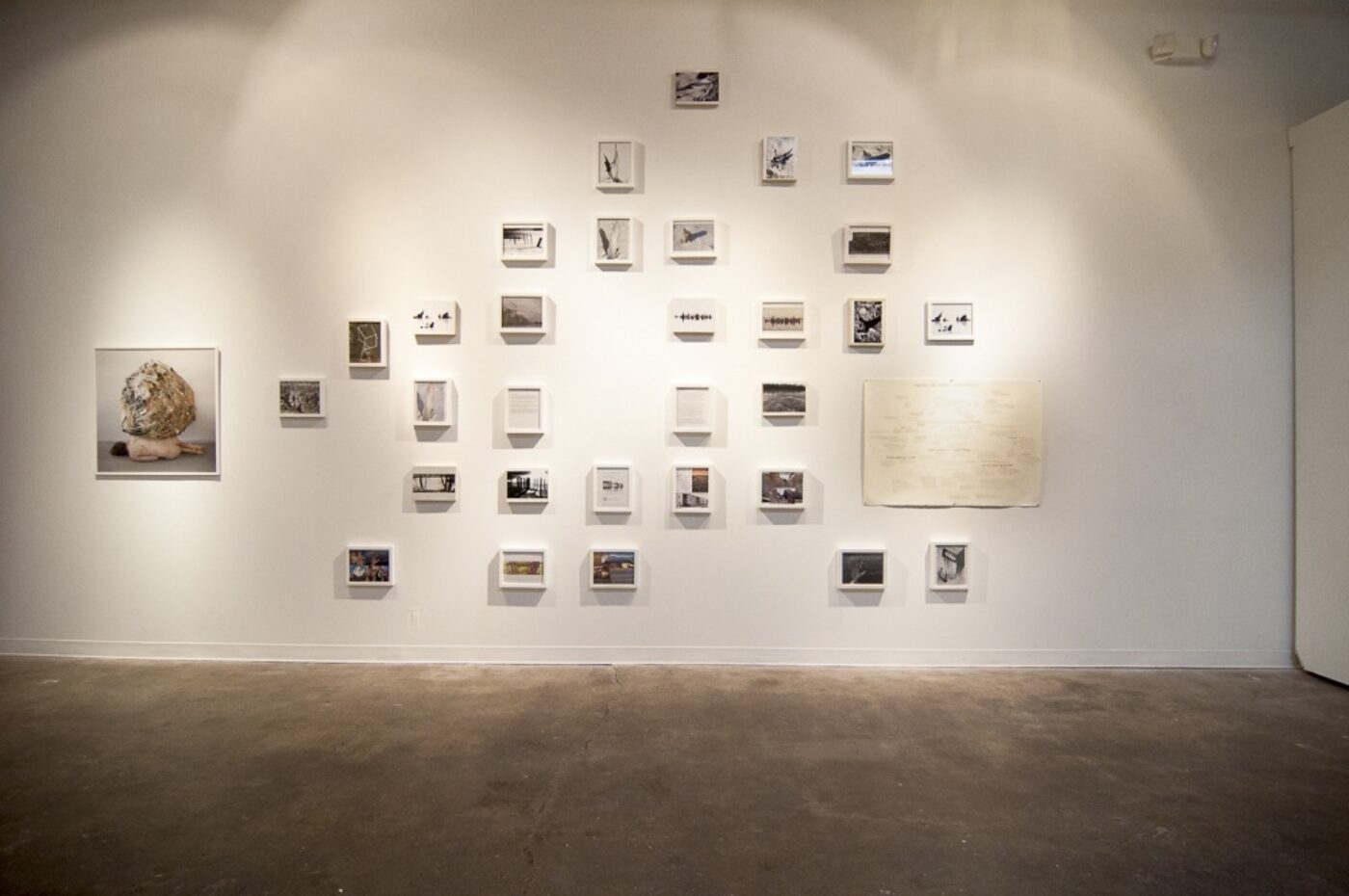 The Politics in the Aesthetics
GL The current installation of painting, writing, and photography in my studio offers multiple points of entry. There are misaligned and faded paintings of the oil derrick pilings hung around a grid of photographs that document the pilings and are image sources for the paintings. It's not a fixed installation—rather, the arrangement is a laboratory of moving parts. I'm moving through ideas and experimenting. Included in the grid are writings I have done about this site, as well as documents of the futile exploratory oil drilling. This installation condenses these networks of experience into a saturated tangle of associations, meanings and relationships.
OG So, is this all one body of work?
GL There are two geographic locations that I'm thinking about in this work. It's culminated into this laboratory of paintings and the various source materials for the paintings. There is also text that either relates tangentially or is a document/source material for the physical sites. So there is the virtual/physical relationship of the image and its representation circling around each other. It offers multiple points of entry to understanding the narrative and the experiential part of the work.
OG What are the two sites?
GL Predominantly, Rozel Point, which is on the Great Salt Lake. Also, there is Mono Lake in California, specifically the Tufa rock formations that are made from the melding of fresh and salt water over a staggering geologic time. They're stalagmites that rise up from the lake in a foreign and mysterious way. I'm juxtaposing this imagery with the fact that water diversions for Los Angeles's drinking water have threatened the lake's bird population and ecology.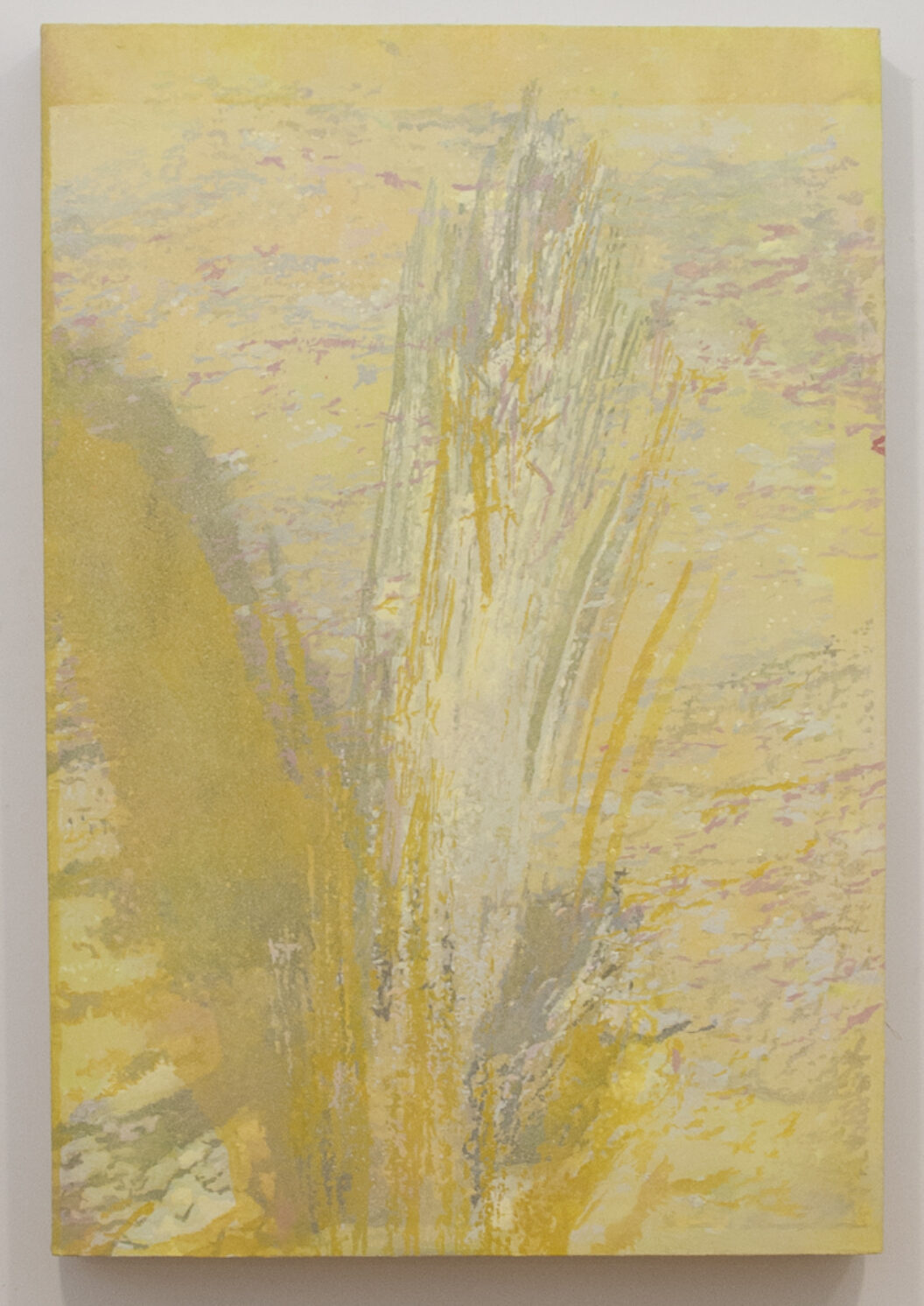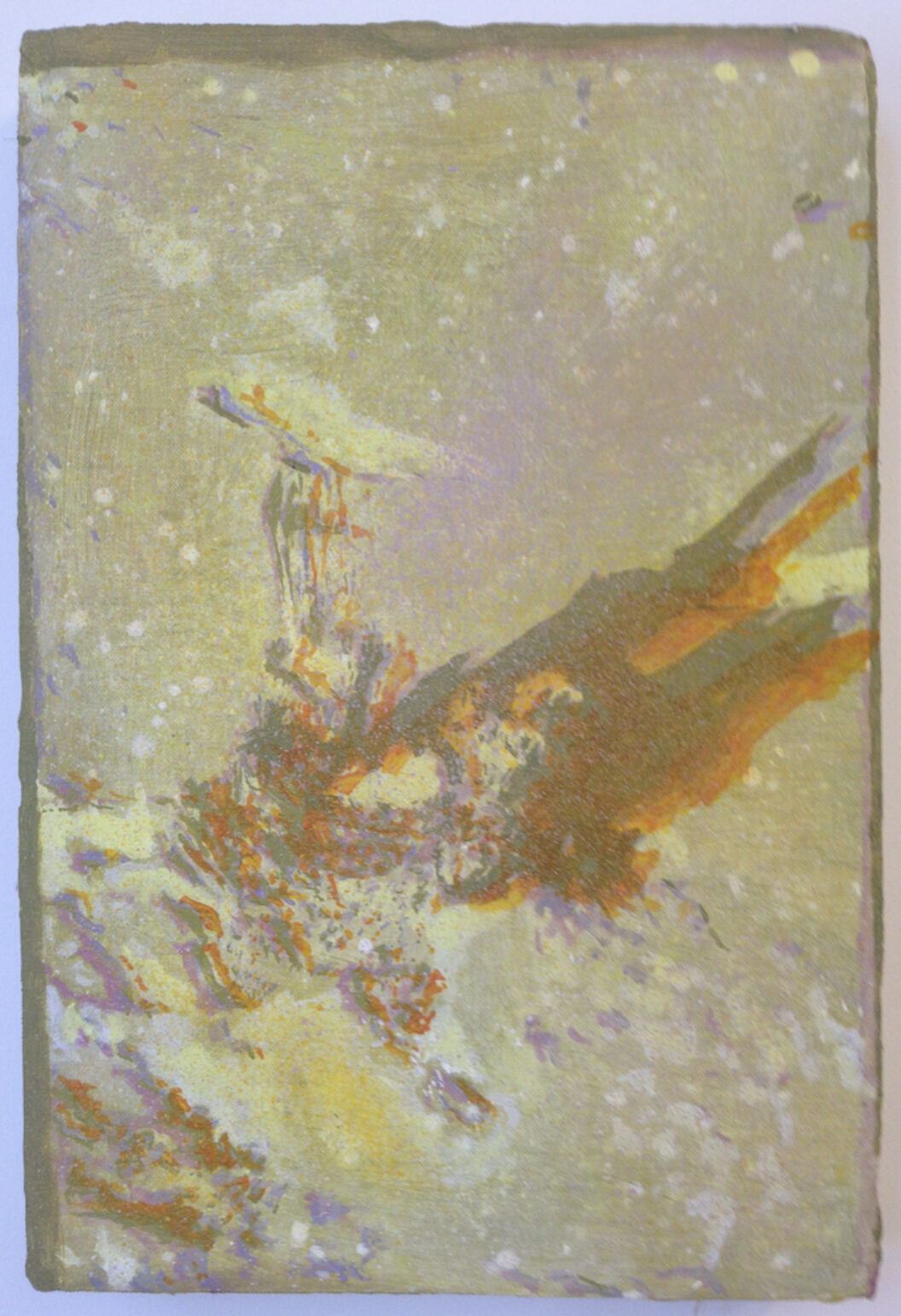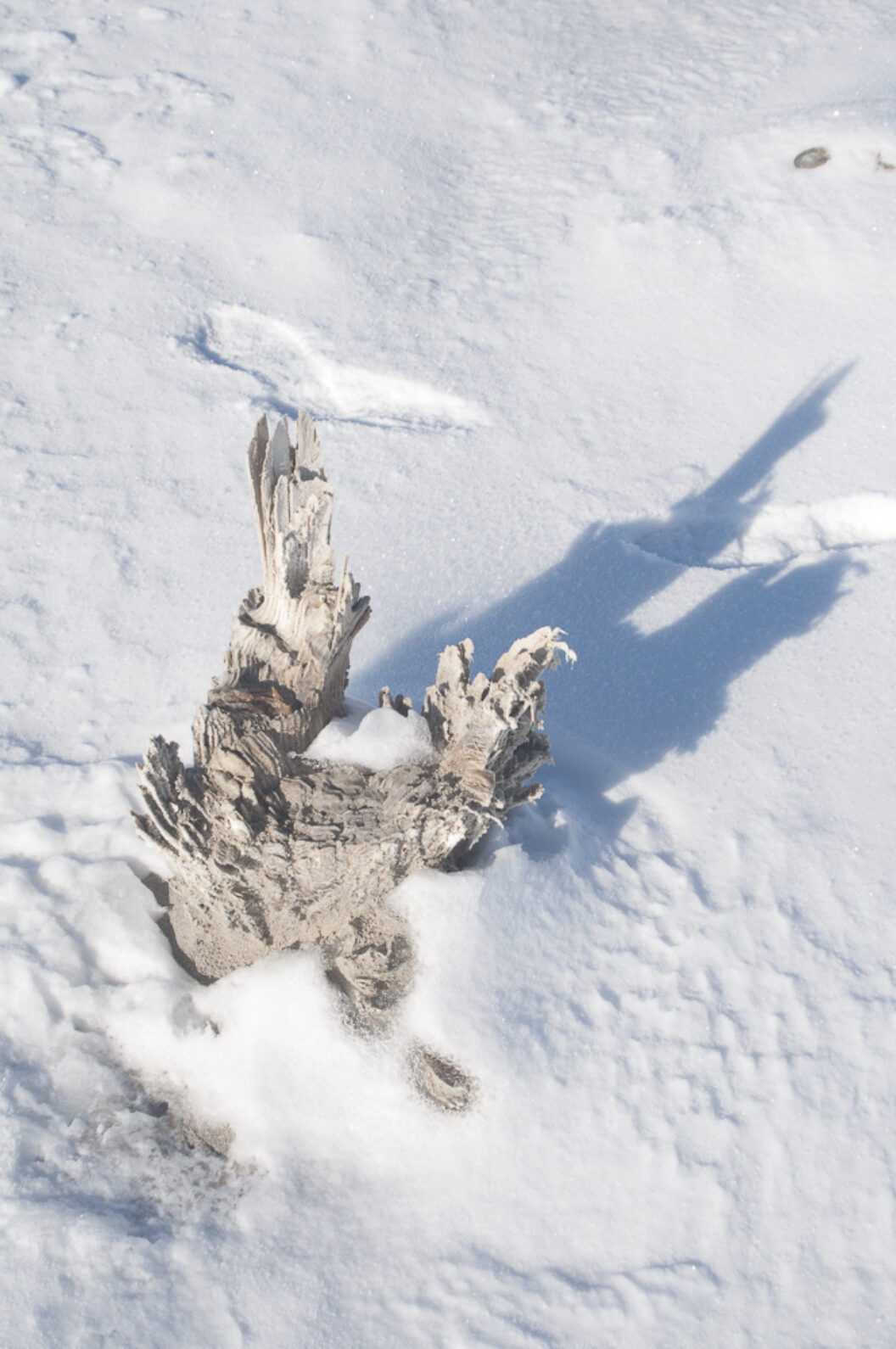 I actually discovered Rozel Point through my visit to see Spiral Jetty, and the Promontory Point, where the east and west railroads were joined. There's a lot to unpack in this history of progress and the American landscape. In Rozel Point are the remaining parts of an apparatus for the extraction of oil in the Great Salt Lake. The largest oil seeps in Utah are on the Great Salt Lake and speak to the futility of oil extraction. They tried for one hundred years to extract ten thousand barrels of oil from this place where it was impossible and costly to do so. Ten thousand barrels leaked in a day in a recent Houston oil spill, so clearly it isn't very much.
In this framed 1963 geological report for Rozel Point, you can see a derrick here, whose pilings create platforms for the shacks for the oil extraction. Interestingly, in the 1990s, when the Utah Department of Mining decided to shut it down, they removed everything except for these pilings, which are now weathered and rotting in the landscape.
OG It's probably just too expensive to remove them.
GL Maybe. I interpreted it also as an aesthetic choice. It's also a sublime landscaping decision similar to Frederick Law Olmsted's for Central Park.
OG Bureaucratic aesthetic choice. They also weirdly echo with the Tufa rock formations. It looks like it's coming out of the sand. And it is organic matter, even though it's man-made.
GL Exactly! So there is also this weird, non-distinction between natural and human-made, and very much active with energy, agency, and political subtext. You know, how Jane Bennett describes the motley pile of garbage in Vibrant Matter like a Dutch still life vanitas. Bennett also reaches back to Spinoza's belief that all matter—animate or inanimate— is made of the same building blocks. I suggest these things are there not only in the relationship between the photographs and the painting of the photographs, but also in the way the paintings are painted.
OG Also, because now in post-industrial society we've shifted all of these discussions on things, production, and ecology and trash to be the stuff of far away problems: our trash gets picked up so that it's far from sight. And sometimes we turn landfills into parks, giving them once again this very wholesome, supposedly natural image.
GL To that effect, I am against the fantasy of nature, those things over there. I'd rather show how they are present and politically entangled in crucial issues of environment and land use. To smash up the beautiful depiction of nature through painting to a sickly end and infuse a narrative of the toxic dumping of coal ash into our drinking water, for example.
OG Exactly. And so the same way we now bury our trash in oceans and send our electronic trash to Africa, we mine in Africa and are repeating the exact same mistakes.
GL And our factories of production are on the other side of the globe, like Bangladesh, so we don't think about those same issues, like sweatshop labor, that we did in the early 1900s, as part of our cultural reality. And that's really troubling. For me, it's challenging to determine how I work with painting to address these social concerns. Painting is largely now more than ever about aesthetics and beauty. Conversely, I'm dealing with realities that are obviously not very beautiful and have real social consequence.
After completely concealing my photography process that I work from to make paintings, I am resolved to incorporate this element into the network of painting in order to inform what the viewer is seeing. I have been also asking myself how I can circulate this work outside of the commercial art world. The paintings can operate in a way that the photographs can't. While the photographs and related texts anchor a social narrative, the paintings offer a meditative/mediative experience out of a weird ghastly, sickly, rainbow of colors. I'm aware that these colors also reach into a palate that some might associate with Impressionism, which addresses industrialism in its infancy.
OG Well, an industrialism without any consequences.
GL Exactly! Without a consciousness of how the future world was to be affected. I really like when Jonathan Crary in 24/7 discusses glare as this glut of visual information. His explanation has some poetic quality that I can relate to these paintings on some levels. Getting that inaccessible kind of glitch even, that happens when you look at too many images, and its accompanying afterimage. Or that there's this materiality of a screen through the way of the painting. My main point is that Crary is invested in light as a metaphor of its social functions and realities. I think that's a difficult metaphor to wrestle away from its historical romantic connotations in painting and photography.
OG That's interesting because you talk so much about needing space and hanging and the need to look at stuff in order to make meaning happen, and then you thought about glitches that happen sporadically and spontaneously. Even though you have this very calculated practice, you keep waiting for this—
GL Totally. And I think that painting is what we're talking about. Because the photographs can be very calculated and you have to crop your selection out of a series of photographs so they're edited in some way, and they represent something very fully and very wholly. So, I think it's about having moments, and knowing when it's there. When you've hit something spontaneous and fresh, it's like a glitch.
I'm invested in making painting, and I spend time thinking and reconciling these different modes of expression and ways I like working. I've enjoyed taking photographs since my mother gave me her childhood plastic Instamatic camera and I also love the process of mixing color with paint. But, they have to operate outside of the situation that you're talking about, which is that they're just about beauty.
OG And about the medium itself. It also means that now you have a much larger community. I guess there's already a big community of painters who make pretty paintings in New York, because the market is so strong for these. But you have community now of people who work in between these practices and who work conceptually in painting. But how do you relay that intention to the viewer? 
Intertwining a Critical and Artistic Practice
GL The title really isn't enough text. The painting itself as a discrete object is then lacking a layer of crucial information, namely contextual clues. I hope that when people experience the paintings they see that there's something not quite right about the image. Part of it is in the palette, part in the delivery of the image, how the image is broken down and degraded. And then the final question is how can I activate written text within this world? The other agenda that I have is, after writing art criticism for over seven years and over a hundred pieces, is how to allow my art making and critical writing to very consciously intermingle and cross-pollinate. Rather than separating these roles or ways of thinking, I'm now just allowing them to function in the same world.
OG That's the kind of stuff that the word "practice" came to symbolize.
GL Exactly. It's a myriad of data when text comes into it. I am using picture frames as a way to integrate everything, and it feels exciting. My challenge is to figure out how these pieces fit together. Mary Mattingly and I just installed a two-person exhibition in North Carolina at Flanders Gallery, and I made a painting on a 40-foot wall. It addresses the recent coal ash pond that leaked into the Dan River in NC near the Virginia border. Not only does this painted environment ground the exhibition in issues of land use in NC, but it unifies the exhibition. Mary and I also wrote a statement to be more specific about our concerns about land. I also framed texts I wrote for the wall painting and sites that the show addresses.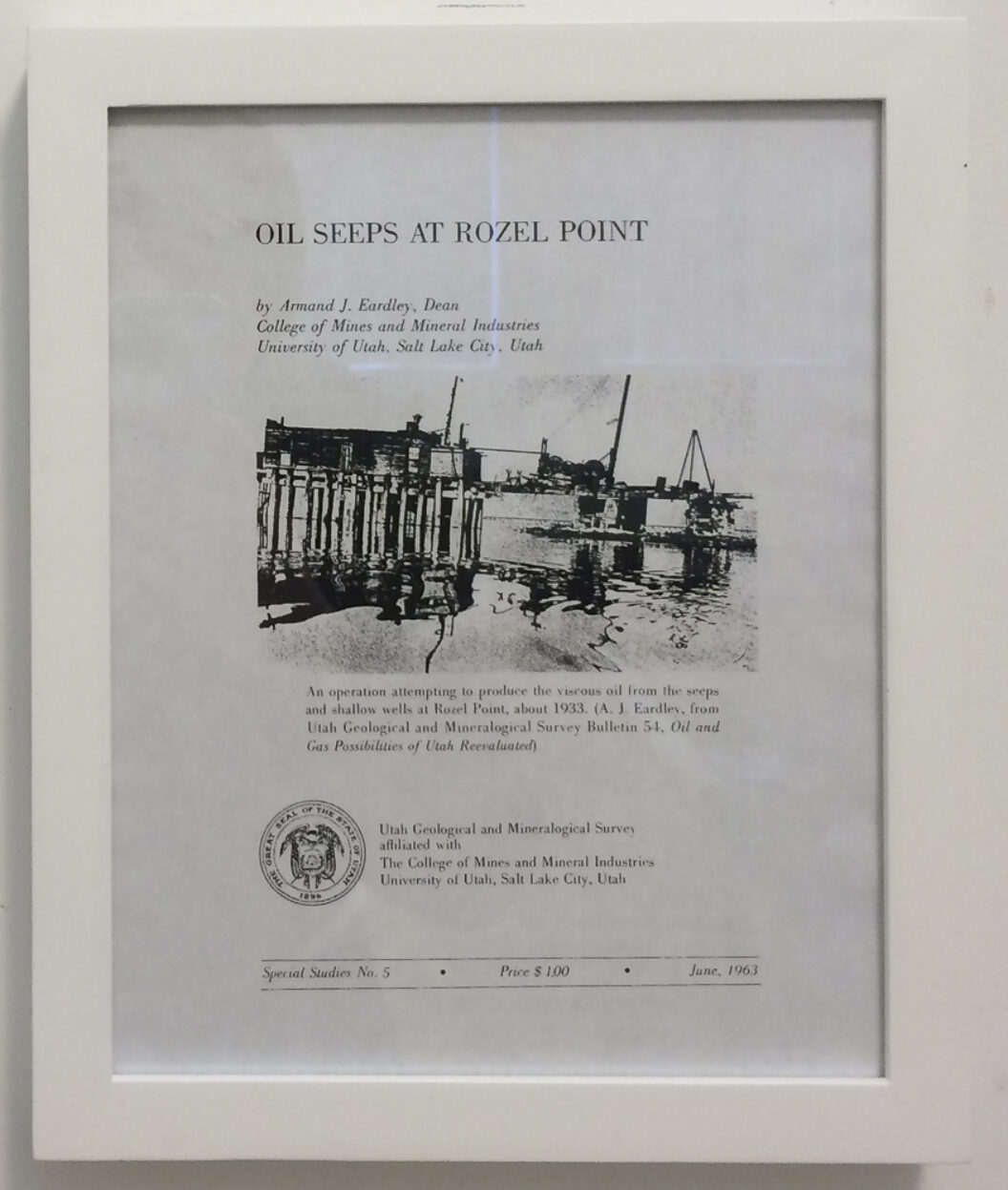 OG Which is funny too because when you frame the text and hang it, it becomes an object too, it doesn't necessarily involve the content of it. If you have the text in a book or a handout, people would engage more with the content.
GL Right. I think the answer is looking more and more to map ideas and linkeages with the concerns I have. I am doing that with the Duke Energy Coal Ash Spill, in a mapping that contains a series of arrows connecting an entanglement of corrupt relationships between NC Governor Pat McCrory, Duke Energy—the largest power company in the US and where McCrory worked for over 30 years—and the NC Department of Environment and Natural Resources, which is basically an appendage of Duke now. It's my way of making sense of the issues and opening my thought process to an audience.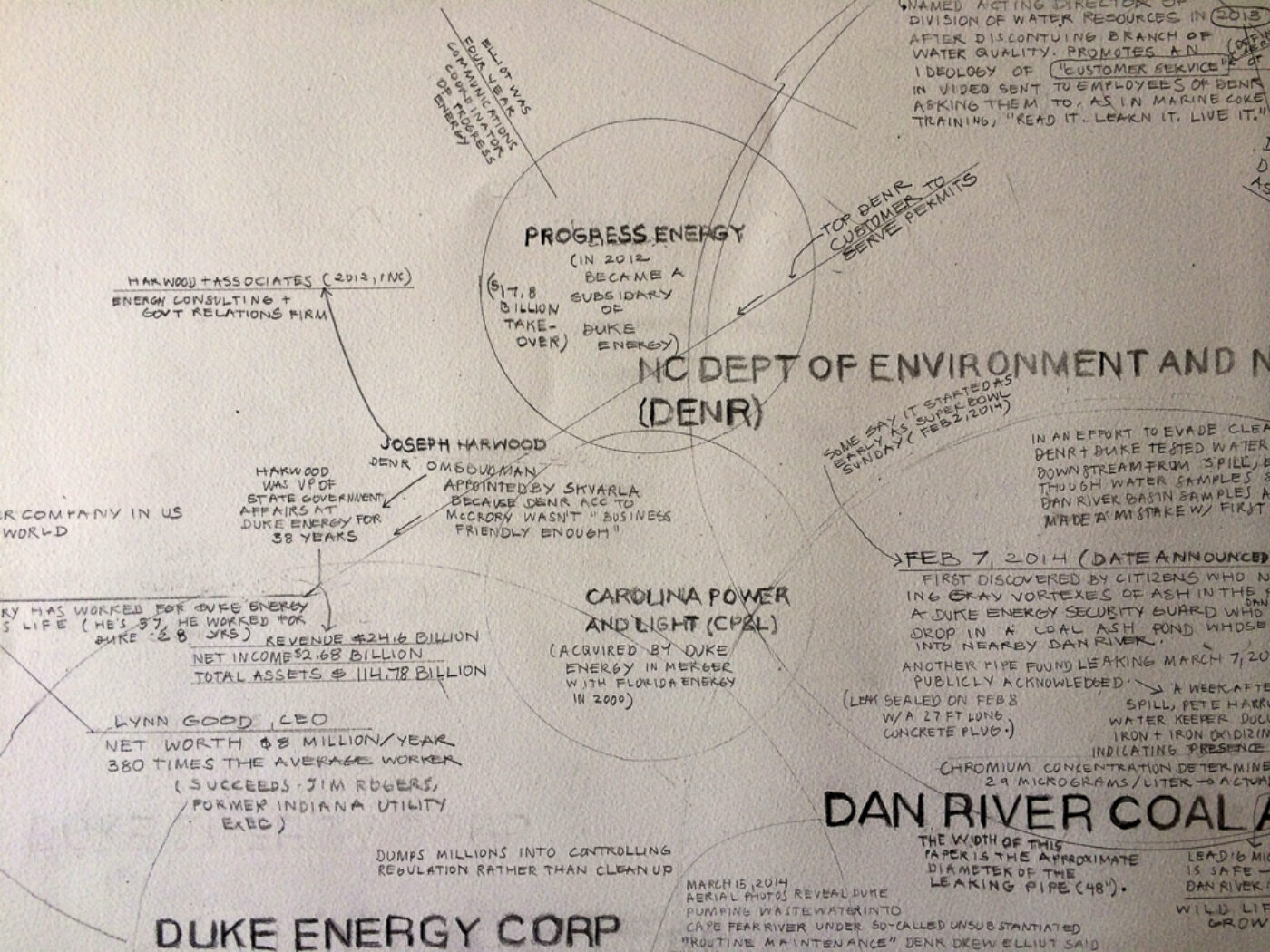 OG I remember you trying to make sense of the Bruno Latour at our reading group, pulling out a piece of paper, and saying, "So this is it." And you drew a circle around one thing and then drew another around it.
GL That's definitely a way I've always visually parsed information and theory, whether it becomes part of a visual and/or textual network. And that is becoming increasingly important to developing the work. 
Greg Lindquist's studio at the Marie Walsh Sharpe Space Program will be open to the public the weekend of May 2–4, 2014, opening Friday, May 2, 6:00–9:00 PM.
Orit Gat edits the art section for BOMB Daily.