Good Bad: Amelie von Wulffen Reviewed by Isabel Parkes
Painting the delirium of everyday life.

Discover MFA Programs in Art and Writing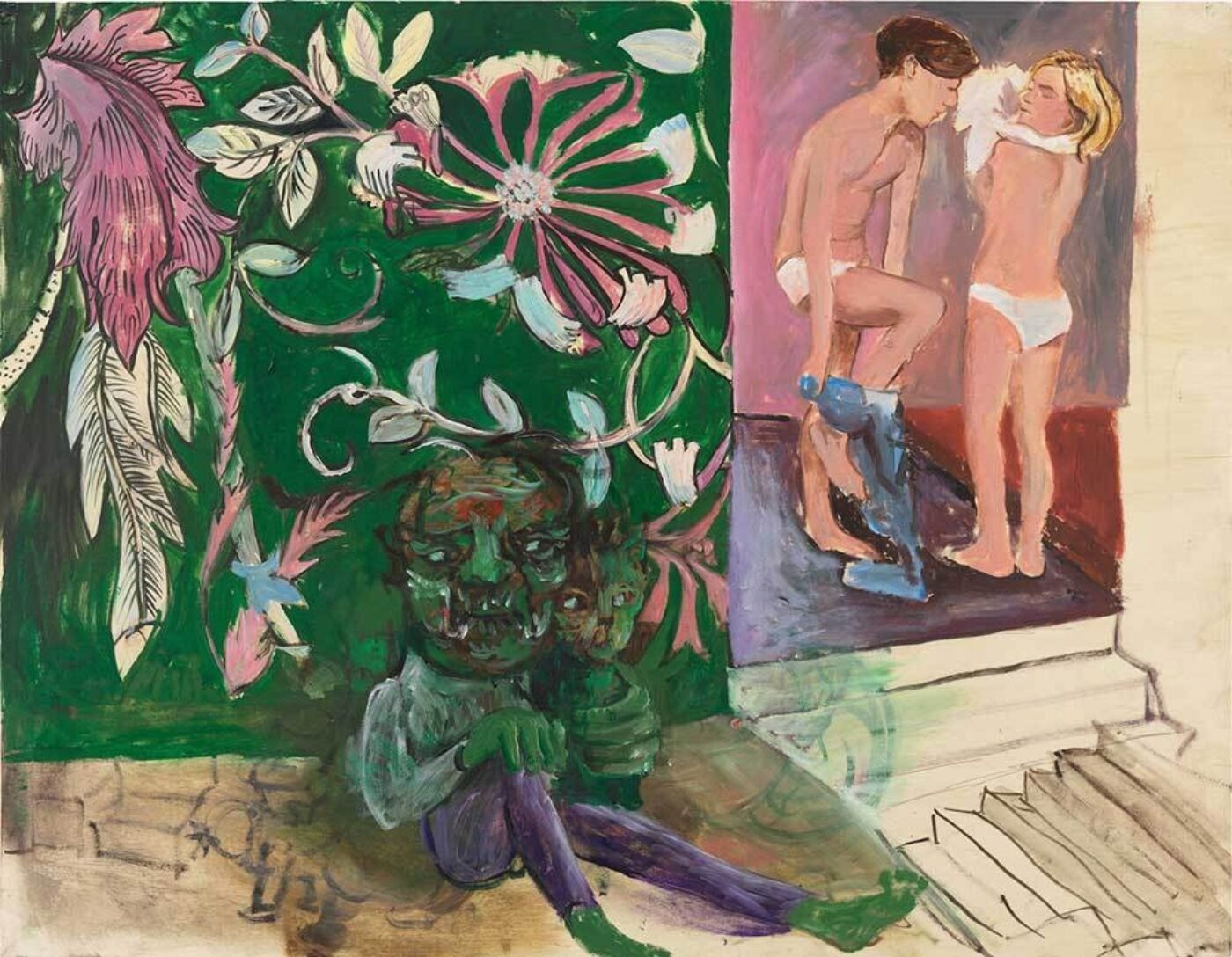 Amelie von Wulffen is a good bad painter. She is great at making bold, unprecious decisions about a range of compositions, energizing tedious colors, and careening through taboo subjects like feelings and shit. In her latest exhibition, Amelie von Wulffen, the German artist's first at an institution in Berlin, she engages these manifold talents to recast folk, family, and fairytales in a dreamscape punctuated by the delirium of everyday life.
The exhibition begins in a white room made whiter by a bland series of pencil-on-paper drawings that show the backs of people's heads at concerts and clubs. Visitors enter as outsiders, observing observers mid-observation. What early impressions might lack, sustained looking makes up for in content and color, which reveals the wit of this first, understated choice.
An adjacent room presents a group of thirty-four riotously funny watercolor-and-ink drawings that depict anthropomorphized fruits in petite bourgeois states of play: pairs of wieners bathroom shopping or saying grace; ice cream cones tobogganing; two lemons strolling in front of a villa, blissfully unaware of their lemon-child screaming in outrage just steps behind them. A solid wood, antique child's bed occupies the center of the room, although the possibility of rest is nullified by an upright piano pushed against one side and a confessional on the other. Here and in the surrounding works, von Wulffen emphasizes a sense of confinement amid the solemnity of etiquette and obligation.
This recurs between objects and images on view. In the venue's large main hall, for example, the same furniture appears on a luminescent pink canvas in which a wide-eyed, red-lipped woman with extraordinarily long fingernails huddles on the bed as if restrained by a supernatural force.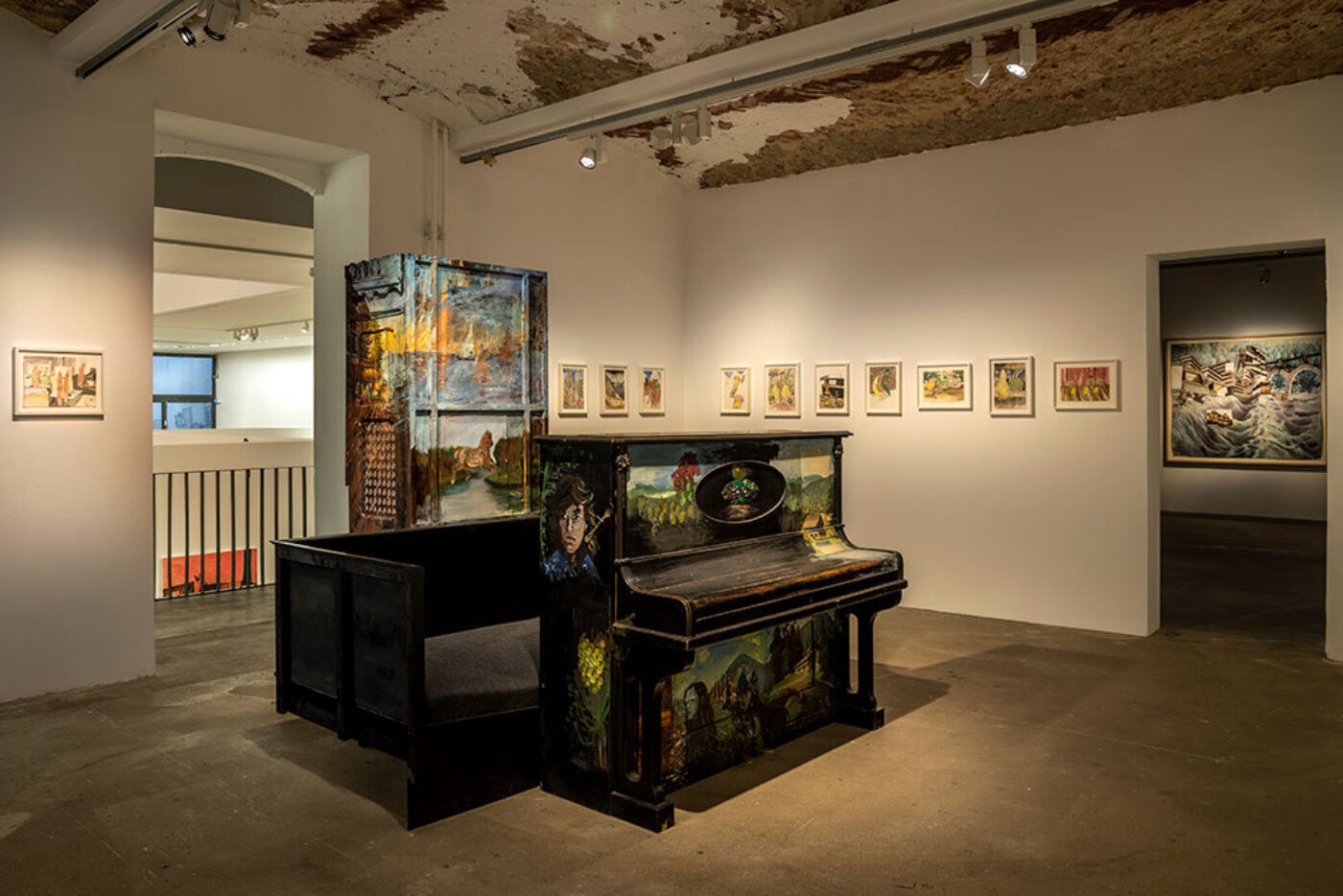 Nonetheless, as frequently as von Wulffen conjures a sense of cruelty in her work, she also evokes romanticism. This push-pull generates a circulation in the exhibition that allows visitors to access the correlation between control and fantasy. Some of her best compositions look out through windows and onto forests or mountains rendered under brilliant blue skies and collaged with retrofuturistic buildings that tease the idea of escape.
This formal strategy allows the artist to frame what viewers see. It also demonstrates a clear knowledge of the history of painting and allows her to dig into issues of class, specifically the mitteleuropäische bourgeoisie as it has historically characterized painters themselves and as it manifests in painting's subject matter. Von Wulffen inserts herself in much of her work and often seems to paint what she knows and combine it with what she feels. This autofictive tendency, elaborated through her expressive painting style, generates a mirage of intimacy, a feeling that the dreams could be her own.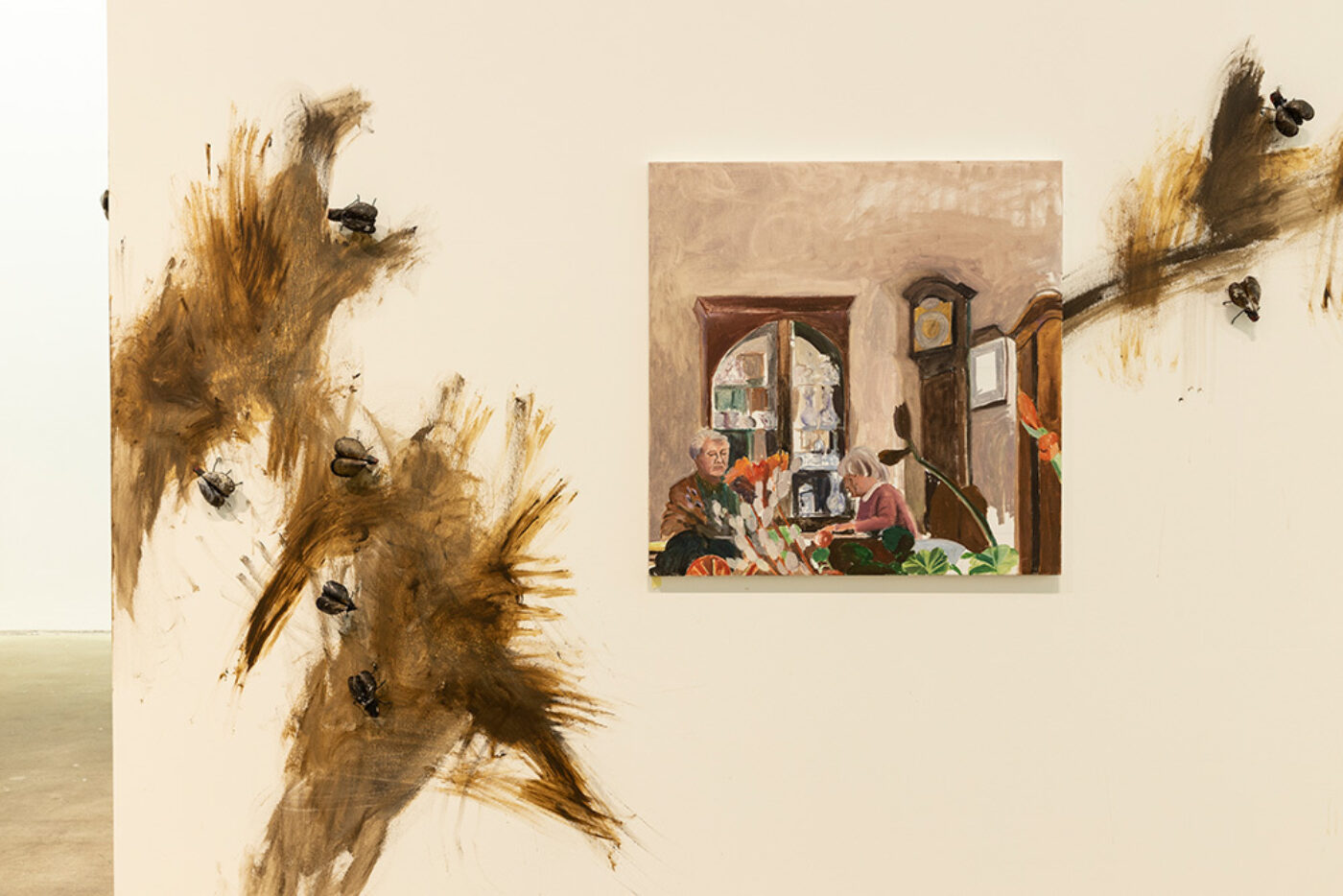 Seeing so many of von Wulffen's paintings alongside her ceramics, installation, and video also affirms her talent as a symbolist on whom the irony, even perversion, of such psychoanalytic tropes is not lost. She dives headfirst into the dysfunctions of her proto-German and Freudian-inflected past when, for example, she features her parents, dead or alive, in multiple images. In one, they sit at a parlor table, preoccupied with the minutiae of domestic life. A spray of flowers partially obscures our view onto the scene, which von Wulffen extends with a violent smear of brown between a wooden armoire in the image and an explosion of paint on the surrounding wall.
In this central collecting point for the exhibition (literally the main hall of the KW), von Wulffen strides into a kind of Bad Painting bravado that one might associate with Albert Oehlen or Martin Kippenberger, German painters who made a reputation for themselves in the 1970s and '80s through their freewheeling association of inconveniences and truths along with their diligently crude painting styles. Von Wulffen moves well beyond any single frame of reference or mode of transgression and into a realm where bad and good, kitsch and pomp simply meet, blur, and get ugly. The very qualities that initially cloud her exhibition's virtuosity come to define its significance.
Amelie von Wulffen is on view at KW Institute for Contemporary Art in Berlin until May 24.
Isabel Parkes is a British American curator and writer.