Ukrainian American band Gogol Bordello blends punk music, absurdist theater, and the accordion to create their self-described "rural Transylvanian avant-hard" sound.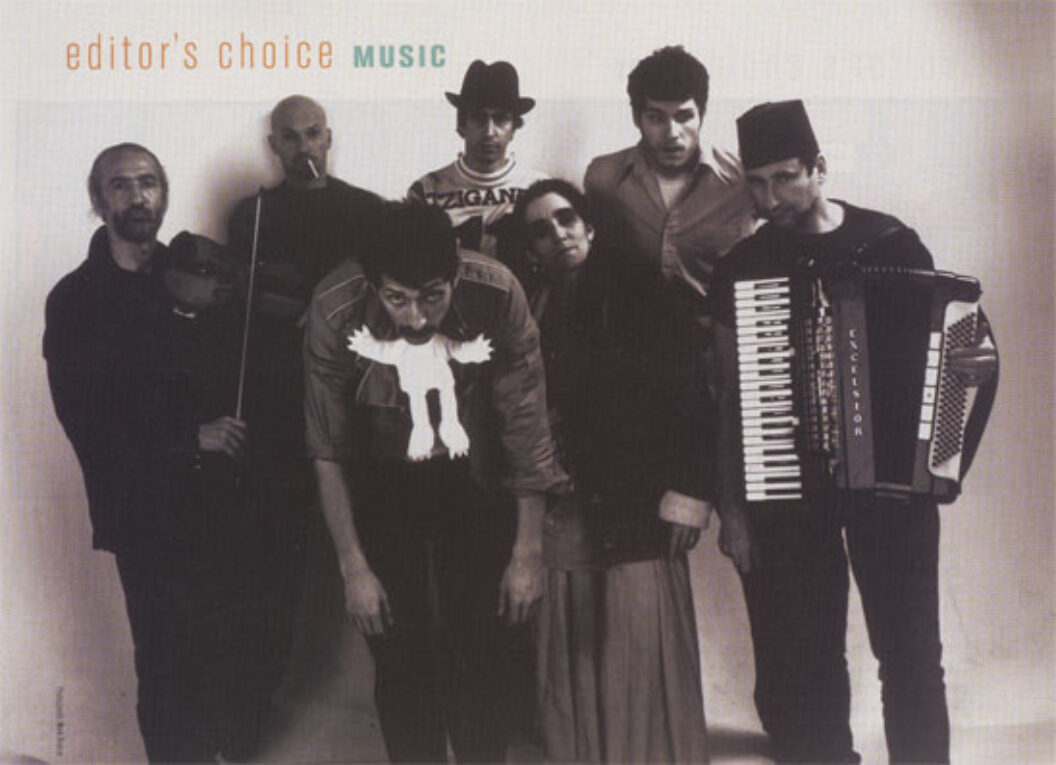 Once upon a time a group of Ukrainian musicians met on the New England wedding circuit, added an American drummer, and called it Gogol Bordello. The name of the band, a place that indulges the tastes of a brilliant, death-obsessed, enigmatic, and, as myth would have it, carnally insatiable writer—was enough to raise eyebrows. But the live show, a blend of heartbreaking accordion balladry, punk energy, and absurdist theatrical shenanigans was the real baptism. It was a radical new genre, coined "rural Transylvanian avant-hard" by bandleader/gypsy trickster Eugene Hütz, bringing to light a polyvalence of ethnographic strains, and along with it a lifestyle, an attitude, and yes, a look: Hütz in threadbare suits ornamented with Ukrainian trimmings and the occasional taxidermied bird attached to the shoulder, with trademark purple wingtips, holes worn through their bottoms. An immigrant style blending the Old World and the bargain bin, like John Lydon said of the Pistols's chic: "It was about poverty; the ass ripped out of your pants, you used safety pins to stitch it back together."
All the time, the act grew more sophisticated. Hütz was channeling Charlie Chaplin, Yves Klein, Iggy Pop. Women danced onstage, trussed like Hans Bellmer marionettes come to life. Hütz and louche chanteuse Sally Norvell harmonized, "Everything in us resembles God, except for one thing." And then Hütz, extinguishing a cigarette on his chest, drinking hot wax, doing handsprings down the length of the bar, and, like a cat, never losing his balance, or crawling on the beer-soaked floor removing women's shoes, then coddling the grifted footwear like erotic muses, demonstrated that that "one (ungodly) thing" is a hydra.
Certain impressions stay with me from the early days: the Brighton Beach boarding house where the band roomed with Bulgarians who broke into the kitchen nightly and ate all the meatballs out of the stew; the mysterious onstage appearance of the former prime minister of Latvia, seated in a chair and gently uprighted each time he slumped over from drink; a complicated fantasy of Hütz's about a man wandering through Transylvania who joins forces with Béla Bártok to play ethnographic folk music so shockingly pure and original, it brings entire villages to tears. Sure, it's a deeply romantic vision, but with Gogol Bordello's meteoric progression—the addition of virtuoso violinist and saxophone players; a new album highlighting their dark brand of neo-optimism and alchemic mix of the pure and the nasty; and a spot in this year's Whitney Biennial—the band's name is in lights (red ones, of course), and the conjuring of a village seduced is in a sense starting to come true.
—Rachel Kushner
Gogol Bordello's new record, Radicaljetta vs. Irony, and a remastered version of their first album, Voi-La Intruder, were both released by Rubric Records in March 2002.
Originally published in
Featuring interviews with Steven Holl, Stephen Mueller, Janet Cardiff, Laurie Sheck, Cornelius Eady, Victor Pelevin, Mohsen Makhmalbaf, Bill Frisell.