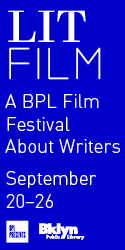 The movies about Downtown are fairy tales. The fairy tale seems to suit this slice of mental geography, with its danger, its desolation, its fecund possibility. After Hours was Wonderland with a befuddled yuppie for innocent Alice; Liquid Sky was Arthur C. Clarke with sex-and-dope-fiend aliens, the witless 200 Cigarettes featured a fantasy meeting with Elvis Costello. Glenn O'Brien's Downtown 81, shot then and released now, aims for the gritty real deal. "It looked like we had dropped the bomb on ourselves," comments Jean-Michel Basquiat, surveying his street. It's the real Basquiat, maybe his real street. The girls dance topless at the Baby Doll Lounge. The guys peddle dope and play in bands.
And what bands. Basquiat, Downtown 81's star, was only an amateur musician (decent songs by his band, Gray, are on the soundtrack), but it's the bands that are the heart and brains of the film—not the art scene, where money corrupted before spray paint hit canvas. O'Brien keeps interrupting the slapdash script to show bands at work, DNA in the studio, James Chance and Kid Creole strutting their stuff at clubs now long-gone.
The effort to capture the raw energy of Downtown destabilized the music that came out, the so-called No Wave. As local punks like Blondie, the Ramones, and Patti Smith began making it big around 1980, No Wave artists turned to the already passé funk and disco. The popping, aggressive basslines of funk rooted DNA while Ikue Mori's drumming was shattered Afropop. James Chance reimagined James Brown as a junkie psychopath. Calling himself James White, he fronted an all-black horn outfit called the Blacks, with trombonist Joe Bowie of Defunkt. Chance has never gotten the credit he deserves, but White Cannibal, released last year on ROIR, is a good introduction. Tuxedomoon's hypnotic swirl of distorted keyboards sounds brashly contemporary. The shocking thing about Downtown 81is how little has happened since.
O'Brien, a Warhol protégé, must have shot all these bands thinking that one of them would be his Velvet Underground. It hasn't worked out quite that way, but history's still being written. The former Interview editor is above all else a prescient talent scout: Basquiat, at the time of filming, hadn't yet had a solo show. In the film's excuse for an ending, the homeless painter stumbles over his rainbow's pot of gold—a suitcase in the garbage bursting with cash. More cash than he knows what to do with. A fairy tale after all, and didn't it turn out to be true?
—David Krasnow
Downtown 81 will be released in New York City in July by Zeitgeist Films.
Originally published in
Featuring interviews with Robert Mangold, Brian Tolle, Robert Pollard, Carl Phillips, Colson Whitehead, Kenneth Lonergan, and Guillermo Arriaga.