Give My Regards to Eighth Street: Collected Writings of Morton Feldman by Victoria Miguel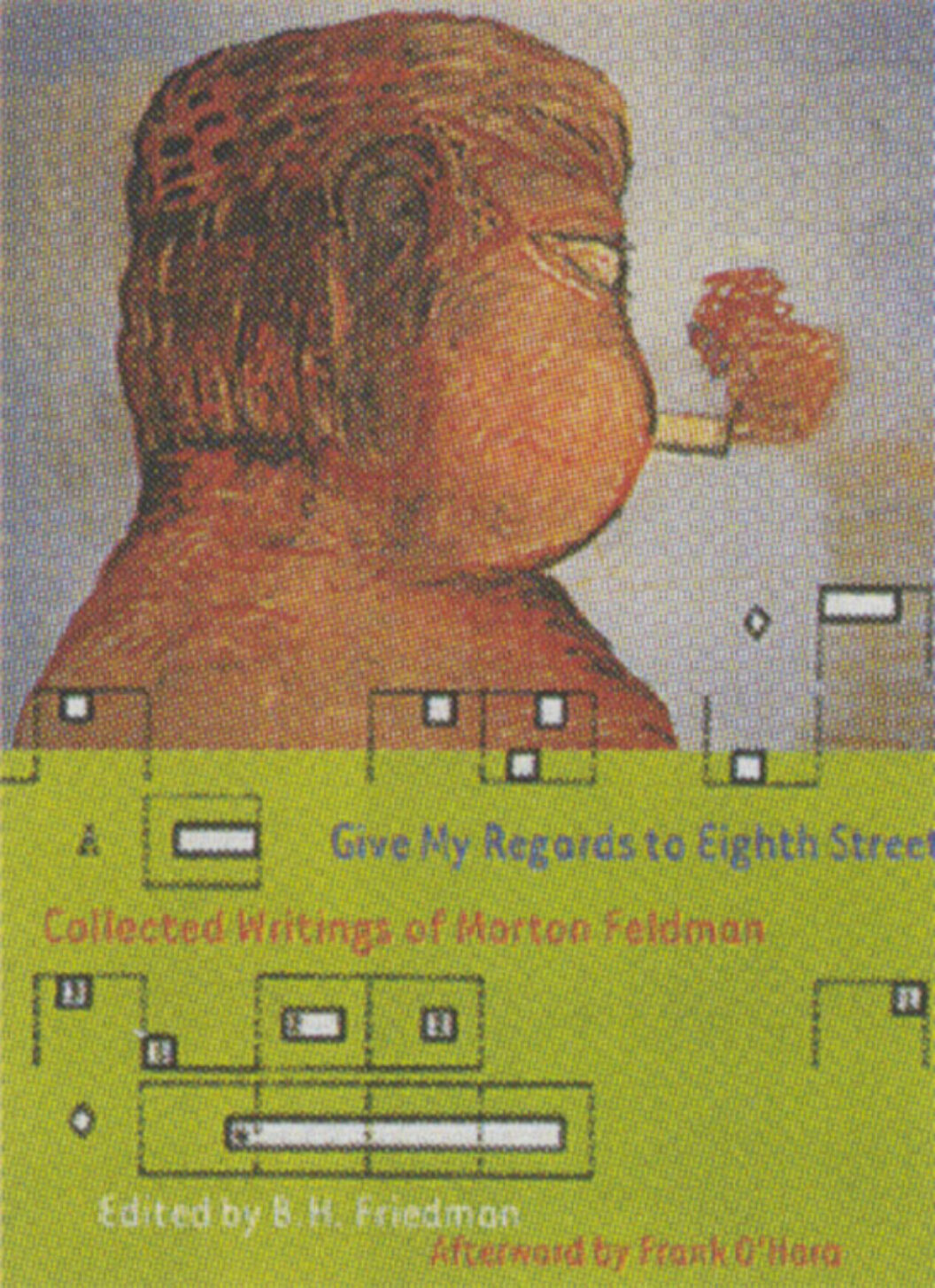 This may well be the perfect autobiography. Give My Regards to Eighth Street, an extensive collection of composer Morton Feldman's writings, is an elucidation of a life well lived, and worth living. Free of the prosaic, narrative form of a standard autobiography, its contents are laid out for the dabbler: a short piece on compositional technique to read on the subway; a lengthier look at the New York City art scene in the '50s to set your mind dangerously in motion before bed.
In that decade, in which the majority of the book takes place, the nexus of the New York art scene had moved from the Cedar Tavern to the Eighth Street Artists Club—a place to talk without inviting the fists of a drunken Jackson Pollock, where John Cage performed his "Lecture on Nothing" and Willem de Kooning lectured on painting, where the ideas in the air were far more intoxicating than anything available at the Cedar.
But this collection of writings is the perfect autobiography not because of its wealth of autobiographical information, the form in which it's told, or because it highlights a fundamental, yet largely forgotten, institution. It's not even because the texts are well written and, more often than not, extraordinarily witty. It is the perfect autobiography because it transcends not only musicological but also historical account. In the '50s art was made without the prospect of careerism; the success of Johns and Rauschenberg gave subsequent generations of artists greater expectations. Feldman reminds us that art can only suffer from being sublimated by the artist's career—it is the work itself that is important, not the looming edifices of Chelsea, the various publishing houses, or the distinctions between uptown and downtown performing spaces. "I ask myself more and more why everybody knows so much about art. Thousands of people—teachers, students, collectors, critics—everybody knows everything…. What was great about the '50s is that for one brief moment—maybe, say, six weeks—nobody understood art. That's why it all happened. Because for a short while, these people were left alone." His view is just as pertinent today—artist or not, Feldman will take you from his past to your present, and serve as an invaluable guide for your future.
Give My Regards to Eighth Street was published by Exact Change in 2001 and was rereleased this year through OAR.
Originally published in
Featuring interviews with Arturo Herrera and Josiah McElheny, Jennifer Bartlett and Elizabeth Murray, Lincoln Perry, Anthony Downey and Yinka Shonibare, Eliot Weinberger and Forrest Gander, Lionel Shriver, Noah Baumbach and Jonathan Lethem, George Lewis and Jeff Parker, and David Rabe and Evangeline Morphos.