Getting Well Together: NIC Kay Interviewed by Vanessa Thill
Discipline, resistance, and care flow through the performance artist's work.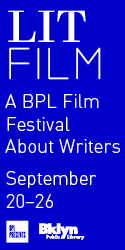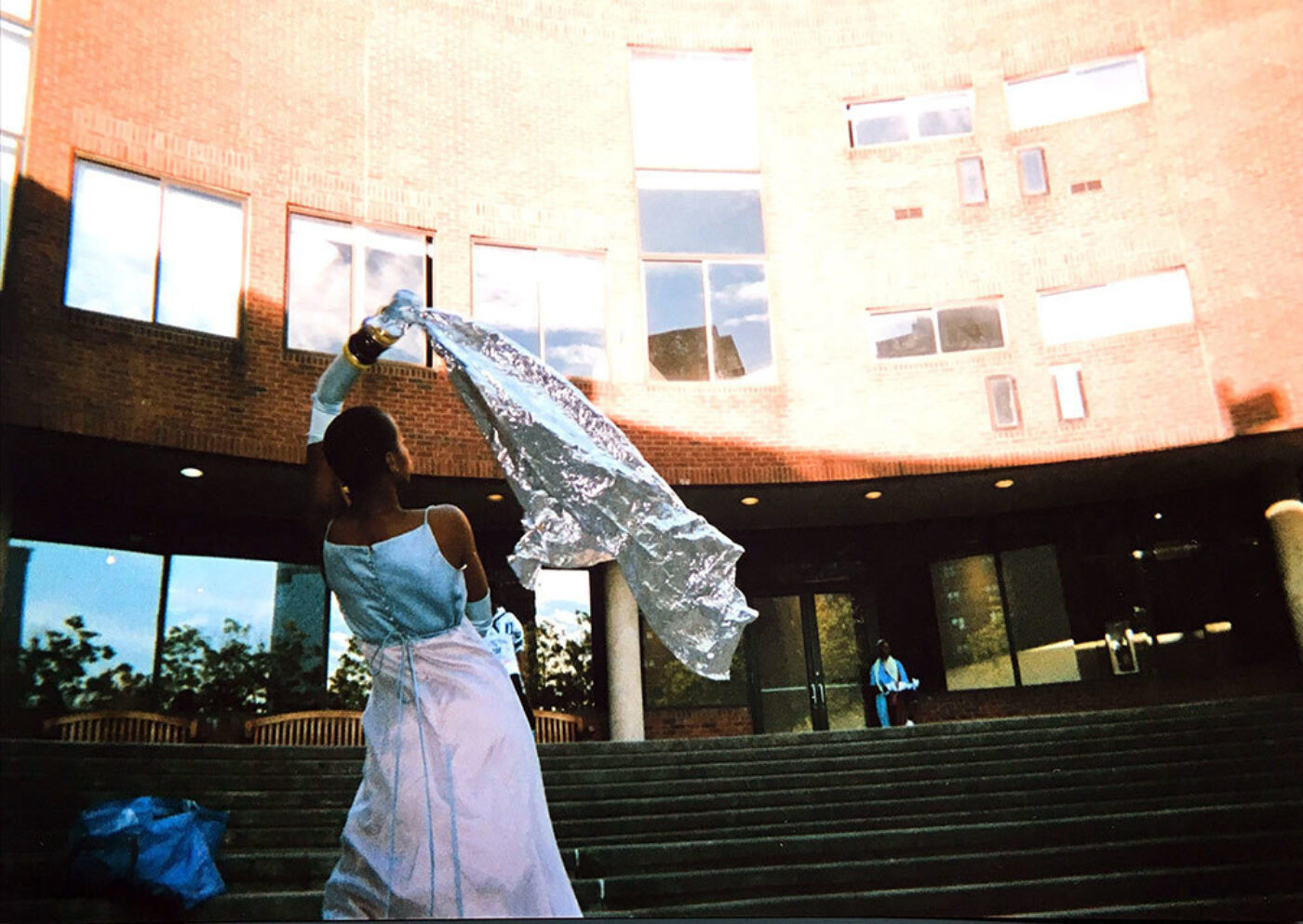 NIC Kay's work encompasses movement, sculpture, script, sound, and architectural interventions. Their performances bring sparks of poetic specificity to quotidian spatial relationships. A sense of continuous searching marks their work, which offers the patient insights of active unknowing. Kay's staging decisions are devastatingly precise, yet always feel a bit improvised, perhaps threatened by sudden change. I've watched an audience stoically watch them stack dozens of chairs; I've seen them kneel in the dirt to fill rubber boots with water; and I've followed them out to the parking lot where an NYPD mobile floodlight illuminated the sheen of their fluttering butterfly wings. In their work, they hold space with taut intensity while maintaining a looseness that allows us to seek our own ways of being present and, perhaps, healing.
—Vanessa Thill
Vanessa Thill A few weeks ago, you presented [GET WELL SOON] you black + bluised at Abrons Arts Center in New York City. You just performed pushit! in Mexico City with the Hemispheric Institute, and in New York for the River To River Festival, and will perform it again on July 13 for the Counterpublic triennial public art exhibition in St. Louis. What is the connection between these pieces? How does the work change given different spatial contexts?
NIC Kay I like to imagine GET WELL SOON as a building. And in this building there are many floors and rooms. you black + bluised is a floor, and many of the other exercises, like pushit!, are rooms. I've been working since the inception of GET WELL SOON with the idea of site-responsivity. Part of my own space of sustainability and wellness within my practice is having honest conversations with curators and programmers about their space—what is possible at their space, what the resources are, and the type of architecture.
I'm so obsessed with architecture and city planning because I don't think we often consider the embedded violences and exclusions. In preparation for the three performances that make up you black + bluised, I learned that Abrons Arts Center, built in 1975, was described by architecture critic Ada Louise Huxtable as functioning "to turn energies commonly directed to vandalism to other interests and pursuits." For months I wandered the Lower East Side and the halls of Abrons Arts Center to imagine what these "energies," "interests," "commonalities," "vandalisms," and "pursuits" could have been and are.
GET WELL SOON is also a way to think through hope and discipline as they relate specifically to the work of prison abolitionist Mariame Kaba. I began by meditating on some questions, and as they accumulated, I began to develop exercises.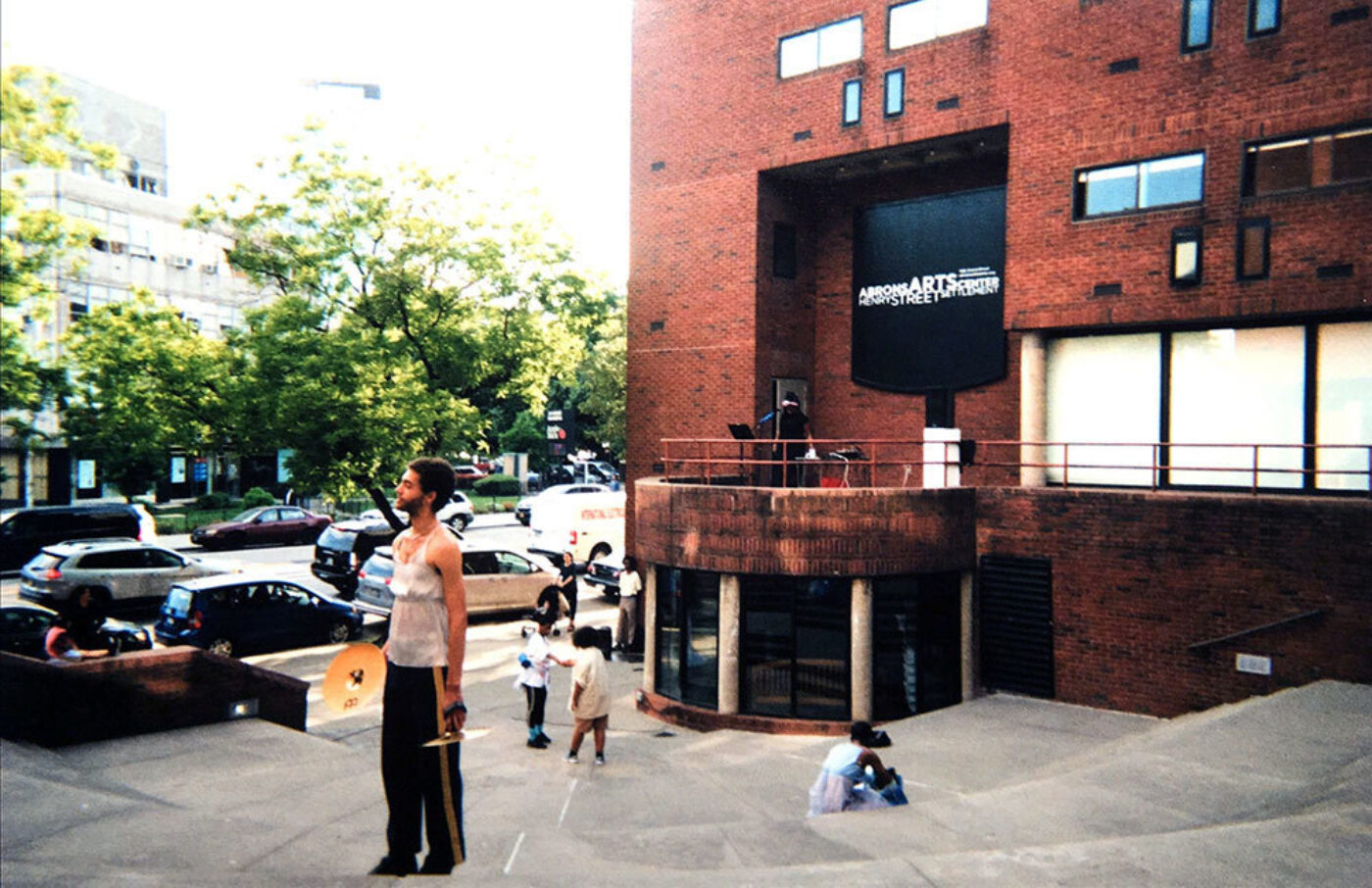 VT Are there particular questions that you articulated in the process?
NK Yes. These questions have infused my practices with a deep sense of urgency. They include:
What is wellness?
What are the ways wellness and self-care initiatives are used to avert attention from structural violence and neglect?
How can wellness be defined outside of the neoliberal culture economy?
How can political education be a location of self-care?
Can the stage be a space of freedom and play for the black performer?
How can performance practices grow capacity to be present with struggle, dis-ease, illness, and absence?
What are the shapes, movements, and sounds of movement building?
From this place of questioning, I think through different exercises that I can do for myself and also invite other performers to consider space and objects that could be wielded to think around these ideas.
VT You use very specific props in your performances, or perhaps we could call them sculptures. What is your decision-making process with these objects?
NK What makes a prop and what makes a sculpture? It has to do with the relationship the object has to the body, place, and of course also the discipline. One recurring object is a ladder. I love that this particular object implies a function, to be activated by a body, creating an opportunity to understand a kind of desire. In pushit! I became interested in the pull of helium balloons, the magic of their ascent.
I'm thinking about performance and choreography not as just the body in a "safe space" as we have come to understand the stage or the gallery. If that same body and ladder on stage is now in a square surrounded by public housing, what can be brought to light through repositioning and creating a different type of choreography? There is a type of safety that one is afforded by performing within the realm of the performance venue because there is an assumed or adopted habitus in those spaces.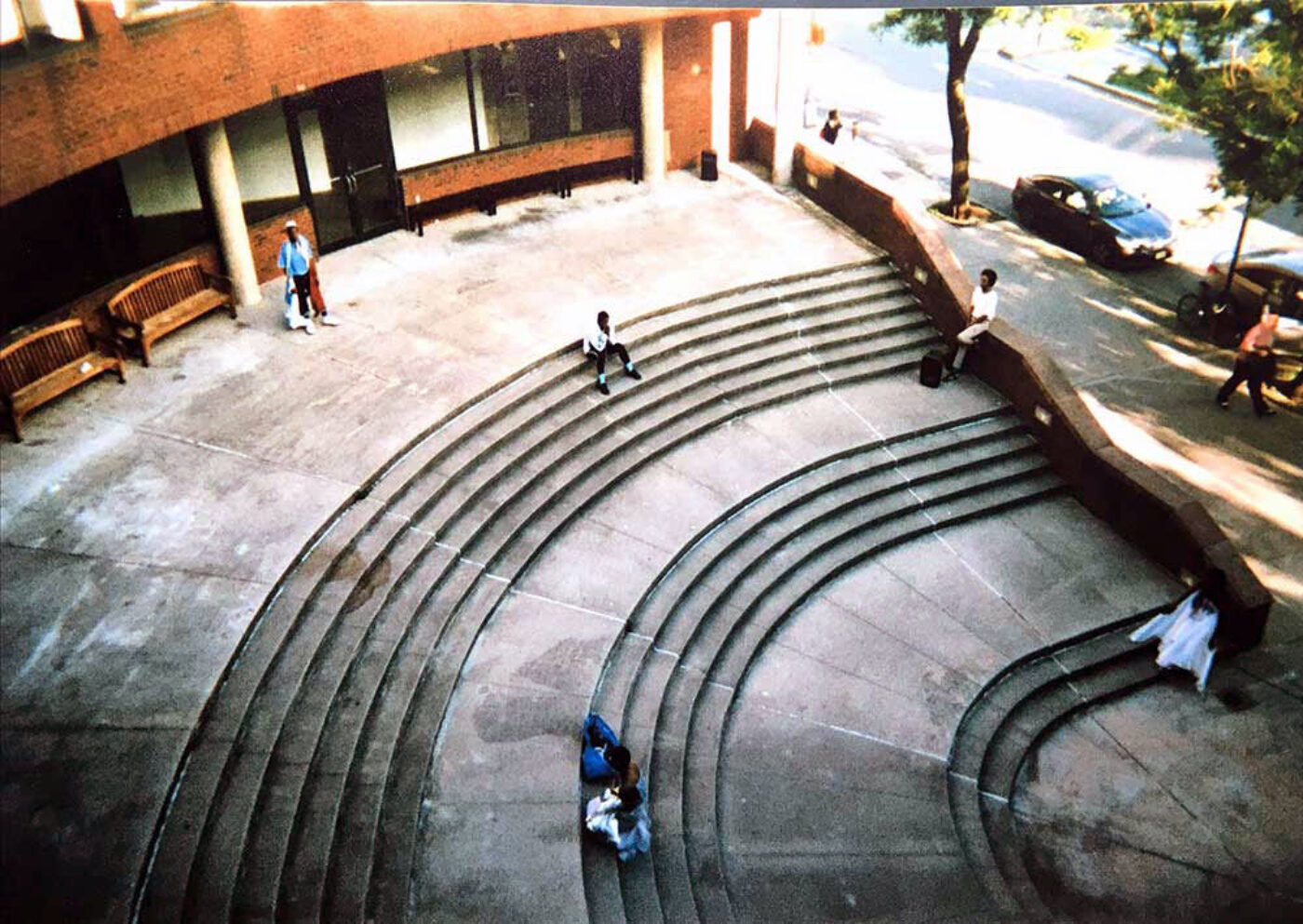 VT How would you differentiate "safe spaces" from other types of spaces?
NK Safety shifts based on positionality just as definitions and identities shift; our needs shift. When I work with emotional labor in real time, like in pushit!, I have to leave the space of the stage and that relative safety to be accountable to the public in a certain sense.
Think of the divisions on the benches in a public space in New York City. You can't lie down. That is a particular decision to prohibit the body from accessing a certain position. Or think of security guards who give you a very specific choreographic plan. The public library in my neighborhood in the Bronx has a performatively vigilant security guard who is constantly roaming, making comments, and requiring people to perform a particular type of learning or leisure. He holds a very stringent line: you can't sleep. And he controls the bathroom key.
VT Is your notion of wellness related to public space?
NK Sometimes we don't see these experiences as connected to larger systemic exclusions and oppression experienced by people of color, by poor people. The idea of wellness and hope changes when we think about the individualization of the self-care movement. What about the idea that we are not free as individuals until we are all free? What about restoring oneself and continuing to work to make sure that everyone has that ability, to be affirmed in the world and to be able to rest and restore. So often the marketing and the larger conversation is about the individual.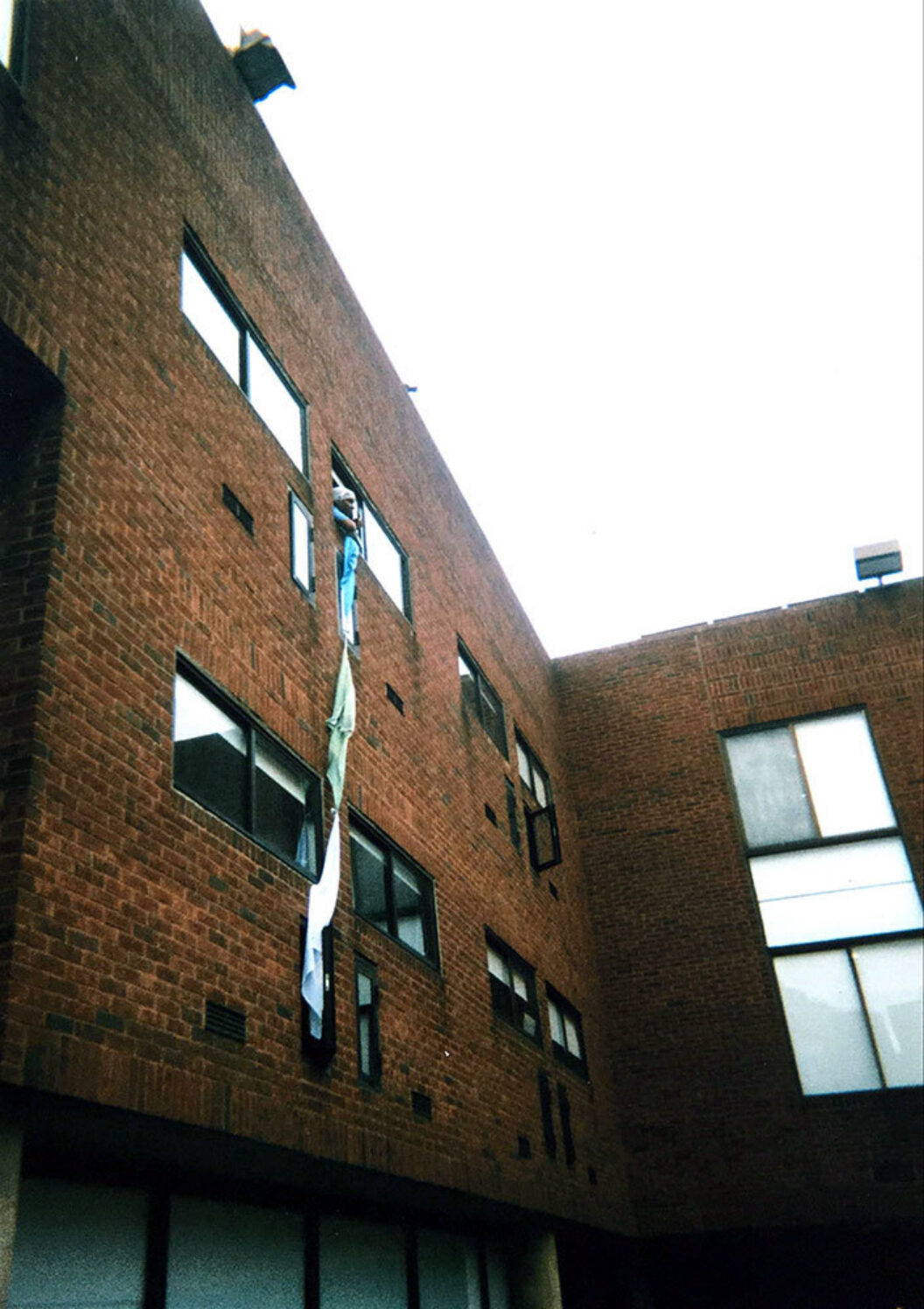 VT You often work solo, but also in an ensemble. Plus you participate in other artists' work from time to time. What is it like to collaborate?
NK I'm learning how to show up for other people; I'm learning how to show up for myself; I'm learning how to show up for my potential. Sometimes working with other people helps me realize what I want to do that I'm afraid of or don't know how to execute. I've had invaluable experiences working with Jimmy Robert, keyon gaskin, Rena Anakwe, and Jonathan González. We are creating a community around what black performance is. We are defining ways of making in conflict or in tandem with each other. It's great not to be an island.
VT Most of your work has some aspect of cutting across the space and out of sight lines. What happens when you make the audience move and react? Do you ever experience resistance?
NK The resistance that I experience first off is with performance venues, curators, and programmers. I intend to challenge the space and the conventions of how we show up and view performance, what people even understand as performance. When does it begin and end?
VT Thank you for bringing that up.
NK The second resistance is talking to potentially interested parties about something that they don't know or don't want to know about, because it sounds challenging. Then, when people do show up, they want or need to trust in me. It would be exciting to have someone protest or resist my instructions. It has yet to happen. I am trying to give people choices for how they can be present with the work.
VTHow do you know when a work is done? Or is it a process of building continuously?
NKlil BLK was a work that I developed for quite a long time, mostly with my own resources. I was able to articulate the work more fully than I had imagined at Abrons during American Realness. In terms of resources, you can continue to do something for as long as you want, as long as people are interested in seeing it or facilitating a tour process. For me, that wasn't balancing out. It was really empowering to step away.
I am no longer interested in expending energy and resources without being met where I am. I am showing up and giving one hundred percent; I need venues and interested parties to also show up in that way. It was a really great moment to say, I am not going to perform this again. This is completed, and I don't have anything to prove.
I'm learning as I go, and I am really interested in failure. In some of the exercises I'm making, I move beyond what I thought I was working toward to try different tactics. In a way I've learned this from movement building and how activists develop direct actions, which require you to consistently access intention, impact, and desired goals. If we aren't making choices, then what are we doing?
NIC Kay will perform pushit! as part of Counterpublic in St. Louis on July 13.
Vanessa Thill is an artist and writer based in New York.