Getting Unfragmented: Sean Lewis Interviewed by Nova Benway
"The looks we get at reality are really only guesses."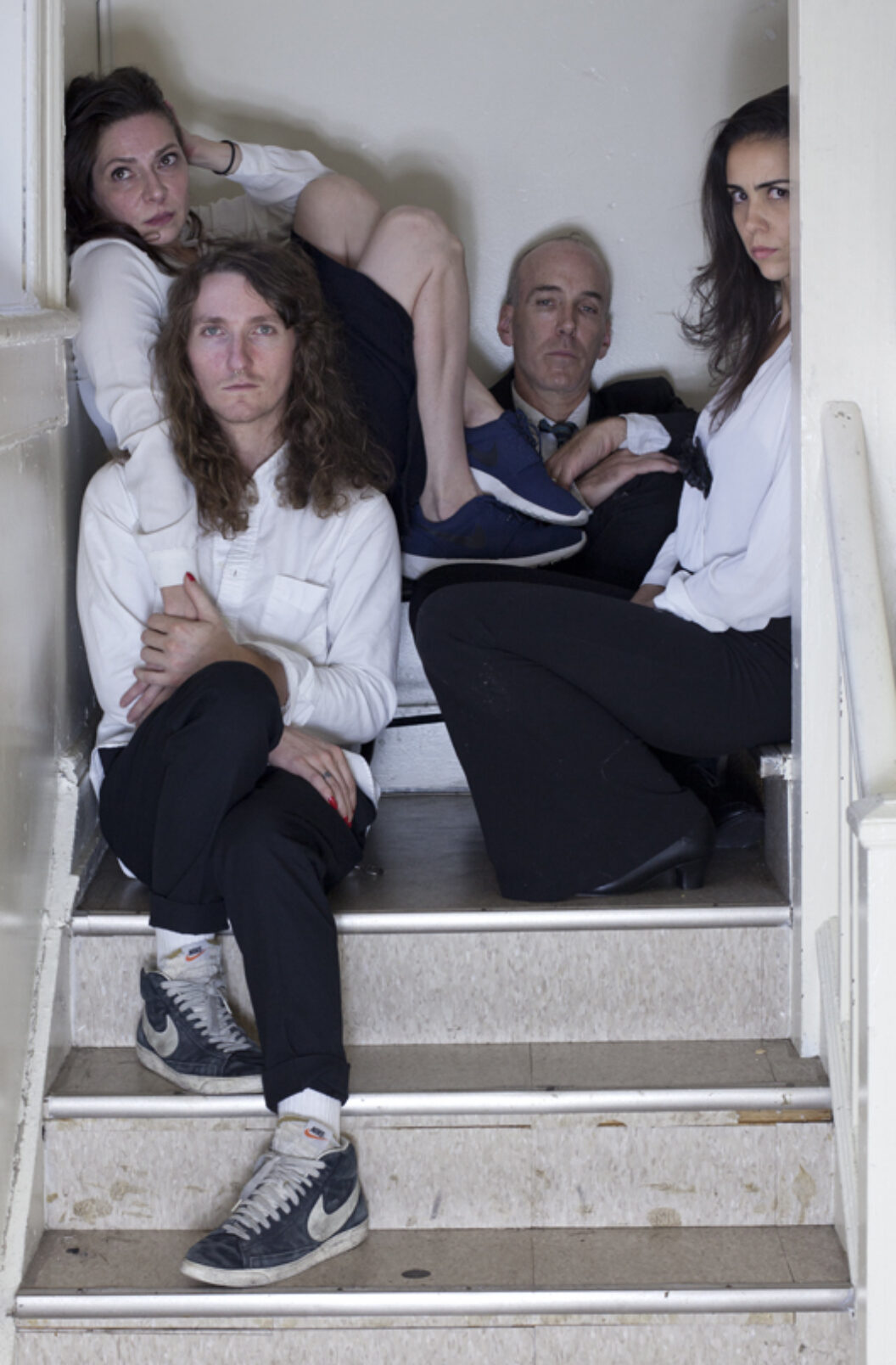 To preview four performances in October of The Magic Agency by the Brooklyn-based experimental theater company Lilac, Nova Benway, Executive Director of Triangle Arts Association, talks with Lilac's founder, Sean Lewis, who wrote and is directing the play.
—Alan Gilbert
SKUNK: [IN PORTUGUESE] Amazingly we find ourselves in these strange times from my country and my people we say hello we are coming to you NEW YORK CITY! No more will there be this great separation between high and low, between gnashing of teeth and ice cream I love you.
[COMING IN WHILE SKUNK ADDRESSES AUDIENCE IS DOROTHY AND JAMES-JIM DRAGGING A HOODED-AND-BOUND SIMMS GOMEZ TO THE CHAIR ON THE PLATFORM.]
[DOROTHY, WHO HAS WALKED TO THE BACK OF THE ROOM TOWARDS THE WINDOWS OVERLOOKING THE STREET, JOINS IN.] DOROTHY/JAMES-JIM: We can gather anywhere … we can gather anywhere we can say … whatever we want we can say whatever we want …
JAMES-JIM: WELCOME! To the MAGIC AGENCY! The Mother of Science … We are all babes I'm filling in today for our disappeared colleague Robertson Jones, who vanished.
—From American Fly Chapter 1: The Magic Agency, 2017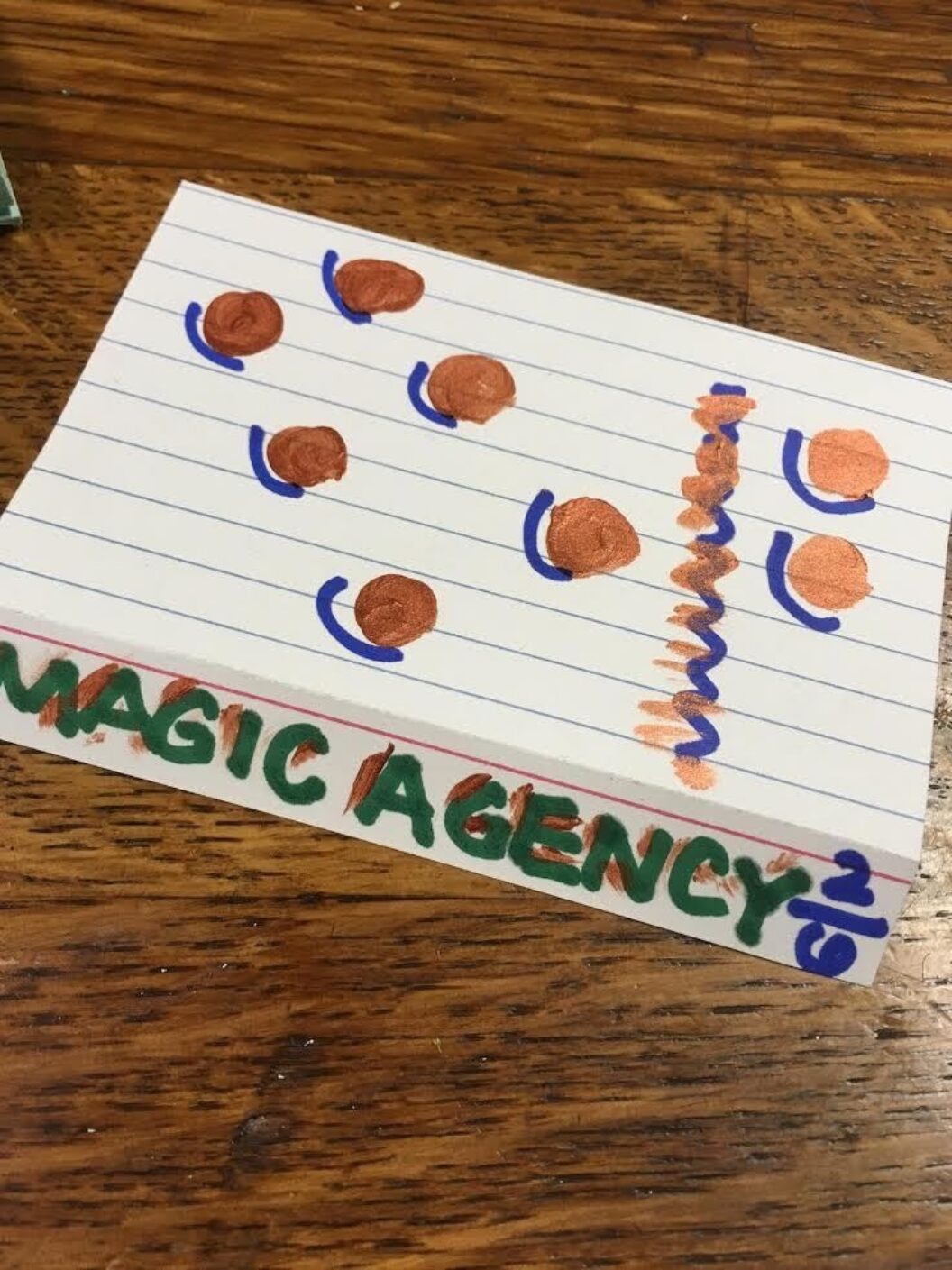 Nova Benway Talk about how The Magic Agency originated as an idea.
Sean Lewis I began reading Carl Jung last winter again, specifically, On The Nature of the Psyche. And it jumped out at me. I had spent much time in the past with Jung, but what happened this last winter and spring was specifically related to claims he makes about the unconscious. Basically, the argument is that we can't know anything. That everything has unconscious content, and therefore everything is in one way or another unknown. That the looks we get at reality are really only guesses, as the very nature of the unconscious is that it is unknowable.
This jammed with my love of sci-fi, and with my interest in reverie and daydream. I started writing a story about a group of people experiencing self-fragmentation due to unknown psychic events, and the Magic Agency was there to help them get unfragmented and to heal.
Then recently I was describing this to a healer, who I met when I was attending my grandmother's funeral in Trinity County, California, near where I grew up, and she lights up. Yes! That's really needed! I have a Navajo friend, she says, who was deeply fragmented, so members of the tribe NAILED his feet to the floor, so he was forced to stand in himself! This blew me away. A few days later I had dinner on her farm with her and her husband—a farm they had lived on and worked continuously since 1973—and we talked about all kinds of things. My connection with this woman, Susan Bower, about the unseen and the unknown, combined with my reading of Jung, led to The Magic Agency.
NB How does staging begin for you?
SL Staging depends on the particular demands of a given performance. Lately we've been staging much quicker, and the results seem to be positive. We're using a "bad TV" metaphor to light the fire under our process in terms of being quicker and also to take the stigma out of doing the next great play. It's just TV for God's sakes. But we do take our time also. And have had a sort-of specific process around the actors learning the text and getting the words and "character" into the body. We use a clock and sing and dance for each other in a round-robin. So we are also being an audience for each other. Anything goes here with the principles of not shaping, of letting things happen, and of listening to the room being primary—an outward focus, versus an inward focus on feelings. This could also involve pairing or working in groups, music, costumes, set pieces, etc. The hope here is that "staging" will be informed by the personalities to perform it and from the writing, versus being dominated by a concept imposed on the group. In truth you just do what makes sense, and you do what you have to based on the time you have. But I have had thirty-day processes and rehearsals where we didn't stage until three days before showing; specifically I am thinking of Macbeth Family Reconciliation Process, a piece we did in summer 2011. That was also an ensemble of seven performers, like The Magic Agency, and we needed to take a lot of time letting the particular energy of the ensemble develop.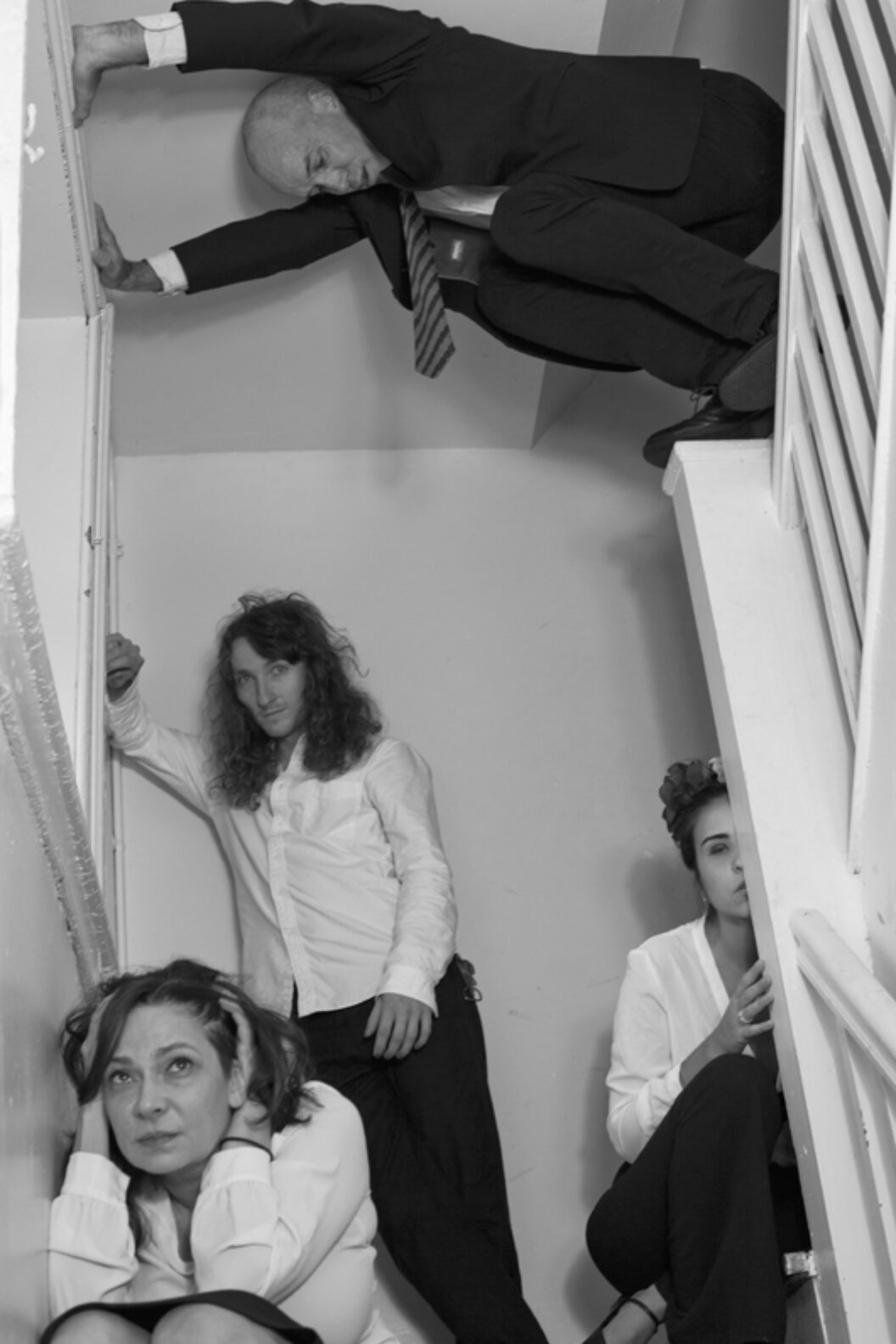 NB Do you have different ways of shaping the writing with different actors?
SL I have always tried to write for the specific people I am working with. But this is difficult to do in every circumstance. I like to spend time with the performers outside rehearsal and hear them share stories and see them in different contexts. We are always making food at rehearsals and eating together. For The Magic Agency, when we began last spring in the first iteration of the piece, I was working with two actors I had known for twenty-five years. So their voices and who they are (at least in my mind) had a very strong image. But as we have moved along, the parts have changed, and I am working with some performers now that I have known only for a short time, so you have to roll the dice and try and do the best you can. There are also a few in the group for the Triangle showing that I have known for a long time. Hillary Spector, for instance, I have known for over a decade, but she is going to work with us here for the first time. My partner, Claire Campbell, has been in all the works of Lilac for the last three years. So I guess it's a combination of writing for the image in my mind I have of someone, and then getting in the room with them, and on the floor, and letting the writing change based on what they bring.
NB Your writing contains very little sense of narrative or plot. How do you know it needs to be a performance? What puts this writing in the context of theater?
SL This is an ongoing question. The short answer is, it is a play because we are calling it one. And this is a cup. And this is a chair. Etc. And it has characters, and we are doing it on a stage, and we invite an audience whom we require to buy a ticket (versus the free showings, gallery style). When I did the Gertrude Stein piece in 2006 and 2007, and staged ROOMS from Tender Buttons in its entirety and in order, I was asked by a dear friend, "Isn't it arbitrary? Isn't this just an excuse?" In the moment I was bit defensive, but over the years I have let that question bounce around. Maybe it is arbitrary. Maybe it is just an excuse—to do what I want how I want. But my background is in the theater. I did community theater, and college theater, and theater in bars in small towns for years before coming to New York. And I studied theater at CalArts. So I have carried around a feeling that, well, this is theater, that is where I come from. But I am okay with an audience seeing the work in the way that they see it. And that the work can function in a variety of ways and contexts to me is exciting.
NB Why do this piece at Triangle? As you've conceptualized it, how has the space shaped your ideas?
SL I think the room at Triangle is fantastic. And I really like that it is in Dumbo, in historical old Brooklyn, and that it sits so near water. Hopefully we can activate the site as a pop-up location for our group that, in our fiction, roams from city to city as the wind blows—doing these happenings, always looking to grow and find new initiates. It's also this deep space metaphor that sees the unconscious as an endless infinity of exploration that calls upon our deepest resources and courage to continually expand its edges. It's a bit of a modernist perspective, I guess, that sees change as possible and necessary. Triangle seems very supportive of these points of view. And in terms of the "deep space as unconscious" metaphor, well, I am a late comer to Star Trek! The room at Triangle seems like wide-open new ground. I love the glass doors that look out onto the hallway and that you can hear the street when you open the window. This is going to be the third room we have done the work in since last June, so we are already experiencing this psychic-nomad quality.
Performances of The Magic Agency take place in New York City on Friday, October 6; Saturday, October 7; Friday October 27; and Saturday, October 28. Tickets available here