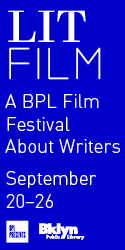 I don't remember exactly when I wrote "George
    Washington."
I'm sure it was in the spring of 2013 traveling
Greyhound upstate to visit Joe and his newborn.
The poem flowed haphazardly then, breaking down
the page in random lines. After a few months' time
it slowly boiled over, the fat hissing into couplets.
I lived on 7th Street between 1st and 2nd then.
I remember wanting to write "George Washington"
    earlier,
one inspiration the night Geoffrey and Simone
and Ariana came over to my place while it rained
more than it had the entire summer. Ariana said how
she'd wanted to title a poem "George Washington
    Slept Here."
My unconscious must have fitfully filed that away
yet often I have no idea why poems or titles
prompt themselves with certain irrepressible urgings
years later. Perhaps I wrote the poem recalling
the time when viral videos first became a thing:
Washington, Washington, six-foot-eight weighs a fucking ton,
opponents beware, he's coming, he's coming… etc.
I hated that video. YouTube launched somewhere
in San Mateo, CA—2006?—I can't be sure when.
I see George Washington was uploaded January 2008
the year I moved back to Boston. I had left in 2005.
Still, I can't remember 2008 or 2013 that well.
My family's house burned down that February
the same one I resumed smoking after someone
I'd been long-distance dating decided to end things
by seeing their on/off-again boyfriend once again
claiming they'd both live together in Miami or
Las Vegas. I can't recall which tacky city. I met him
in Binghamton as well, like my friend Joe who I was
coming from when I wrote "George Washington."
When my book came out Joe brought me up
a few months later. There I'd meet another boy
from Binghamton whom later I had convinced
"George Washington" was written just for him
though I did edit in "Long Island" after meeting him.
I see now I must've written it in April. The bus
wasn't Greyhound. That so few of the particulars
in my mind aren't interchangeable somehow proves
poetry is memory. Have you read "George Washington"?
It was published in Poetry with two other poems.
One written after my dad died, the other for some boy.
Poetry is a kind of nullity. For a long time, I thought
I'd call my next book George Washington so I began
reading a bio about him, a pretty unknowable guy.
I typed up applications with "forthcoming collection
entitled George Washington," writing things like: "I see
this spontaneous subject matter represented something
internal and personal through the guise of an aloof
father figure. The Founding Father, in fact. One
reader cued me to something more abstract: 'Americana,'
its symbols transformed through 21st-century idioms.
From Whitman and the Mississippi to shopping malls
and the inhuman quantum physics of the internet.
Part of what I've been exploring is how estranging
these ubiquitous, half-forgotten tokens are today."
I went months and years not speaking to the boys
I've been referring to but they resurface sometimes.
I try to write a poem without a single metaphor in it.
Out of this combination of aloneness and experience
are I guess nervous creations I identify chiefly with.
Are you willing to ride with me the time I wrote
"George Washington," speed ahead with me to when
(last September) I finally had it in shape, I mean my
poem. Lines fell away. I wonder how long I'll live,
how the rest will be like, I mean the rest of the poem.
On Wikipedia I look up stuff about photography.
I learn that hyperfocal distance is the length beyond
which objects turn sharp, lens focused at infinity.
Grief and desire are just two of the key themes in
"George Washington"; both bend upon unknowing
as when you learn more about George Washington
you see his teeth weren't wood but pulled from slaves—
that sentiment betrays as soon as it brings anything into
acceptable focus. That doesn't bode too well for
knowing either. Grief: knowing. Desire: unknowing.
And both—midnight uprisals that I know very well.
I'm not sure now which is the elegy, which the love poem,
but I'd like my focus to be a type of distance I suppose.
Adam Fitzgerald, a contributing editor for Literary Hub, is the author of The Late Parade and directs The Home School. He teaches at NYU and Rutgers and lives in New York City.
Originally published in
Featuring interviews with Jem Cohen, Tom Burr, Maylis de Karengal, Portia Zvavahera, SO - IL, Sarah Ruden, Michael St. John, Stephen Collier, Mayo Thompson.