A New North Star: George Ferrandi's Jump!Star by Jasmine Dreame Wagner
Designing public rituals to commemorate the North Star's eventual transition.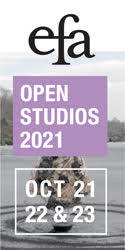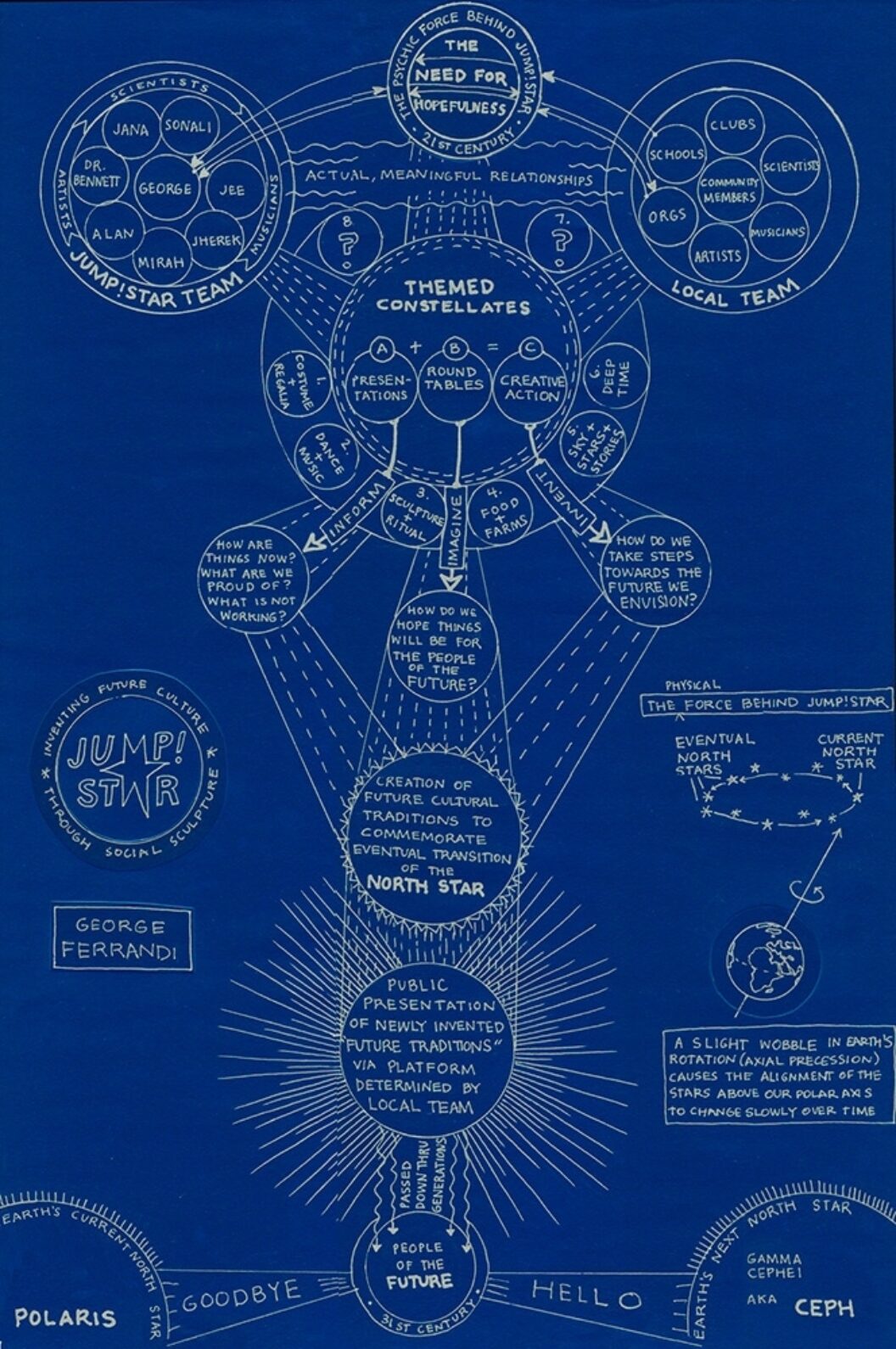 The second in a four-part series on artists confronting the pandemic.​
George Ferrandi has made her home in northern cities for most of her life. Thriving on an urban pulse, creating and organizing under a lid of atmospheric noise and haze of ambient light, the Baltimore-raised, Brooklyn-based artist and gallery director had not witnessed the profound depth of the night sky, the glittering backbone of the Milky Way, until she visited a cabin in the western Catskills.
Astonished by the starscape and by the thrill of communal stargazing, Ferrandi bought a copy of The Stars: A New Way to See Them, a pictorial guide to the constellations written and illustrated by Hans Augusto and Margret Waldstein Rey, authors of Curious George. When The Stars was published in the mid-twentieth century, the book contributed to a rising interest in amateur astronomy; families began to purchase consumer telescopes and peer through their lenses at the Big Dipper. The Reys' texts and illustrations not only influenced how constellations became known and graphically represented in pop culture, they introduced the concept of a shared galaxy, a common universe, to a general audience. The world was suddenly a bigger place.
In The Stars, the Reys also diagram axial precession, the process by which a gravity-induced wobble in the Earth's rotation causes the star fixed above the Earth's north polar axis to change gradually over millennia. Earth will wobble like a slowly spinning top until Polaris slips from its northern spotlight and the planet's rotational axis aligns with a new North Star.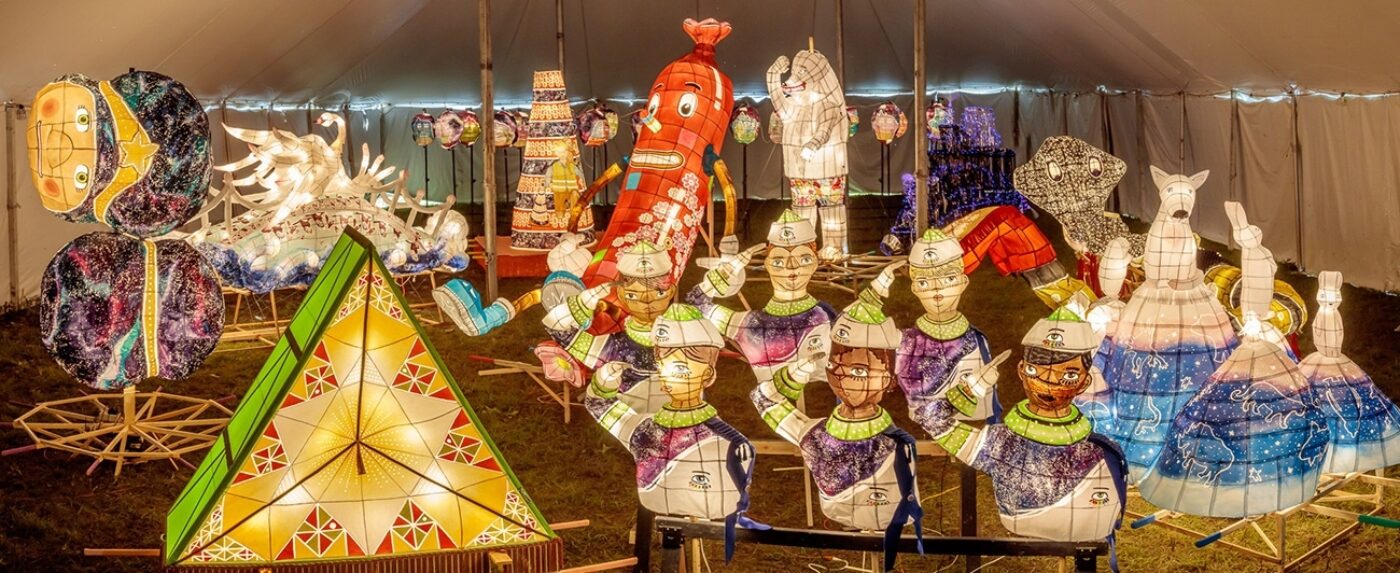 "In our cultural imagination, the North Star plays the role of the singular thing that we can count on to always be in the same place," Ferrandi says. "It's been our literal and figurative guiding light for centuries, leading ships to shore, leading enslaved people to freedom along the Underground Railroad. How profoundly poetic to discover that, like everything in our bodies, our lives, our worlds, even the North Star changes."
As Ferrandi studied The Stars's texts and illustrations, she realized that her art practice needed to adjust its framework to fit her expanding concept of the universe. She deepened her research, named her current initiative Jump!Star in honor of astronomer Annie Jump Cannon (the Deaf American scientist who established the contemporary star classification system), and proceeded to orchestrate a series of socially engaged, science-centered arts projects that use cultural imagination as raw material.
Jump!Star unites communities, scientists, and artists in researching and ritualizing how future generations might celebrate the end of Polaris's reign while greeting Earth's next pole star, Gamma Cephei, with a sense of connection that mends divides. In Wichita, Kansas, Ferrandi and a cast of collaborators, including artist Alan Calpe, choreographer Cheyla Clawson Chandler, musician and visual artist Jee Young Sim, ethnomusicologist Dina Bennett, and musicians and composers Mirah and Jherek Bischoff, partnered with Harvester Arts to develop workshops called "Constellates" that engaged rural and urban communities across the state. Supported by an NEA Our Town grant, participants collaborated with climatologists, astrophysicists, regional chefs, and other artists in designing public rituals to commemorate the North Star's eventual transition. Jump!Star hosted Constellate workshops and events dedicated to dance, food, regalia, ritual objects, and the concept of deep time, an understanding of temporality oriented around geologic history. Ferrandi employs the philosophy of deep time in order to oppose the accelerating, stuttering time palpably felt and obsessively tracked by humans under the pressures of capitalism, as well as the experience of time evoked by gravestones and memorials, markers whose elemental and mineral materials testify to the limited range of human history on Earth.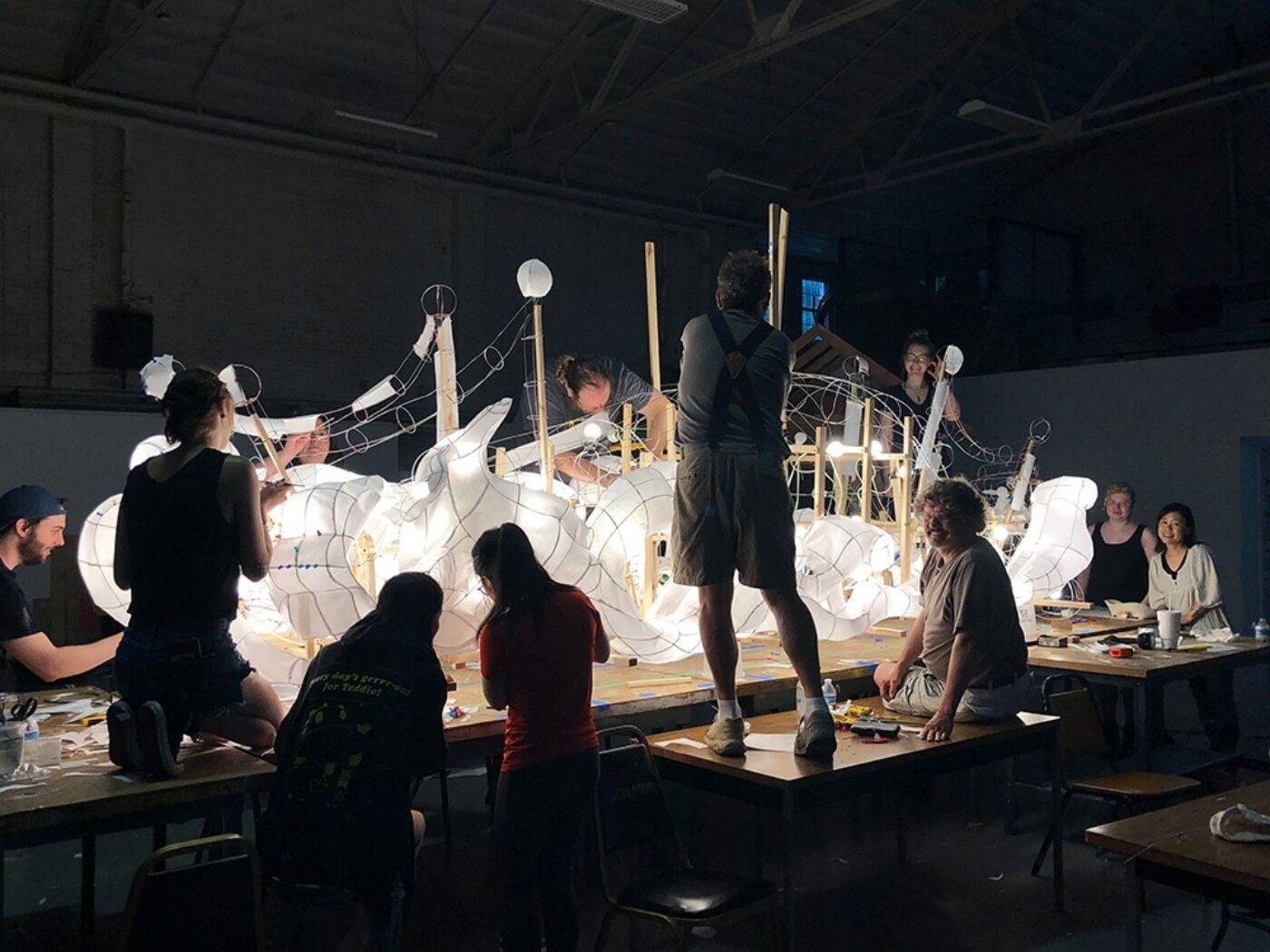 Ferrandi refers to adrienne maree brown, author of Emergent Strategy: Shaping Change, Changing Worlds, as she emphasizes how humans living on Earth right now are surviving the imaginations of earlier humans who prioritized profitability over everything else. "Long-term thinking and equitable inclusivity are antidotes to the short-term interests of our current oligarchy," Ferrandi says. "With Jump!Star, the transition of our North Star acts as an anchoring locus for thinking about the people of the future and how the actions we take and choices we make now will impact the physical and social world they'll inherit from us."

"The hope is to encourage the claiming of agency and responsibility in shaping the future. With the planetary challenges humans will face in the coming centuries, surviving to welcome the next North Star will be a cause for celebration," Ferrandi continues. "What would a celebration of that significance look like? Who will plan it? When will they start? What if we were to start now?"
Jump!Star is working with Brunnenpassage, a Viennese organization dedicated to socially engaged work, on the next Constellate: Listening Out Loud and Dreaming Wildly. The partners were in the process of convening Austrian residents with presenters when the COVID-19 crisis moved people indoors. In response, Jump!Star has hosted Listening Out Loud sessions on Zoom. These gatherings function as public holding places for processing the historical moment. Recordings will be archived by the Museum of Ethnology in Vienna.
Jump!Star is hosting Listening Out Loud and Dreaming Wildly sessions on Zoom through May 3.
Jasmine Dreame Wagner is a writer, artist, and musician. She is the author of the collections On a Clear Day (Ahsahta Press, 2017) and Rings, and six chapbooks.