Discover MFA Programs in Art and Writing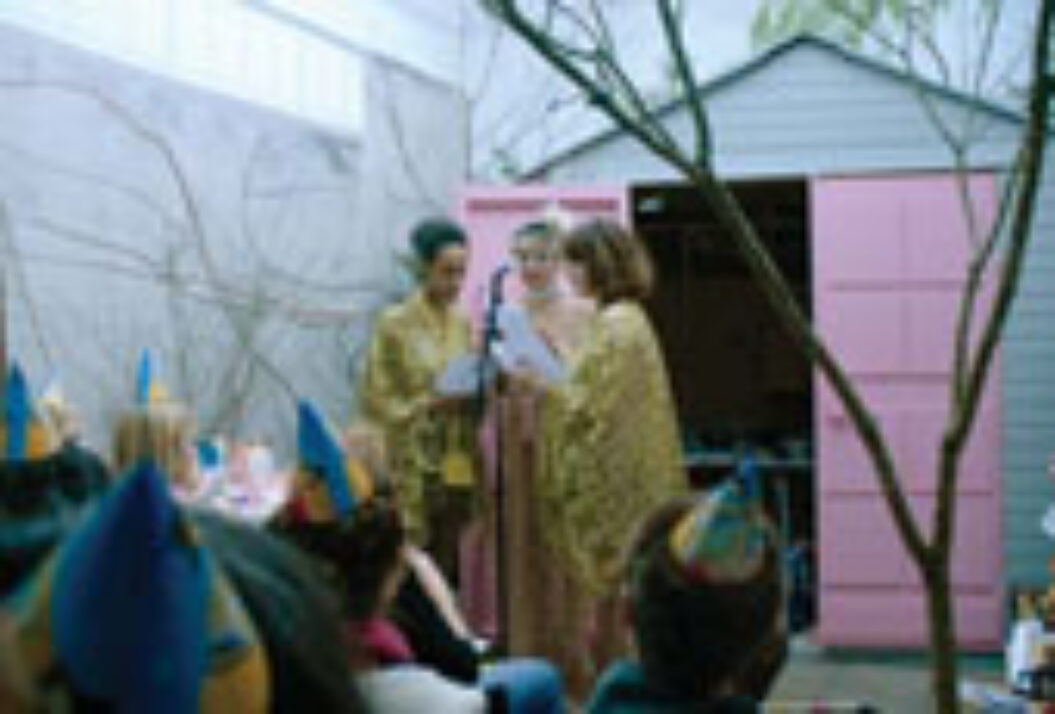 One of the most difficult parts about moving to New York City is finding a community. Brooklyn coffee shops and music venues swarm with artists, but finding a way into their cliques can be daunting. Genevieve Belleveau's performance series Church of gorgeousTaps and the Reality Show is her answer to this dilemma. While drawing inspiration from her Lutheran upbringing and the churchlike ritual of AA Meetings, she created a secular Sunday afternoon sanctuary in her Brooklyn backyard. Part salon, part group-therapy session, part house party, Belleveau invited local artists to perform or simply discuss whatever irked or delighted them in a setting distinct from a church, an office, or a bar. Her flock was the Reality Show element, the foil for psychedelic sermons that Belleveau conducted as a performance persona/alter-ego, the wannabe pop-star sage gorgeousTaps.

Curators from Lilith Performance Studios in Malmö, Sweden, happened to attend one of these services and invited Belleveau to recreate her apartment and backyard there. Her week of services focused around themes she confronts within her own work, such as catharsis and fame, and familiar ailments of the Brooklyn condition: ennui, narcissism, irony. By the end of the week, an altar teemed with framed photos, sealing wax, and other offerings that parishioners left per gorgeousTaps' direction. In one of the final services, a choir sang Simon & Garfunkel's "Bridge Over Troubled Water" while a tattoo artist inked a man's chest with an image of a rope bridge.
These services use gimmickry as obsessive detail (and this is what saves them from kitsch): the lovingly assembled clip-art-laden programs, the themed sacraments (Red Bull and goji berries for the Fame service), the original church hymns, and gorgeousTaps herself, whose costumes (hand-made boas of strung-together McDonald's toys or six-inch clear plastic stripper heels) make Lady Gaga look like Mandy Moore. In one of her boldest moves, cementing her community-seeking goals, Belleveau conducted an open casting call for her Swedish participants and invented ways to use each in a service, no matter whether they wanted to play dead or deliver a lecture on releasing one's inner bimbo.
Now returned to Brooklyn, Belleveau is taking a page from the preachers and pundits of talk-radio fame, and has extended her sphere of influence to the Internet radio station Newtown Radio. Listeners can participate in her services via live Facebook chat.
The Church of gorgeousTaps is broadcast live on www.newtownradio.com from 7–9 pm on Wednesday evenings.
Originally published in
Featuring interviews with Dan Asher, Elizabeth Streb and A.M Homes, Jessica Jackson Hutchins, Alain Mabanckou, Jennifer Egan, Edward Droste, Cynthia Hopkins, and Joan Jonas.