Generating Friction: Jamie Crewe Interviewed by Caroline Elbaor
Depicting the complicated, conflicting, and ambivalent parts of transgender experience.

Discover MFA Programs in Art and Writing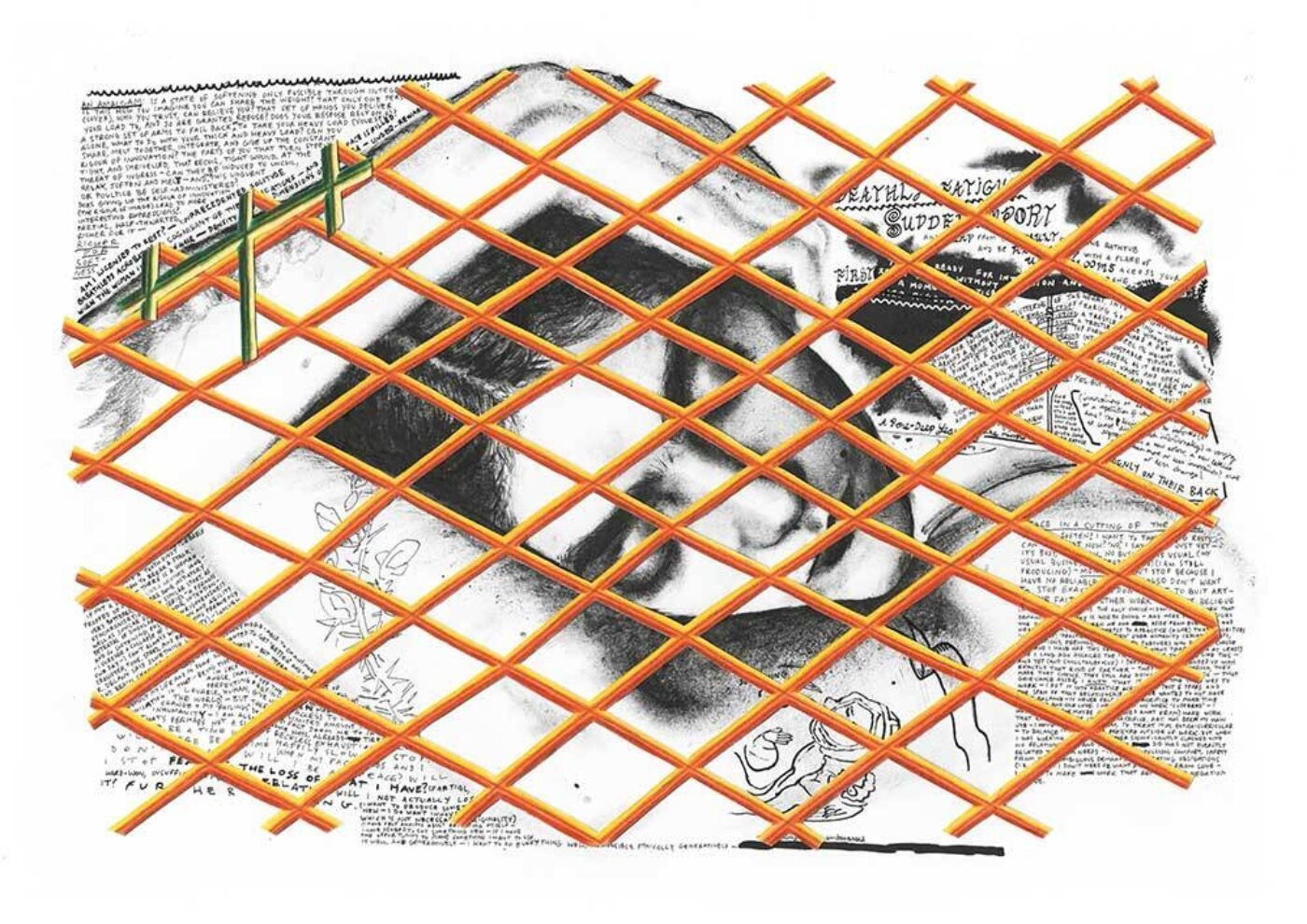 Glasgow-based artist Jamie Crewe is a self-dubbed "artist, singer, and vicious changeling." This description is apt for the work itself which not only defies categorization for its varied use of media, but its subject matter also explores the friction that exists between seemingly concrete binaries. Crewe, who is transgender and uses "they/them" pronouns, draws upon myth and time-honored pieces of literature, film, and theater to think about contemporary questions of gender and trans issues, including trauma and horror.
In recent years, they have garnered critical acclaim after exhibiting extensively across the United Kingdom, including winning one of the ten Tate bursaries awarded from Tate Britain in lieu of the 2020 Turner Prize, as well as the 2019/20 Margaret Tait Award. Crewe and I spoke about their participation in the British Art Show 9, a multi-venue group exhibition.
—Caroline Elbaor
Caroline Elbaor Given that each of your recent shows consists of new work, your process seems to be intense considering this prolific output of new material within a tight timeframe.
Jamie Crewe It's interesting! I've never thought about the word "prolific" in relationship to myself. In 2015, after moving to Glasgow and studying for my Masters in Fine Art, I got my last rejection letter from an admin job just as I also got an email from Transmission in Glasgow asking if I'd like to do their 2016 Scottish Solo Show. I was really moved by this as it would be my first solo show, and I'd pretty much resigned myself to the possibility of that never happening, as it never had through the six years since I graduated with my BA.
If I have been prolific since 2015, it's been because of a combination of privileges, opportunities, and choices of priority. I think my ways of working, though they've developed over the years, are not that different from when I was in Sheffield making music and art mostly for myself.
I'm very project-based. I like a brief to work in as much as I like a genre to work in, and I thrive in constriction, meaning that I get excited by working within a tradition, a history, or a genre. Aiming for "originality" has never really done anything for me, but I love finding an existing cultural product that I can squat in like a tick, following its rules and possibly poisoning it.
That works well for solo shows, for which I usually find a central or originating idea and expand outward in various ways. I work in sketchbooks constantly, developing ideas. Once I have the shape of a work, or of the tension between works, I get excited, and I start making it real, first by thinking through its implications, ethics, and contradictions. A lot can change over the course of development, but I need that initial image of a finished thing to get me started. This excitement is what keeps me making new bodies of work.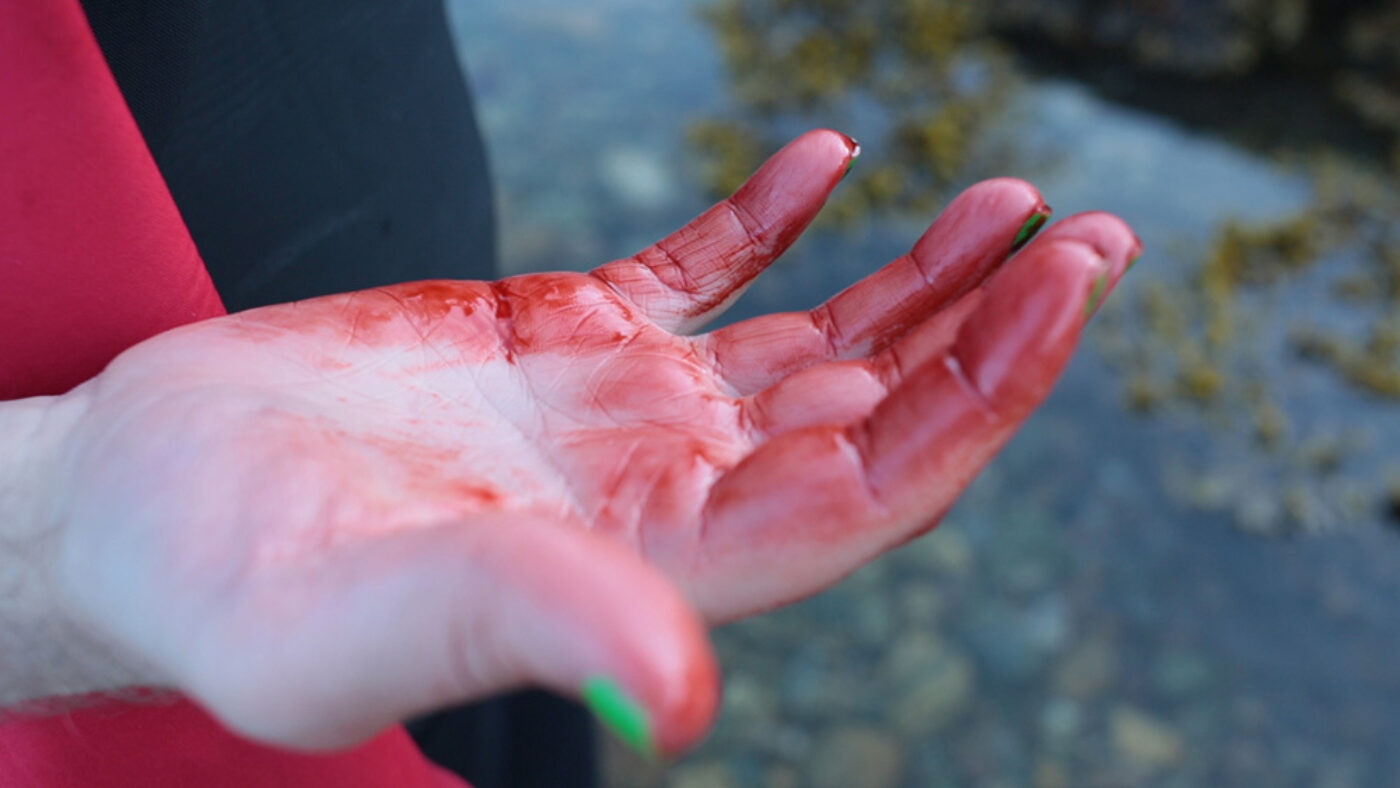 CE On that note, what can viewers expect to see in British Art Show 9?
JC That said, I won't be doing new work for BAS9! That's partly a matter of resources, but also because BAS9 feels like a different context. It's a kind of survey show, so it feels appropriate to re-present work from the period it surveys. I also like very much that it's taking place simultaneously in Wolverhampton, Aberdeen, Plymouth, and Manchester, which are all places I've not shown work before. I'll be showing parts of the work developed for my shows in Birmingham and Hull: The videos "Morton" — "Beedles" — "An abyss" (2020) and "The Ideal Bar" — "Le Narcisse" — "Alec's" (2020), which play side by side, and seventeen fired-clay slabs whose creation is documented in "Morton" — "Beedles" — "An abyss." There will also be screenings of Ashley (2020) as part of the BAS9 screening room program.
CE Let's expand on Ashley. It's categorized as a horror film, and the element of horror is a well-known characteristic associated with your work overall. I'm interested in how, for you, this "horror" functions in relation to the subject of trauma, which you also raise throughout your work.
JC It's interesting to think about horror: what comes to mind is that Ashley is explicitly a horror film, and that I remember describing Rachilde's novel Monsieur Vénus: A Materialist Novel (1884) as "a kind of decedent gender horror" on which I based my solo show Female Executioner (2017) at Gasworks in London. I also think about seeing Tanztheater Wuppertal perform Pina Bausch's Bluebeard (1977) at Sadler's Wells in February 2020, which was a birthday gift from my friends Ed and Robbie, including a stay with them in London, and one of the last things I did pre-COVID. I loved watching it, with all its horrible dynamics and intimations, with its cast of Women (long hair, slips piled and tossed around the stage) and Men (short hair, suits and speedos, slamming themselves into walls). When we left the theater I described it as "heterosexuality as gore." My sense of gore here feels very close to what I like about horror: I'm fascinated and appalled by what you dared to peel open, and what you decided to revel in.
There's a connection with trauma here, indeed. Horror as a cinematic genre relies on an experience of ordeal. In no other genre is staying still and watching made so bodily and difficult (except maybe formalist film, and even then it's a different challenge). To broaden this out: witnessing things can be traumatic, and an inability to flee can be what turns an unpleasant encounter into a trauma. I think, in Ashley and in my life, menace is not the primary way trauma is felt; it occurs more frequently in blankness, inexplicable gaps, wordlessness, and inaccessibility. For Ashley, painful things and terrifying encounters flare and then disappear; feelings crest and then disperse, with no insight or catharsis gained. There's a connection to psychological horror here (in which a woman might ask herself, "Did it really happen?" and the viewer might wonder that too) but also to Andrea Long Chu's "Study in Blue: trauma, affect, event" (2017): "In the traumatic episode or the microaggressive situation, something happens, but it might be nothing; or it might just be all in your head. The event withdraws, or collapses, and in its wake goes up a cloud of low-grade, ordinary affects: ache, disappointment, perplexity, a bad taste in your mouth."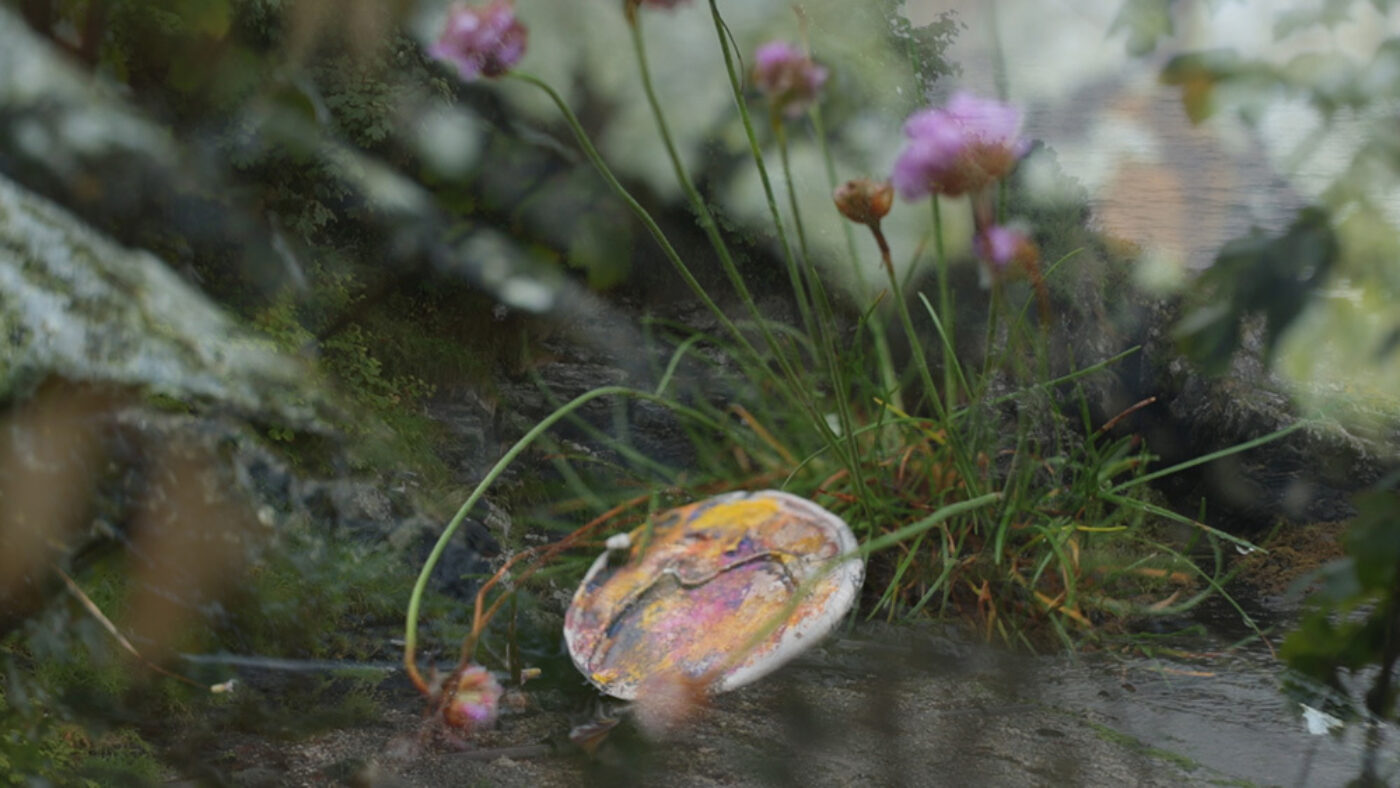 CE Trauma is at once universal yet painfully personal. Ashley is semi-autobiographical; you also described the film as being about "isolation." Yet I could counter that the film might combat a sense of isolation by providing a sense of community through shared experiences of trauma, depression, and self-doubt.
JC This also reflects the "isolation" I've described in the film. Being in a situation in which the degradation of your personhood is unacknowledged—where your pain is unseen or ignored—can leave you untethered, uncertain, and dismissive of yourself; that is, if no one acts like you're in pain, and no one accepts that they are hurting you, then maybe you're not, and maybe they're not. This is the position Ashley finds themself in with the haunting half-presences of people all around (drivers of cars with tinted windows, occupants of grand villas set back from the road, blithe voices and movement outside their cottage at night, possibly someone watching them from the headland) but nothing and no-one that can be communicated with.
You're right that the film itself, though, is communication: an attempt to talk candidly and thoughtfully about these messy states of being and so build some connection with a viewer. I thought about Torrey Peters's concept of "t4t writing" when developing Ashley: trans people writing primarily for trans people, and in doing so avoiding the reductions of legibility and respectability that a cis audience might demand and heading straight for the complicated, conflicting, and ambivalent parts of a trans experience, which are more interesting. I wanted to tell that kind of story; I was also aware that the opportunity, which came via the Margaret Tait Award and would be premiered at Glasgow Film Festival, would probably be my most public so far. I wanted to move in these two directions simultaneously: more widespread and accessible in form, and more uncompromisingly specific in content. There's friction in this, and I love friction. I think real empathy and connection are probably only possible with great friction; and, yes, that talking about isolation is one way to feel connected.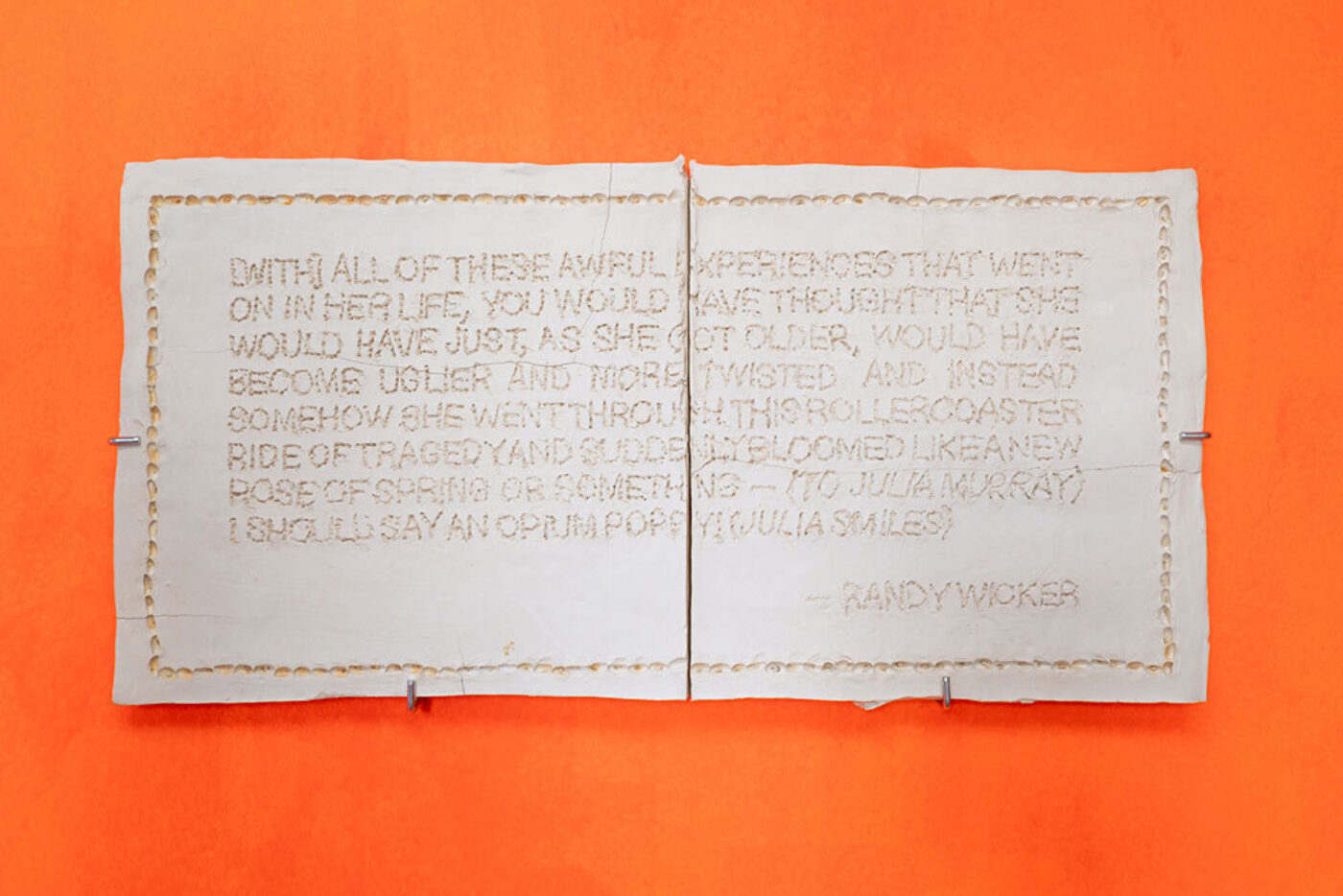 CE Can you elaborate on the roles of bodily state versus the mental state raised by Ashley's experience in the film, both as individual components as well as in relation to and with one another?
JC I think Ashley is a character whose body is very disconnected from their mind. At one point, following a scary but uncertain encounter, they even ask: "What was that? Was that my body or my mind?" (There is a third option, which they're not ready to consider: that it was neither, and someone is really antagonizing them.) To have a body that is detached from your mind is classically, almost reductively, a trans condition; it's also frequently a feature of trauma, where dislocation and dissociation become ways to cope with unbearable feelings.
In Ashley there is a sense that Ashley's body is out of their control; they don't feel things they should, and what they do feel is unprecedented and overwhelming. The same is true of their mind: what should upset them doesn't, but meanwhile somewhat innocuous things from the past lie on their brain and fry it like a damp dishcloth on a computer. The treatment I would suggest—and have attempted—for both conditions is connection, and reconnection, of the mind to the body. This is what Ashley gets close to in the final scenes of the film, driven by contrariness, if nothing else. Whether they achieve it, and whether the climax of the film represents their escape from the appetites of their antagonists or their capitulation to them, is an open topic.
Jamie Crewe's work can be seen in the Aberdeen, Scotland, venue for British Art Show 9 until October 10.
Caroline Elbaor is a writer and curator living in London.