Gender Dysphoria: Laurence Philomene Interviewed by Clara Lou
Identities, self-portraits, and fiction.

Discover MFA Programs in Art and Writing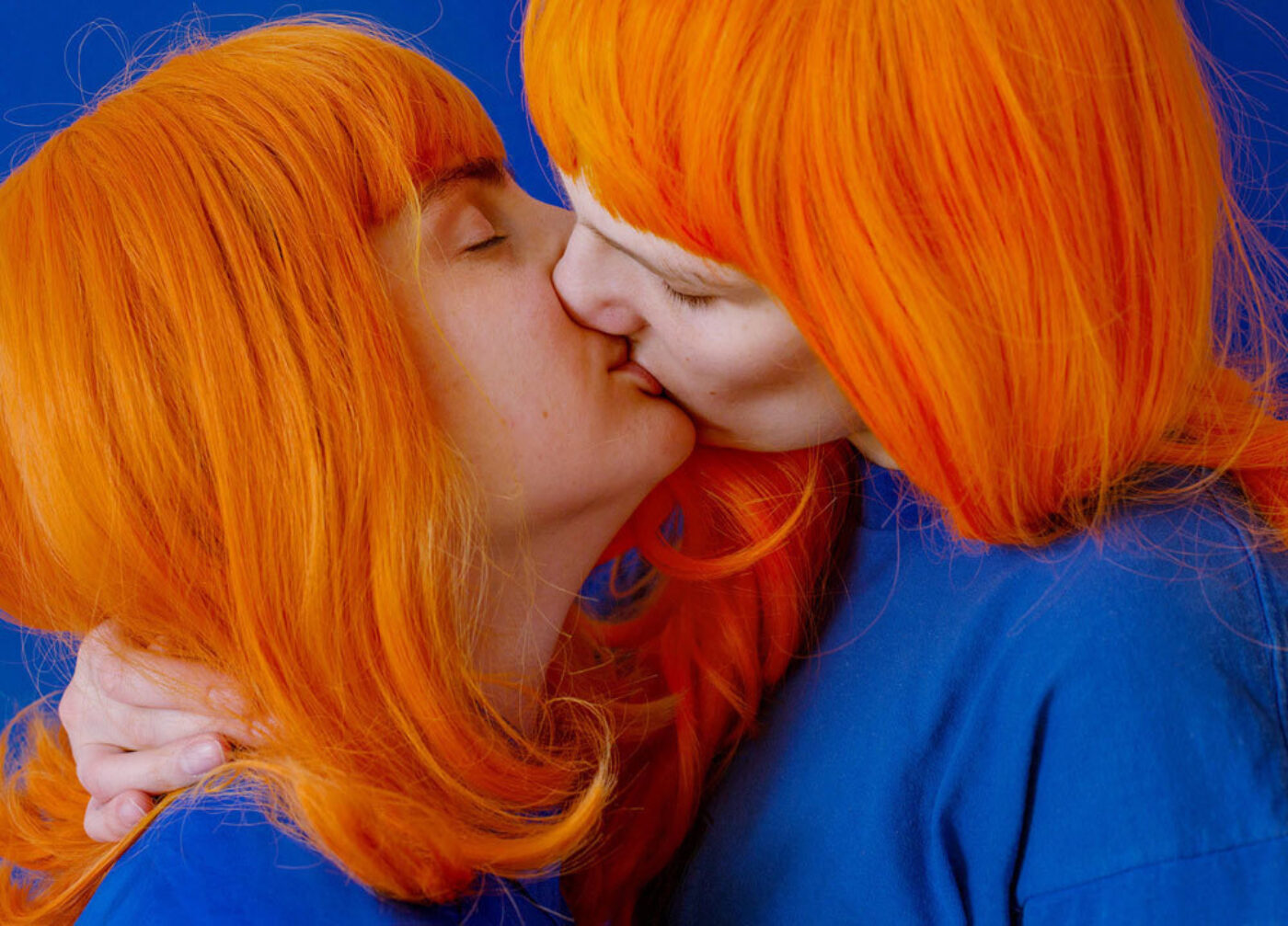 I knew of Laurence Philomene and their work long before I met them in real life. Having followed them for years on Tumblr, I was a fan of their diary photos, still lifes, and portraiture, which explored in pastel hues femininity, masculinity, and other varieties of gender expression. Laurence is part of a generation of photographers who grew up on Tumblr and Flickr, sharing ideas and images online. We met in person for the first time when my collaborator, Jasmin Risk, and I visited Laurence and their then-partner, Lucky Los Santos, in Montréal in the summer of 2013. Laurence lived in New York for a few months in 2014, during which time the four of us curated a show together. While Laurence lived in New York, I was fortunate enough to hang out with and be photographed by them regularly. Since then, our friendship is again one stretched across the continent, characterized by Skype calls and Instagram messages.
—Clara Lou
Clara Lou How did you get into photography?
Laurence Philomene I got my first camera when I was five years old. It was a plastic Rugrats-themed film point-and-shoot. I took some pictures around Paris, where my family was visiting, of some murals I liked and Niki de Saint Phalle sculptures. My dad also had a makeshift darkroom in our basement, so I'd spend some time in there printing black-and-white images with him as a kid. Growing up I suffered from a series of chronic illnesses and spent most of my childhood in and out of hospitals, so it was a pretty lonely time. Photography was something I could do to fill my alone time, and it quickly became my favorite hobby.
Around the age of thirteen or fourteen I got really into Blythe dolls. Blythe dolls were produced for one year in 1972 in the United States, but were deemed too scary for children, and they were taken off the shelves. A photographer named Gina Garan started collecting them at yard sales and photographing them, relaunching their popularity. There was a big community of Blythe collectors on Flickr around that time, 2007 through 2009 or so. I was fascinated by it all, so I started collecting them myself, photographing them and posting my images online. Playing with dolls for me was really about starting to figure out composition and color with extremely patient models. Dolls do pretty much whatever you want them to, but you have to take care of them, too. I'd bring my dolls and my camera to high school and just take pictures all day. Eventually I turned to self-portraiture, another good lonesome activity.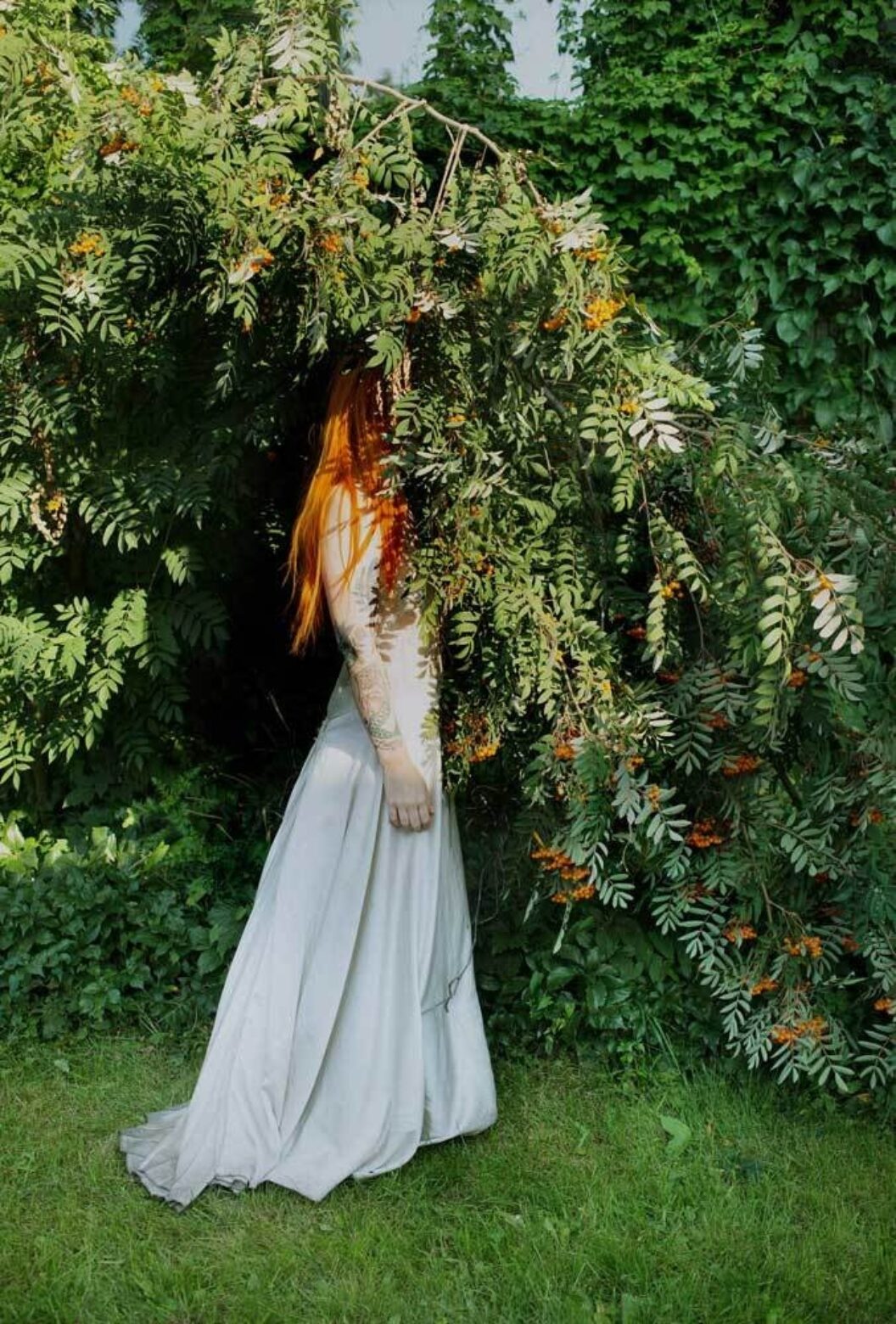 CL How did the Blythe doll portraits lead to your Feminine Identities series?
LP Feminine Identities is a series I worked on as part of my graduating portfolio when I was studying photography in college. The idea behind it was to explore my understanding of femininity and masculinity by projecting certain feminine archetypes onto friends of mine who presented in a masculine manner in their day-to-day life. I think a common misconception about the series is that it's documentary about the models' identity. In fact, it's entirely fictional, and it's entirely about me. It's almost a self-portrait series to me, about gender dysphoria and feeling extremely masculine but trying to embrace femininity within myself. Or trying to make sense of it.
My work in general poses more questions than it answers. At that point I was photographing people the same way I had been photographing dolls in the past: making them up as I wish, using very simple compositions, projecting my vision onto them. Since then I have moved to a different approach when working with models, especially when it comes to queer, trans, non-binary subjects. I want to make sure it's a collaborative effort and that the images I create with them uplift their sense of self. The last big series that I worked on was Non-Binary Portraits, which I started in 2016. The idea of it was to move away from using the people I was photographing as dolls to be posed, instead letting their stories shine through. I asked my friends who are non-binary to tell me about their ideal self, their best version of themself, their favorite way of presenting themself, and used that as a starting point for the photographs.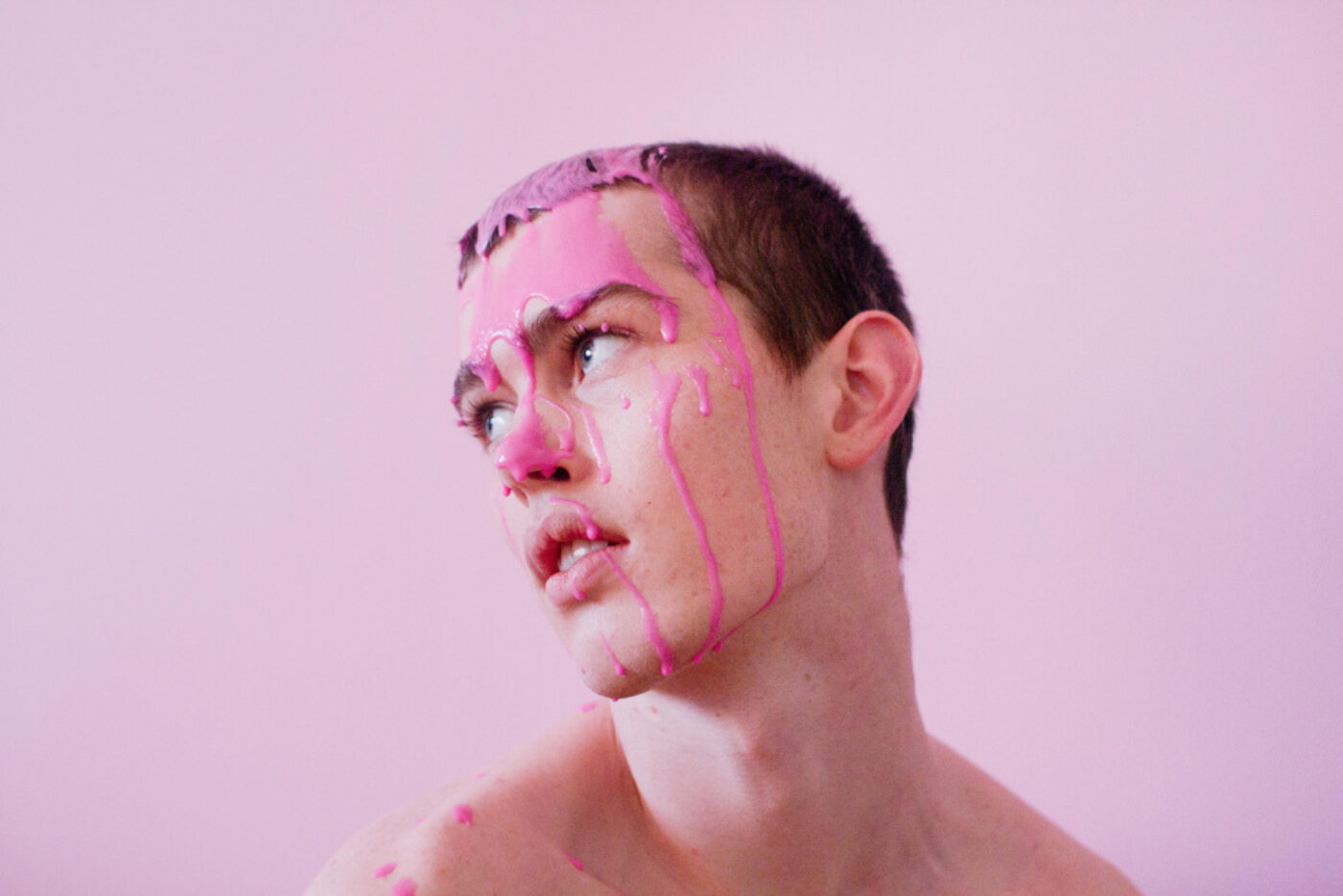 CL How did your Me vs Others series come about?
LP I started shooting Me vs Others in 2014, when I was receiving a lot of harassment from men online. It drove me into paranoia to a point where I didn't want to show myself online anymore, but I wanted to continue my self-portrait practice. I got this orange wig that looked like my hair, put it on my friend Edwin, and dressed him up in my pink tracksuit. Originally, the images acted as a sort of trompe l'oeil, hiding the models' faces so that the viewer could be tricked into thinking I was the one in the images. Eventually I started incorporating some elements of the people I was photographing into the series as well: their favorite color, straight-on portraits with the wig on, and so on. Originally the series was about trauma and trying to maintain a sense of identity, though over time it has become a sort of playground for me to try on different lives—oftentimes I'm photographing fellow artists I love and respect, or photographing this self in countries I'd like to live in. There is also a non-binary aspect to the series, constantly oscillating between assigned-male-at-birth and assigned-female-at-birth bodies, like the confusion in my mind of where I stand as a trans masculine person that doesn't "pass." Sometimes it's just about playing with colors and making something that makes me smile, though.
CL What's the relationship between the studio-based work you've just described and your diary documentation?
LP I don't know if this is a good thing or not, but my work is me, and there's no separation between the two. In that sense, studio work is documentation. To me, everything is diary and nothing is diary at the same time. Those are ideas that I've been working on for years—trying to find that sweet balance of something that's real, but that's real to me. What I'm doing with my photos, especially the studio work, is building the life that I want. I'm showing this imagined life, but at the same time, it is what I do every day. It's that thin line between imagined and real life, and which is which.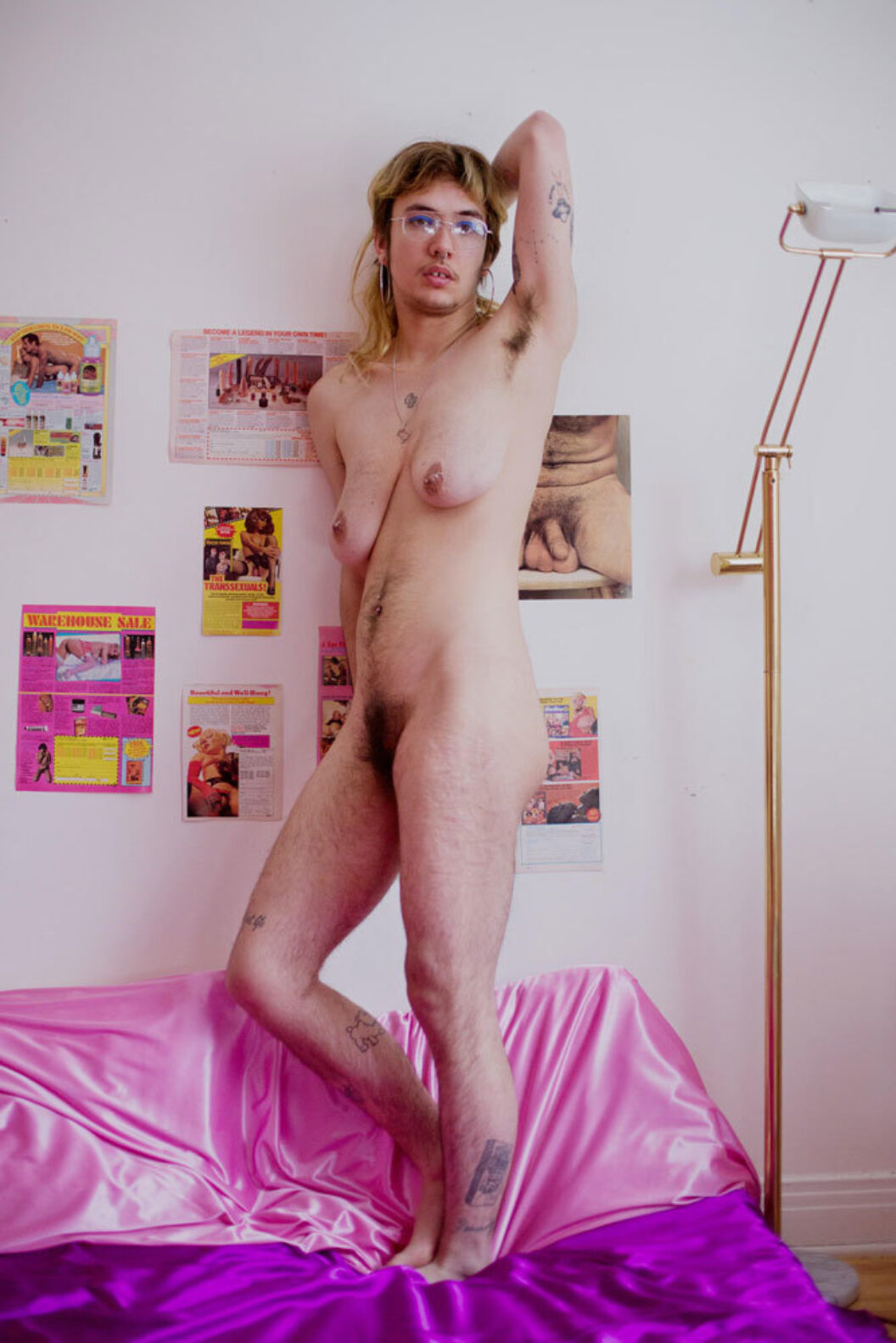 CL I know that lately you've been working on portraits of our friend Lucky. How did those emerge?
LP Yeah, that's what I'm working on now, portraits of my best friend and ex-lover. I started working on those as we started dating. It's a very compulsory thing for me to document everything in my life, so it was obvious that I would document them because they were a huge part of my life. Around 2013 or 2014, they started struggling with a lot of mental health issues, and I started documenting them more intently around that time. Something was happening, and I wanted to make sure there was proof of that. I started working on a book of all the images, and I came to the conclusion that the work wasn't ready yet, so I kept it quiet and deleted all the work from the series I had posted online, erasing any trace of it. But I kept photographing Lucky. They started transitioning, started using testosterone, and came to terms with their identity as an intersex person. There are all these layers of identity in them and also layers of relationships between us: we started as young lovers, then I turned into a caretaker, now we have a rapport as equals, as friends. The series is about photographing that journey. I think they're an extremely interesting person. I'm working on the series right now, and I'm hoping to release it when there's ten years of work. So that's my big project. I'm excited about it. I think it'll be something very important, but it's not quite ready yet.
Laurence Philomene: Me vs Others is on view at the Letter Bet Gallery in Montréal until November 27.
Clara Lou is an artist and critic. Her work has been presented at Motherbox Gallery, Recess, Dixon Place, the Silent Barn, and Puderraum, Berlin; and her critical writing has been published in Queen Mob's Teahouse, Lemon Hound, and Helix.