"There's the scientific and mathematical—how stuff is—and there's the prosaic, the poetic—how people are."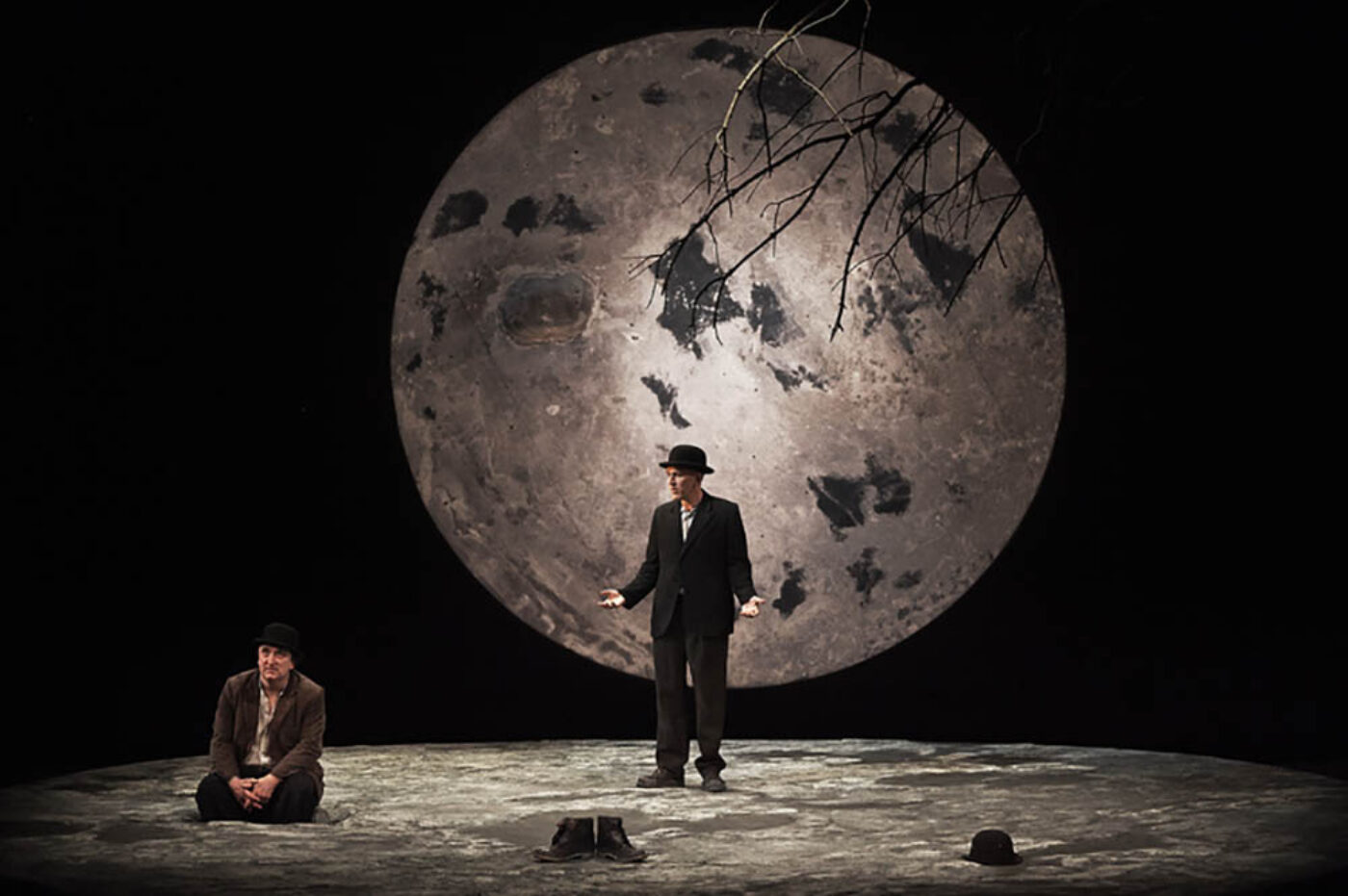 There is a Samuel Beckett season nearly upon us, thanks to a small theater company that is slowly building an unprecedented repertory of his works. The company's founders are Conor Lovett and Judy Hegarty Lovett, both natives of Cork, Ireland. A French name for their company seems particularly apt in light of Beckett's bilingual prowess as playwright, poet, and prose writer. Gare St. Lazare Ireland will perform Waiting for Godot at the Skirball Theater at NYU this week. They're also part of Lincoln Center's White Light Festival, with their performance of the short story "The End" (written in 1946) over two nights, followed by three evenings of Beckett texts and original music, Here All Night. I spoke to Conor Lovett during a break from Godot rehearsals, about these New York programs, their ambitions with respect to the Beckett canon, and the challenges and delights of working through some famously difficult texts.
It must be said that Godot is now in its seventh decade. Written in 1948, in French, it was first performed in Paris in 1953, in English in London in 1955, and then in the US a year later. It was a sensation in Paris and a scandal in London—for a week, until rave reviews from both Kenneth Tynan and Harold Hobson made Godot the hottest ticket in town. In the US, it received an inglorious premiere at the Coconut Grove Playhouse in Miami, with an exceedingly Vaudevillian touch (Bert Lahr as Estragon), but found a solid footing on Broadway a year later (with a much better Lahr). Thereafter, this simple yet confounding play has endured all manner of approaches—as a celebrity vehicle (of late, Robin Williams, Steve Martin, John Goodman, Nathan Lane, Ian McKellen, and Patrick Stewart); as a political play (Paul Chan's New Orleans production, post-Katrina, not to mention Susan Sontag's production in Sarajevo in the 1990s); and the radical interventions of director Andre Gregory in New York and JoAnne Akalaitis in Boston, which drew protests from Beckett. Indeed, in his lifetime, Beckett grew weary of producers' (perhaps understandable) attempts to bankroll big names into yet another Godot. After watching a futile pursuit of the all-too-busy Alec Guinness and Sir Ralph Richardson, Beckett wrote in a letter, "… to hell with the stars. If the play can't get over with ordinarily competent producing and playing, then it's not worth doing at all."
If Beckett preferred a purist approach to Waiting for Godot, chances are strong he'd approve of the Lovetts' approach, which is based on an understanding of the play as "a choreography performed to the music of the text."
Michael Coffey How much of the Beckett canon have you done in performance?
Conor Lovett To date we've done seventeen Beckett titles: all six radio plays, Waiting for Godot, Rockaby, A Piece of Monologue, and then everything else we've done is prose—from the trilogy, that is, selections from Molloy, Malone Dies, and The Unnamable; Texts for Nothing, three of the thirteen; "The End," "First Love," "The Calmative," and "Lessness." And we are currently working toward "How It Is." And Judy has done on her own "Enough" and "Worstward Ho."
MC Where did you begin with Beckett?
CL In the early 1990s I had already done, as an actor, Endgame, Godot, Rough for Theater I. That was before Judy and I hit upon doing the solo prose work in '96, when we did Molloy. We were both big fans of the work, with no particular plans beyond that. We thought, Let's do Molloy, and it went really well for us and gave us a sort of momentum and enthusiasm. So we did another one, Malone Dies, and then we did selections from The Unnamable, with the intention of putting the three of them on the same evening, which we did. By then we were starting to get a reputation among people who liked Beckett.
Judy and I then proposed some ideas for "Cork 2005," a yearlong festival of European culture in Cork. We did Texts for Nothing, "Lessness," and "Worstward Ho," so then suddenly—or not so suddenly I suppose—we were building a repertory.
MC What are your ambitions for the Beckett oeuvre?
CL We don't have any plan or intention other than doing more. We don't see ourselves as on a particular mission, while at the same time we feel very privileged to have been allowed to do what we have done and continue to do. So I guess at the root of it is we love the work, we are fascinated by it, we want to do it, and we want to share it. Over the years we've been aware that although Beckett has an enormous reputation as a playwright, there are lots and lots of people who don't know he was a novelist and short-story writer, and less so that he was such a brilliant one. We're happy that people are discovering that through our work, but I don't think we are setting out to show that to anyone.
MC What are you aiming to bring out in the work in general?
CL We are keen to discover what the work brings out in us. With the prose works, we are certainly not the first people to discover that it is wonderful material for a solo actor. Beckett himself did this to begin with, with Jack MacGowran, so in a sense Beckett initiated that tradition of an actor doing the prose works.
MC What is it you to intend to bring out in your Godot?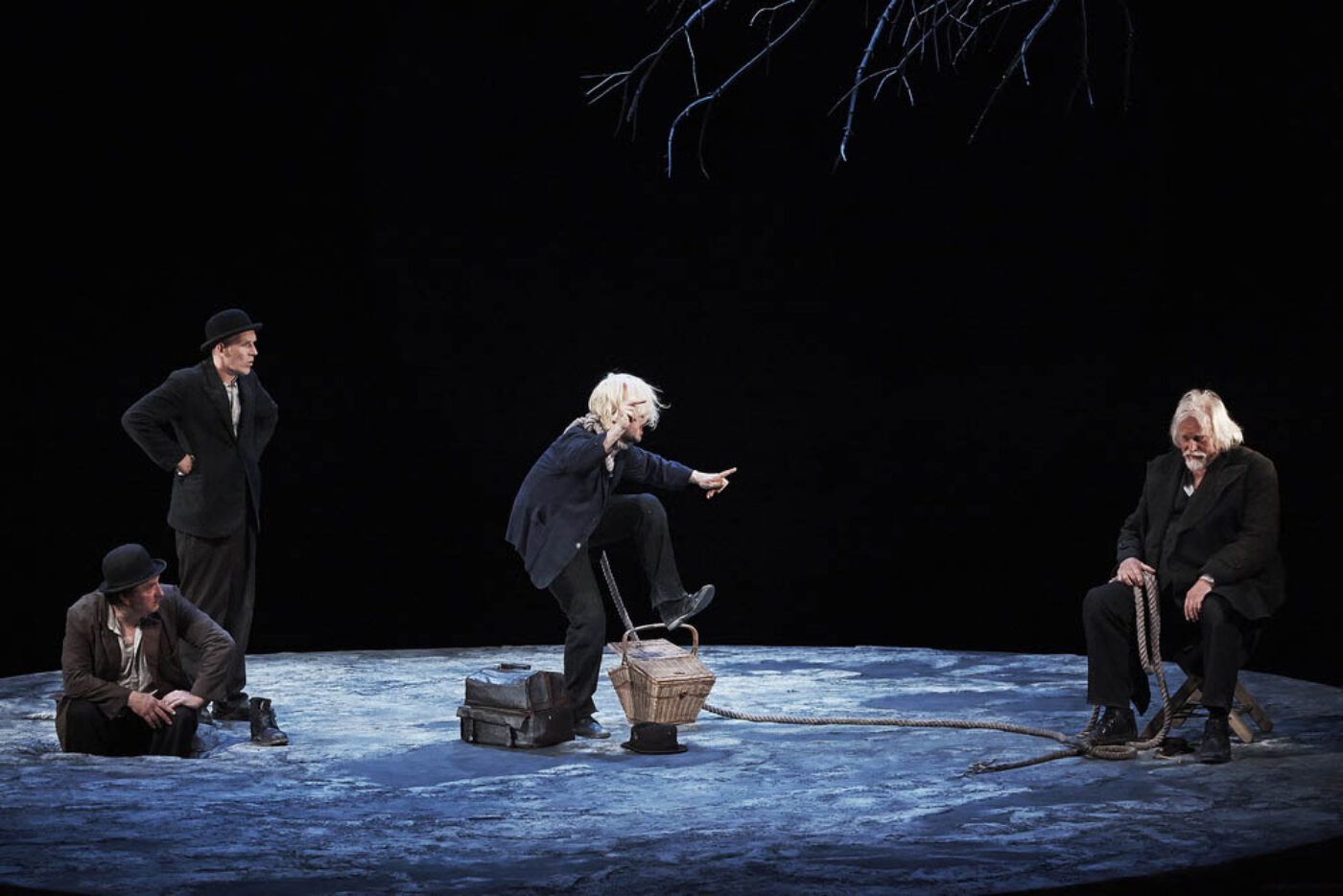 CL I'm conscious that with, say, another production of a Shakespeare or another production of maybe an Arthur Miller or of anything, really, even another Beckett, certain people might approach it saying, I need to make sure this is different from other productions, or I need to bring out what I haven't seen done before. But for us, we are not setting out to find out what we can do that hasn't been done. The work itself is such amazing work that I simply feel, Let's find out what Beckett wanted to bring out, and let's find out how we encounter that and what is the result of it.
MC Easier said than done, I imagine!
CL Well, we let the work lead us, we let the text lead us, and let that be our guide rather than trying to impose any of our ideas into it.
MC Which Godot text do you use?
CL We went to Beckett's own notes from the Schiller theater production he directed in Berlin in 1975. It's in the Theatrical Notebooks. Walter Asmus had been the assistant director on the Schiller, and he stayed very close to the original notes from when he directed the Gate Theater production in Dublin a few years later.
MC Beckett's biographer Jim Knowlson described Beckett's Berlin production as "a choreography performed to the music of the texts."
CL That's perfect. There is a great emphasis on staging and the arrangement of bodies. And the silences.
MC Not to mention the bowler hats! Why the name, Gare St. Lazare?
CL We are Gare St. Lazare Ireland. We encountered a guy named Bob Meyer, from Chicago. In the '90s he had moved from Chicago to Paris and was doing theater there, under the name Gare St. Lazare Players. Bob was very much a mentor to us. He is also a visual artist—a painter, really his primary medium. He used to say that as the titles for his pictures were getting longer and longer, then he realized maybe he needed to write something. So, he started writing plays. We got our name there.
MC Beckett has been described by at least one scholar as, first and foremost, a poet, and that it was only Beckett's inability to give expression to a wide enough emotional range in poetry that sent him towards prose and eventually drama, which allowed him the distance between himself and voice or character to explore his concerns. But the writing remains poetic, with masterful attention to rhythm and verbal music. There is, shall we say, very little plot. Do you note any differences between the qualities of the texts as you move, as a performer, from the prose monologues to, say, Godot or Endgame?
CL With Beckett's prose texts there is a certain physicality that we bring to it. That is not to say that the actor is jumping around, but a physicality which comes out through saying these things emerges. You begin gesturing to act out, you physicalize the thing. This is something Judy draws out. She'll say, "You did that there, you began to physicalize it, let's explore that a bit."
One fellow I was talking to said he had only seen a little bit of Beckett, on film—there's a tiny little snippet or two of film that exists. And this guy said that Beckett really seemed to be in his body, in his skin. He had a certain gracefulness to his gestures. Of course Beckett was a great sportsman and a musician and a wonderful man of words and letters. What I love about that is that the man is not just in the head; he is in his body as well, and I think Godot is a perfect example of that. What I often talk about is that Godot is a musical event of sounds and vision, and the vision is of physical movement. So many of his plays are physical sound.
MC Speaking of music, tell me about Here All Night, at Lincoln Center. I understand it is text and live musical performance?
CL Here All Night is a creation, if you like, of ours. In 2006, when we did the Beckett radio plays with RTE in Dublin, we did the music with Paul Clark, a composer. We did six radio plays and a Robert Pinget translation, The Old Tune. Several Beckett pieces require music. Because Beckett doesn't request a particular piece and often had different people compose it, we asked Paul to compose an original piece, so Judy and he talked about eventually doing something that would look at the use of music in Beckett's work. We came up with Here All Night, developed with the fiddler Caoimhin Ó Raghallaigh [pronounced Kwee-veen O'Rahilly], who is a big Beckett fan. The four of us collated all the musical references in Beckett's work—there are original pieces of music that feature in Watt, and Paul pulled them out and arranged them, writing some original pieces that would allow Caoimhin to improvise on the fiddle.
MC What emerged from working with Beckett texts and music?
CL Working with Paul, we understood that Beckett often plays with the idea of the piano as a kind of percussive force demanding a technical discipline, and in and around that you have the other instruments, the violin and cello, which are more fluid and playful. It sets up a kind of conflict or tension if you will, which is also the conflict in Beckett's work. There's the scientific and mathematical—how stuff is—and there's the prosaic, the poetic—how people are. Head and the heart, rational logic and spontaneous emotion. That's what you get in Beckett.
Waiting for Godot runs through October 17, 2015 at the Skirball Theater at NYU. "The End"will run November 2–3 and Here All Night November 5–7, both as part of Lincoln Center's White Light Festival.
Michael Coffey's most recent book is The Business of Naming Things, a collection of short stories (Bellevue Literary Press).