Discover MFA Programs in Art and Writing
If your knowledge of the San Francisco collective Futurefarmers ends at the Twitter logo (which they designed in 2007), you're in for a surprise. This multifaceted design team runs the gamut, both in terms of production and strategies of audience engagement. They are designers of lunchboxes enabling students to discover hydrogen-producing algae—which they showed in MoMA's 2008 exhibition Design and the Elastic Mind—but also an antiwar computer game and bingo cards intended to explore the nations with the lowest GDPs. These cultural critiques are immediately appealing because of their visuality. Their work is a crossbreed between the Californian optimism of Fritz Haeg and the primitiveness of Atelier van Lieshout. The environments surrounding their projects are often dotted with cartoonish drawings as in Presidio Trails workshop, where Futurefarmer Amy Franceschini and her students developed proposals for "nonintrusive" systems of directing hikers around the trails of California's Mountain Lakes. On the special microsite that Futurefarmers built for the project, the motto "Trails Forever" is embedded in a simple tree emblem made from dotted lines that cheerfully floats over a map of the area. Objects with friendly rounded corners in the blatantly cute Shoelace Exchange lure the viewer in to an examination of the lost American art of shoemaking.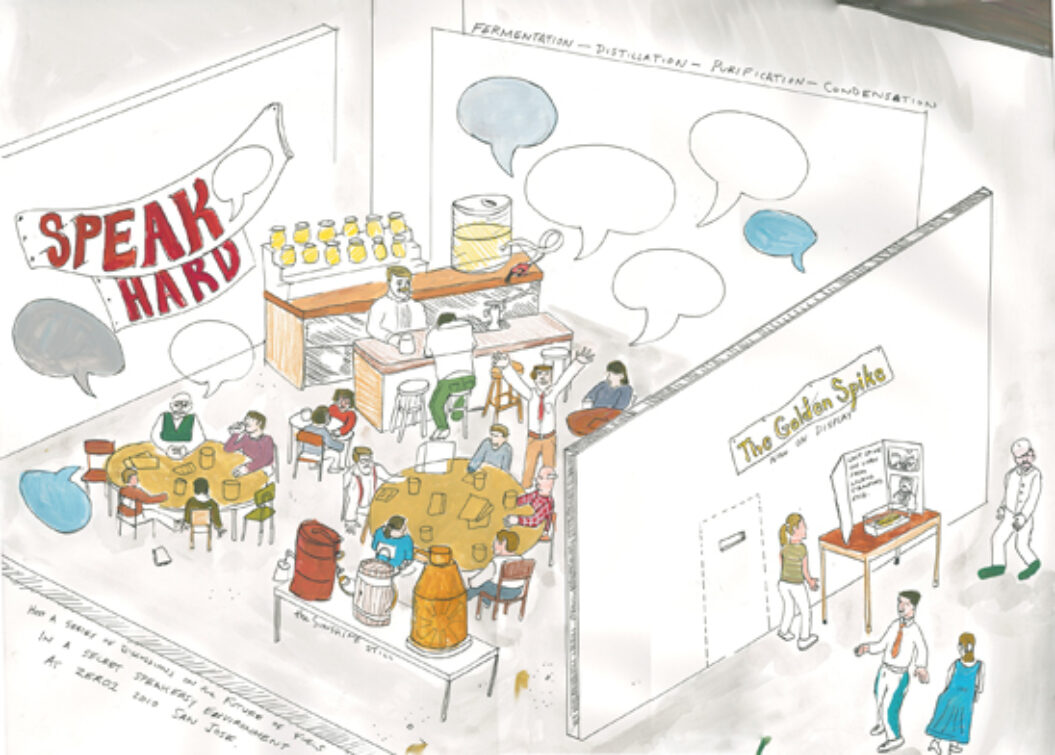 The strategic use of color is best expressed in the neon website that is the Futurefarmers hub. The visual language of their work connects it to city planners, schools, and, especially, grassroots urban movements. As part of the Victory Garden project for San Francisco, Futurefarmers developed the Urban Garden Registry, an online map of yards, window boxes, rooftops, and unused land as possible food production sites; it became so popular that the city adopted it. Much of today's more obvious protest work dealing with sociopolitical issues is embodied in work that because of its placement in gallery spaces neglects to connect with the average citizen. A conventional Futurefarmers project exists as part of a portfolio of interconnected, critical yet optimistic, and pragmatic works that because of their web-based structure and focus on the environment, are more visible and resonant to a general public. I see the art world slowly coming to understand that a direct engagement of audiences is more than just environmental activism or auxiliary educational programs. The subtle, indirect implications of a project such as Sunshine Still/Speak Hard, a platform to provoke discussion on the subject of the future of fuel that will be at the Sydney Museum of Contemporary Art this fall, is legitimately tackling complex political and environmental issues, and doing it while connecting art institutions to new and distinctly engaged audiences.
David van der Leer is an urban thinker and the assistant curator of architecture and design at the Guggenheim Museum in New York, where he has worked on the exhibitions Frank Lloyd Wright: From Within Outward and Contemplating the Void: Interventions in the Guggenheim Museum. He is currently developing Guggenheim projects that will take place outside of art spaces and aim to engage new audiences and environments within the urban fabric.
Originally published in
Featuring interviews with Dan Asher, Elizabeth Streb and A.M Homes, Jessica Jackson Hutchins, Alain Mabanckou, Jennifer Egan, Edward Droste, Cynthia Hopkins, and Joan Jonas.