Fuck It, Let's Boogie (or Everything Will Be Taken Away): Adrian Piper's A Synthesis of Intuitions: 1965–2016 by Jessica Lanay
A retrospective by the groundbreaking conceptual artist.

Discover MFA Programs in Art and Writing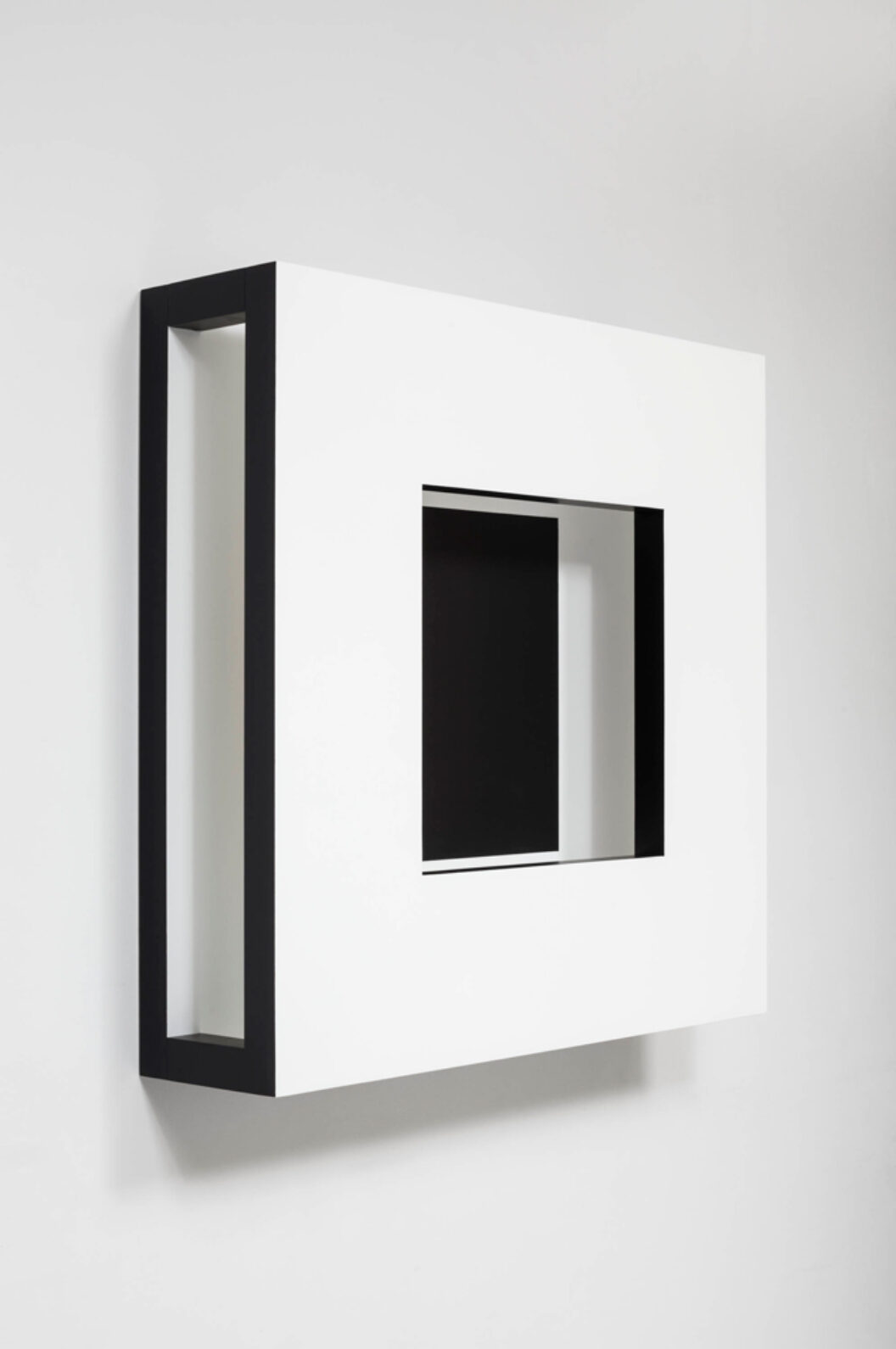 At Adrian Piper's retrospective at the Museum of Modern Art, A Synthesis of Intuitions: 1965–2016, a piece of unlined notebook paper features a drawing in marker of a flower fantastical in color, its petals the shape of tear drops radiating outward in yellow, blue, purple, and pink. Next to the drawing is cursive handwriting that reads, "If I were to tell you that the empire state building is made out of the petals of violets, would you trust me to draw your picture?" This image provides a clue to what unifies Piper's starkly precise body of work—the question of perception, authority, what people manifest, and what people believe.
Piper's work scratches at the nexus of interior perception, external manifestations, and authoritarian institutions' role in managing them to their benefit. With its methodology of exposing taxonomies, Piper's art pushes at faults of reasoning such as one-dimensional perceptions of gender and race—taxonomies flattened by dominant ideologies. If we imagine self-perception and the external world as two separate vectors careening toward one another, Piper's work is there to investigate the site of collision.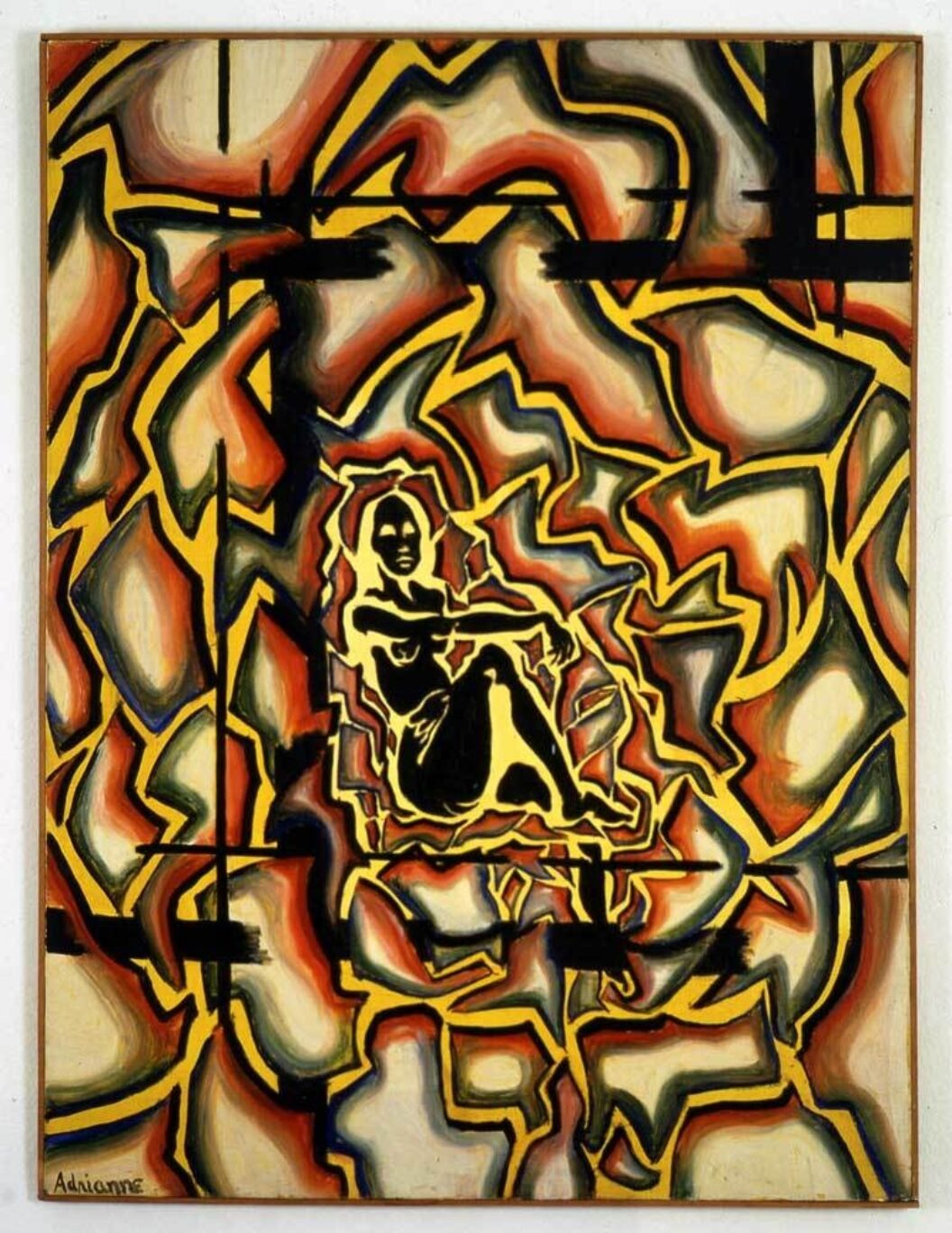 In early paintings and drawings such as her LSD series (1965–66), Alice in Wonderland series (1966), and The Barbie Doll Drawings (1967) there is a narrative of transformation. Through the application of patterns and metamorphosis on the page, Piper dematerializes the figure, producing perhaps a sense of dysphoria within the viewer who has to focus more intentionally on the figure on its own terms to gather a sense of understanding. Traditional figures provide the opportunity for relational understanding, but the dismemberment of the figure through pattern and a surrealist approach readjusts the viewer's initial expectations, forcing the viewer to stand with the art object for what it offers.
The retrospective's chronological approach establishes a narrative for Piper's growing concern with how the mind matters (or creates) external realities. This can be seen in Piper's examination of how space is organized through her cube studies such as Recessed Square (1967), Nine-Part Floating Square (1967–68), 3-2-1 Cube 3-2-1 Cube (Permutations on a Suspended Cube) (1968), Sixteen Permutations of a Planar Analysis of a Square (1968), and various maps. Through her alterations of space, Piper is also organizing a sense of time. Her square studies visually evoke a sense of depth and therefore potential movement. The map studies explore how an imaginative process of visualization, drawing, and naming can be a way to organize space and create a fully externalized system.
Performative works such as Calling Card series and Cornered, among others, also attempt to unravel and accentuate the process of reconciliation or lack thereof between the internal and the external. Both pieces conjure an external confrontation that leaves the receiving parties (reader of the business card or viewer of the video) with their own internal perceptual dilemmas. All three of the cards provide external interference with an individual's self-perception by providing an awareness of assumed behaviors. In My Calling (Card) #1 (1986–90) recipients are made to acknowledge how they have mattered anti-blackness or affected the reality of the giver; in My Calling (Card) #2 (1986–90), which says "Do Not Touch, Tap, Pat, Stroke, Prod, Pinch, Poke, Grope or Grab Me," there is a limitation provided to the recipient that alters a social behavior meant to assert masculinity or control over the body of another person.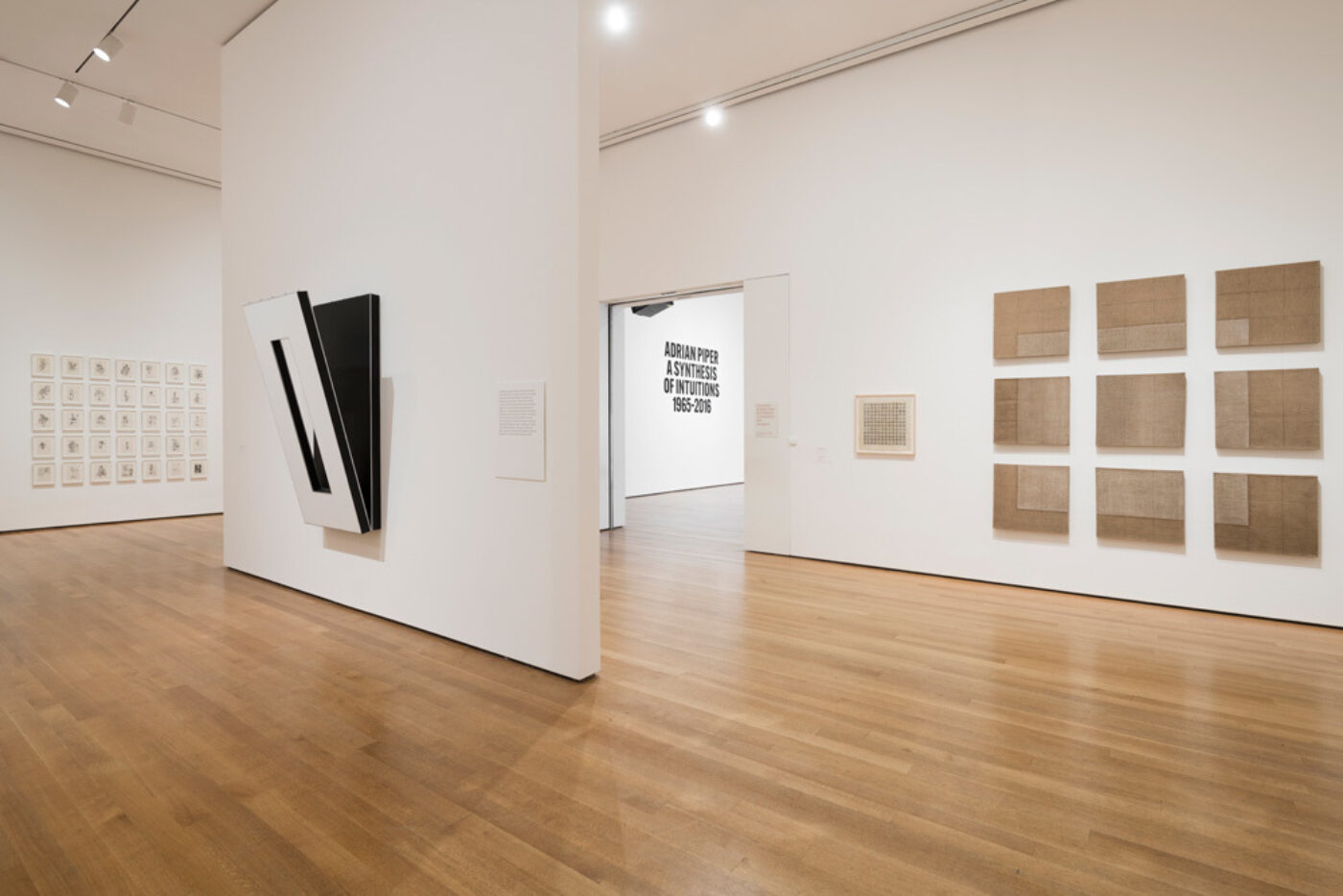 In Piper's essay "The Real Thing Strange," named after lines from a William Empson poem, she interprets her artwork through the Kantian concept of unsynthesized intuition which posits that there is a difference between intuition and comprehension. She explains that objects make sense through sharing properties with other objects and contexts. In the event that objects are not relational, there is a state of unsynthesized intuitions that constitute confusion or disorganization within the viewer. She writes, "To be at home in this place means to be comfortable with unsynthesized intuitions: with unfamiliar things and happenings and states and presences." This is Piper's directive not to allow preconceived taxonomies established by systems of authority and trained into the ego to direct perception. A Synthesis of Intuitions provides a stunning overview of Piper's lifelong engagement with philosophical thinking and art. The exhibition is an awe-inspiring demonstration that when one engages in critical acceptance of the unfamiliar everything—as we know it—can and will be taken away.
Adrian Piper: A Synthesis of Intuitions: 1965–2016 is on view at the Museum of Modern Art in New York City until July 22.
Jessica Lanay is a poet, short fiction, and art writer. Her work focuses on architectures of interiority, escapism, history of psychoanalysis, and southern culture. Her poetry has appeared in Sugar House Review, Fugue, A Bad Penny Review, The COMMON, Indiana Review and The Normal School. She has work forthcoming in Prairie Schooner. Her short fiction was most recently published in Tahoma Literary Review and Black Candies. A short autobiographical essay was published in Salt Hill Journal. Her art writing can be found in BOMB and ArtSlant. She is a Callaloo, Cave Canem, and Kimbilio Fellow. Lanay is also a 2018 recipient of a Millay Colony Residency.