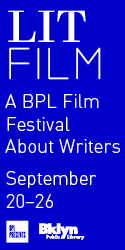 Plate 4
The Lost Jockey
He holds a lantern at the end of her
driveway. I wouldn't say lost so much as
condemned and disoriented. Nothing I
love lives here long. Any longer. At one
time—acorns would knock on the roof,
the screen door squeak-slam, a kettle
whistle in the kitchen. Then the taste of
mold. He knows as fact, I easily hurt.
Plate 18
An End to Contemplation
Linoleum. Pink bear named Pinky.
Radishes. An empty milk carton by
the sink is full of coffee grounds and
eggshells. By the stove, pine. Cat turds.
Cat turds by the phone. I close the
kitchen door so I can phone. It's 1970.
It took me four days to hitchhike from
Saginaw—Mother's purple kimono from
her mother. Blue linoleum. I hit my sister.
Plate 47
The Acrobat's Ideas
Tights and gloves leave an impressive
impression. But against clouds, snow, or
skirmish—?
Plate 33
The Finery of the Storm
In the hurricane, we heard a crack,
looked out, and saw her slow crash.
That willow was dead meat since he'd
excised and burned the heart, a wasp
nest! (How fine their fury!) The stump
resembles a stupa. Stupor.
Plate 70
The Annunciation
Just as my nieces drown their dollhouse babies
in the dollhouse tub, so I would
images: her dry eraser in his office.
Kimiko Hahn is the author of nine collections, most recently Toxic Flora and Brain Fever, both prompted by rarified fields of science. She teaches in the MFA Program in Creative Writing & Literary Translation at Queens College, CUNY.
Originally published in
Featuring interviews with Rosa Barba, Soon-Mi Yoo, Agnieszka Kurant, Tatiana Bilbao, Alejandro Zambra, Tom McCarthy, Matana Roberts, and Barbara Kasten.