From Metal to Mettle: An Interview with Sandra Gould Ford by Jessica Lanay
"The mill is a metaphor for all of us."

Discover MFA Programs in Art and Writing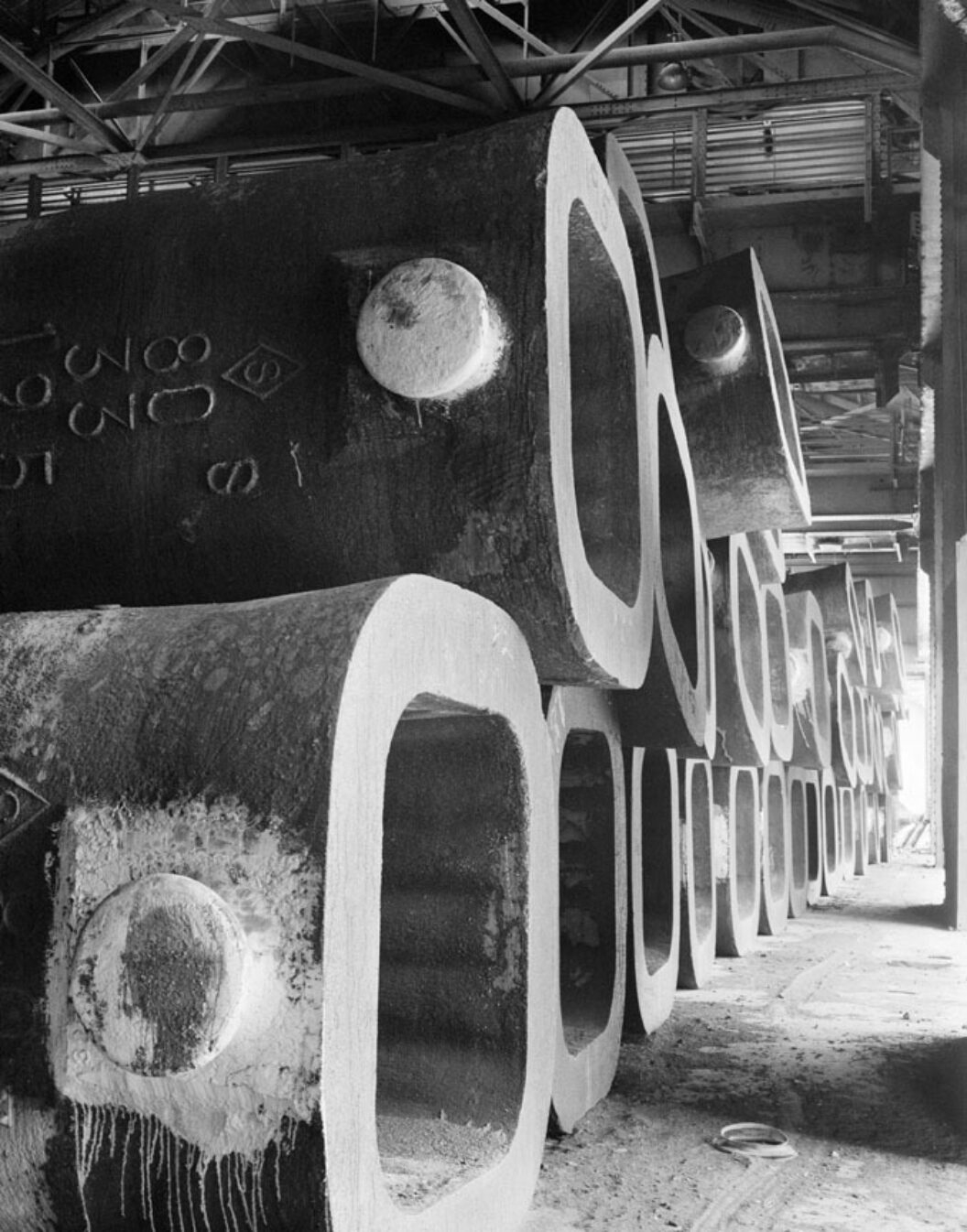 The exhibition On the Making of Steel Genesis: Sandra Gould Ford, produced in collaboration with LaToya Ruby Frazier, is at its core an encapsulation of the human body as a filter. In Sandra Gould Ford's photographs a viewer can assess the spiritual, natural, and mental aftereffects of failed industry on the human body. Employing her concept of mettle, which she discusses below, Ford emphasizes the symbiosis that occurs in transformation: human bodies culling steel from iron, iron pulverized in the sky entering into human lungs, and nature overtaking former sites of industry.
The following interview expounds upon such persistence and how Ford's life in the steel mill, and the lives of the steel workers she accompanied there, resulted in a form of alchemy within the human.
Jessica Lanay How do you see your trajectory or your own genesis from steel worker and beginning archivist to professional memoirist and photographer now?
Sandra Gould FordI have always been a writer, from the time I was a child and could begin to put words on paper, but I have done it intermittently. Photography was always an interest of mine from when I got my first little Brownie Bullet camera and began to say, "Oh, I can take these really neat pictures of snow on branches or something."
The steel mill is still an ongoing impact on my evolution, especially spiritually. But I guess also in a pragmatic sense since I didn't go to photography school until after I left the mill, so I didn't formally study it before. So for a lot of the images I took I was really coached on taking photographs by other steelworkers because so many of them were active photographers, as hobbyists, and they were very good.
My time at the steel mill basically provided a unique and rare opportunity to access a world that very few people get to experience. I was accessing a time capsule, and my commitment was to telling stories of what it was like to be in a mill. I thought people had impressions of what working in a steel mill is and impressions of what steel workers are like, but I got this inside opportunity to know these people, to know this world. At the same time I was also taking graduate writing courses at the University of Pittsburgh, and so I was studying with people like Lee Gutkind who is the father of creative nonfiction, and I was also gathering this information.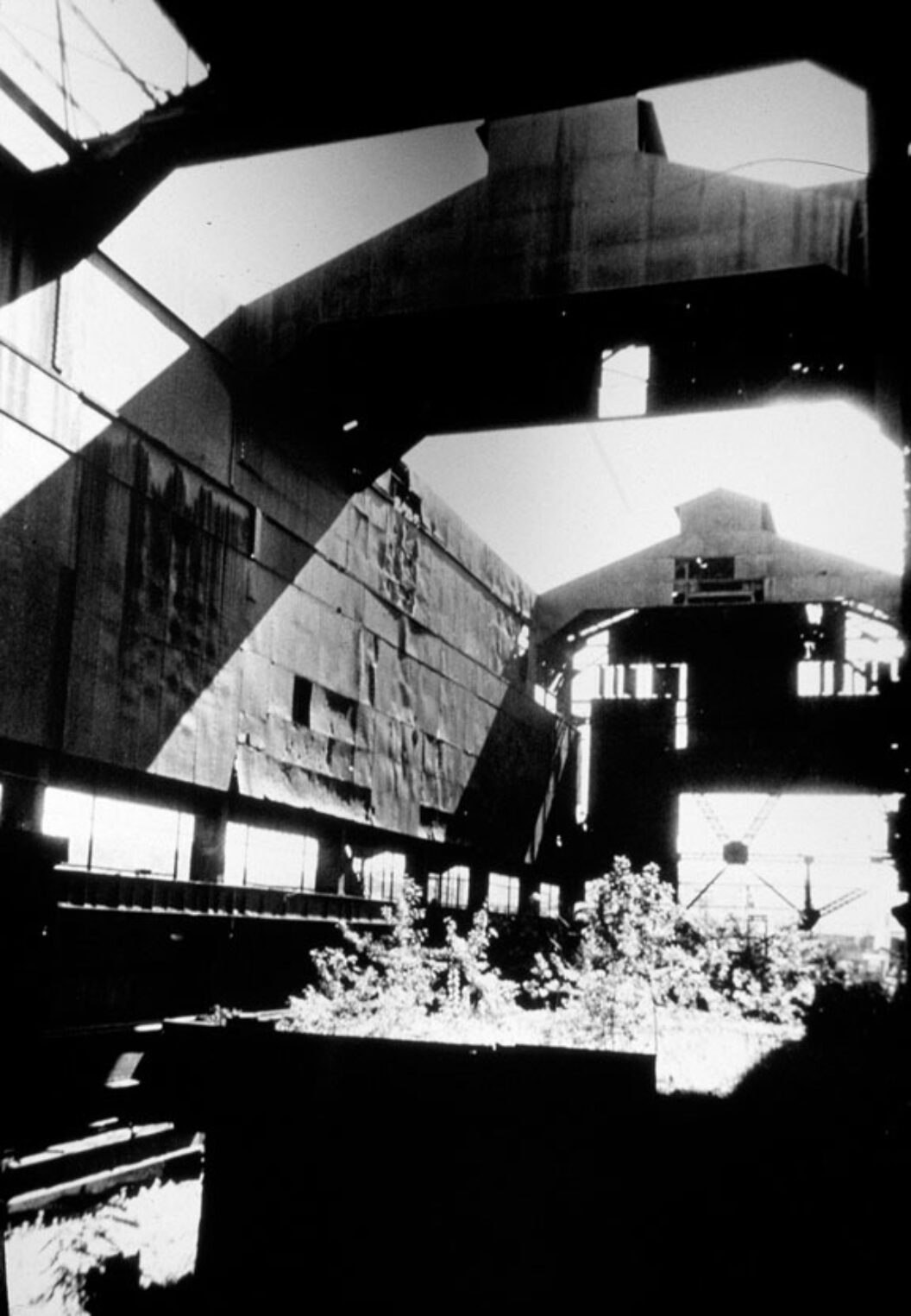 JL When I went through On the Making of Steel Genesis, I noticed that LaToya Ruby Frazier had picked out a lot of magazines and pamphlets that had a specific representation of the steelworkers. The people on the manuals and in the pamphlets were always white men in hard hats at work, and it didn't seem to be an accurate depiction of the steel mill. What role do you think you play as a black woman and former steel mill employee and as Sandra?
SF People who have read my writings are affected by the perspective that I bring, and I didn't realize it at the time, but it is just an aspect of me being a woman. I saw the ladle which would be higher than twelve feet and filled with three hundred tons of molten steel in this crude, rough, dark environment, and it is carrying the steel from the furnace over to where the ingot molds are, and I saw it as a nursemaid delivering a baby. So people say, "Wow, I would never have thought of it that way."
But in terms of the population in the mill, those company magazines were pretty reflective of who was in there. There really weren't that many black people in the mill and certainly women out in the shops. It was dirty, hard, physical work, and it was also dark, so for a woman to be in those spaces, what can I say? In terms of black workers, they were not freely dispersed out in the mill. The strip mills were known to be Italian shops, and they could move up the job lines; the steel-making shops were known for being German, so the black people in the mill until the civil rights situation got going were really in the labor gangs. They were shoveling out places or sweeping out places, no different from anywhere else in the country up until the sixties which really were the seventies. 
JL Could you talk more about the feminine or feminist perspective that you bring to your photographic eye? I notice that in the wall text that you wrote for the photograph, Ingot Moulds, c. 1986, there was language that suggested that they were like wombs—very beautiful, powerful, and life giving for inorganic material.
SF I think I just see the world that way. I think I have a mystical take on things. The population in the mill was overwhelmingly men, and there was really no reason for me to be in the mill because I was an office worker, so office workers didn't go in the mill. Just that the man I worked for took me out into the mills.
When the mill would shut down, I was still going in and working in the offices, and that is how I was able to go out into the mill and surreptitiously photograph things. And then the mills would start up again, and I remember being out in one of those huge sheds, four-stories-high framework, and as they were starting to operate one of those overhead cranes the building would start cracking and creaking because it was cold. After I left I realized that working in the mill, especially when I went out into it, was like being inside something that was dying. It would shut down and come back to life again. So it was a living thing, and I felt that when I would walk through it in those lonely times when there was no one else in the mill.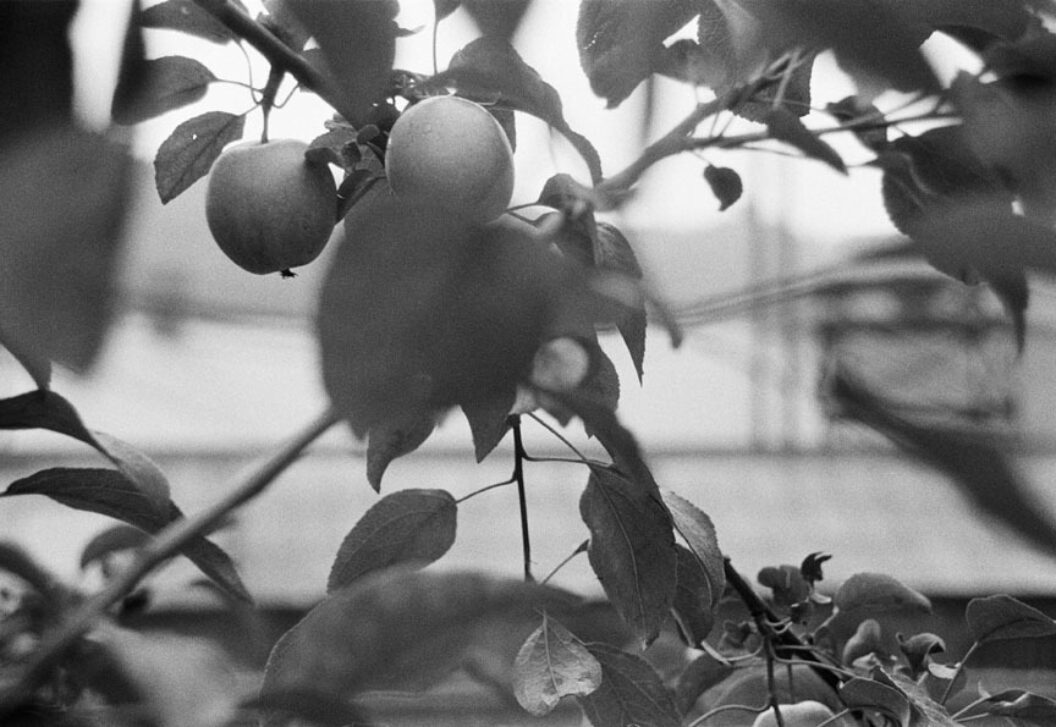 JL You write about and photograph what you call genesis, and in my imagination I see aspirated metal infusing bodies and fruits like the peaches in your photographs, and then I see those bodies transforming those particles inside of their own cells. Can you tell me how your writing and your photographs document that genesis?
SF My intent was always to say that the mill is a metaphor for all of us, that we come into being and go out of being, and this I got from Joseph Campbell. We came into being and were for a period of time a toddler, and then that aspect of us died and we became a child, and that aspect of us died and we became an adolescent, and then that aspect of us died and we became an adult, and that aspect of us died and we became … So we are constantly going through this process of genesis, and constantly coming into being, constantly evolving. My intent is to say that this land, that this mill, represents us. We are constantly becoming. Jones and Laughlin Steel Company in Pittsburgh was this magnificent thing during the time that it was there, and now that place has become some other thing.
JL Do you think that your positionality as a woman and as a black woman and as an office worker gave you perhaps the ability to see aspects of the steel-mill life that other workers were too close to see themselves?
SF A lot that I learned was because the guys at the mill were saying, "Come on. Come on. Let me show you this!" A lot of this was what they saw, and what they knew, and what they remembered, and what they experienced. My interpretations of that world as a black woman and a mother come through subconsciously, and I am joyful to remember so many things that happened as they happened. So I am not consciously trying to filter anything. When I get beyond their stories, I will put my story and my life during those years on the SteelGenesis.com website I am developing. In writing about a woman who was a black office worker in her late twenties and early thirties, then I may recognize more of the aspects of steel-mill life that other workers were too close to see.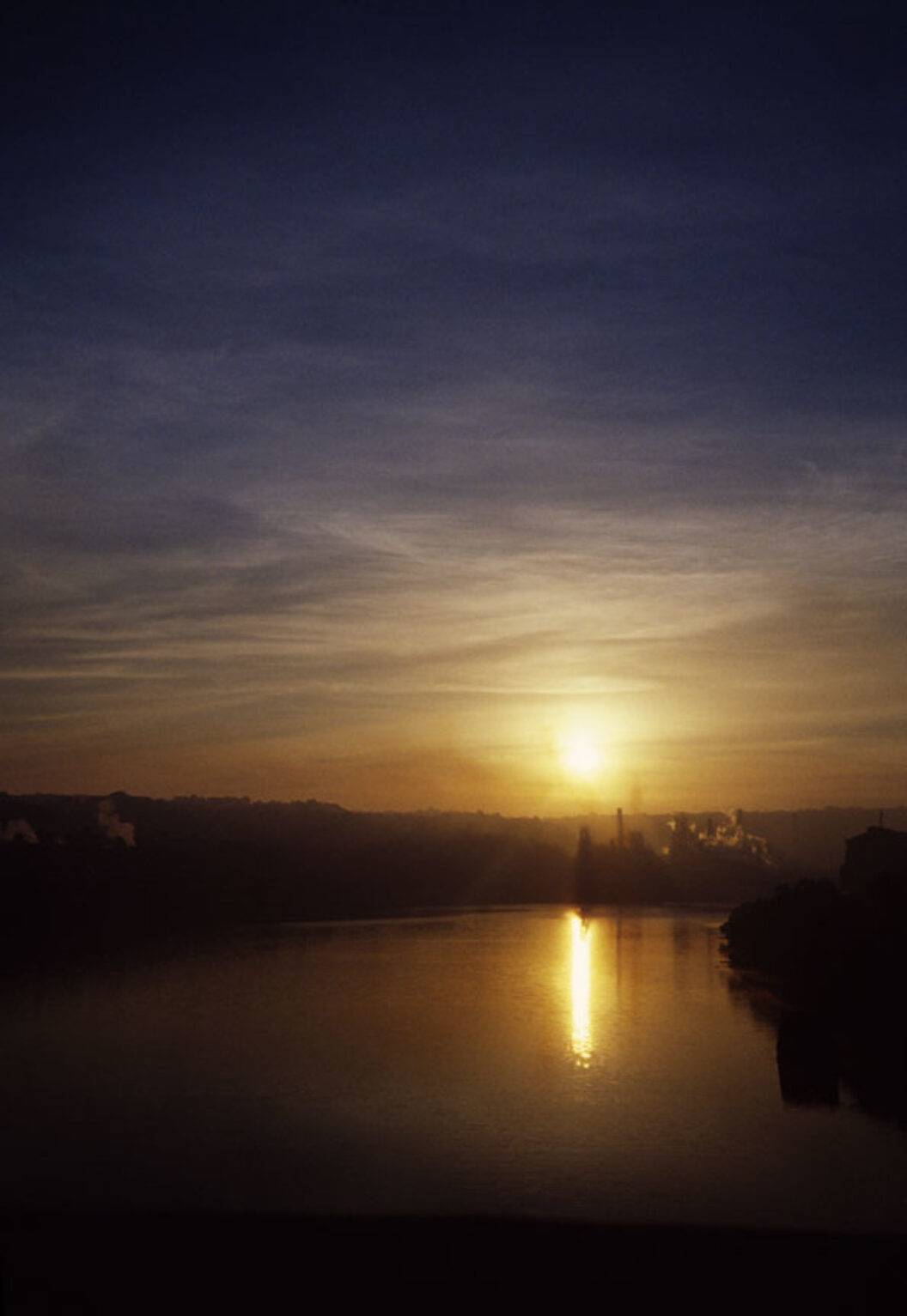 JL What made you want to save, document, and transform this history in your artistic practice? You did this for forty years.
SF 1978 would be the first photograph that I took of the mills. That world really touched my heart. A few years ago, I went over to the South Side at 27th and East Carson which would have been the parking lot for managers of the mill and administrators, and next would be the office building where I worked. There is nothing left. It is a whole other world. I stood there shivering—and it was uncontrollable. And I asked myself how could this world change so dramatically that nothing, nothing, nothing, nothing is left. Life has just moved on.
Again, it was such an extraordinary world. Maybe my sense of being a storyteller is because I always loved to tell stories. I just felt that there were too many stories in there that for whatever reason I came to with my intellect and ability and background. I started a literary magazine, Shooting Star Review, shortly after leaving the mill and friends would laugh and say, "Who would believe a steelworker would come out of the mill and start a literary magazine?" It was just that combination of things that I was.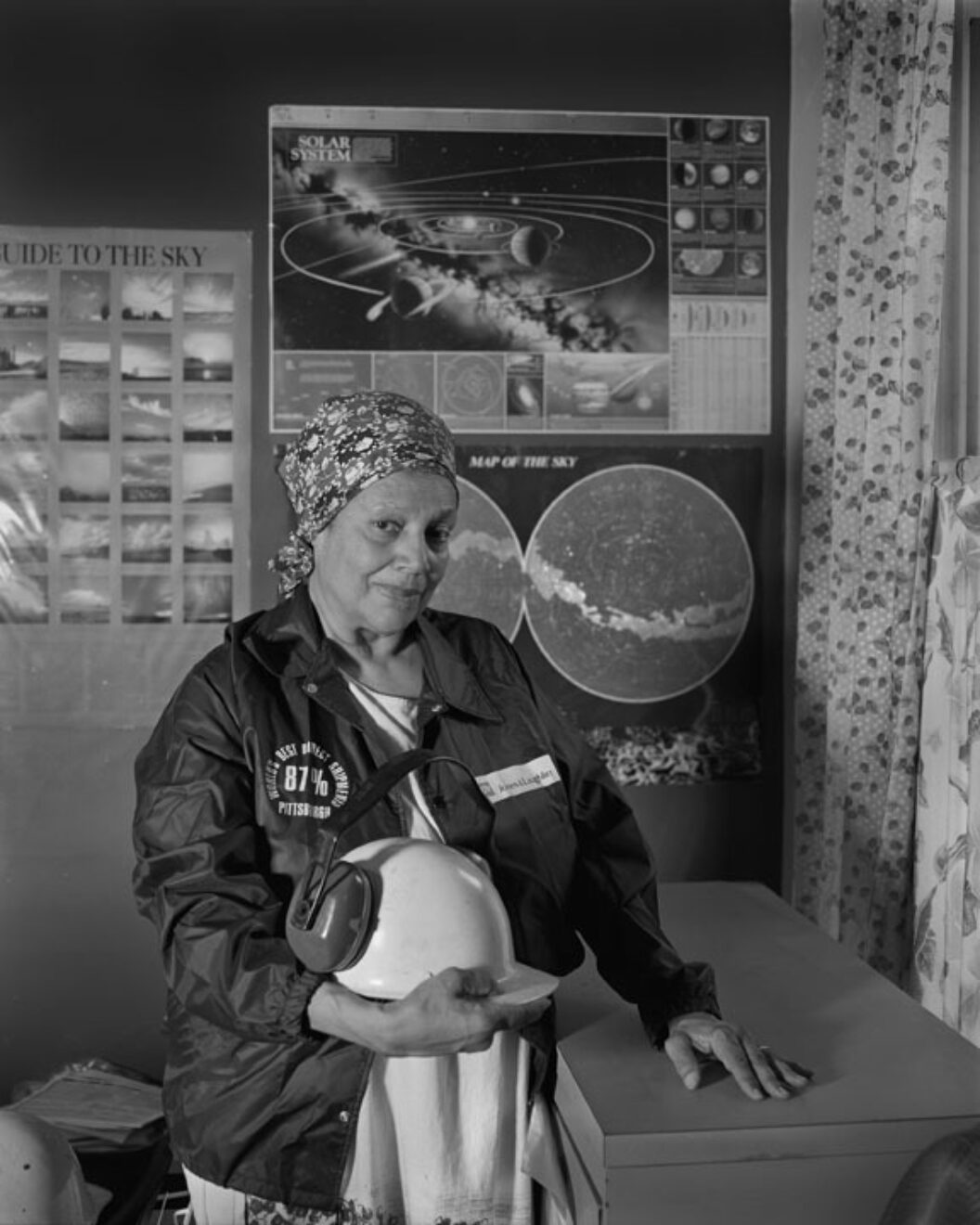 JL Could you tell me a little bit about your concept of "mettle" and its relationship to "metal," and what your thoughts are on those two words and their similar sounds, and what role does it play for you in your artistic practice as writer, photographer, and archivist?
SF Steel is a manmade item; steel is essentially iron, which occurs in nature, but steel is superior to iron because of what people do to the iron. Mettle is the courage and willingness to stick with something, to endure, to strive—that's another human quality. So I see the two as similar, and that is really what I intertwine as I carry this work forward. The fact that we can make ourselves into steel. There are a couple of little sayings that apply to this for me. One of them is, "When you go through the fire you either come out burnt or you come out fireproof." You get steel by taking earth, air, water, and fire to make this metal that can't exist unless it is made. And we can make ourselves into stainless steel by taking the elements that we are born with, and with some mettle we can make ourselves into stainless steel. That we can go through that same process and come out steel.
On the Making of Steel Genesis: Sandra Gould Ford is on view at the August Wilson Center's BNY Mellon Gallery in Pittsburgh until December 31.
Sandra Gould Ford is an award-winning author, artist and accomplished educator who presents writing and arts experiences that encourage, refresh, enrich creative thinking and inspire.
Jessica Lanay is a poet, short fiction, and art writer living in Pittsburgh. Originally from Key West, Florida, her creative writing focuses on architectures of interiority, escapism, history of psychoanalysis, and southern culture. Her poetry has appeared in Sugar House Review, Crab Fat Magazine, Acentos Review, Fugue, and others. She is a Callaloo, Cave Canem, and Kimbilio Fellow.