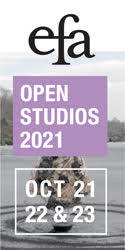 Take the horizon line, for example
a mirage—
that marks the limit of sight.
I spend much of my writing time seeking the horizon line. I know that there is no such line but I see the line when I look up from small blocks of text and squint at the sea. To write prose poems is to resist the horizon line—
to seek thick thin straight curved broken wavy lines among crumpled pages.
I work with little ink in my pen and hardly make a mark.
I shade squares while I wait                      
for the phone to ring. I draw boxes while  
I listen to a lover                                        
complain about his bowels. I draw
circles inside boxes. I divide 
circles into quarters; I add 
a circle to each quarter; 
another square. 
The patterns, 
like the carpet pages of Irish monks, 
mean to bewilder evil thoughts.
                             . This line is rational. 
                             . This line is irrational. 
The line break is hesitation or resistance or acquiescence 
or a tiny rip in the mesh of a screen door.
Lines may multiply as cracks across the surface of an old painting 
or lines may measure and slice like a butcher's cleaver.
White synonyms.
K's aberrant periods revoke transparency.
This must be done with a brush, but a brush, 
soft at the point, 
causes such uncertainty in the touch of an unpracticed hand 
that it is not possible 
to make a last dark certain 
mark 
.
memory:
kneeling beneath a table
                                        trying 
to cover the underside 
with blue crayon
this was drawing was movement of the arm back
and forth across                                                                                

pine boards / no sky 
no star / arm / back blue / forth blue
The first broad aspect of a thing is that of color patch red like thyme red like thistle
red like nettle red like heather as a patch 
of red flannel carries the first memory of 
old smell
to make secret blue / to make a secret blue surface
memory:
late afternoon, September, the smell of chalk dust, 
the smell of an overripe banana 
and Sam popping gum in time to "Black Magic Woman" 
I saw "negative space" 
saw that triangle between the curve of a 
hip and an arm 
another triangle between spread legs 
I drew the contours of an emptiness and a body emerged 
the world was charged with negative space 
mother's 
spatula-bearing body was an interruption in negative space 
my sister, working the cherry pitter, 
was a wheezing rupture in negative space 
lying in bed, 
the body was breach in negative space
Make black more precious than a rival's crimson.
What I learned from Goya's black— 
       to light anti-clerical candles against black walls.
What I learned from Manet's black— 
       to scrape the mirror's back.
What I learned from Matisse's black— 
       to creep downstairs in the middle of the night and exchange blue silk for 

                                                                                                        black wool.
What I learned from Reinhardt's black— 
       that the black is not black but yellow and sometimes purple.
What I learned from Dickinson's black—
Eva Heisler is an American poet and art critic based near Heidelberg, Germany. Reading Emily Dickinson in Icelandic, a book of poems, is just out from Kore Press. Drawing Water, a long poem reflecting on the line in poetry and the visual arts, is forthcoming from Noctuary Press.
Originally published in
Featuring interviews with Verne Dawson and Genesis Breyer P-Orridge, Stanley Whitney, Katrín Sigurdardóttir, Federico León, Stan Allen, Rachel Kushner, Enrique Vila-Matas, and Coleen Fitzgibbon.