Friends of the High Line commissions artists to make site-specific works along the former railway. Tabitha Piseno speaks to curator Lauren Ross and artist Kim Beck about art and the urban environment.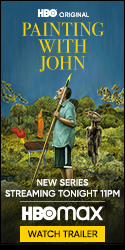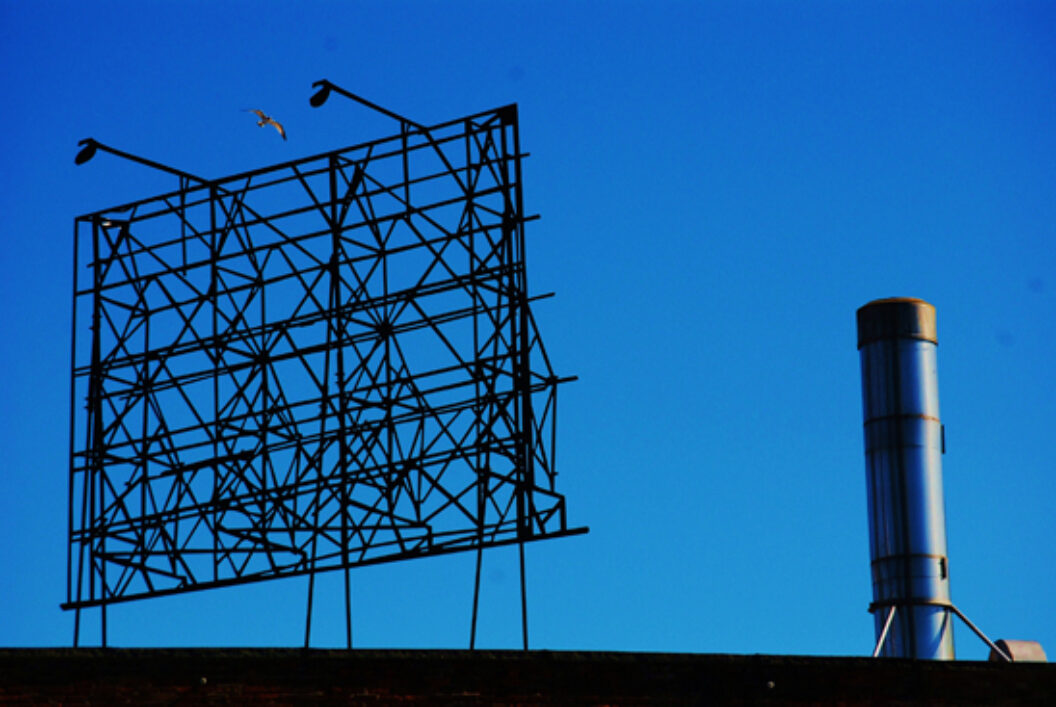 Friends of the High Line is a non-profit group that was founded in 1999 in order to preserve and maintain the High Line as the elevated public park we know today. FHL has also been at the forefront of the design process that transformed the former railway, including ongoing public arts programs for the park. One of these programs is the High Line Arts Commissions, which offers artists the opportunity to create site-specific work. Lauren Ross, the Donald R. Mullen, Jr. Curator & Director of the arts program at Friends of the High Line, began conducting commissions in 2009 with the onset of Section 1.
The first commission of the Spring 2011 season is a series of sculptures by Kim Beck titled Space Available. Beck utilizes images of architecture and landscape in order to reconsider the built landscape and address issues of the urban and suburban environment. Her work for the High Line consists of three sculptures situated on rooftops along Gansevoort and W. 13th St., directly adjacent to the High Line. Each sculpture offers the illusion of the underlying framework of advertising billboards. Upon further inspection, the seemingly three-dimensional structures flatten out to the perspectival cutouts they really are.
Tabitha Piseno What is the curatorial process like for Friends of the High Line, and how did you come about choosing this particular piece of Kim Beck's?
Lauren Ross The art program commissions artists to make new, site-specific works for the park. Everything is temporary. One year is the maximum amount of time we leave pieces up, so it's a rotating program. In thinking about artists to work on the High Line, there are different things that I respond to. I really want the art to be site-responsive in a way. That might mean addressing the history of the High Line, responding to its unique design, or possibly thinking about the former uses of the space.
I first saw Kim's work at the Marie Walsh Sharpe Foundation in the summer of 2009. It appealed to me right away, because one of the experiences of the High Line is the elevated view of the city and the surrounding neighborhoods. Because of the elevation you notice things that you don't see at the street level—things on roof-tops, chimneys, water-towers—things that we all take for granted and don't think about on a regular basis. I also think that Kim's piece subtly touches on issues of gentrification and change; Manhattan is a place of very rapid change. The High Line runs through many different neighborhoods: the Meatpacking district, Chelsea, up into Hell's Kitchen, and, when we open up the second section, it will go all the way up to 30th St.
There are several reasons why we ended up in the Meatpacking district with Kim's pieces. Partially, it had to do with building height. We wanted the sculptures to be on roofs that were more or less eye-level with visitors, and the buildings in the Meatpacking District, across from the High Line, are significantly shorter. All of Kim's sculptures are also in a landmarked district. On one hand it made getting permission more complicated—we had to get permission from the Landmark Preservation Commission—but on the other hand I think it's really interesting because it makes you think about neighborhood change, and the idea of preservation and modification. At one time, not that long ago, the Meatpacking district was considered a rough, sort of undesirable area, and now it's a place for pricey real estate, high-end hotels, boutiques and restaurants. It's interesting to think about the conflicting forces for change and conservation. We discovered, pretty quickly, that billboards in particular are actually something of a hot topic for preservationists. If you look at the High Line you will see billboards in many areas, but not so much in the immediate area because preservationists fought to keep them out. So it touches on a lot of interesting ideas about neighborhood character.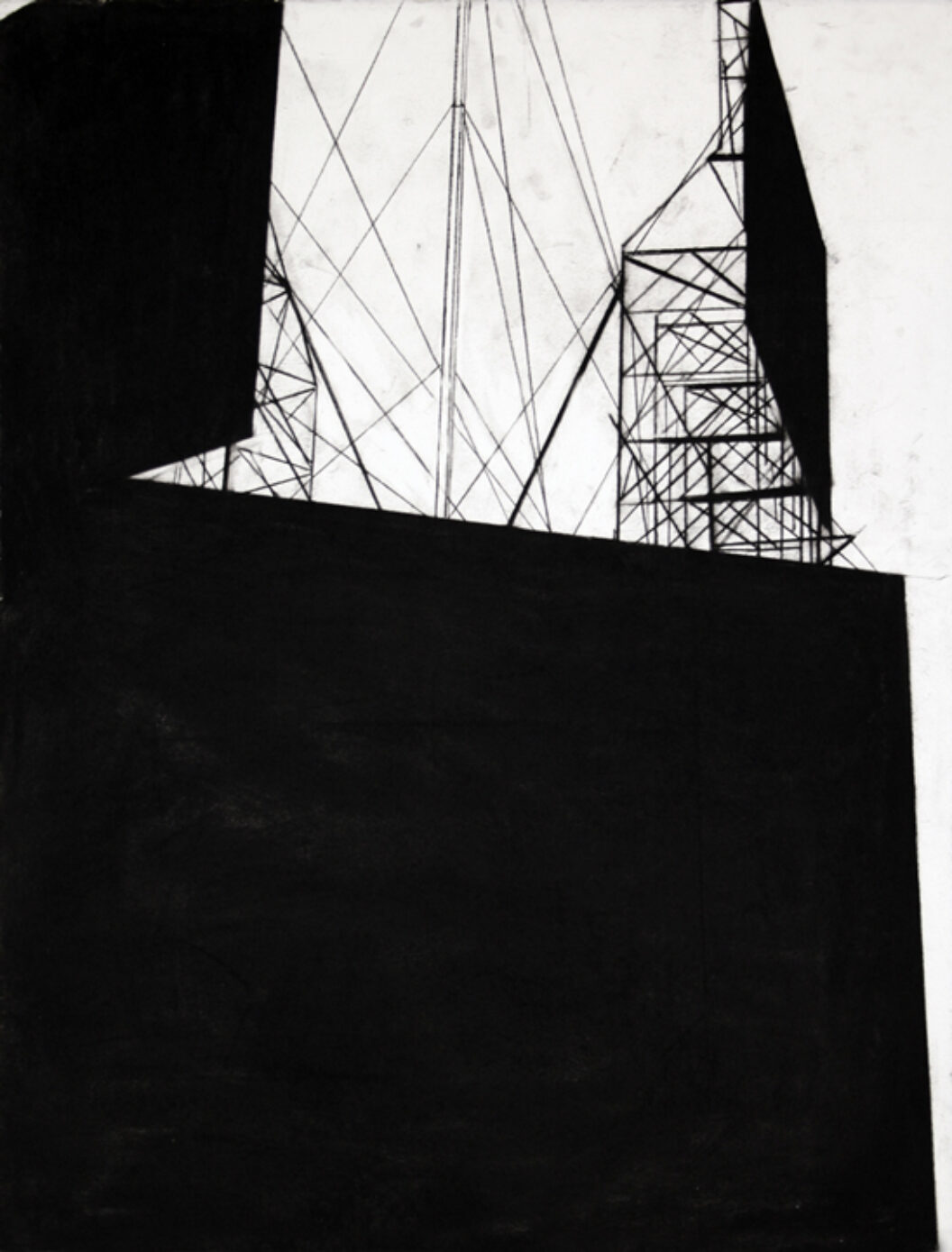 TP Kim, didn't you also make a series of charcoal drawings of billboards titled Lady Bird's Billboards? Weren't they addressing a particular preservationist's fight to limit billboards through the Highway Beautification Act of 1965?
Kim Beck Yes, that was the title for the drawings; the Highway Beautification Act of 1965 was nicknamed "Lady Bird's Bill" after Lady Bird Johnson. She was trying to get rid of billboards mostly along highway spaces because they were seen as eyesores. All around the country they're seen as an infringement of neighborhood space, and it's true, the minute a billboard is put up it completely changes your visual experience. These sculptures have made me aware that, just by virtue of walking along to see them, you look up and become more aware of the sky and the changing weather, the way the neighborhood looks in relation to the surrounding buildings. There is a conversation implied by the title and their right to exist and whether or not they're seen as ugly or a beautiful thing.
LR A lot of Kim's work plays on that tension between ugly and beautiful. Kim's subjects may not be ones that we immediately think of as being traditional objects of beauty, but the drawings are beautifully executed and the sculptures are beautifully designed and fabricated. I think that friction exists in all of her work.
KB I like things that push the viewer a bit, like weeds that have pushed their way up despite every effort to eradicate them.
TP It seems like this has been an opportunity for you to be able to re-contextualize your work. Have you had the opportunity to do this before?
KB These pieces began as photographs of actual billboards, and then became drawings, then paper cutouts, before becoming sculptures that were then re-contextualized on the High Line in a very real space much like the one they came from. That kind of translation is important although I don't know if it's evident immediately from looking at them.
LR Well, when you look at the sculpture, the fact that they came from drawings is apparent. There really is a 2-D to 3-D transformation that happens. First of all, there is the illusion that when you look at them straight on they look like they have more volume than they do. Then from the side-view you see that they're totally flat. And, because they are all black, they look like silhouettes. It was actually last night, I have to admit, that we got a night-view for the first time.
TP Are they spotlit at night?
LR No, we decided against it because it would have been too theatrical and would have negated the tension between realness and artifice. At first glance, they appear to belong, but if the viewer is paying attention, they reveal their artifice pretty quickly. But one could easily overlook that because in the city there is so much competition for the eye.
TP It definitely brings slowness to the visual environment. It does allow for a pause.
LR It does. It makes you reconsider your environment.
TP Kim, the previous piece you did that was similar to this one was exhibited atop a seventeenth-century mansion in Pittsburgh? What was the experience of that particular placement like in comparison to this one?
KB It was a different context. The mansion houses the Pittsburgh Center for the Arts so in terms of installation, the process was easier than on privately owned buildings in New York City. As for the type of building and placement, the piece in Pittsburgh doesn't blend in as seamlessly—there is a contrast between the sculpture, which reads as a post-industrial remnant, and the architecture, a giant yellow wedding cake of a building. Here, there is less tension between the piece and the existing architecture.The fiction of the piece, that it is a real billboard, is more believable in this space.
TP Lauren, what is the second phase of construction going to be like on the High Line? Have you begun to think about what sort of work will be integrated in the extension?
LR Section 1 opened in June of 2009, and runs from 14th to 20th St. It spans about nine city blocks. Later this Spring we're opening up Section 2, which will run another ten blocks, from 20th St. to 30th St. So the park will double in size. There's another section north of that, from 30th to 34th, which we want to acquire for the park. But it's still privately owned and the city has to acquire the land before it can be converted. If that happens, the High Line will be a mile and a half long.
TP Wow.
LR Yeah, it's pretty amazing.
KB That's a good walk.
LR As far as art pieces, I'm going to have two new commissions debut in June when Section 2 opens. One of those pieces will be a series of sound installations by Julianne Swartz, and the other is a sculpture by Sarah Sze. I'm also working on a performance by Trisha Brown Dance Company that will take place in June.
TP Great. Kim, what are you working on next? I know you're teaching at Carnegie Mellon. Are there any current projects that you're working on?
KB I have a show opening in October at Mixed Greens Gallery, so right now I'm working on drawings and an installation for that show, as well as work for a group show at the Warhol Museum in Pittsburgh curated by Eric Shiner, and other group shows at the Erie Art Museum and The Sculpture Center.
Space Available by Kim Beck is on view at the High Line until January 2012.