French Artist Vincent Sardon Puts His Stamp on French Culture by Michael Valinsky
"My work simply reflects the world, which seems to have been created by an absolute moron."

Discover MFA Programs in Art and Writing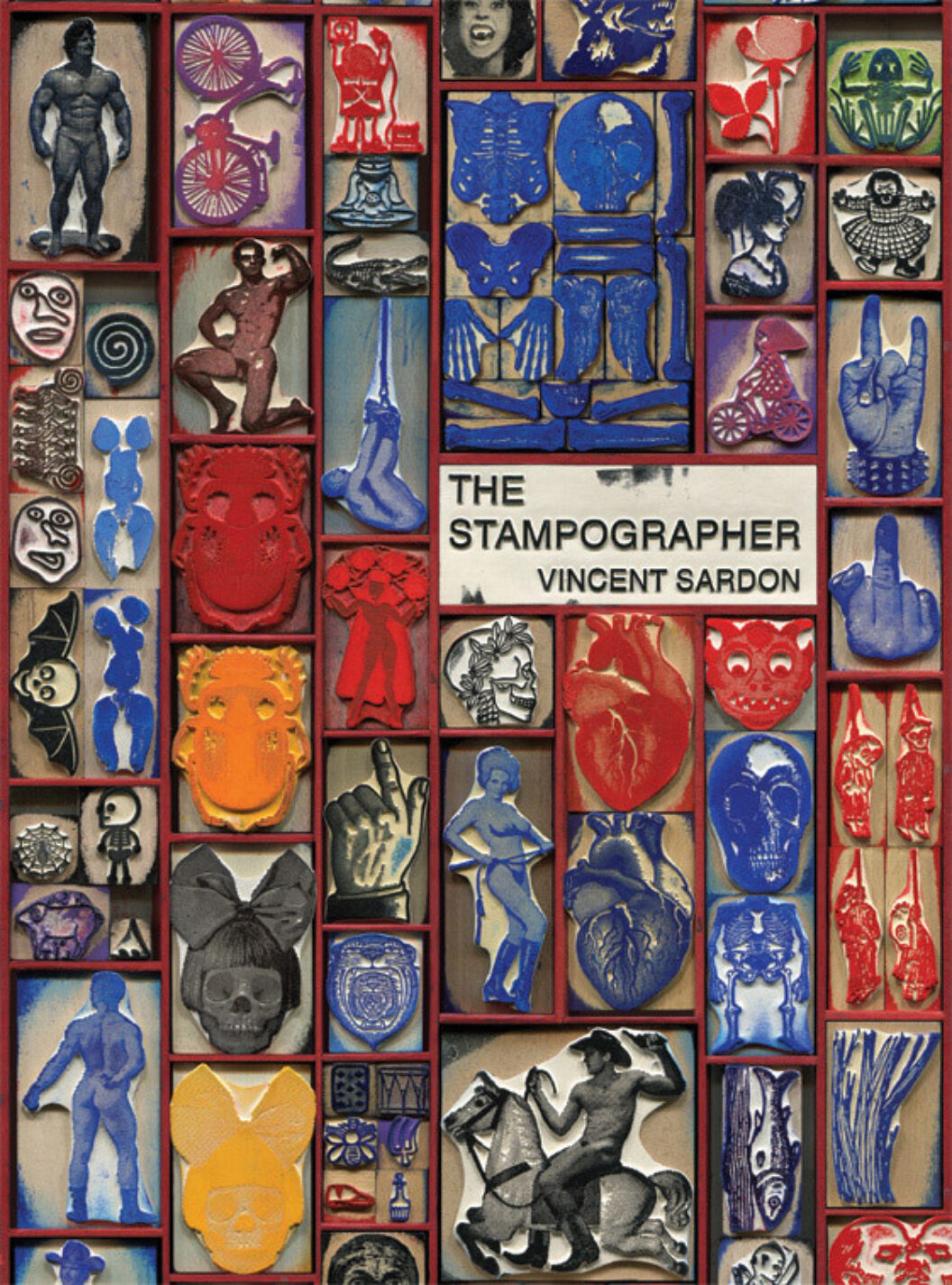 When we think of French satire, our mind often goes to cartoonists like the ones who lost their lives during the Charlie Hebdo attack of 2016 or to the infamous newspaper Le Canard Enchainé, which, despite having been conceived with a leftist perspective, doesn't shy away from commenting on both sides of the political equation. Naturally, the kind of satire that targets political figures or agendas goes way back in French history, back to the times of kings and Molière or Marivaux. In today's world, political satire is exponentially more accessible than a weekly print magazine or a play. Today, most artists and writers, as well as other citizens, have access to platforms onto which they can instantaneously make their voices and opinions heard. French artist Vincent Sardon, a.k.a., Le Tampographe Sardon, or, in English, The Stampographer, uses the stamp as a firm and irreverent vehicle of expression. The Stampographer, published by Siglio Press, takes us into the artist's practice, through many of his works, and gives us access to the first interview with the artist published in English.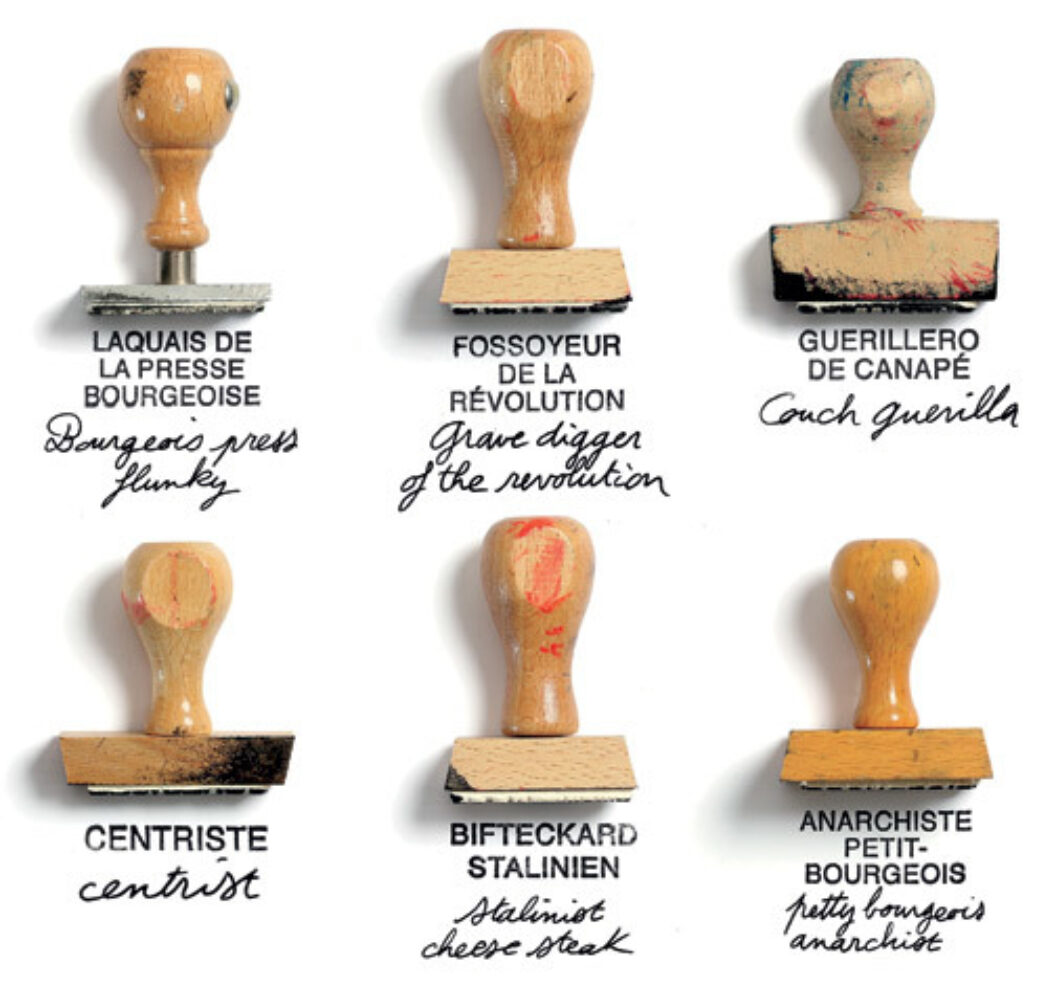 The Stampographer is a monograph that exhibits the artist's work in no particular order, taking its readers from one joke to the next, commentary to commentary, and color to color. Much, though not all, of the stamps featured in the book embody a refusal of authority in one way or another. It's clear that Sardon finds his influences in artists like Andy Warhol, Jackson Pollock, Yves Klein, or Keith Haring, though he effectively deconstructs their imagery, texture, and motifs to look back on instances of power, and repurposes them into irreverent brush offs of contemporary figures of authority. Staying true to the artist's nationality, Sardon's work is primarily composed of blue, white, and red, allowing different colors to emphasize instances of power abuse (darker and black colors) or moments of change (brighter colors, like green and yellow). 
In doing so, Sardon creates a new vocabulary for his attempted reversal of power, as well as for his amusing sense of humor. He creates idioms like, "We are pleased to announce that we will be publishing your autobiography, however your life will remain as shitty as ever," or, "you'll never make it." While highly negative and cynical, these stamped imprints are typical of dry French humor. In another instance, Sardon features the faces of dictators like Vladimir Putin, Muammar Gaddafi, Adolf Hitler, and Donald Trump, among others, and sarcastically replaces their first name with "Frederic," a Germanic name that means "peaceful leader." This pointed humor, combined with a sardonic affect, makes Sardon's work visceral. 
"My work simply reflects the world, which seems to have been created by an absolute moron," says Sardon in his interview with artist Richard Kraft and Siglio publisher Lisa Pearson. "To devote one's existence to designing stamps that are also miniature portable artistic machines seems neither more nor less stupid to me than any other human endeavor." But the stamp is not just as arbitrary as the structures created by those in power for us to inhabit. The stamp is also a very clear symbol of the hierarchy in the workplace environment. The stamp is an identifier, a symbol of approval or denial, a seal, locator, etc. Sardon's contribution is to turn it into a political tool of power reversal, all the while keeping it funny and enjoyable, though hardly innocent. 
Vincent Sardon: The Stampographer is available from Siglio Press.

Michael Valinsky is a writer from Paris and New York. His work has been published in i-D Magazine, Hyperallergic, Los Angeles Review of Books, OUT Magazine, BOMB Magazine, Kirkus Reviews, and more. He is the author of .TXT (Zurich: 89plus/LUMA Publications, 2014). He currently works and lives in Los Angeles.