Freeze Frame: Luca Buvoli at Susan Inglett by Emily Warner
Luca Buvoli, Instant Before Incident, 2009. Installation View. Image Courtesy of Susan Inglett Gallery, New York.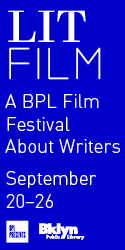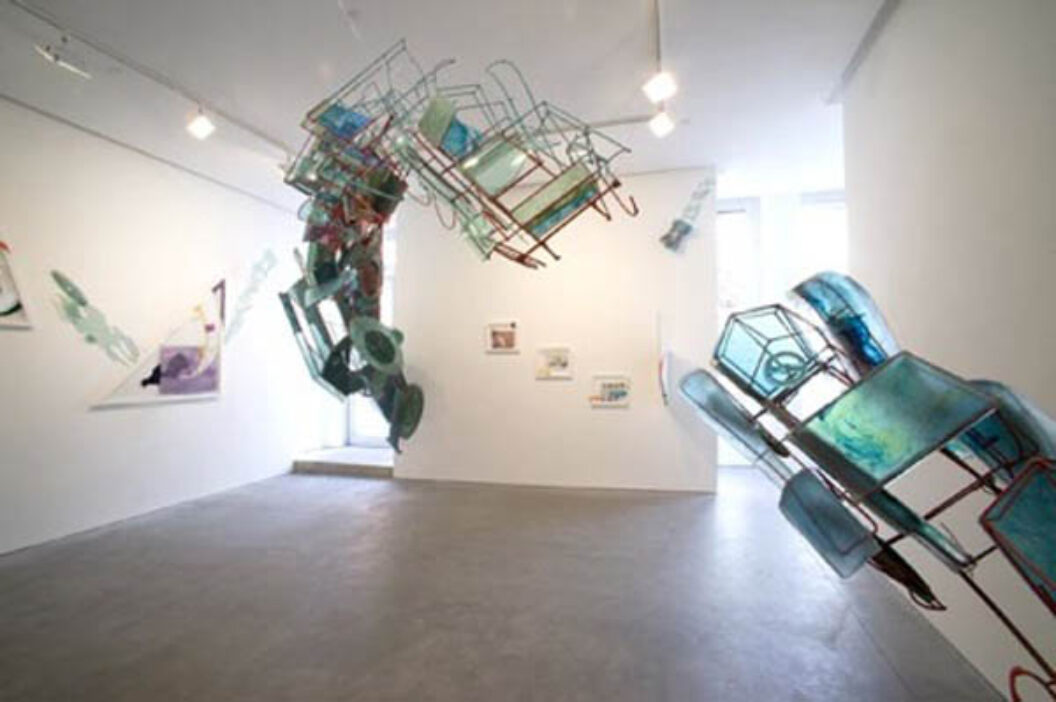 Luca Buvoli's Instant Before Incident is a show about time and the politics of marking it. It is often beautiful and occasionally uncomfortable. Visually and spatially, you're pulled between Buvoli's fluid command of movement and the particular, textural details of gouache on paper, frosted plastic panels, animated lips scribbled over a live-action mouth. Buvoli's hand is everywhere, which is what makes his work such fun to look at.
The first thing you encounter upon entering the gallery is a turquoise streak of suspended Fiat racecar models. They're hanging in the air like a Marey study of a car in flight, or a Futurist rendering of an object in space. Made of transparent plastic, wire, and polyurethane resin, the cars start small and balloon in size as they head up and away. And yet, for all the sense of movement, the work is strangely still, and the calm complexity of its composition recalls a curving staircase or a Leonardo machine: something quiet, graceful, efficient.
This grace and efficiency are part of what makes Buvoli's work such complicated moral terrain, set as it is against the backdrop of Italian Futurism. The "instant" of the show's title refers to the car accident of Futurist poet F. T. Marinetti, who famously dramatized the crash as a moment of epiphany in his Futurist Manifesto of 1909. What if we stop here, Buvoli asks, before impact, before the Manifesto, before the reactionary aggression of the Futurist ethos and its eventual espousal by the Fascists? What potential histories might we imagine, spooled out in poetic reversal of the staggered line of Fiat cars? And what might we discern about the mechanics of the thing itself?
There's certainly humor in the literalism. (Buvoli likes to quote surface details in a way that unsettles profounder things.) But above all, Buvoli is interested in discrete points—spatialized, paused at, iterated—and how they add up (or don't) to movement through time.
It's not just a philosophical question, or a formal one. It raises issues of anticipation and arrival, and what we deem 'real.' It's about control of temporality, and control of experience. Thus Buvoli's interest in signage and text: E lui diceva: ricordati (and he would say: remember) reads one of his Propaganda Posters, the words above a dynamized, gouache-rendered Fiat. This is the real. This is important. It's a technique found in propaganda, but also in newspapers, comic strips, artists who make flipbooks. And perhaps in us, too: watch the video of aphasiacs stuttering through a reading of the Manifesto, and note your reactions carefully. Here and elsewhere, Buvoli suggests that the politics of time and movement are more insidious and more personal than we might first suspect.
Instant Before Incident will be on display at Susan Inglett Gallery through 3/21/09.