Haitian classical guitarist Frantz Casseus came to New York with the ambition to compose a distinct music, fusing the European classical tradition with Haitian folk elements.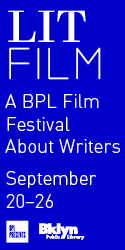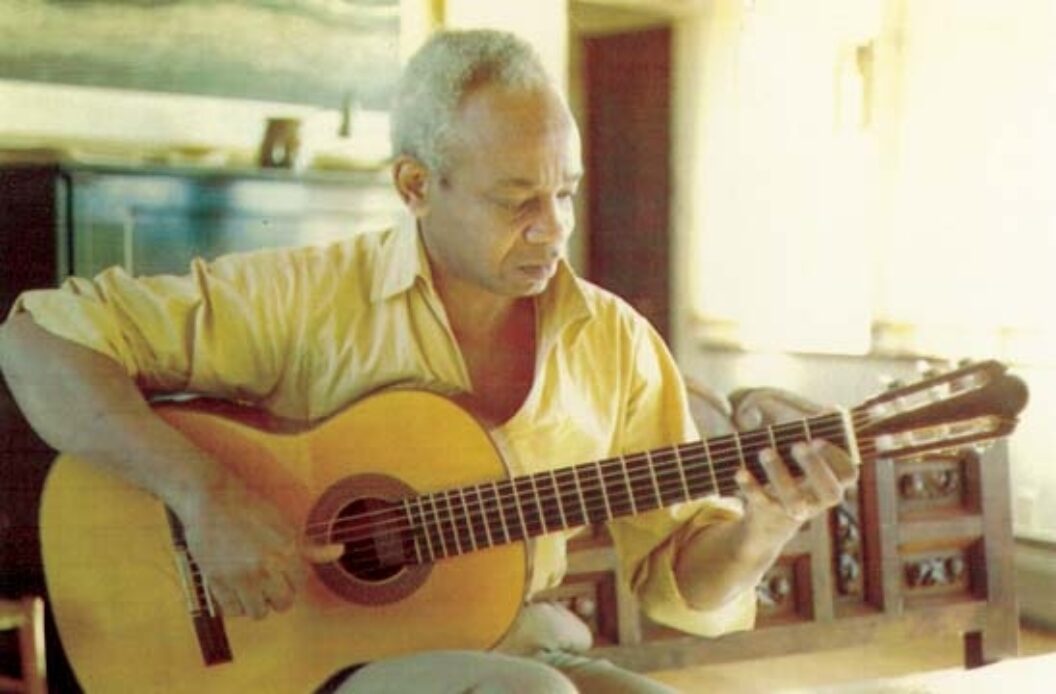 In 1965, at age 11, I wanted to play guitar: like millions of other suburban kids, I heard a Rolling Stones record and thought it was cool. I had no interest in classical guitar. Yet that's what I started studying, with no less a teacher than Frantz Casseus, the acknowledged father of Haitian classical guitar. And although I wound up playing music quite far from what Frantz taught me, it was a good idea, a beautiful idea in fact, for reasons that don't make any kind of sense but are true.
I'd known Frantz most of my life. He'd been friends with my aunt and uncle, Rhoda and Melvin Unger, since the early '50s, eventually forming one of those unlikely reinvented families that seem to grow out of the social fragments of New York life. My aunt and uncle both attended the famously leftist City College of the 1930s, met shortly thereafter and have been together ever since. By the time they met Frantz, my aunt had become a pop songwriter and my uncle was running a costume jewelry business in the Garment District.
Frantz was born in Port-au-Prince, Haiti, in 1915. His childhood fascination with the guitar was mystically fused with the death of a young aunt who had helped raise him. It was the custom in Haiti to discard the belongings of those who died from illness. "The sight of [Aunt Andree's] mandolin perched on what seemed a pile of garbage—alongside the memory of her music—has never ceased to haunt me…I burned with desire." (Marc Methalier, ed., "Essai Bibliographique sur la Vie de Frantz Casseus," Mathel Productions, 1995) By the time he emigrated to New York, Frantz had already established himself as an important guitarist in Port-au-Prince cultural circles. But he had ambitions beyond the repetition of a traditional classical repertoire for Haiti's cultural elite.
Frantz came to New York for roughly the same reasons James Baldwin left it. Both needed to write about the place they were from and both needed to leave that place in order to do so. Frantz came here with the ambition to compose a distinctly Haitian classical guitar music, to fuse the European classical tradition with Haitian folk elements as Heitor Villa-Lobos had done with his native Brazil's and as Béla Bartók had done with Hungarian folk songs.
Frantz's assumption of what was to be a lifelong musical mission followed the occupation of Haiti by the US military (1915–34), when its cultural integrity must have felt threatened. An editorial he wrote titled "Our Méringue Is Dying" describes this: "Some with indifference, others with an indignant sadness, have witnessed the disappearance of one of our most delicious national dances which is like a precious pearl ornament of our folklore." The Haitian Méringue "invites [one] to dance, contains a subtle and delicious melody…. [Its] character, its simple and limited form, made it a dance with noble stature, and even a classic." (Frantz Casseus, "Notre Méringue se muert,"Haiti Journal, 1944) Love and loss again, this time on a national/cultural level.
Frantz's artistic reaction to this perceived loss, his "indignant sadness," occurred against a backdrop in which Haitian classical guitar repertoire was completely determined by what was being performed in Europe. Frantz looked instead to Haitian folk forms: "I believe it is the artist's function to render articulately and with beauty the soul of the land of his origin and also the world that he experiences…. As you may know, my work is considered an expression of the Haitian spirit. Yet, critics have stated (and this has been my hope) that it transcends regionalism and enters the realm of transnational art." (Interview with Ira Landgarten, Frets Magazine #17, 1989)
This leap of imagination may seem obvious from a contemporary standpoint, but in the Haiti of the late '30s and early '40s it was anything but. Aimé Césaire was only just articulating the Negritude Movement. To imagine a fusion of the European classical tradition and Haitian folk music, to imagine the "Haitian spirit" as relevant and necessary to "the realm of transnational art," was bold and shocking.
Before Frantz could incorporate Haitian folklore into the tradition of the classical guitar, he first had to study it. As the relatively protected son of a civil servant (his father headed the Department of Water Supply), Frantz had had limited direct experience of Haitian folk culture. He dropped out of law school in order to become a full-time guitarist. He then set out to make contacts "with certain griots and people initiated in our culture. Thus strengthened, I overflowed with rhythms, forms, lyrics of my future compositions."
Frantz's relation with the US occupiers was complex. He'd heard jazz on the soldiers' radios and phonographs. Although his sense of musical mission emerged from a desire to protect Haitian music from this cultural intrusion, he was also attracted to jazz. Frantz told me he came to New York to meet Fats Waller. The meeting never took place; Waller died within a year of Frantz's arrival in 1946. But the influence is audible in Frantz's stride piano/jazz harmony—inflected composition "Romance" and was visible in his appreciation of well-made hats. Frantz initially stayed at the Sloan YMCA and various Upper West Side addresses before settling at 312 West 87th Street, where he completed Haitian Suite, the masterpiece he recorded in 1954 for Folkways Records (whose catalog has been reissued by Smithsonian).
In time, Frantz and my uncle and aunt became friends, hung out and eventually had a sort of cooperative arrangement regarding a car. As a kid, I used to come in from New Jersey with my family to visit my aunt and uncle on West 86th Street. Frantz would be there, and we'd spend Saturday or Sunday together. Every Thanksgiving and Passover, Frantz would be with us, whether in New Jersey or New York. Sometimes he'd bring his guitar and play. He was the first person I ever heard play a musical instrument live. When I decided to study guitar, it was decided that I would study with him.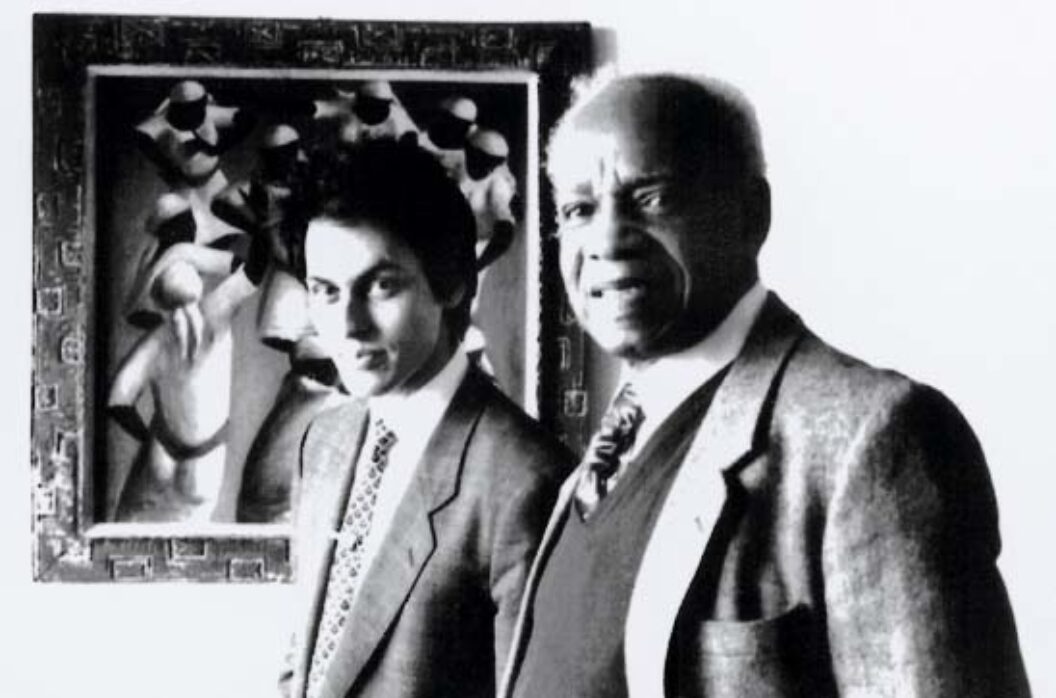 I would arrive for my lessons at Frantz's brownstone every Sunday afternoon at one. Often, to my amazement, Frantz would still be sleeping. The apartment smelled of black coffee, stained wood and cigarettes. The place resembled an assemblage inspired by Cubist painting. Frantz was a skilled woodworker and luthier—during his life, he hand made more than 150 guitars to supplement his income. Every week would bring some alteration to the maze of cabinets and bookshelves.
While Frantz got dressed, I'd sit and warm up on the guitar. I could see, on the coffee table, artifacts of the night before: manuscript paper, pencils and the ashes of entire cigarettes, ten or more, maybe puffed once or twice then left in the ashtray to burn out untouched and forgotten. The story of someone composing, someone lost in the solitude of music.
Frantz was a patient teacher, and in fact, much of what is taught in the study of classical guitar is patience itself. The counterintuitive ability to relax the hands instead of tensing them before the difficult task of playing, the secret that impossible physical feats become possible if broken up into tiny components and approached very, very slowly.
I stopped studying with Frantz at age 14 and started playing in rock bands. I moved to Boston, then to Maine. Somewhere along the line, I became a musician. I moved to New York in 1977, crashed in my aunt and uncle's spare bedroom for a few months, then moved downtown and lived my life.
What did Frantz do? To quote from the upcoming Tuscany Publications book of Frantz's works for solo guitar: "In the late '60s Casseus began to compose again for voice and guitar, publishing the album Haitienesques. In 1969, he released the recording Haitiana on the Afro-Carib label (now available on CD through Smithsonian Folkways as Haitian Dances, Haitian Suite).
"Although Casseus continued to compose through the 1980s, his career as a performing guitarist was hampered from 1970 onward by an increasingly debilitating tendon problem in his left hand. This eventually forced a premature retirement from concertizing, which, combined with the unavailability of his recordings, contributed to a loss of Casseus's visibility on the US classical guitar scene. Afro-Carib had gone out of business and Folkways was highly disorganized in its later years."
I noticed Frantz's increasing difficulties only gradually, from the distance I'd placed between my family and myself. At that time, I felt my studies with Frantz had been at best a quaint diversion from the electric path my music had taken. At worst, I cursed the frustrating right-hand slowness of execution resulting from my failed 15-year attempt to play electric guitar classical style, without a pick. It was only beginning to dawn on me that the economy forced on me by that slowness had been my aesthetic salvation, the frustration itself a connection to a frustrated no-wave musical moment.
I was plucked from my self-absorption by a phone call from Rhoda: Frantz was in trouble. For years, he'd been in a state of denial about the increasing clumsiness of his left hand. Current medical expertise would most likely have recommended a respite from playing. At the time, Frantz thought that he just needed to practice more. But the more he practiced, the clumsier he got, till he could hardly play at all. He believed, had to believe, that he was making progress. Eventually his delusion collided with the world: Frantz accepted a concert engagement in honor of his contributions to Haitian culture from the Societé de Recherche et de Diffusion de la Musique Haitienne in Montreal.
My aunt's plan, seemingly stolen from one of the musical comedy scripts she'd pitched (and sold) to Broadway producers, was for me to act as the unofficial understudy in case things went badly. I'd already learned some of Frantz's pieces as his student; I started practicing the rest. Frantz took off for Montreal about five days before the concert. On day three, Rhoda, who had somehow made herself available to the concert promoters, began to receive calls of increasing urgency. I got on a plane to Montreal and stayed up most of that night with Frantz correcting my interpretation of his pieces. The next evening, after having survived an early-morning audition before representatives of the Societé, I played Frantz's repertoire in concert.
It wasn't a brilliant concert—classical guitarist is one of those jobs, like professional football linebacker, in which one doesn't dabble—but it was okay. My relief was tempered with regret; it wasn't quite right that by default I had wound up as Frantz's main interpreter. And I was concerned over what Frantz must actually be feeling as he accepted the audience's applause.
Back in New York, Frantz's tendon problems, in spite (or because) of an operation on his wrist and other medical interventions, didn't improve. Another composer might have shifted to piano as a tool and continued writing. But Frantz's attachment to music was through the guitar. "Of all musical instruments, classical guitar is closest to the human voice," Frantz liked to say. In no way, of course, is this objectively true, but it was true for Frantz; it was his human voice.
There was another source of discouragement: he wasn't receiving much income from what he'd written. The work was generating income: his vocal version of "Merci Bon Dieu," one of the Haitian Suite pieces, had been recorded by Harry Belafonte, French vocalist Gilles Dreux and others. But Frantz was the victim of a classic music-biz malaise. He had, over the course of his career, signed publishing deals with various companies that had been sold and resold. My mother, Harriet Ribot, had offered to help Frantz untangle this knot in order to both generate income for him and clear the rights to publish Frantz's work in book form. The process took over a decade. My mother's persistent inquiries uncovered one old account of over nine thousand dollars, ostensibly never paid because the publishers were unable to reach him—though Frantz hadn't moved in 30 years and was listed in the phone book. Publishing royalties aren't just a prize for a composer, they're a sign that someone out there is listening, a note of encouragement from the world. Would Frantz have written more in a fairer world? Looking at the decades-late check, Frantz told my aunt, "I had thought my contribution was without value."
By that time, the point was moot. A series of strokes and heart attacks left Frantz increasingly debilitated during his last years. We were in close touch during that time—Frantz supervised my recording of his solo guitar pieces for the Disques du Crépuscule label from his 87th Street nursing-home bed. Although paralyzed in half his body and often finding it difficult to form words, Frantz was mentally alert and able to make insightful critiques of the work. During this period Frantz was visited by friends, family and well-wishers from the Haitian cultural scene, where his status as a major composer is well established. In 1992 he was honored as "a living testimony of Haitian cultural survival with authenticity" by the Recreational, Artistic and Literary Haitian Club of New York. In Haiti itself, bootlegs of Frantz's recordings are still circulated.
Frantz Casseus did what he'd set out from Haiti to do. In order to do it, he chose a life of great solitude, imposed on himself a type of exile, forfeited (although he was by no means celibate) the pleasures of a wife and children, spent his life on the edge of poverty, and lived as a black man in a United States whose southern racists wouldn't let him stay in the hotels where he performed and whose northern liberals had difficulty accepting his work as classical, preferring to hear it within a "folk" context when they heard it at all. He carried these burdens with such little complaint they seemed not to matter. Those who knew Frantz knew better. But Frantz chose this life because he loved composing, he loved playing the classical guitar. Love's burdens are lightly borne. Frantz died in June 1993. Before he did, my aunt, my mother and I promised him that we'd look after his work. The first print book of Frantz Casseus's complete works for solo classical guitar will be released this spring by Tuscany Publications.
Harriet Ribot, research assistant
Marc Ribot is a guitarist and composer and an integral member of New York's experimental New Music scene. He has collaborated with numerous artists, including Arto Lindsay, Chocolate Genius, and John Zorn. More recently, Ribot composed the score for the dance piece "Inasmuch as Life ls Borrowed," by choreographer Wim Vandekeybus, and is currently continuing his musical excursions with the acclaimed ensemble Los Cubanos Postizos. His latest solo guitar album, Saints, was released by Atlantic Records in 2001.
Originally published in
Featuring interviews with Christopher Cozier, Carlos Garaicoa, Maria Elena Gonzalez, Antonio Benitez-Rojo, Zee Edgell, Wilson Harris, Eddie Bobe, Marc Ribot, and Orlando "Maraca" Valle