Frédrique Bergholtz and Iberia Pérez's (Mis)Reading Masquerades by Christopher Stackhouse
A collection of essays examining the cultural, social and political manifestations of both literal and metaphorical masquerade.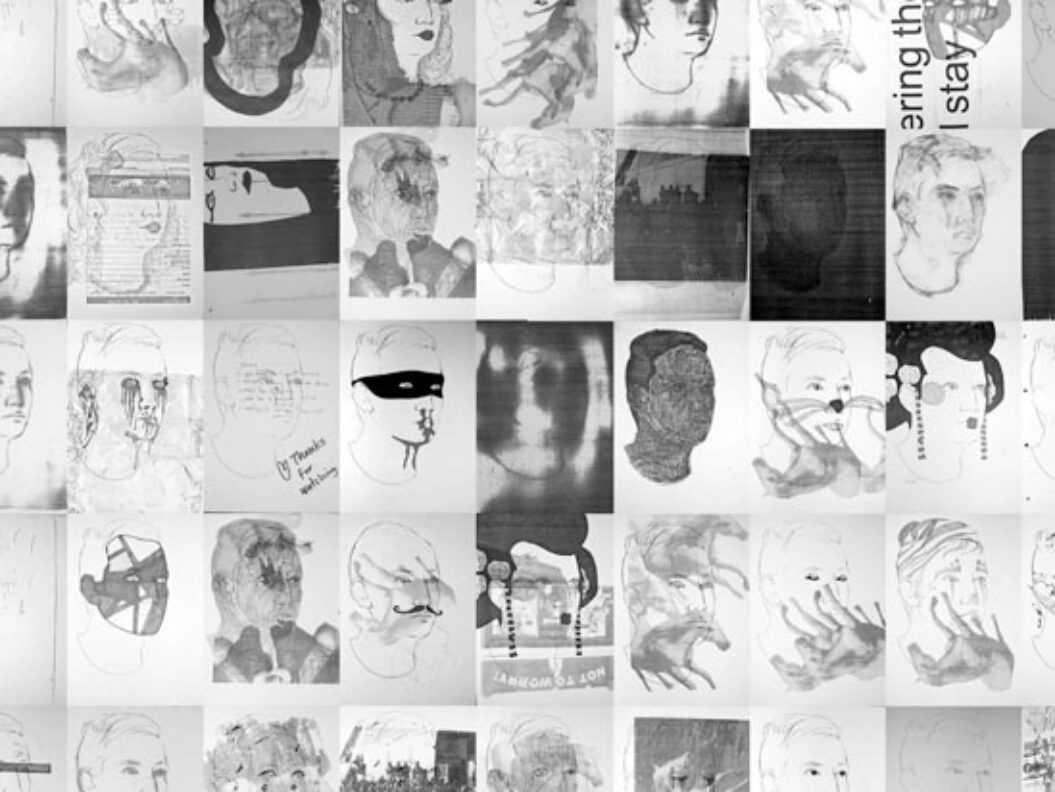 Revolver, 2010
(Mis)Reading Masquerades is a text-image collection celebrating the completion of the "discursive programming" project Edition III—Masquerade, initiated by If I Can't Dance I Don't Want To Be Part of Your Revolution, a nonprofit interdisciplinary organization directed by Frédérique Bergholtz and based in Amsterdam. This book investigates the "cultural, social, and political manifestations" of the notion of masquerade. The term—theoretically designated as the public or private performance that transforms a performer through psychological or physical costuming—also proposes the acts of reading and interpretation as performative, with the potential of "detaching texts from an author's intentions and reconstructing their original intended meaning."
Part performance-art production group, part research institute, If I Can't Dance systematically encourages secular discourse, providing platforms for exchange between the general public, the academy, and art communities, following Hanne Darboven's maxim "contemplation interrupted by action." This anthology of over 40 essays, a first of its type for the organization, provides documentation of efforts fostering such intersections. Contributing participants, including Bergholtz herself, comprise a Reading Group that revisits well-known texts and writes new ones in dialogic response.
In her introductory essay, "Readers as Producers of Meaning," Iberia Pérez advances an inclusive reevaluation of reader-response theory by situating the group's reading activity between Michel de Certeau's articulation, in The Practice of Everyday Life, of "reading as a misunderstood activity" where the process of reading and exegesis might modify an author's intent, and D. F. McKenzie's assertions in Bibliography and the Sociology of Texts about the history of any important book, given transformations withstood through its reproduction and subsequent reprintings, producing inevitably a "history of misreadings." With an appreciation for de Certeau's and McKenzie's suggestions, Pérez's and Bergholtz's Reading Group moves toward an intentional creative mode of interpretive engagement.
Potential for productive misreads—recontextualizing texts or any other authored presentation through aggressive interpretation, imagination, and role-play—abounds in the volume, but most interesting is Joan Riviere's excerpted "Womanliness as Masquerade," published originally in The International Journal of Psychoanalysis in 1929. Riviere's analysis of a public intellectual who is ostensibly happily married to a man, but is also potentially a bisexual woman with a "castration complex," presents multiple takes on mask-wearing. Her diagrammatic reading into the possible intentions of a mind is perilous and exciting to witness. Steven ten Thije's introduction to the chapter on madness reveals one unifying subtext joining misreading and masquerade: "The masquerade is, among many things, a place of extravagance and excess. It is a place beyond the order of the everyday, subject to a different rationality, if it is rational at all." "Misreading masquerades," as a broadly applied act and practice in public and private spheres, implores us to challenge acceptable performances of reason.
(mis)Reading Masquerades is out now from Revolver Publishing.
Christopher Stackhouse is an artist and writer. A book of his essays is forthcoming from Sandpaper Press, and a volume of poems from Counterpath Press, both in 2011.
Originally published in
Featuring interviews with Charline Von Heyl, Fred Tomaselli, Mika Rottenberg, Thomas Hirschhorn, Adam Phillips, Charlie Smith, David Toop, and Jan Lauwers.