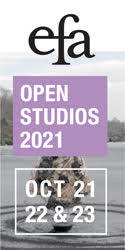 Merry-Go-Round
The carousel, the roundabout, the what-
do-you-call-it, the merry-go-round, they called
to me, like a candle flame, a chariot, a stag,
a swan and a horse, a rearing horse
circling round and round but prodigiously still,
so still he trotted up into the air
with organ pipes and little bells, the air
not moving the horse's tail
all golden and white, but dangerous,
the danger of falling in the midst of flight,
of me falling and being forgotten
by Father, of getting off elsewhere
than where I got on, all at once alone,
no more clouds in my hair, no more wind,
I am lost, no more that delectable fear
of flying with both hands clutching
the horse's mane now slipping my grasp, and I
am clay in a kiln of air that slowly recovers
a stillness of form, the form of beginnings,
of being alone without wings.
Undermining the Wall
Time's mission: to measure itself against the wall,
undermine it, unknot its solid ties,
temper its blade. Mind your impatience:
a sigh returns as a storm.
 
A sunset peers out from behind
Batoví Hill, bleedingly splendid.
In your heart there should be ashes:
there still is blood.
 
Life: it comes with wings or briers,
a bouquet for the vase and smiles
or stony silence. Then, the wall.
Chapter
WHERE AT LAST IT IS REVEALED
WHO I WAS, WHO I AM,
MY FINAL RESTING PLACE,
WHO YOU ARE, WHO YOU WERE,
YOUR NEXT DESTINATION,
THE COURSE THAT WE TAKE,
THE WIND THAT WE BEAR,
AND WHERE IT IS DECLARED
THE PLACE OF THE TREASURE,
THE IRIDESCENT FORMULA
THAT CLEARLY
EXPLAINS TO US THE WORLD.
 
But then the chapter
was never written.
The Word
Expectant words,
fabulous as such,
promises of possible meanings,
artful,
              aerial,
                              irate,
                                           Ariadnas.
A slight error
makes them ornamental.
Their describable exactitude
erases us.
Translated from the Spanish by Sarah Pollack.
Sarah Pollack is a professor, critic, translator, and poet. She teaches Latin American literature at the College of Staten Island–City university of New York. She has translated poetry by Ida Vitale and Enrique Fierro, and An Evocation of Matthias Stimmberg, a novel by Mexican author Alain-Paul Mallard.
Ida Vitale is a Uruguayan poet, critic, and translator. She was born in Montevideo in 1924 where she lived, studied, and taught literature. In 1973, she and her husband, the poet Enrique Fierro, were forced to seek exile in Mexico where they lived until 1984. Since 1989, they have resided in Austin, Texas. Vitale's works have been published in Uruguay, Venezuela, Mexico, Spain, and the US. She is author of over a dozen poetry books, the most recent being El ABC de Byobú (Byobú's ABC, 2004) and Trema (2006). Reason Enough, a bilingual selection of her poetry translated by Sarah Pollack, was published in 2007 by Host Publications.
Originally published in
Featuring interviews with Matias Duville, Jorge Macchi and Edgardo Rudnitzky, Josefina Guilisasti, Cristina Peri Rossi and Carmen Boullosa, Cesar Aira, Raul Zurita and Nicanor Parra, Lucrecia Martel, Smiljan Radic and Jose Castillo, and Adrian Dargelos.