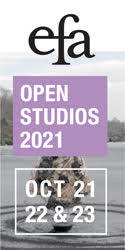 Forgiveness
Four days before the summer
solstice two weeks of spring rain ended
and the sun began to warm
things up, brought sweetness into
berries in the field and bees
loud among the roadside flowers.
Women came into the evening sounds
to clear a load of laundry from the line,
to walk the garden row—peas up a fence
are a mixture of flowers and pods—
and to meet a man out waiting for the stars.
In the house while the rain fell,
I thought of my life among others,
and how sometimes I am left alone
despite everything. And of how many times
I have told my lover I'm sorry and
then waited for his response, his forgiveness.
Outside, all signs of the rain
that had been our constant companion
for so many spring days are gone,
except for how tall and green things have grown
in the sun—healthy weeds, grasses,
clover purpling the fields with its flowers.  
 
Riverbend
Length of road, stretch of trees,
melting snow in the weeds. I ask
the baby to sleep while this bright,
rare sun warms at the windows, and
I close the door halfway behind me.
What comes to my mind is the bend
in the river we have left behind, before
I was pregnant and before my friend
died who lived there, before we had
reached a winter like this. I can see
not my own view but the forty feet
across the low bank and high bank,
the graceful ess of the turn, and
the sight from his window that held
all the scattering maple leaves, gold
in fall sun. The baby rests now, not
yet asleep, and the sun will reach
her crib soon. I would love
to walk my friend in there to see
her, to welcome him back with my hands.
His ashes are in the river, his lover
put them there, and so the current there
must move in my mind like muscle and bone
and the spirit that moves them. In new
places, love grows and there has been
no winter like this, my sleeping child
in the yellow sun, the sound of the river.  
 
Additions
Waterlily, the whole pond chokes
with them, and a small stream
running from above loses power at
their roots, filters its load of silt
and wanders through algae growth,
brown and green leaves. Flowers are
waxy and fat, fade from a deep flushed
pink to flesh-white. A house watches,
dark-windowed; frogs make continuous
music from where they are unseen,
and sun carves itself in thin slivers
through the trees. We are the ones
passing by, with nothing to lose,
thick grass so green for our feet.
I can always think back later to
picture the giant bird I see—it is
a heron and it is flying by with sagging,
silent wings to a lake up ahead with
clear water. The surface there is
a mirror of trees; the bird will see
itself full length and diving. Here,
night will come and if we stay we will
smell those other flowers blooming;
we will hear the exhalation of the trees,
water stopping at the pond to rest.  
 
Lilac
The long sky here caps the valley,
and in among us the smell
of honeysuckle keeps at
vine and tree height. Spring
combs the grass as tall and almost
flowering; by my house one
late-blooming lilac adds its fragile
odor to the porch, the lawn.
Coming in and out of doors I catch
sight of different things—rake, books,
dog's bowl full of water, hose,
the houseplant taking residence
outside with all the other green—
and there is a strange loss of
distinction of where things belong.
A window that I've kept open all day
lets in a few mosquitoes through
a broken corner of screen, and two
moths come in to flutter at our
hands and faces. At night I remember
weeks ago walking through town
and every bush seemed to be lilac
in bloom. Around rows of tulips
a woman cut her pick—the straightest
stems, and on a bicycle a girl,
long legged in shorts, rode by
with her front basket filled with purple.
At the corner, a couple, younger than my
husband and I, were pulling blooms
from the lilac and the woman in each
hand was making a bouquet. It is
as if each flower grows for its own
person attending to it, and those nights
we'd eat by a vase of narcissus
or cherry blossoms strongly spicing the food,
and we could taste it in the wine.
Gigi Marks lives in central New York state with her two children and her husband. Her poems have appeared in various literary magazines over the past nine years. She is currently working on her fourth collection of poems.
Originally published in
Featuring interviews with Sally Gall & April Gornik, Roseanne Cash, Walter Mosley, Sally Potter, Luciano Perna, Melanie Rae Thon, Sadie Benning, David Baerwald, Pae White, Bruce Wagner, Darrel Larson, and Buzz Spector.