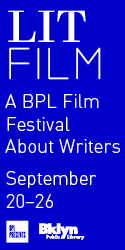 So I Don't Lose Strength
Translated by Clinton Krute
And I say to myself every time, so I don't lose strength
                         that tomorrow I'll leap for joy,
that at this very moment
a squirrel could pop out of this telephone
that when the sun comes up, I'll go gather
snail-like monsters on the seashore.
I say this to myself in the early evening
when the worn-out tenants return to their rooms
and the neon begins its dictation.
Antidepressants
Translated by Krista Ingebretson
There was a drop in supplements and munitions.
Life stretched uphill before us
and everything seemed so far away, since we didn't have
a gas can, or canteen, and any one of us
could have slipped on a bottle or an aspirin,
listening to songs coming from the desert,
thinking and thinking what is it that is and what will be, will be,
    carting rocks, praying to lamps,
dying with feeling like a crowded jukebox,
like a cicada sizzling on the frontier,
and all these more or less sad things.
Sometimes a nut screwed loose
or a cord snapped just before entering the ring
so there really was a drop in every sense,
including grass, mouthwash,
the face the mirror gives back, the credibility index
and levels of self-fulfillment.
It's not that we'll stop speaking
before a respectable audience,
just as one didn't stop combing through cobwebs either,
    or taking an interest in criminal affairs,
or knowing when a ghost
was playing a macabre joke on you.
So this was roughly how the world was
until antidepressants arrived
brought straight from the pharmacy
by a nocturnal sylph in tennis shoes.
Antidepressants create
an altered state of mind
consisting in always thinking
that all goes well.
So now I'm learning to play the flute,
to not be so hard on the condo board,
to soar like a big black bird over any sort of circumstance.
So no more anything that has nothing to do
with global warming
or jellyfish on their way to extinction.
So no more anything that isn't
a flower from the florist,
a morning nap and an afternoon nap,
a sudden blush in the cafeteria,
    or smoking in the window
watching dead stars before the owls come.
Antarctica
Translated by Clinton Krute
The ice cubes in the glass
hide a naked woman
who melts their liquor
 Ice cubes of belated origins
crypts disturbed by an Antarctic echo
of music that thaws its animals
in the glass' reflection
Ice cubes that accumulate prehistories
at the bottom of an evanescent lake
like memory
The eye
my eye stops
at the sonorous station of these glasses
bent by the weight of the ice cubes
An imagined eternity
appears floating in the liquids
of my melting woman
naked dark fragile.
The Goliards
Translated by Krista Ingebretson
Night nods off like a sleepy sentry
once enough winds have whipped past
the Arctic Circle.
A trumpeter slips across wet pavement,
while cars pass and lose themselves
where the urge to be away is lost.
Then into my thoughts came
my friends, the goliards,
who must be burping, confabulating
(repeating the refrain this country has gone to shit),
who thrum like guitarrones
and live life in the mouth of a jug
who are moved by any thing
    fading away
and whose hearts are attached
by thin fragile threads.
My friends, the goliards,
who are expelled from grave-niches and cloisters
(but are patted in taverns and town squares),
who vomit into psychiatric fountains
and dump buckets of cold water on madmen,
who bash chairs at banquets and grow pale
when the bottom pales in their cups.
My friends, the goliards,
who drink beyond the walls
looking for grass, squelching,
who when sad withdraw to chew their cud
(as if they were bulls at San Fermin)
until their moment arrives and they charge again,
bellow over their trapezoids, while they pop corks,
and lift skirts and call for one more round.
My friends, the goliards,
who dream of battles
after having battled in zones
almost no one has returned from,
always alive, always dead, the goliards,
hoisting their glasses to heaven (may heaven protect them),
bumping fists and cards,
sharing tobacco and mutton,
crossing hallways to plot betrayals
always quick to toil
in service to any nutritional cause.
The goliards, my friends,
who know to step just so
when daggers shine out of spent gunpowder
and how to gab from dawn to the estate door
not wasting the chance to fry up in a pan
these cats' fifth paw.
Sleeping and snoring are the same for goliards,
dreaming the snore and snoring the dream,
if it weren't this way they wouldn't be goliards,
scandalous, libertarian, kneaders of the bread of life,
covering worlds like swashbucklers in an operetta
shouting, egging on, toppling the day's barrows
until they quiet down
if they hear a corner bandonion,
and then tra-la-la its song
and fall asleep snoring, dreaming,
dreaming, snoring,
my friends,
the goliards.
Krista Ingebretson's translations have appeared in Ecopoetics, Circumference, Denver Quarterly, and the anthology Connecting Lines: New Poetry from Mexico. She studied comparative literature and translation at Brown University and the University of Chile and currently lives in Brooklyn.
Clinton Krute is a writer and translator currently living in Brooklyn.
First Proof is sponsored in part by the Bertha and Isaac Liberman Foundation.
Luis Enrique Belmonte is a poet and psychiatrist. He studied in Venezuela and specialized in bioethics and history in Barcelona, Spain. Pasadizo (Passage), his most recent book, collects his poetry books from 1994 to 2006 and was published earlier this year by Monte Ávila Editores in Caracas.
Originally published in
Featuring interviews with Antonio Caro and Victor Manuel Rodriquez, Ducle Gomez, Ana Teresa Torres and Carmen Boullosa, Evelio Rosero, Juan Gabriel Vasquez and Silvana Paternostro, Javier Tellez, Mario Galeano Toro and Marc Nasdor, Sergio Fajardo, and Carlos Cruz-Diez.