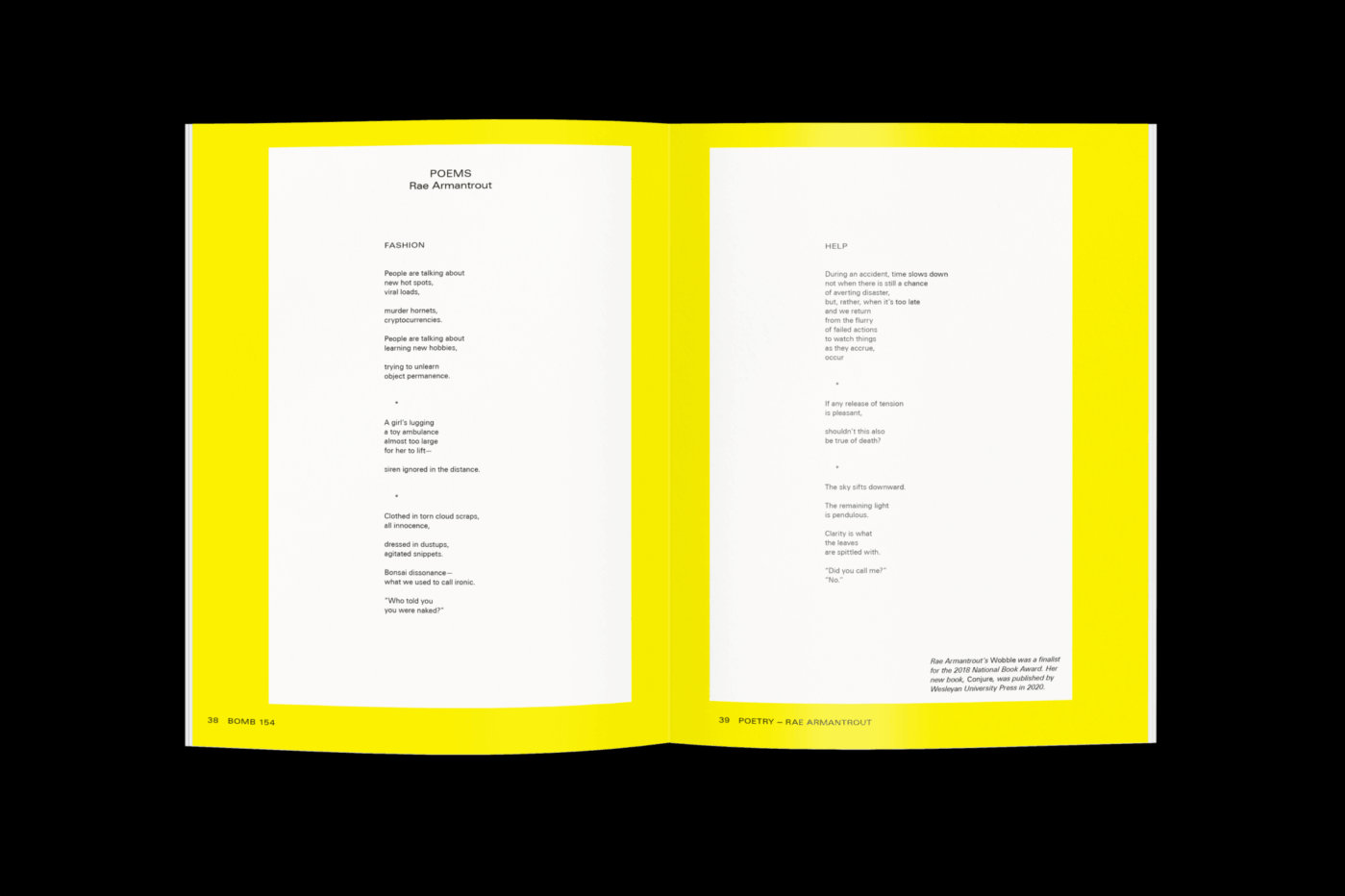 FASHION
People are talking about
new hot spots,
viral loads,
murder hornets,
cryptocurrencies.
People are talking about
learning new hobbies,
trying to unlearn
object permanence.
*
A girl's lugging
a toy ambulance
almost too large
for her to lift—
siren ignored in the distance.
*
Clothed in torn cloud scraps,
all innocence,
dressed in dustups,
agitated snippets.
Bonsai dissonance—
what we used to call ironic.
"Who told you
you were naked?" 
HELP
During an accident, time slows down
not when there is still a chance
of averting disaster,
but, rather, when it's too late
and we return
from the flurry
of failed actions
to watch things
as they accrue,
occur
*
If any release of tension
is pleasant,
shouldn't this also
be true of death?
*
The sky sifts downward.
The remaining light
is pendulous.
Clarity is what
the leaves
are spittled with.
"Did you call me?"
"No."
Rae Armantrout's Wobble was a finalist for the 2018 National Book Award. Her new book, Conjure, was published by Wesleyan University Press in 2020.
Originally published in
Our winter issue includes interviews with Tashi Dorji, Danielle Evans, Walton Ford, Guadalupe Maravilla, Mary Lovelace O'Neal, the Ross Brothers, and Aaron Turner; DIY cookbooklets from Dindga McCannon; poetry by Rae Armantrout, Imani Elizabeth Jackson, and Allison Parrish; prose by Langston Cotman, GennaRose Nethercott, and Brontez Purnell; a comic by Michael DeForge; protest drawings by Steve Mumford; and more.