Winner of BOMB's 2018 Poetry Contest, selected by Dawn Lundy Martin.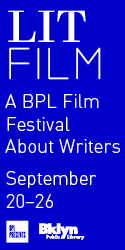 What does it take to orient one's self within the logic of a poem? The poems that woo me, that yoke me, erotically, into their worlds are those that enact an unpredictable magic. Magic, when it comes to Savannah Cooper-Ramsey's "little murder" poems, happens in the playful conversation between actual happenings in the world and the quirk of logic within the writing—an imagined or created logic that takes, as one of its forms, a linguistic attack on convention. This is evident in "(little murder of lyric adoration)." Throughout the poem a syntactical derangement is at work, chopping the throat of the lyric with a winking eye. In her murder of lyric adoration, Cooper-Ramsey ends with "What contents these forms / in wonder that we ever left the room." Though the syntax refuses foreclosure when it comes to meaning as we know it in regular life, it opens up other possibilities and leaves us with the notion that "contents" can drag the poem into forms/rooms if one does not get a good hold on them. I mention this because it provides a valuable key to reading this work, a kind of instructive ars poetica, even as the poems resist poemness.
There is something here so playfully dismissive of conventional approaches to poetic form and the artifice of its attendant language. What pricks my ear and strokes me into keen readerly desire in "little murders" is when language's texture rakes over me, when then the ground is suddenly planted beneath my feet. In "(little murder of the market)" a location presents itself—North Philadelphia—and "destitute gentry." I imagine the begging privilege of whiteness, a golden hand picking a bagel out of the trash in some self-lauded gesture. A rigorous slaughter of syntax continues. Why say, "old folks" when "folks of old" provides us a new look at the concept and the bodies upon which the concepts are built? As much as these poems press on the boundaries of the poem, they also reconceive what it might mean to address, inside a thing we call a "poem," human predicaments. By the time we get to the phrase "of cancer," we have been both besieged and set floating in an ocean of leaping thoughts, as if to say that no rooms can hold the vastness, fragility, and unpredictability of human experience.
—Dawn Lundy Martin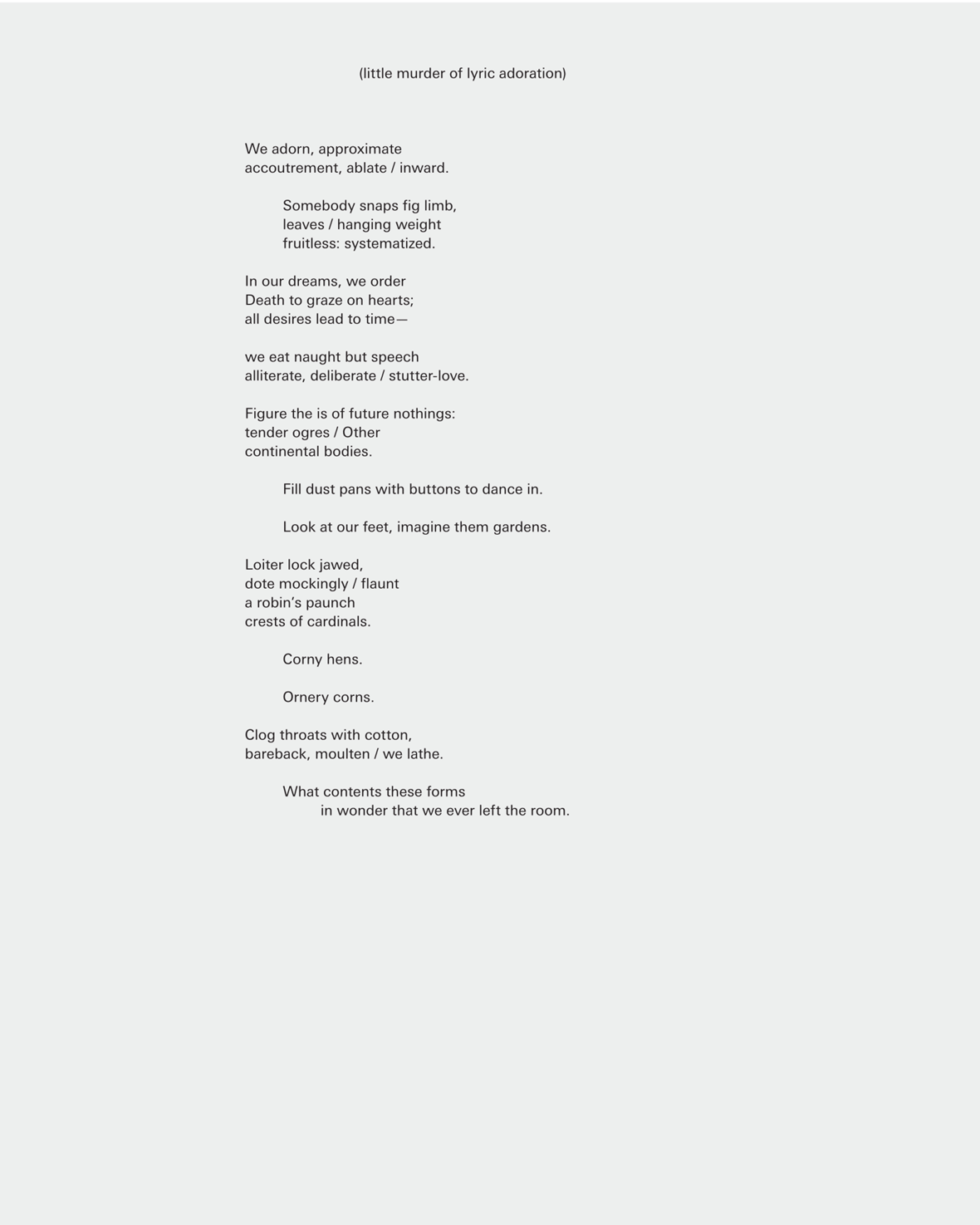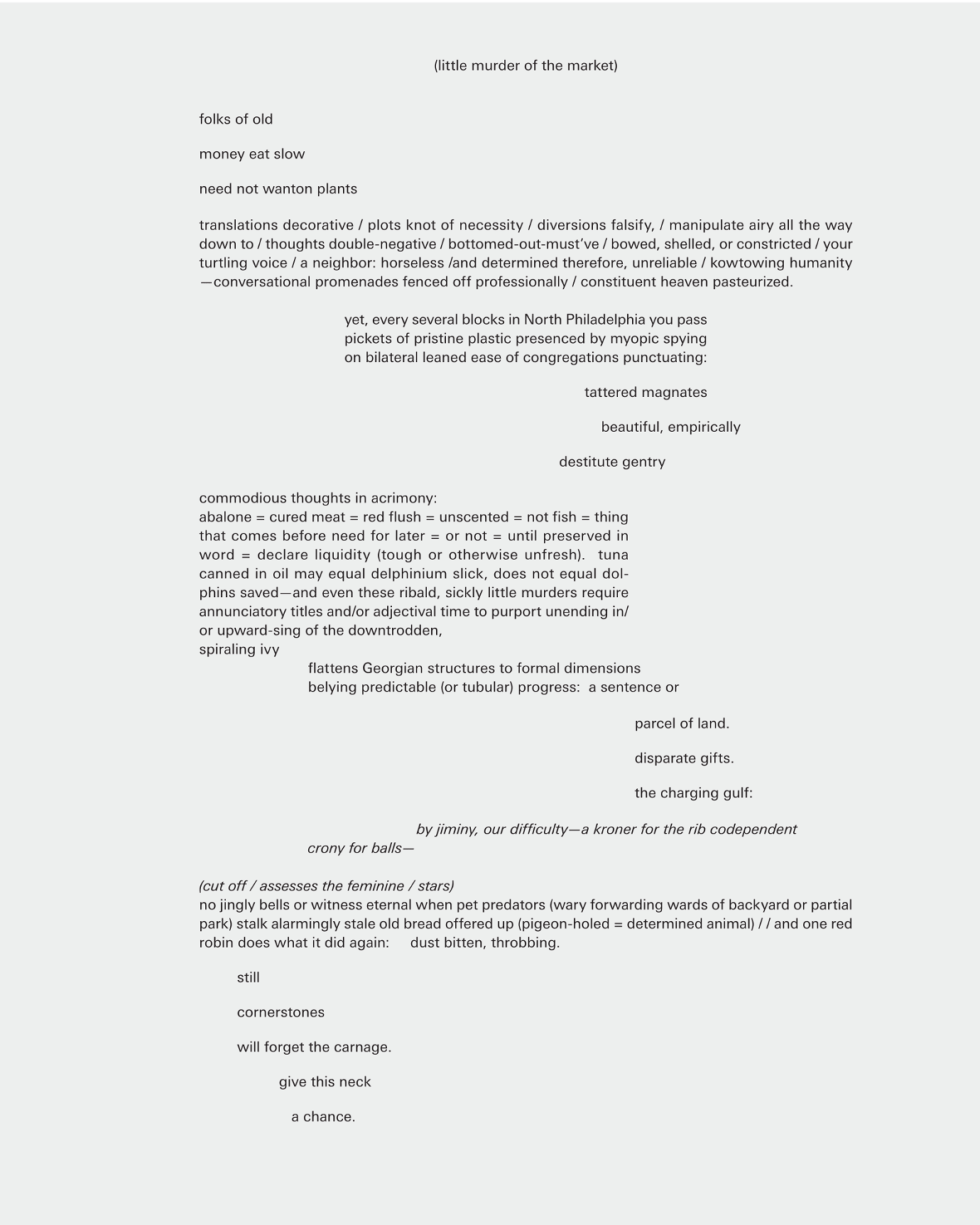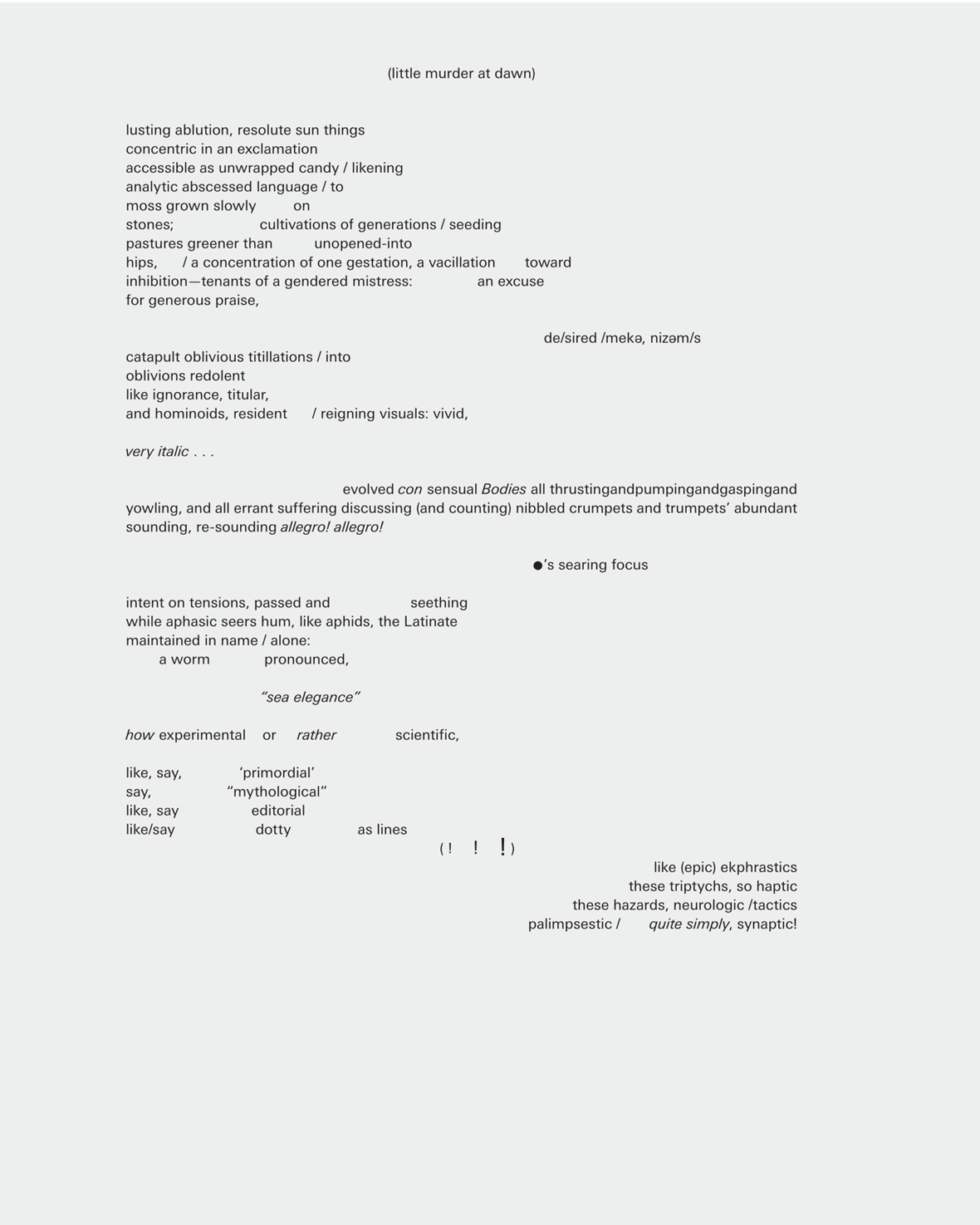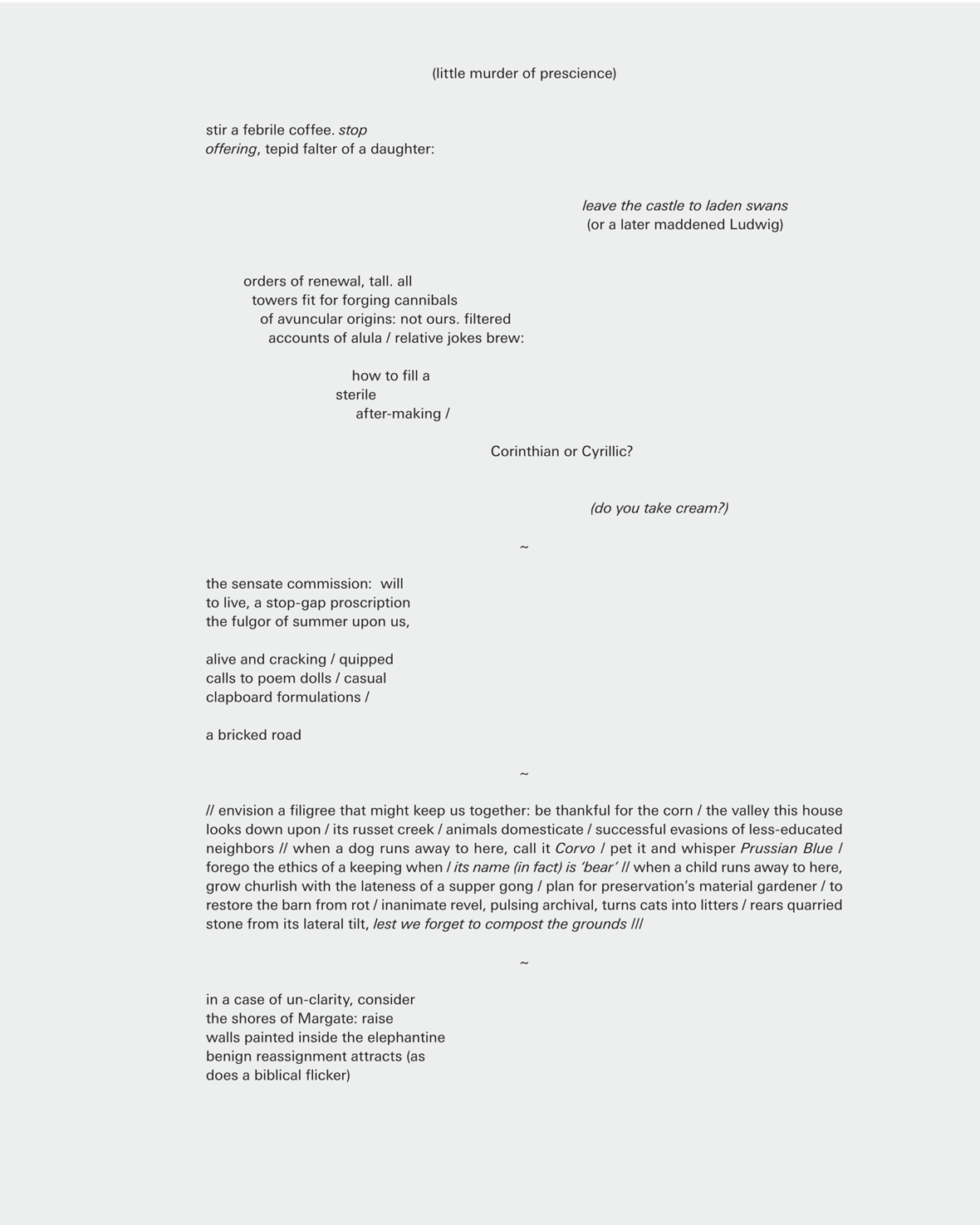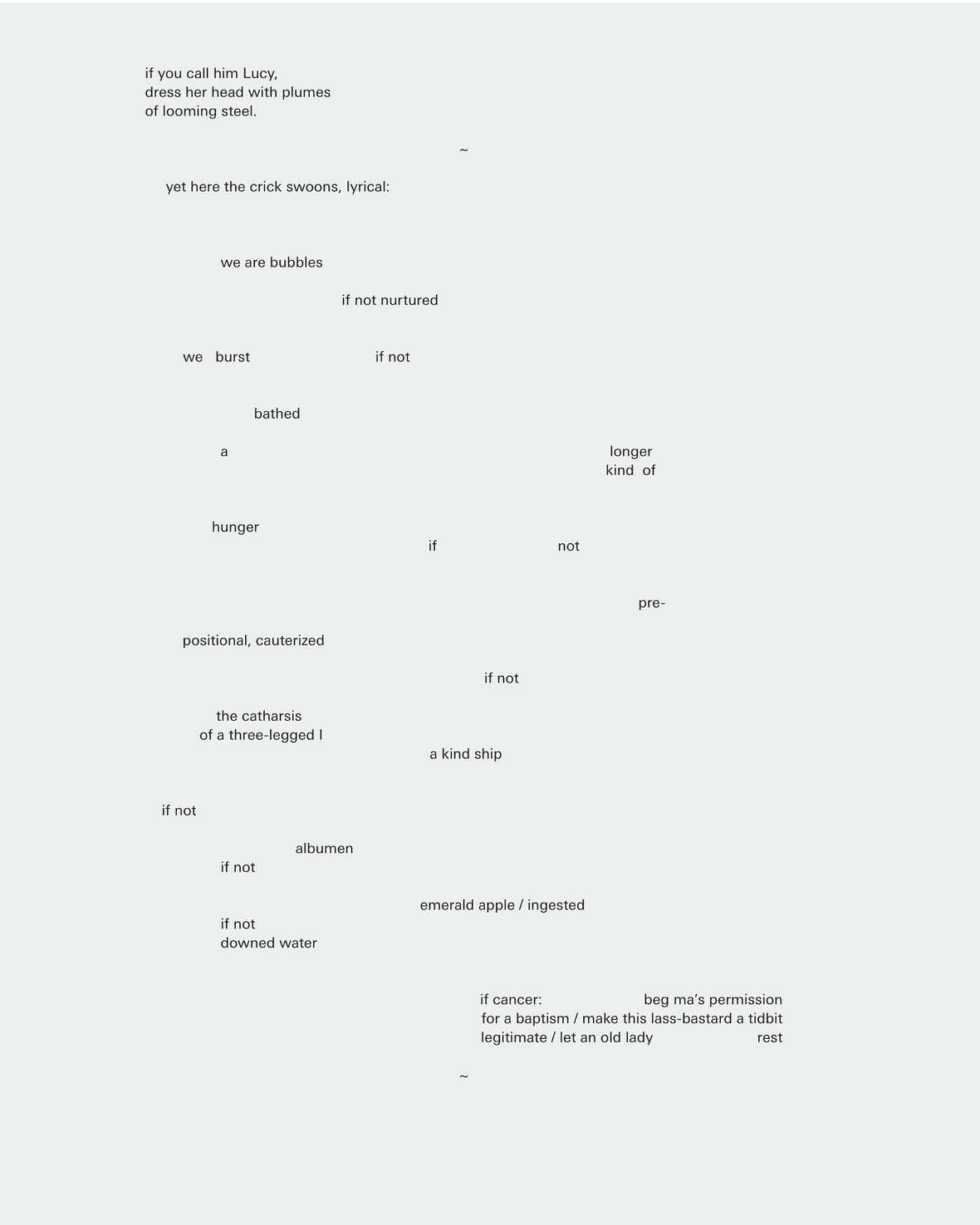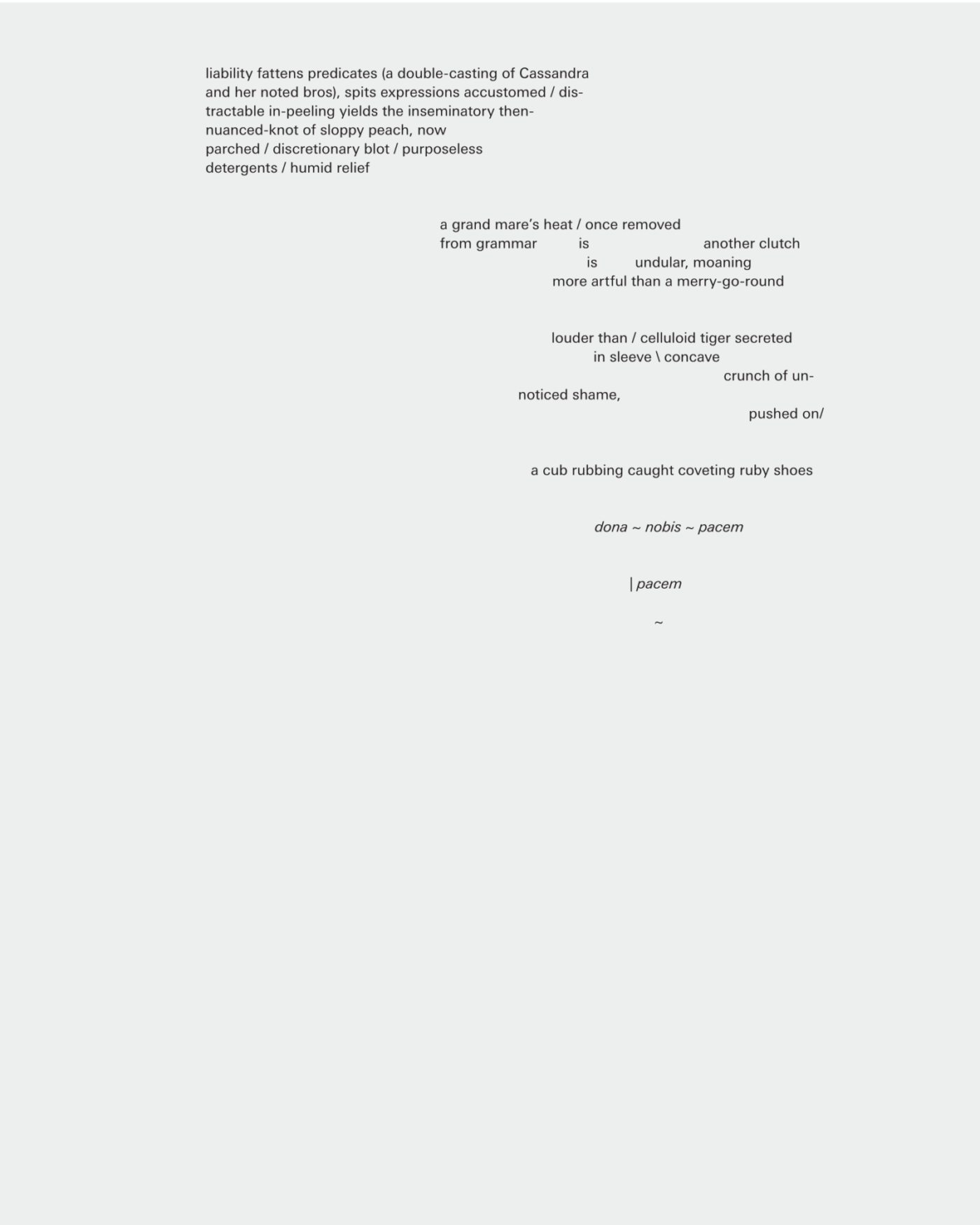 Savannah Cooper-Ramsey is the author of the artist book Not Fit for Print (Waterhouse Ltd., 2018) and a forthcoming collection of poems, little murders (Empty Set Press). A PhD candidate in Italian at Columbia University, she lives in Philadelphia and is a member of the Art Dept. collective.
Dawn Lundy Martin is a poet, essayist, and conceptual video artist. She is the author of four books of poems, most recently Good Stock Strange Blood (Coffee House Press, 2017). She is a professor of English in the writing program at the University of Pittsburgh and the director of the Center for African American Poetry and Poetics.
Originally published in
In the process of putting together each new issue of BOMB, we often come across distinct resonances between interviews—shared themes, creative preoccupations, and even specific phrases crop up time and again within otherwise disparate features. In these pages, artists discuss their expansive notions on collaboration. Their practices tend to split, reapportion, or redefine authorship, privileging process over individual intention and encouraging unique partnerships with spectators, local communities, film subjects, and one another. These willful acts of reaching out and beyond are as vital as ever, and worth emphasizing here.